Utter Insanity: Kibiwott Kandie Runs 57:32 as the Top 4 Finishers Break the World Record in the Valencia Half Marathon
By Jonathan Gault and Robert Johnson
December 6, 2020
In recent years, as super shoes have taken over the distance running world, we have become accustomed to world records dropping like flies. In the last 27 months, the world records in the men's and women's half and full marathons have all been broken at least once.
Yet none of those record-breaking runs could compare to what unfolded on Sunday morning at the Valencia Half Marathon. In a race that redefined the limits of the 13.1-mile event, the first four finishers ran under Geoffrey Kamworor's 58:01 world record.
The winner, Kenya's Kibiwott Kandie, ran 57:32 to slash 29 seconds off Kamworor's record, which itself was barely a year old. In the process, he gained revenge on Uganda's Jacob Kiplimo, who defeated Kandie to win the World Half Marathon title in October and finished second here in 57:37, also well under Kamworor's mark. Post-race, Kandie said, "To break Geoffrey Kamworor's record by 30 seconds is a very great achievement and I'm glad to make Kenya very happy."
21-year-old Rhonex Kipruto, who ran 26:24 for 10k in January to break the road world record — also in Valencia — ran 57:49 in his debut to take third. And Kenyan Alexander Mutiso — a man who, let's face it, even most serious fans had never heard of — took 70 seconds off his personal best to run 57:59 for fourth.
The sub-58:00 club, which a few hours ago did not even exist, now has four members. Road running has officially gone insane.
The race itself was worthy of a world record. 
After opening splits of 13:37 and 27:25 for 5k and 10k, a group of five remained — Kandie, Jacob Kiplimo, Kipruto, Mutiso, and 59:28 half marathoner Philemon Kiplimo. It was clear something special was about to happen as they were on 57:50 pace and the second half was going to feature the 8-12 mph wind largely at their back. Kipruto and Jacob Kiplimo worked together to keep the pace fast, and the group remained intact at 15k, which they passed in 41:10 (57:54 pace), just five seconds off Joshua Cheptegei's world best for that distance. 
Article continues below player.
Then, just after 17k, Kandie, who had surged earlier, made a definitive move to the front, putting his rivals to the sword. Philemon Kiplimo was the first to break, followed by Mutiso and Kipruto. Kandie would even open a five-meter gap on Jacob Kiplimo, but Kiplimo would not relent. He was the world champion, damnit, and he wasn't going to let Kandie run away with this so easily.
Slowly, Kiplimo closed the gap, and drew level with Kandie at 20k (54:42), passing him shortly thereafter. Kiplimo swerved all over the road, desperate to shake Kandie, but this time Kandie was the one who refused to give in. The 54:42 20k split meant the world record was definitely going down as they were on 57:42 pace. 
The two remained locked in a battle for the next 600 meters before Kandie put the hammer down with just over 400 meters to go. This time, Kiplimo could not answer, Kandie stretching the distance out before sprinting down the aqua blue finishing straight bisecting the shimmering waters in front of the futuristic City of Arts and Sciences complex. The world record was his. And the next three men to cross the line would also break the old world record.
How did this happen? How does any of this make sense?
A confluence of factors.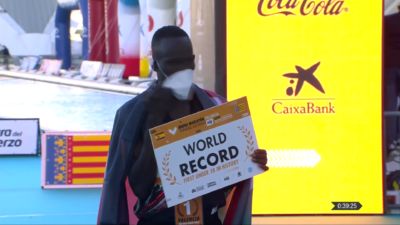 The field: Few fields in history have been stronger at the top than the one assembled in Valencia today. Kandie (three sub-59:00s already in 2020), Kiplimo (the World Half champ and a 7:26/12:48 man on the track), and Kipruto (26:24 10k on the roads) are all monster talents, drawn to Valencia by the riches of the Trinidad Alfonso Foundation and its billionaire benefactor Juan Roig.
The course: It's pancake flat and designed for speed, with rabbits set to take the leaders through on world record pace. "Here in Valencia we are always prepared to break records," race director Paco Borao said in Friday's press conference.
The conditions: The temperature of 45 degrees Fahrenheit at the start was perfect for distance running, and the wind — forecast to be as high as 30 mph earlier in the week — was manageable, starting at 12 mph and dying down to 8 mph later in the race (although you could see the flags blowing stiffly in the final sprint). A key thing about the wind was it was largely at the athletes' back during the final 9k+ of the race. 
The shoes: This is the big one. It cannot be overstated how the shoe revolution, ushered in by Nike's Vaporfly technology in 2016, has changed the game. Just four years ago, Mathew Kisorio sat #3 on the world all-time list at 58:46. He is now 16th. It's not hard to figure out what has changed. And Nike isn't the only company with super shoes anymore: Kandie is sponsored by adidas. (more: adidas' "Super Shoe", the adizero Adios Pro, Is a Huge Winner in Valencia with Half Marathon World Record)
It was a day the sport of running won't soon forget, with brilliant performances from some of the sport's brightest young stars. But it was also a reminder that this sport is not the same one we watched four years ago. When a no-name can run 57:59 and finish fourth in a half marathon, it is time to admit it: the sport of running has fundamentally changed, forever.  
Quick Take: What an INCREDIBLE race but….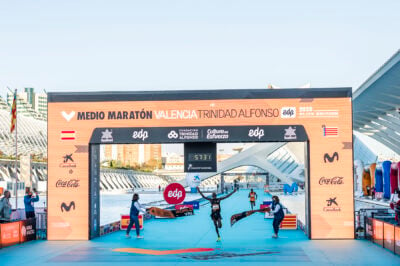 It's hard to put this one in perspective. When is the last time, if ever, in the history of the sport that four people all broke the world record in the same event in the same competition? Remember, the year is 2020, not 1920.
(British journalist Steven Mills noted one example: the 1976 Olympic women's 800 final, where drug-fueled Eastern Bloc athletes blew past the 1:56.0 world record.)
The lack of recent historical comparison combined with all of the long-distance road records dropping like flies in recent years shows you both how special this race was but also how much things have been changed by the new super-shoe technology.
Remember, when Paula Radcliffe's 2:15:25 seemed totally untouchable? Until last year, when suddenly it was not only beatable but obliterated.
"The reality is you simply can't compare these performances to those that were done before [the new shoe technology existed]," said LetsRun.com coaching/stat guru John Kellogg. "It's almost hard to believe any of these things are real. It's comical. Like a video game."
If this race doesn't officially show the world that the new shoe technology is our sport's equivalent of the bodysuit era for swimming that took place in 2008, then we don't know what will. The only difference is, in swimming those in charge of the sport ultimately banned the technology.
Given the recent drops in world records, 57:32 being the half marathon world record shouldn't actually shock you. On John Kellogg's conversion chart, it equates to 2:02:02 for the full marathon. On a percentage basis, the old half marathon record of 58:01 had some catching up to do as shown in the chart below.
World Record Progression Before and Post Vaporfly Technology Before Sunday
World Record BV
World Record AV
Percent
Improvement
Men's Marathon
2:02:57
2:01:39
1.07%

Men's Half

58:23

58:01  

0.63%

Women's Marathon
2:15:25
2:14:04
1.01%
Women's Half
65:09
64:31
0.98%
All the other world records had improved by roughly 1 percent except for the men's half. Now the men's half leads the way as it is at 1.48%. A 1.01 percent improvement in the half would have it at 57:48.
Quick Take: Kandie's final 1k was quite quick
At 20k, the Kiplimo and Kandie were on 57:42 pace but the record is now 57:32 as the last 1097.5 meters was covered in a super quick 2:50 — that's 2:34.9 1k pace or 54:28 half marathon pace.

Quick Take: Miss the race, because you were sleeping? You can watch a free race replay.
The race organizers broadcast the race for free worldwide in Spanish, French and English. You can watch a full replay here but here is a preview:
You don't even to need speak Spanish to know these announcers nailed it @maratonvalencia https://t.co/gdw9zBYE9e pic.twitter.com/iK7W6ami1v

— LetsRun.com (@letsrundotcom) December 6, 2020
Talk about 2020 Valencia on our fan forum / messageboard.
More Valencia coverage: Full Results
LRC  adidas' "Super Shoe", the adizero Adios Pro, is a Huge Winner in Valencia with Half Marathon World Record adidas was on the feet of 3 of the 4 winners in Valencia.
LRC The Rest of Valencia: Evans Chebet (2:03:00) and Peres Jepchirchir (2:17:16) Set Valencia Marathon Course Records As Genzebe Dibaba (65:18) Wins Her Half Marathon Debut Pre-race, we said the Valencia fields were the deepest in history and that proved to be the case, particularly in the men's race where 30 men broke 2:10.
RRW Emily Sisson Comes Up 1-Second Short of American Half Marathon Record in Valencia