Athing Mu Puts on a Show at 2021 NCAA Outdoor Champs with 2 Collegiate Records as Cambrea Sturgis (100/200) and Anna Cockrell (100H/400H) Also Double Up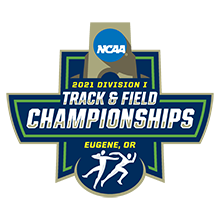 June 09, 2021 to June 12, 2021
By LetsRun.com
June 12, 2021
The 2021 NCAA Outdoor Track & Field Championships wrapped on Saturday from Hayward Field in Eugene, Ore., and as she has for the entire year, Texas A&M superfreshman Athing Mu put on a show. Running in what will almost certainly be her final NCAA championships, Mu, who turned 19 on Tuesday, broke her own collegiate record by running 49.57 to win the 400 meters — her first individual NCAA title after finishing second indoors. Eighty minutes later, she returned to anchor the Aggies' 4×400 and once again left mouths agape by splitting an incredible 48.85 to give Texas A&M a come-from-behind win in a collegiate record of 3:22.34.
With the collegiate record at 800 meters indoors and outdoors and the collegiate record in the 400 and the 4×400 outdoors to go with one individual and two relay NCAA titles, Mu's 2021 freshman campaign will go down as one of the greatest in the history of the sport. Now she will head for the Olympic Trials (where she'll run the 800) and, likely, a professional career.
Article continues below player
Mu wasn't the only star to shine bright today, as North Carolina A&T's Cambrea Sturgis and USC's Anna Cockrell also logged impressive double victories. Sturgis ran a wind-aided 10.74 — the fastest all-conditions time in NCAA history — to win the 100 and added the 200 title in a wind-legal 22.12. Cockrell ran 12.58 and 54.68 to become just the second woman in meet history to win both the 100 hurdles and 400 hurdles, leading USC to its second team title in four years. The Trojans, who also won the 4×100 relay, piled up 74 points, while Mu's heroics lifted Texas A&M to second with 63. Georgia was third with 37.5, while North Carolina A&T continued its remarkable weekend, tying for fourth with Alabama with 31 points. NC A&T was the only school to finish on both the men's and women's podium.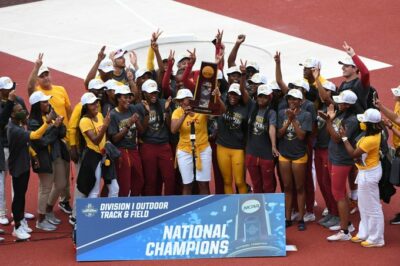 A full recap of today's non-distance finals appears below. Each of the mid-d and distance events was recapped separately so check out the front page or our 2021 NCAA section for that.
Sprints
Women's 4×100 Relay: Terry's big anchor gives USC the win
Sprint and hurdle powerhouse Southern California entered Saturday's finals with no points on the scoreboard, but quickly changed that in the 4×1 behind a stellar anchor leg from senior Twanisha "TeeTee" Terry. 
LSU entered the event as the collegiate leaders and handed off to their anchor, sophomore Thelma Davies, first. Terry had a lot of work to do, but she walked down Davies to her outside and the anchors from Florida State and North Carolina A&T to her inside. Terry drew even with Davies with 10 meters remaining and edged her at the line, 42.82 to LSU's 42.84.
North Carolina A&T and Florida State finished third and fourth, respectively, while hosts Oregon, who ran the second-quickest semifinal time, dropped the baton at the second exchange.
Results
1 USC 42.82
2 LSU 42.84
3 N. CAROLINA A&T 43.03
4 FLORIDA STATE 43.06
5 TEXAS 43.20
6 ALABAMA 43.99
7 HOUSTON 44.29
8 BAYLOR 45.15
DQ OREGON DQ [15.9c]
100: Cambrea Sturgis arrives
Entering the NCAA postseason, North Carolina A&T's Cambrea Sturgis ranked among the best sprinters in the NCAA, with an 11.17 personal best. She leaves the NCAA meet as one of the best sprinters in the world, as after running pbs of 11.01 and 10.92 at regionals, she ripped a stunning 10.74 to win the NCAA 100-meter title.
The tailwind in today's race (+2.2) was just over the legal limit, but the time — the fastest all-conditions mark in NCAA history — will still register around the world. It is worth 10.86 in still conditions, or 10.75 with the maximum allowable 2.0 tailwind.
Sturgis needed to run historically fast just to win the race, as USC's Twanisha Terry ran 10.79 for second and Alabama's Tamara Clark clocked 10.88 for third. 
Pl Name Affiliation Time React
1 Cambrea STURGIS SO N. CAROLINA A&T 10.74 0.124 SB
2 Twanisha TERRY SR USC 10.79 0.180 SB
3 Tamara CLARK JR ALABAMA 10.88 0.193
4 Kemba NELSON JR OREGON 10.90 0.185 SB
5 Alfreda STEELE SR MIAMI (FLA.) 11.11 0.200 SB
6 Jayla KIRKLAND JR FLORIDA STATE 11.22 0.187
7 Lanae-Tava THOMAS JR USC 11.24 0.146
8 Celera BARNES SR KENTUCKY 11.31 0.141
9 Ackera NUGENT FR BAYLOR 11.37 0.137
100 Hurdles: Anna Cockrell dominates
Race favorite Tonea Marshall of LSU didn't start this one as a precautionary move due to some hamstring issues as she wants to be ready for the Olympic Trials. 400 hurdle star Anna Cockrell of USC dominated with Marshall absent as she picked up NCAA title #2 but her first in the 100 hurdles in 12.58 (she'd pick up #3 later in the 400 hurdles). Cockrell won by a quarter of a second as Rayniah Jones of UCF was second in 12.82.
Pl Name Affiliation Time React
1 Anna COCKRELL SR USC 12.58 0.159
2 Rayniah JONES FR UCF 12.82 0.138
3 Ackera NUGENT FR BAYLOR 12.84 0.148
4 Grace STARK JR FLORIDA 12.89 0.207
5 Madeleine AKOBUNDU SR N. CAROLINA A&T 12.90 0.196
6 Masai RUSSELL SO KENTUCKY 12.97 0.233
7 Cha'Mia ROTHWELL SR DUKE 13.14 0.175
8 TeJyrica ROBINSON SR N. CAROLINA A&T 29.11 0.152
DNS Tonea MARSHALL SR LSU DNS
Women's 400: Mu gets her individual title and another collegiate record
Texas A&M super freshman Athing Mu entered the 2021 NCAA Outdoor Championships as the collegiate record holder in the 400 and 800 outdoors, as well as the American record holder in the indoor 600. The only thing missing from her sparkling résumé was an individual NCAA title.
Mu, who turned 19 this week, got the trophy and broke her own collegiate record in the process, running 49.57 to better her previous mark of 49.68 and crush the entire field by more than a second. The mark also bettered her American junior record and US-leading mark in 2021.
Of course, Mu will go back to her premier event, the 800, at the Olympic Trials, where she is slated to run the first round in 12 days. She also leads the nation in that event.
Mu got out of the blocks with the quickest reaction time and made up the stagger on USC's Bailey Lear in the first 100 meters. Florida freshman Talitha Diggs ran a personal-best 50.74 for second.

Pl Name Affiliation Time
1 Athing MU FR TEXAS A&M 49.57 CR
2 Talitha DIGGS FR FLORIDA 50.74 PB
3 Kyra CONSTANTINE SR USC 50.87 PB
4 Nicole YEARGIN SR USC 51.02
5 Charokee YOUNG FR TEXAS A&M 51.13
6 Stacey Ann WILLIAMS SO TEXAS 51.34
7 Bailey LEAR JR USC 51.36
8 Taylor MANSON JR FLORIDA 51.55
9 Brittany AVENI SR DUKE 51.77
Women's 400 hurdles: Cockrell repeats and completes hurdle sweep
Forty-five minutes after securing the 100m hurdle title, USC's Anna Cockrell returned to the track for her stronger event, the 400 hurdles, which she won in Austin in 2019. As expected, the race was not close, with Cockrell running a personal best of 54.68 to move to #8 on the 2021 world list. Cockrell is the second woman to win both the 100 and 400 hurdles at the same NCAA meet, joining Virginia Tech's Queen Harrison in 2010.
Pl Name Affiliation Time
1 Anna COCKRELL SR USC 54.68 CL
2 Shannon MEISBERGER JR ARIZONA 55.70 PB
3 Andrenette KNIGHT SR VIRGINIA 55.81
4 Masai RUSSELL SO KENTUCKY 56.18 PB
5 Milan YOUNG JR LSU 56.23 PB
6 Faith ROSS SR KENTUCKY 56.49 PB
7 Ashton LINDLEY FR SOUTH CAROLINA 56.74 PB
8 Stephanie CHO SR WASHINGTON ST. 57.48 PB
9 Brittley HUMPHREY SR LSU 57.51
Women's 200: Sturgis does the double
Just 45 minutes after winning the 100 in the fastest all-conditions mark in collegiate history, North Carolina A&T sophomore Cambrea Sturgis established herself as the newest American sprint star. Sturgis won the 200 in a wind-legal 22.12 (+0.2 m/s) seconds, winning a tight battle with Alabama junior Tamara Clark, who ran 22.17 for second.
Sturgis' mark was the fourth-fastest in collegiate history and one hundredth of a second faster than Clark's 2021 NCAA-leading time. It is also just 0.01 off of Sha'Carri Richardson's US-leading time.
Sturgis and Clark got the best starts in the field and flew off the curve, neck and neck until Sturgis edged ahead with 40 meters to go. Expect both to make noise at the Olympic Trials and challenge Richardson.
Pl Name Affiliation Time React
1 Cambrea STURGIS SO N. CAROLINA A&T 22.12 0.161 CL
2 Tamara CLARK JR ALABAMA 22.17 0.177
3 Anavia BATTLE SR OHIO STATE 22.42 0.298
4 Favour OFILI FR LSU 22.45 0.179
5 Twanisha TERRY SR USC 22.69 0.181
6 Anglerne ANNELUS SR USC 22.72 0.207
7 Alfreda STEELE SR MIAMI (FLA.) 22.77 0.215 =PB
8 Kevona DAVIS FR TEXAS 22.78 0.231 PB
9 Cassondra HALL SR UNLV 22.94 0.126
Women's 4×400: Mu drops 48.85 anchor, Texas A&M breaks collegiate record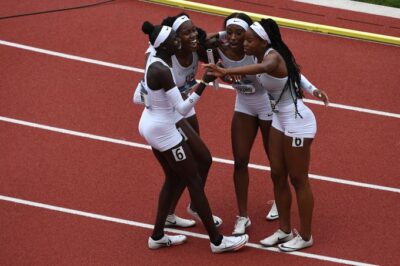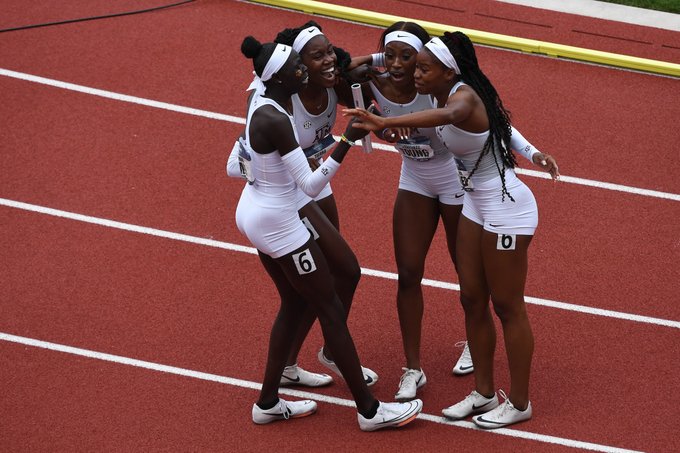 In what may have been Athing Mu's final collegiate race, she left her final mark on the 2021 NCAA Championships. Eighty minutes after breaking her own collegiate record to win the open 400, Mu ripped a 48.85-second anchor leg to give the Texas A&M Aggies a big 4×4 victory and the collegiate record.
Mu got the baton five meters behind USC's Kyra Constantine, but caught Constantine after only 100 meters and pulled away, winning by 15 meters. The Aggies ran 3:22.34 to better Oregon's 3:23.13 collegiate and meet record from 2017. Team champions USC held off UCLA for second, and Texas A&M finished as runner-ups in the team competition.
Pl Team Time
1 TEXAS A&M 3:22.34 CR
2 USC 3:24.54 SB
3 UCLA 3:25.01 SB
4 FLORIDA 3:26.31 SB
5 TEXAS 3:26.72 SB
6 SOUTH CAROLINA 3:26.73 SB
7 DUKE 3:28.27 SB
8 KENTUCKY 3:28.68 SB
9 ARKANSAS 3:28.78
Field Events
High Jump: True freshman Rachel Glenn takes it *Results
South Carolina freshman Rachel Glenn was the only woman to clear 1.93 meters, and she did it on her first attempt to win her first NCAA title. The mark was a two-centimeter personal best, and Glenn took three attempts at the meet record (1.96 m) afterward. Heptathlon champion and indoor high jump champ Tyra Gittens could clear only 1.87 meters for third place.
Women's Discus: ASU's Jorinde van Klinken shatters meet record on final throw *Results
The women's disc was a two-woman competition between senior Laulauga Tausaga of Iowa and junior Jorinde van Klinken of Arizona State and the Netherlands, the only two women to throw over 61 (or 62 or 63) meters entering the meet. Both women raised their game Saturday, but van Klinken got the final say. Tausaga threw 63.53 meters in the second round, the best throw of the prelims by nearly three meters, but she fouled all three throws of the finals. Van Klinken threw 63.41 in round five and then unleashed a dramatic winning throw in round six: 65.01 meters, a personal best, the best NCAA mark of 2021, and an NCAA Championships record.
Triple Jump: Texas Tech's Usoro completes indoor/outdoor double *Results
Ruth Usoro of Texas Tech and Nigeria backed up her indoor title and collegiate-leading 2021 to win the outdoor NCAA triple jump title with a mark of 14.19 meters (-0.7 m/s) in the third round. Usoro also finished eighth in Thursday's long jump competition.
Heptathlon: Gittens takes it *Results
Tyra Gittens of Texas A&M and Trinidad & Tobago, the third-best performer in NCAA history, was not at 100% during this meet. But she was still easily good enough to win the heptathlon title to go with her NCAA pentathlon title from the indoor season, scoring 6285 points to easily outdistance runner-up Michelle Atherley of Miami.
Talk about the NCAA meet on our world-famous fan forum /messageaboard.