Donavan Brazier (800), Bryce Hoppel (1,000), & Elle Purrier (2-Mile) All Break American Records At 2021 New Balance Indoor Grand Prix
By LetsRun.com
February 13, 2021
With the Millrose Games and USATF Indoor Championships cancelled this year, today's New Balance Indoor Grand Prix was the biggest chance for American distance runners to shine during the 2021 indoor season, and the athletes did not disappoint. Young stars Donavan Brazier, Bryce Hoppel, and Elle Purrier — none older than 25 — claimed a hat trick of American records during the span of 51 minutes on Saturday afternoon.
Purrier, who broke the indoor mile record last year, added the indoor 2-mile today, running an impressive negative-split (4:41.93-4:28.35) to clock 9:10.28 and shave over eight seconds off Jenny Simpson's 9:18.85 AR set at this meet in 2015. Hoppel — the only one of the trio without a previous AR — was next up, using a 26.53 last lap to run 2:16.27 and take down David Torrence's 2:16.76 American record. Brazier concluded the record fest, going out hard and hanging on to run 1:44.21 — just .01 under the record he set at Millrose last year.
Recaps and analysis of all three races below. We present them in the order that they took place.
Article continues below player.
Our recap of the rest of the meet is here: NBIGP Recap: Olli Hoare (3:32) Wins Fast 1500 as Sam Tanner (3:34) Breaks NCAA Record, Ajee' Wilson Returns & More
Women's 2-Mile: Elle Purrier gets her second American record
A year ago, Elle Purrier set an American record of 4:16.85 in the mile at Millrose. Tonight, she added the 2-mile American record to her CV as she crushed the second mile in 4:28 to crush Jenny Simpson's American record of 9:18.35 with a 9:10.28 clocking, the #3 time in world indoor history. Purrier also bettered Simpson's outdoor AR time of 9:16.78.
Steeplechase star Emma Coburn, who stayed with Purrier until the third-to-last lap, was also well under the old AR in second in 9:15.71. Canada's Julie-Anne Staehlie set a Canadian record in third in 9:22.66, well under the indoor (9:36.79 Jessica O'Connell) and outdoor (9:27.18 Kathy Butler) records.
2014 NCAA steeplechase champ Leah Falland rabbitted the first mile in 4:42, and once her pacing duties ended, Purrier upped the pace considerably. She ran her final mile in 4:28.35. That's a time only a handful of American women could run right now — it's equivalent to 4:08.1 in the 1500, which would have placed her 3rd in the 1500 tonight. 
That being said, the 2-mile isn't a standard distance. Purrier's 9:10 is not better than the American indoor 3k mark as according to John Kellogg it converts to 8:29.24 in the 3000 — which would be #4 all-time in US history, indoors or out. 
The Fastest 3000s in US History (Per TFN)
8:25.70i Karissa Schweizer (Nike Bowerman TC) 2/27/20
8:26.66i Shelby Houlihan (Nike Bowerman TC) 2/27/20
8:28.71i Colleen Quigley (Nike Bowerman TC) 2/27/20
8:29.58 Jenny Simpson (New Balance)             9/05/14
8:29.93 Shannon Rowbury (Nike Oregon Project)      9/05/14
After the race, Purrier was asked if she's leaning towards the 5000 or 1500 this summer. "I'm just having fun finding variability in my training and races," said Purrier, who credited today's successful run to a focus on strength work in recent training.  "I think my heart is in the 1500/mile… I definitely love the mile." 
Focusing on the mile might be a smart move as Shelby Houlihan's 14:23.92 5,000 AR converts to a sub-9 2-mile (8:57.67).
A few weeks ago, Nick Willis raved about New Balance's new spikes, so we asked Purrier what she thought of them. "They are definitely lightweight and fast. They are my favorite shoes I"ve ever raced in," she said.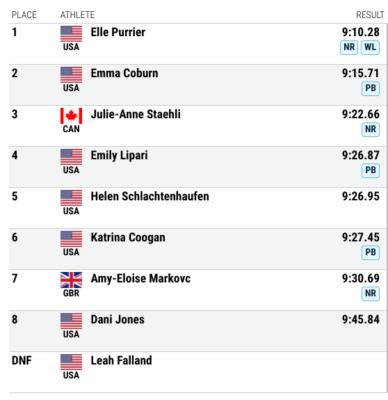 Men's 1000: Bryce Hoppel takes down the American record with big negative split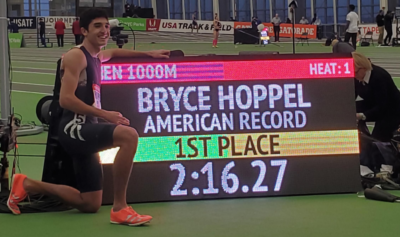 Hoppel, the 2020 US indoor champ at 800, won the 1000 at this meet last year in 2:17.41, and ever since had been wondering how fast he could go if he really went after a fast time. Today he got the answer as he broke the American record of the late David Torrence by running 2:16.27 to eclipse Torrence's 2:16.76.
Hoppel got out behind the pacer and took over the lead once the pacer dropped out at 450 meters. Through 600, Hoppel, with Brit Charlie Grice close behind him, still had some work to do — he led the field through in 1:23.24, over a second behind record pace (1:22.06). 
Hoppel wanted this record badly, though, and picked it up for the fourth lap, running 26.51 — over a second faster than any of his first three. At the bell, he and Grice had opened a three-meter gap on Canadian World Championship finalist Marco Arop, and on the back straight, Hoppel finally separated from Grice.
Now it was Hoppel vs. the clock, and, thanks to a 26.53 final lap, Hoppel prevailed, shaving .39 off Torrence's mark. Arop passed Grice on the last lap to take second in 2:17.10, while Grice ran 2:17.20 for third, breaking Jake Wightman's British record set at this meet in 2020.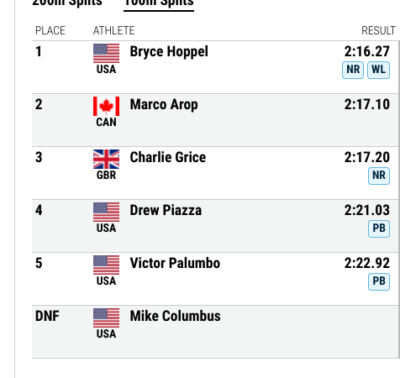 Quick Take: Hoppel broke this record the hard way
To run as fast as possible in the 1000, you want to run it as a slight positive-split, similar to the 800. That's not what happened today. The pacer was slow, which meant Hoppel's first 400 was 55.36 — and his last 400 was 53.03. Overall, his splits were 1:09.45 for the first 500 and 1:06.82 for the second 500. To close that hard, with no one to chase, was an impressive feat, and Hoppel was justifiably proud to have earned his first American record.
"It means everything," Hoppel said. "It's something you dream about as a kid." 
Men's 800: Donavan Brazier breaks (another) American record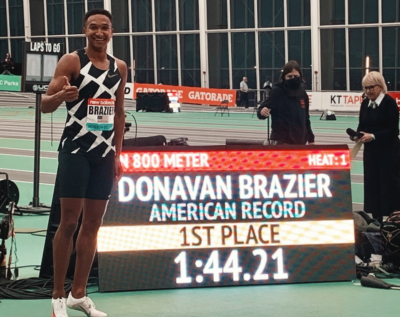 There is a reason Donavan Brazier is one of the most exciting runners in the world right now: anytime he steps on a track, he is capable of greatness. He showed that yet again on Saturday, running 1:44.21 to shave .01 off his own American record in the 800 meters — the third straight year in which Brazier has broken the record.
There are very few athletes capable of hanging with Donavan Brazier over 800 meters, and none of them were in this race. By 200 (24.72), Brazier was already clear of the field and he would run the rest of the race solo once the pacer dropped out after two laps.
Brazier had been planning on going out fast — his pre-race instructions from coach Pete Julian were to "go out and die" — but even he wasn't expecting the rabbit to go out in 50.98. As a result, Brazier said he really started to hurt over the last 150 — he has not done a ton of speed work in training and was feeling the effects of his 51.16 opening 400. But he held on okay, closing in 26.84 for his last lap and winning by over two seconds ahead of Brit Jamie Webb (1:46.26).
Initially, Brazier seemed miffed when the clock stopped at 1:44.22 — tied with his old record — but it was quickly rounded down to 1:44.21, causing a smile to break out on Brazier's face once he confirmed the new time was official.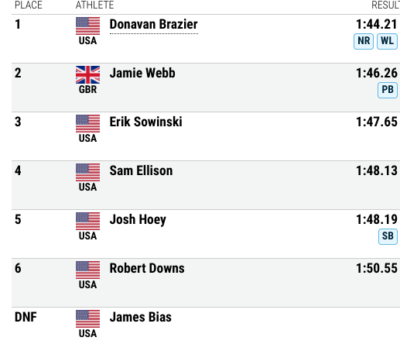 Quick Take: Brazier's record list continues to grow
Three of the last four times Donavan Brazier has run on an indoor track, he has broken an American record. In all, he has broken five American records (including a world indoor best at 600) over the last 25 months. The full list:
| | | | | |
| --- | --- | --- | --- | --- |
| Event | Meet | Location | Date | Time |
| 800 (indoors) | Millrose | New York | 2/9/19 | 1:44.41 |
| 600 (indoors) | USA Indoors | New York | 2/24/19 | 1:13.77 |
| 800 (outdoors) | Worlds | Doha | 10/1/19 | 1:42.34 |
| 800 (indoors) | Millrose | New York | 2/8/20 | 1:44.22 |
| 800 (indoors) | NBIGP | New York | 2/13/21 | 1:44.21 |
Quick Take: The time was faster, but this performance was not as good as Brazier's previous AR
Brazier said he thought Julian would be pleased with his performance today.
"I think he'll be really satisfied not just with the win, but the way I was able to go out and just kind of strain through that pain," Brazier says.
That said, Brazier admitted he wasn't quite as fit as he was at Millrose last year when he set the previous AR of 1:44.22. That makes sense. Brazier was capable of much faster on that day, as demonstrated by his blazing last lap of 24.89.
Still, this was a terrific run. Only three men (Wilson Kipketer, Michael Saruni, and Yuriy Borzakovskiy) have ever run faster indoors. For a season opener, this was very, very impressive, and American fans need to appreciate Brazier while he's in his prime. Talents like him don't come around very often.
Quick Take: We still would have loved to have seen Brazier vs Hoppel today
While it was undoubtedly exciting to see Brazier and Hoppel set American records in their respective events today, it only reinforced our pre-meet belief that the two should have been racing each other. The 800 would have been a lot more exciting had Hoppel been in there; vice versa with Brazier in the 1000.
That said, Hoppel emphasized after the race that he really wanted to run the 1000 today — regardless of what event Brazier was doing. 
"I think the time will come when it matters," Hoppel says. "I kind of just had my mind set on the 1000 ever since [this meet] last year and so that was a big focus of mine. I'm sure we'll see plenty of me and Donavan in the Diamond League and obviously at the Olympic Trials. And in the end, the pinnacle will be at the actual Olympics. So I think there's a lot of racing ahead."
Speaking of racing, both Brazier and Hoppel will be racing at the Texas Qualifier in Austin two weeks from now. Brazier is in the 1500, where he is slated to face reigning Olympic champ Matthew Centrowitz and Evan Jager, among others (though Centrowitz withdrew from the meet today with a tweaked hip flexor).
Brazier he's not shooting for a specific time (though figured it would take under the 3:35.00 Olympic standard to win). Rather, he's running it to see where his fitness compares to last July, when he ran his 3:35.85 pb in Portland. Brazier said he is not considering the 800/1500 double at the Olympic Trials at this time — the 1500 would only be a backup in case disaster strikes in the 800.
---
Talk about the action on our messageboard
More: NBIGP Recap: Olli Hoare (3:32) Wins Fast 1500 as Sam Tanner (3:34) Breaks NCAA Record, Ajee' Wilson Returns & More What a meet. Olli moved to #7 on the all-time indoor 1500 list and as Sam Tanner broke the NCAA 1500 record with his 3:34.72 in third. There were also wins for Justyn Knight (2-mile) and Heather MacLean (1500), while Ajee' Wilson made a surprise season debut and won the 800. In the sprints, Trayvon Bromell looked good in winning the 60 (6.50), while Noah Lyles didn't look quite as good in winning the 200 (20.80). In the headline matchup of the day, Michael Norman edged training partner Rai Benjamin, 45.34 to 45.39, to win a 400 that came down to the wire.