NBIGP Recap: Olli Hoare (3:32) Wins Fast 1500 as Sam Tanner (3:34) Breaks NCAA Record, Ajee' Wilson Returns & More
by LetsRun.com
February 13, 2021
Donavan Brazier, Bryce Hoppel, and Elle Purrier stole the show with a troika of American records at the 2021 New Balance Indoor Grand Prix, held at the Ocean Breeze Athletic Complex in Staten Island, N.Y. But they were far from the only stories to emerge from a meet littered with national records.
We have a full recap of the American record runs here: Donavan Brazier (800), Bryce Hoppel (1000), & Elle Purrier (2-Mile) All Break American Records at 2021 New Balance Indoor Grand Prix. 
Article continues below player
Below, we recap the rest of the meet, which featured a terrific men's 1500 in which Olli Hoare (3:32.35) moved to #7 on the all-time indoor list and the University of Washington's Sam Tanner broke the NCAA 1500 record with his 3:34.72 in third. There were also wins for Justyn Knight (2-mile) and Heather MacLean (1500), while Ajee' Wilson made a surprise season debut and won the 800.
In the sprints, Trayvon Bromell looked good in winning the 60 (6.50), while Noah Lyles didn't look quite as good in winning the 200 (20.80). In the headline matchup of the day, Michael Norman edged training partner Rai Benjamin, 45.34 to 45.39, to win a 400 that came down to the wire.
Full meet recap and analysis below.
Men's 1500: 2018 NCAA champ Olli Hoare wins in quick 3:32.35 as Sam Tanner sets NCAA mark
2019 World Championship 5th placer and 3:29 man Jake Wightman of the UK ran like someone who wanted to destroy Peter Elliott's 3:34.20 British indoor record, which has stood since 1990. After the rabbit failed to make it 800 meters in 1:54, Wightman picked things up and ran his third 400 in 55.93. 
Only 2018 NCAA champ Oli Hoare was able to stick with the aggressive pace. Wightman led until the back stretch of the last lap, when Hoare went by just before the turn. Hoare closed in 27.54 as Wightman totally tied up over the final 100 (29.85 final 200, 15.55 final 100; Hoare's final 100 was 13.83). In the end, Hoare won in 3:32.35, an Australian record, as Wightman moved to #2 on the UK list at 3:34.48. 
Behind the top two, a ton of guys ran personal bests. Kiwi Sam Tanner of the University of Washington emerged from the chase pack midrace to place third in an NCAA record of 3:34.72. 2019 World Championship finalist Craig Engels, who tried to run with Hoare and Wightman early, faded to 5th in 3:36.49 as Sam Prakel got by him late for fourth (3:36.36).
Quick Take: Olli Hoare gets his breakthrough race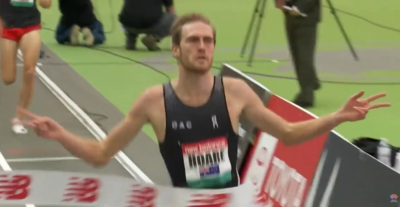 Last summer, when Olli Hoare was winning seemingly every 1500/mile in the US that he was running, many in dominant fashion, we urged him to get on a plane to get to Europe as we knew he was capable of of running much faster than the 3:34.63 he ran in Nashville last August. That wasn't some brilliant observation by us: when you are running 3:34 and winning by nearly two full seconds, it's clear you can run faster. Tonight, he proved he is a guy that has a shot to be a factor on the world level as he's now #7 on the all-time world indoor list.
The 7 fastest indoor metric milers (per alltime-athletics.com)
1     3:31.04    Samuel Tefera                  ETH   
2     3:31.18    Hicham El Guerrouj          MAR  
3     3:31.51+  Yomif Kejelcha                ETH
4     3:31.76    Haile Gebrselassie             ETH
5     3:31.80    Jakob Ingebrigtsen            NOR 
6     3:32.11     Laban Rotich                    KEN
7     3:32.35     Olli Hoare                         AUS  
Hoare said after the race he is enjoying working with coach Dathan Ritzenhein as Ritz's focus on strength is ideal for Hoare, who came from the strength-based Wisconsin program.
Quick Take: The field should thank Jake Wightman
Wightman made the race by pushing things when the rabbit dropped. In the end, it cost him, but Hoare moved to #7 all-time on the indoor list and many behind Wightman him were rewarded with big indoor PBs. 
After the race, Wightman said it was "annoying" that he didn't get the British record but seemed to have no regrets. "I think I overcommitted a bit when the pacemaker [dropped out]," said Wightman. "I think I'm definitely in shape to [get the record]… I'm at the time in my career where I have to be attacking these records."
Quick Take: What a run from 20-year-old Kiwi Sam Tanner
Yesterday, Oregon's milers set the track in Arkansas on fire, as Cooper Teare and Cole Hocker both ran 3:50 and Charlie Hunter ran 3:53. Given those performances, it seemed exceedingly likely that one of those three men would win the 2021 NCAA mile title.
Obviously, that could still happen, but Tanner presents a very formidable threat to the Men of Oregon. After some impressive performances in New Zealand this winter (3:54 mile, 7:54 to win the national 3k title), Tanner's first race since returning to the states went as well as possible — his 3:34.72 today was a NZ indoor record. It was also an overall NCAA record — the fastest 1500 recorded by a collegian during the season, indoors or out (the previous best was 3:35.01 by New Mexico's Josh Kerr in 2018). It's worth repeating that Tanner is only 20 years old.
A showdown between Tanner and the Men of Oregon at NCAA indoors would be tantalizing, though it should be noted that Tanner still needs a qualifying mark as the NCAA doesn't accept 1500 conversions. In case you're wondering, World Athletics' scoring tables say Tanner's run today was worth 3:52.26 for a full mile.
Men's 2-mile: Justyn Knight wins battle of recent NCAA stars
Between Justyn Knight, Joe Klecker, Morgan McDonald, and Eric Jenkins, this race featured four men who had finished either first or second in the NCAA XC champs over the last seven years. In the end, it was Knight, the 2017 NCAA XC champ for Syracuse, who earned the win, running 8:13.92 to narrowly miss Moh Ahmed's 8:13.16 Canadian record (the run was was worth 7:37.04 for 3k or 13:11.13 for 5k according to LRC expert John Kellogg).
Little happened in the race just over two laps remaining, at which point Knight made a strong move to take the lead from Jenkins. Almost immediately, however, McDonald responded with a  move of his own, with Knight following close behind him throughout the penultimate lap until the home straight, when Knight went wide in another bid for the lead.
This time, he was successful, and held off a late-charging Joe Klecker, who passed McDonald on the back straight of the bell lap, to win thanks to a 54.96 final 400 (and impressive 26.80 last lap). Klecker, who took second in 8:14.20, closed almost as quickly (55.02) but had to come from behind and could not quite narrow the gap.
Quick Take: A more mature Justyn Knight hoping to take the next step in 2021
Two years ago, Knight showed up to this meet 20 pounds overweight and finished dead last in the mile. It was a lesson for the young Canadian: show up to a professional meet at less than your best, and you're going to get smoked.
"I've never been this fit running workouts at this time of the year," Knight says."I think I'm definitely ahead of the curve. That being said, I don't think I'm peaking right now. It just feels really steady. I feel like I've finally figured things out with how my training's going."
The race was a wakeup call for Knight, who spent the rest of the year getting back in shape and wound up finishing 10th in the 5,000 final at Worlds.
The 24-year-old Knight that showed up today was clearly a more mature athlete. He said he spent much of last year training alone in Charlottesville under coach Chris Fox, working on his pacing and holding himself accountable. The rewards were on display today, as Knight picked up exactly where he left off in 2020, with another indoor win. Knight won all three of his 2020 races indoors as well, including a 3k win at Millrose.
Quick Take: Knight wins battle of the brands
This was an interesting race to watch from a sponsor standpoint as it featured three recent NCAA stars, all of whom represent the signature athlete of a brand seeking to increase its running presence: Knight at Reebok, McDonald at Under Armour, and Klecker at On. All three men ran well today — McDonald even took down Kerry O'Brien's 51-year-old Australian indoor record of 8:19.2 — but it was Knight who got the win. The sponsors probably would have been happier if the two-mile was in the main TV window on NBC, however.
Women's 800: Ajee' Wilson wins first race in 364 days
Reigning US indoor/outdoor champion Ajee' Wilson was not even entered in this race as of this morning — she tweaked her hamstring in training last week and was planning on coming to the meet only as a spectator.
But Wilson packed her uniform and spikes just in case, and after doing a shakeout run, decided she felt good enough to run. And, as usual, Wilson got the win in 2:01.79.
What was unusual was the way Wilson ran the race. Typically most comfortable at the front, Wilson was content to allow Kaela Edwards to take the lead early, and Edwards stayed in front through 400 (61.23) and 600 (1:32.40). Still, Wilson was in second. Was Edwards, the runner-up at USA Indoors last year behind Wilson, going to spring the surprise?
No. Wilson finally made her move on the final turn, working out to lane 2 to pass Edwards and getting the lead coming off the turn and holding off Edwards for the win. Edwards was a solid second in 2:02.17.
Quick Take: Ajee' Wilson is back 
Very little has been heard from Wilson since her US indoor title in Albuquerque, which took place almost exactly one year ago. Wilson did not race at all outdoors in 2020 — she said she didn't feel comfortable traveling and did not get on a plane until November — and even though she's still not totally comfortable with competing during a pandemic, she got out there today.
As for Wilson's tactics today, she said she stayed off the lead partially because she didn't know where her body was at and partially because she wanted to practice new racing situations.
"Although I'm able to lead or I feel comfortable with leading, I do know that I can get distracted or caught up when it comes to surges and not be able to focus on my race," Wilson says. "I'm gonna try to match, I'm gonna try to keep up with whoever's coming. I think just having more flexibility to where, if I feel like at 300 to go the pace is getting kicked up, I can feel confident that, Hey, you can leave — I'm confident that I'll be able to pick up the slack the last 200."
That exact scenario played out in the 2019 World Championship final in Doha, where Wilson was heavily favored to take gold. But after leading through halfway in a quick 57.96, Jamaica's Natoya Goule tried to pass her on the back straight, and Wilson spent so much energy fighting Goule off that she had nothing left for Uganda's Halimah Nakaayi, who blew past on Wilson the home straight for the gold.
Working on becoming comfortable in different racing situations is a smart decision — it's exactly what Donavan Brazier has emphasized since joining Pete Julian, and the results have been fantastic. We know Wilson can win from the front, but to win a global title — the one honor that has eluded Wilson in her decorated career — you need to be flexible. Even David Rudisha had to learn to run in a pack to win his second Olympic title.
Women's 1500: MacLean wins again
Heather MacLean won her second indoor 1500/mile of the season (on January 31, MacLean was the winner in the American Track League mile in 4:27.54) as she used a 46.83 final 300 to grab the win in 4:06.32 over Cory McGee (4:07.21). McGee passed the rabbit before 800 and by 1200 she and MacLean were clear of the field. Ireland's Siofra Cleirigh-Buttner (4:09.67) and Nikki Hiltz (4:09.82) also both broke 4:10. 
Alexa Efraimson, who ran just 2:05.10 for 800 a few weeks ago in her debut for Pete Julian, was never much of a factor in this one as she ran 4:11.26 for 7th in her first 1500 under Julian.
After the race, Hiltz talked a little bit about her decision to change coaches. Even though Hiltz enjoyed a fantastic first year as a pro in 2019, during which she made the World Championship final under the tutelage of Terrence Mahon, she said she decided to make a coaching change after a few of her training partners left the group. Hiltz said she is enjoying being coached by two-time NCAA 1500 champ Mac Fleet, who paces every rep for Hiltz in practice. She said they also train with Fleet's wife Samantha, a 2:01 800 runner.
Sprints
Women's 60: Hobbs runs the fastest but White wins
Kayla White, the 2019 NCAA indoor 200 champ, won a very tight women's 600 in a pb of 7.15 in a race where just .06 separated first from last. 2017 NCAA 60 champ Hannah Cunliffe was second in 7.17, her best time since 2017. 2016 world junior 100 champ Candace Hill, now 22, was third in 7.19. In the prelims, Hill ran a pb of 7.16 (previous pb of 7.22; her best before this year was just 7.32).
Aleia Hobbs, who in 2018 won NCAA indoor, outdoor and US titles, had the fastest time on the day however, as she ran 7.10 in the prelims but was DQ'd from the final for a false start.
Women's 60 hurdles: Harrison impresses
Reigning world indoor champ Keni Harrison looked terrific in her first 60 hurdles race of the year, running a world-leading 7.82 to earn the victory. Sydney McLaughlin, meanwhile, did not look nearly as impressive, falling behind quickly and finishing dead last in 8.56 seconds — far slower than the 8.17 she ran in her last race at this distance…as a high school sophomore.
After the race, however McLaughlin revealed the reason why she was so slow — her coach, Bobby Kersee, told her to run each hurdle leading with her non-dominant leg.
Women's 300: Gabby Thomas wins it, just misses AR
Thomas, the Harvard alum, almost provided the fourth American record of the meet as she impressively ran away from Lynna Irby to win in 35.73 — just .02 off Quanera Hayes' AR.
Women's 400: Shaunae Miller-Uibo breaks another Bahamian record
For the second time in two weeks, Olympic 400 champ Shaunae Miller-Uibo set a Bahamian record, going 50.21 in the 400 today after clocking 22.40 for 200 at the second American Track League meet on January 31. Miller-Uibo is now tied for #8 on the all-time indoor list.
Not bad for her first indoor 400m in seven years ?@Hey_ItsShaunae gliding to a 50.21 WL #WorldIndoorTour pic.twitter.com/ILRQPMQ5n3

— World Athletics (@WorldAthletics) February 13, 2021
Women's 500: Kosichenko wins
33-year-old Olga Kosichenko won a close race over Brenna Detra, 1:12.35 to 1:12.48.
Men's 60: Trayvon Bromell has a great day
After opening his season with a 6.48 at the first American Track League meet on January 24, Trayvon Bromell did not look as fast last week, only managing 6.58 in a losing effort to Ronnie Baker at ATL #3. Bromell later revealed that that race had come in the middle of a heavy block of training; Bromell was significantly fresher today and ran significantly better, winning the final comfortably in 6.50 over 2019 US champ Demek Kemp. 
Earlier, in the prelims, Bromell also prevailed over one of his potential Olympic rivals this summer, clocking 6.53 in heat 1 as Noah Lyles, who stumbled slightly early in the race, could only manage 6.76 for fourth.
Can we talk about @TrayvonBromell's finish? pic.twitter.com/FzLAjftpIn

— World Athletics (@WorldAthletics) February 13, 2021
Men's 200: Lyles wins in just 20.80
Lyles, the third-fastest man in world history at 200 outdoors (19.50), won today, but his winning time of 20.80 was certainly nothing for someone of Lyles' accomplishments to brag about. It was the slowest time that Lyles has run in any 200 since January 2017, when Lyles ran 21.02 to open up his 2017 season. This run combined with a next-to-last showing in the prelims of the 60 (6.76 seconds) caused sprint analyst Ato Boldon to label it "not a good day at the office" for Lyles on the NBC broadcast.
When told about Boldon's comments, a testy Lyles responded, "I don't really care what other people say." 
Despite the slow times, Lyles said today's runs actually proved that his strength training is going well.
"I actually feel strong, which is what we really were trying to get out of training. To be honest, it proved that what we are doing is working," said Lyles of today's races, which he called "glorified time trials." 
When asked specifically about his pedestrian times, Lyles said, "It is what it is. Keep moving on."
Lyles, who last summer opened up about battling depression, was asked post-race how he is handling the uncertainty about whether the Olympics will be taking place. "To be honest, it's one day at a time," said Lyles, who said since the Olympics are scheduled he's preparing as if they will take place. 
Men's 300: Richards wins
Trinidad & Tobago's Jereem Richards, the 2017 WC bronze medallist at 200 who is the 7th fastest man in history at the indoor 300 (32.10), got the win in this one in 32.71 as 44.88 400 man of Christopher Taylor of Jamaica was second in a Jamaican record of 32.80.
Men's 400: Norman edges training partner Benjamin
Michael Norman, the fastest man ever over 400m indoors, got the win here in his first race undercover for three years. But he had to work for it, as Norman's winning time of 45.34 was barely enough to edge out his training partner and fellow USC alum Rai Benjamin, who ran 45.39.
The key in this race was always going to be about who got the lead at the bell, as running the shortest distance possible is huge in the 400. That was Norman, and as a result, Benjamin was at a significant disadvantage. Benjamin tried hard to pass Norman on the back straight, and even edged ahead briefly, but wasn't able to cut in ahead of the turn and had to run the full turn in lane 2. Surprisingly, he was still right with Norman, but couldn't close Norman down on the home straight and had to settle for second despite running significantly more distance.
Field Events
Women's pole vault: Sandi Morris takes it
World indoor champ Sandi Morris only needed to clear two bars to win against a four-woman field. She cleared 4.45m on her first attempt and 4.60 on her third before missing all three attempts at 4.75.
Men's high jump: Trey Culver clears world-leading 2.33m
Culver, the 2016 and 2017 NCAA indoor champion at Texas Tech, tied his personal best to win with a clearance of 2.33m, a centimeter better than Gianmarco Tamberi's previous world leader.
---
Talk about the action on our messageboard