2020 Stockholm DL Recap: Brazier & Cheruiyot Keep Rolling as Reekie & Muir Lead Scottish Mid-D Sweep
By LetsRun.com
August 23, 2020
Karsten Warholm scared the 400m hurdle world record as part of a historic 400 hurdles/400 flat double and Donavan Brazier and Timothy Cheruiyot continued their winning ways as the 2020 Diamond League season continued at the BAUHAUS-galan in Stockholm on Sunday.
Warholm, who ran 46.87 despite hitting the final hurdle to clock the #2 time in history before returning barely 90 minutes later to win the 400 in 45.05, gets his own article here.
Article continues below player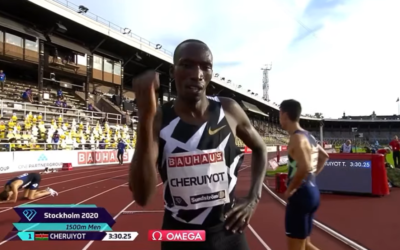 Brazier and Cheruiyot had to work for their victories, but both earned wins in their specialty events, Brazier going from third to first over the final 100 to win in 1:43.76 and Cheruiyot once again holding off Jakob Ingebrigtsen to win the 1500 in 3:30.25. 
On the women's side, it was a sweep for Scottish training partners Laura Muir and Jemma Reekie. Muir used a huge 59.6 last lap to crush the field in the 1500 with a world-leading 3:57.86, while Reekie defeated World Championship silver medalist Raevyn Rogers to win the 800 in 1:59.68.
A full recap and analysis of the meet appears below, starting with the distance action.
Men's 1500: Timothy Cheruiyot holds off Jakob Ingebrigtsen once again
World champ Timothy Cheruiyot and Norway's wunderkind Jakob Ingebrgitsen, history's 7th and 8th fastest men at 1500, duked it out for the second time in 10 days at 1500 and yet again Cheruiyot came out on top. But why would we expect anything different? Ingebrigtsen may be the fastest 19-year-old in history but his career record against Cheruiyot in the 1500 is now 0-9.
Cheruiyot won in 3:30.25 to Ingebrigtsen's 3:30.74 as Aussie Stewart McSweyn lowered his pb from 3:31.81 to 3:31.48 to place third, just missing Ryan Gregson's 3:31.06 national record.
The race was very similar to last week's barn burner in Monaco, save for the fact that Cheruiyot ran a much more sensible first lap. Cheriuyot followed the rabbits while pretty much no one else did so there was a gap on the first few laps between the two. But the pace was more modest up front this time (54.04, 1:50.90 for the rabbits; Cheruiyot was half a second to three quarters of a second behind that).
But coming into the bell, Cheruiyot led with Ingebrigtsen directly behind him and McSweyn on Ingebrigtsen's shoulder. On the backstretch, McSweyn tried to get by Ingebrigtsen but never did and entering the final 100, the three were running single-file with Cheruiyot still in the front. Ingebrigtsen never gained on Cheruiyot during the final 100 but Cheruiyot didn't really start to pull away until the final 40 meters or so. 
1500 Metres - Men 
                                                                        
    1 CHERUIYOT Timothy                KEN   3:30.25                    
    2 INGEBRIGTSEN Jakob               NOR   3:30.74                    
    3 MCSWEYN Stewart                  AUS   3:31.48                    
    4 GÓMEZ Jesús                      ESP   3:33.46                    
    5 RAMSDEN Matthew                  AUS   3:35.99                    
    6 ENGELS Craig                     USA   3:37.55                    
    7 BERGLUND Kalle                   SWE   3:38.19                    
    8 GOURLEY Neil                     GBR   3:38.30                    
    9 ROGESTEDT Johan                  SWE   3:38.97                    
   10 DANIELSSON Emil                  SWE   3:40.08                    
   11 DA'VALL GRICE Charlie            GBR   3:41.75                    
   12 SUNDSTRÖM Simon                  SWE   3:47.76                    
      AKBACHE Mounir                   FRA       DNF                    
      INGEBRIGTSEN Filip               NOR       DNF                    
      SEIN Timothy                     KEN       DNF
Quick Take: NBC Sports should be ashamed
Unfortunately, the biggest story about this race for American fans was not Cheruiyot's continued brilliance, but the fact that nobody in the US could actually watch it. The 1500 was the final event of the meet, but it was within the international broadcast window (we know for a fact the world feed still covered it). Yet for some reason, NBC Sports Gold concluded its broadcast after the men's 400, causing US fans to miss one of the most-anticipated events of the meet.
And to think this was a week after their supposed commercial-free service had them showing US visitors a black screen instead of the action during the commercial breaks during Monaco. 
American track fans are forking over $75 this year for NBC Sports Gold, and many of the meets that would normally be part of it have been cancelled. The least NBC could do is make sure that the events they do broadcast are handled properly. If you missed the race, watch it below.
*MB: OFFICIAL NBC SPORTSGOLD MADPOSTING THREAD
Quick Take: Cheruiyot's win streak rolls on
With wins in Monaco and Stockholm in 2020, Cheruiyot has now won nine in a row in the 1500/mile, dating back to May 2019. The streak is even more impressive when you consider Cheruiyot has faced top competition in every single one of those meets: his wins have consisted of seven Diamond Leagues, one Kenyan championship, and one World Championship in which he ran 3:29 from the front. It's been a long time since someone has been this dominant in the 1500 meters.
Women's 1500: Muir leads a British 1-2-3
Brit Laura Muir DESTROYED everyone over the final 400 to win in a world-leading 3:57.87 thanks to her 59.86 final lap, which gave her a dominant victory. Muir was actually part of a British 1-2-3 as Laura Weightman was second in 4:01.62 and Melissa Courtney-Bryant third in 4:01.81 (a big pb for the 26-year-old – 4:03.44 previous pb). 2018 NCAA champ Jessica Hull and American Shannon Rowbury both ran seasonal bests to place fifth (4:02.65) and sixth (4:03.04). 2020 5000 world leader Hellen Obiri of Kenya, who ran 14:22 in Monaco last week, had a terrible day (11th in 4:10.53), but this race really was all about Muir's last lap. Once she hit the bell she accelerated and instantly gapped the field.
Quick Take: Muir needs more of these type of races
With a 3:55 pb, Muir is really good but she's never medalled on the global stage. More races like this, where she blasts the last 400 and gets her kick meted out correctly are what she needs to work on versus blindly staying with the leader as long as she can even if that causes her to tie up. In actuality, Muir's entire last 800 was pretty good as she closed in 2:04.
And a final 800m of 2:04.76! https://t.co/kD0jDvo63I

— Jon Mulkeen (@Statman_Jon) August 23, 2020
  Results
    1 MUIR Laura                       GBR   3:57.86                    
    2 WEIGHTMAN Laura                  GBR   4:01.62                    
    3 COURTNEY-BRYANT Melissa          GBR   4:01.81                    
    4 CHEBET Winny                     KEN   4:02.58                    
    5 HULL Jessica                     AUS   4:02.65                    
    6 ROWBURY Shannon                  USA   4:03.04                    
    7 GUERRERO Esther                  ESP   4:03.13                    
    8 MCCOLGAN Eilish                  GBR   4:03.74                    
    9 HERMANSSON Hanna                 SWE   4:09.51                    
   10 SÖDERHOLM Linn                   SWE   4:10.27                    
   11 OBIRI Hellen                     KEN   4:10.53                    
   12 MAGEEAN Ciara                    IRL   4:10.99                    
      LEMIESZ Aneta                    POL       DNF                    
      TROST Katharina                  GER       DNF
Men's 800: Donavan Brazier makes it 10 in a row
With 120 meters to go in today's race, Donavan Brazier fans may have been a little worried. The American world champ, unbeaten so far in 2020, had hung back over the first lap and found himself in fourth place, boxed in by Sweden's Andreas Kramer in front and Puerto Rico's Wesley Vazquez to his left.
But Pete Julian's biggest aim when taking over as Brazier's coach last year was to expose his young star to a wide variety of race scenarios so that Brazier could win from anywhere on the track. That experience paid off today; Brazier's patience was rewarded, and he turned on the jets with 100 meters to go to blow away the field, winning by almost a second in 1:43.76 to runner-up Marco Arop's 1:44.67. 18-year-old British phenom Max Burgin was 6th in 1:46.02.
The Race
Brazier did not get out as aggressively as in Monaco last week, and just before the bell, he found himself in fourth place. Arop (the first racer in 50.3) and Kramer were threatening to gap the field, and Brazier saw it, quickly moving past Australia's Peter Bol to hit 400 in 51.0.
By the backstraight, Brazier had closed the gap, but was content to allow Arop (1:16.57) to continue leading. At this point, Vazquez, who almost beat Brazier in the 600 in Hungary on Wednesday, came up on Brazier's shoulder and attempted to move around him. Midway through the turn, Vazquez had actually edged ahead, but he was running extra distance and growing tired. Brazier, meanwhile, was just heating up.
As Vazquez tired, a gap opened up for Brazier, and he seized upon it, jumping out into lane 2. Quickly, it became apparent Brazier had a lot left in the tank. As his opponents grimaced, their form beginning to fall apart, Brazier radiated smooth, controlled ease, pumping his arms powerfully and eating up the track with his stride. He blew by Kramer, passed Arop midway down the home straight, and won easily in the end.
800 Metres - Men 
                                                                        
    1 BRAZIER Donavan                  USA   1:43.76                    
    2 AROP Marco                       CAN   1:44.67                    
    3 KRAMER Andreas                   SWE   1:45.04                    
    4 ROTICH Ferguson Cheruiyot        KEN   1:45.11                    
    5 VÁZQUEZ Wesley                   PUR   1:45.88                    
    6 BURGIN Max                       GBR   1:46.02                    
    7 BOL Peter                        AUS   1:46.26                    
    8 TUKA Amel                        BIH   1:47.55                    
    9 MARTINSSON Erik                  SWE   1:50.06                    
      RUDOLF Žan                       SLO       DNF
Quick Take #1: Brazier is clearly the best in the world right now (still)
The knock on Brazier early in his career was that he had the talent but not the consistency — not uncommon for someone who turned pro at 19 years old. Now, however, that consistency has come. Brazier has won his last 10 races, and he's now won three races in the 10 days for Donavan Brazier on his European trip. We'd have loved to see him race Nijel Amos or Emmanuel Korir this year (both of whom still have faster pbs than Brazier) — it's actually inexcusable that Amos and Brazier, both based in Oregon, never raced at one of the Big Friendly meets — but of the 800m athletes in Europe right now, Brazier is undoubtedly the best.
One other thing worth noting about Brazier: in his post-race interview, he said he'd been dealing with a foot issue since coming to Europe, which makes today's win even more impressive but also serves as a note of caution moving forward. As of now, he's planning on racing again in Gothenburg on August 29.
Quick Take #2: Marco Arop continues to impress
Arop, you may recall, didn't even make it to the NCAA meet last year for Mississippi State; clearly battling an injury, he couldn't make it out of the East prelims.
One year later, and he's squarely among the world's best in the 800 at the age of 21. After his NCAA disappointment in 2019, he went on to win the Pan American Games title and place 7th at Worlds for Canada. And in three European races in 2020, the front-running Arop has looked fantastic. In Monaco last week, he clocked a pb of 1:44.14 to finish third, and then took second in Bydgoszcz on Wednesday behind Elliot Giles. Today, he was competitive again, leading through 750 meters and holding on to take second in 1:44.67. Arop still needs to work a bit on his finish, but again, he's only 21. He's got time.
Quick Take:  Kramer just missed 1:45 – again!
Sweden's Andreas Kramer ran a season's best 1:45.04 for third. Placing third in a DL is something he probably is pretty proud of. But unfortunately a 1:44 clocking eluded him yet again. This was the 5th time he's run 1:45.10 or faster but he's never broken 1:45.
Before today, these were @aandreaskramer's top five 800m times:

1:45.03
1:45.03
1:45.05
1:45.10
1:45.13

And today he ran…

1:45.04

— Jon Mulkeen (@Statman_Jon) August 23, 2020
Women's 800: Jemma Reekie gets the better of Raevyn Rogers
22-year-old Brit Jemma Reekie has been one of the breakout stars of 2020, and her strong year continued as she stormed away from World Championship silver medalist Raevyn Rogers over the final 200 meters to win in 1:59.68 to Rogers' 2:01.02.
The Race
Rogers wanted to lead this one and was the first racer at 200, but Reekie wanted the lead as well and made a move to get it on the home straight, hitting 400 in 59.6. Rogers attempted to pass her back on the back straight, but could never gain enough ground to grab the inside line. We quickly saw why, as Reekie hit the jets with 600 meters, dropping Rogers easily and pulling away to a comfortable 1:59.68 victory (29.4 final 200). Rogers held on for second in 2:01.02.
800 Metres - Women 
                                                                        
    1 REEKIE Jemma                     GBR   1:59.68                    
    2 ROGERS Raevyn                    USA   2:01.02                    
    3 HYNNE Hedda                      NOR   2:01.44                    
    4 HERING Christina                 GER   2:02.13                    
    5 BELL Alexandra                   GBR   2:02.25                    
    6 BÜCHEL Selina                    SUI   2:02.38                    
    7 LAMOTE Renelle                   FRA   2:02.53                    
    8 LINDH Lovisa                     SWE   2:04.98                    
      YARIGO Noélie                    BEN       DNF
Quick Take: A great day for Britain (and Andy Young's group)
Because of the pandemic, the fields in Stockholm weren't as strong as they'd usually be, but the Andy Young-coached pair of Reekie and Laura Muir still deserve a lot of credit. Both came out and utterly dominated their events today. 
"We're really fortunate that we train together and we're world class athletes and we complement each other in different ways," Reekie said after the race. "I'm bringing her on in speed and she's bringing me on in endurance and we're both working so hard together. I've run 1:57 indoors so I was hoping to run a bit quicker but this year is about getting experience before next year and learning to win."
Quick Take: A step in the right direction for Raevyn Rogers
Rogers' first race under new coach Pete Julian was a bit rocky — she could only manage 2:37 for 9th in a competitive 1000m in Monaco last week — but she looked better today. Clearly, the desire was there, with Rogers battling for the lead and trying to control the race, but she was fighting an uphill battle against Reekie, who is clearly in superior shape. 
2:01 from a woman who has run 1:57 won't turn any heads, but Rogers definitely showed signs of progress today.
Men's 400: Warholm completes double
Just over 90  minutes after Karsten Warholm nearly broke the world record in the 400 hurdles, he raced again in the flat 400. Yet again he got a win and yet again he came up a little short of a time — although the time that he missed this time was the world leader (44.91) as he ran 45.05. In the process, Warholm finished off the greatest 400h/400 single-day double in world history.
5 Fastest Same Day 400/400h Doubles (via Jon Mulkeen).
Karsten Warholm 91.92 (45.05 / 46.87)
Felix Sanchez 92.87 (45.25 / 47.62)
Harald Schmid 93.16 (45.31 / 47.85)
Angelo Taylor 93.20 (45.04 / 48.16)
Felix Sanchez 93.22 (45.14 / 48.08)
400 Metres - Men 
                                                                        
    1 WARHOLM Karsten                  NOR     45.05                    
    2 JANEŽIČ Luka                     SLO     45.85                    
    3 DOBBER Jochem                    NED     46.23                    
    4 YOUSIF Rabah                     GBR     46.63                    
    5 SCHLEGEL Marvin                  GER     46.99                    
    6 RE Davide                        ITA     47.00                    
    7 EKELUND ARENANDER Nick           SWE     47.42                    
    8 JOHANSSON Emil                   SWE     47.84
Men's 200: Adam Gemili wins it
With no Noah Lyles, Gemili, last year's fourth-placer at Worlds, was favored here and delivered. Ahead of the field off the turn, Gemili held everyone off over the final 100 to win in a fairly pedestrian 20.61 (+3.0 wind).
200 Metres - Men                                 Wind: +3.0 m/s
                                                                        
    1 GEMILI Adam                      GBR     20.61                    
    2 SVENSSON Felix                   SWE     20.75                    
    3 WICKI Silvan                     SUI     20.75                    
    4 BURKE Mario                      BAR     20.80                    
    5 VELEBA Jan                       CZE     20.83                    
    6 KILTY Richard                    GBR     20.87                    
    7 HALL Elijah                      USA     20.90                    
      HORTELANO-ROIG Bruno             ESP       DNF                    

Women's 100: Del Ponte Stays unbeaten at 100
Switzerland's Ajla Del Ponte, 24, picked up her 7th 100m win in 7 tries this year in 11.20, as she slowly pulled away from the field over the final 40 meters to win. 2017 silver medallist Marie Josée Ta Lou was third in 11.32.
100 Metres - Women                               Wind: +1.3 m/s
                                                                        
    1 DEL PONTE Ajla                   SUI     11.20                    
    2 VAN HUNENSTIJN Marije            NED     11.28                    
    3 TA LOU Marie-Josée               CIV     11.32                    
    4 HAASE Rebekka                    GER     11.32                    
    5 LÜCKENKEMPER Gina                GER     11.33                    
    6 ZAHI Carolle                     FRA     11.34                    
    7 LALOVA-COLLIO Ivet               BUL     11.49                    
    8 SOWE Fatou                       GAM     11.53                    

Women's 400h: Femke Bol stays unbeaten
20-year old Femke Bol of the Netherlands, the world leader in the 400 hurdles this year at 53.79, won easily in 54.68 to remain unbeaten in the hurdles this year. 2013 and 2015 world champ Zuzana Hejnová was just 7th in 56.75.
400 Metres Hurdles - Women 
                                                                        
    1 BOL Femke                        NED     54.68                    
    2 RYZHYKOVA Anna                   UKR     55.19                    
    3 IUEL Amalie                      NOR     55.92                    
    4 PETERSEN Sara Slott              DEN     56.30                    
    5 WATSON Sage                      CAN     56.31                    
    6 SPRUNGER Lea                     SUI     56.40                    
    7 HEJNOVÁ Zuzana                   CZE     56.75                    
    8 PALMQVIST Hanna                  SWE     58.56
Women's 100 hurdles: Luminosa Bogliolo wins
This is one event where the absence of Americans really hurts. Only one woman in the field today had ever broken 13 seconds, and she did it again to win — 25-year-old Italian Luminosa Bogliolo. Behind her, runner-up Lotta Harala of Finland tied her pb at 13.07, while Mette Graversgaard ran a huge pb and Danish record of 13.13 in third.
100 Metres Hurdles - Women                       Wind: +1.4 m/s
                                                                        
    1 BOGLIOLO Luminosa                ITA     12.88                    
    2 HARALA Lotta                     FIN     13.07                    
    3 GRAVERSGAARD Mette               DEN     13.13                    
    4 WENNERSTEN Julia                 SWE     13.72                    
    5 KARLSSON Lovisa                  SWE     13.76                    
    6 JOHNSON-THOMPSON Katarina        GBR     13.94                    
    7 KLAUP-MCCOLL Mari                EST     13.98                    
    8 SKOGSTRÖM Malin                  SWE     14.32
Women's 400: US indoor champ Wadeline Jonathas wins it
Other than Jonathas, last year's World Championship 4th placer, this wasn't a great field, and the wind in Stockholm meant times weren't particularly fast. Jonathas was the only woman to break 52 seconds, clocking 51.94 to prevail over Great Britain's Laviai Nielsen. 
400 Metres - Women 
                                                                        
    1 JONATHAS Wadeline                USA     51.94                    
    2 NIELSEN Laviai                   GBR     52.16                    
    3 KLAVER Lieke                     NED     52.35                    
    4 KNIGHT Jessie                    GBR     52.42                    
    5 VONDROVÁ Lada                    CZE     52.44                    
    6 MALÍKOVÁ Barbora                 CZE     53.13                    
    7 HJELMER Moa                      SWE     53.79                    
    8 KNEZEVIC Sandra                  SWE     55.24                    

Field events
Men's Long Jump: Samaai wins even though someone else twice jumped farther than him
The men's long jump featured a new format for the Diamond League today. The normal long jump rules were used for the first 5 rounds and then only the top 3 jumpers were allowed to jump in the sixth round (with the third-ranked jumper jumping first and the top-ranked jumper going last), which by itself would be used to determine the top 3 spots. The format resulted in South Africa's Ruswahi Samaai, the 2017 WC bronze medallist, getting the win even though Sweden's Thobias Montler had the two longest jumps of the day. Samaai jumped 8.09 in round six and then Montler came up just short of that with a 8.06 in the final jump of the day meaning Montler didn't win even though he jumped 8.13 in both round 2 and 3.
After the meet, even Samaai admitted that the victory felt hollow:
That's how I feel right now. https://t.co/nSBaLEyvZ8

— Ruswahl Samaai , OLY (@RuswahlSamaai) August 23, 2020
Results (Full series here)
Long Jump - Men 
                                                                    Wind
    1 SAMAAI Ruswahl                   RSA      8.09                +1.5
    2 MONTLER Thobias                  SWE      8.13                +1.6
    3 PULLI Kristian                   FIN      8.02                +1.0
    4 RANDAZZO Filippo                 ITA      7.87                 0.0
    5 ČEKO Marko                       CRO      7.84                +1.4
    6 CARLSSON Andreas                 SWE      7.79                 0.0
    7 KIPLESUND Ingar                  NOR      7.68                +1.8
    8 TRIO Antonino                    ITA      7.64                +1.1
Women's long jump: Ukraine's Maryna Bekh-Romanchuk wins it in final round
Bekh-Romanchuk won the competition by going the farthest of the three women who made it to round six. Her 6.85m winning jump wasn't just the best of round six, but the best by any woman in the entire competition, two centimeters ahead of the 6.83 pb by Sweden's Khaddi Sagnia in round two.
Long Jump - Women 
                                                                    Wind
    1 BEKH-ROMANCHUK Maryna            UKR      6.85                +1.6
    2 IBARGUEN Caterine                COL      6.61                +1.1
    3 SAGNIA Khaddi                    SWE      6.83                +1.6
    4 ROTARU Alina                     ROU      6.59                 0.0
    5 IROZURU Abigail                  GBR      6.57                +1.3
    6 JOHNSON-THOMPSON Katarina        GBR      6.52                 0.0
    7 JOHANSSON Tilde                  SWE      6.52                 0.0
    8 JARDER Erica                     SWE      6.33                +1.4
    9 PROCTOR Shara                    GBR      6.14                +2.1
Men's pole vault: Duplantis wins with ease with a world-leading 6.01m
The first outdoor showdown between world record holder Mondo Duplantis and two-time world champion Sam Kendricks fizzled, as Kendricks missed all three attempts at 5.73m and finished third with a best clearance of 5.53. Duplantis, meanwhile, sailed through his first four bars without a miss. He cemented victory with his 5.83, then cleared a world outdoor leader of 6.01 before missing three attempts at an outdoor world record of 6.15.
Pole Vault - Men 
                                                                        
    1 DUPLANTIS Armand                 SWE      6.01                    
    2 BROEDERS Ben                     BEL      5.73                    
    3 KENDRICKS Sam                    USA      5.53                    
    4 LILLEFOSSE Pål Haugen            NOR      5.53                    
    5 HOLZDEPPE Raphael                GER      5.33                    
      GUTTORMSEN Sondre                NOR        NM
Women's high jump: Mahuchikh ties world lead
With Maria Lasitskene on the sidelines right now, the women's long jump has turned into a battle between young Ukrainian stars Yaroslava Mahuchikh and Yuliya Levchenko. Mahuchikh won their first meeting of the 2020 outdoor season last week in Monaco, but Levchenko earned revenge with a world-leading 2.00m clearance in Bydgoszcz last week. Today, Mahuchikh seized back the advantage, tying Levchenko's world lead by going over 2.00 on her final attempt.
High Jump - Women 
                                                                        
    1 MAHUCHIKH Yaroslava              UKR      2.00                    
    2 LEVCHENKO Yuliya                 UKR      1.98                    
    3 MCDERMOTT Nicola                 AUS      1.93                    
    4 KINSEY Erika                     SWE      1.93                    
    5 DEMIREVA Mirela                  BUL      1.90                    
    6 SPENCER Levern                   LCA      1.87                    
    7 SKOOG Sofie                      SWE      1.84                    
    8 SALMING Bianca                   SWE      1.80
Women's pole vault: Holly Bradshaw wins
Bradshaw cleared 4.69m on her final attempt to defeat home favorite Angelica Bengtsson of Sweden.
Pole Vault - Women 
                                                                        
    1 BRADSHAW Holly                   GBR      4.69                    
    2 BENGTSSON Angelica               SWE      4.62                    
    3 MEIJER Michaela                  SWE      4.52                    
    3 ŠUTEJ Tina                       SLO      4.52                    
    5 GUNNARSSON Lisa                  SWE      4.42                    
    6 KIRIAKOPOULOU Nikoleta           GRE      4.32
Men's discus: World champ Stahl wins it
World champion Daniel Stahl made the home spectators TV audience happy by winning with a toss of 69.17 and leading a Swedish 1-2 with Simon Pettersson (67.72 pb).
Discus Throw - Men 
                                                                        
    1 STÅHL Daniel                     SWE     69.17                    
    2 PETTERSSON Simon                 SWE     67.72                    
    3 GUDŽIUS Andrius                  LTU     66.80                    
    4 ČEH Kristjan                     SLO     65.73                    
    5 URBANEK Robert                   POL     64.72                    
    6 STUNES ISENE Ola                 NOR     62.39                    
    7 FIRFIRICA Alin Alexandru         ROU     61.14