Karsten Warholm Just Misses 400m Hurdles World Record, Runs 46.87 After Hitting Final Hurdle
By LetsRun.com
August 23, 2020
Track & field almost had its second major world record in the span of 10 days, as 24-year-old Karsten Warholm of Norway was one clipped hurdle short of toppling Kevin Young's 28-year-old 46.78 WR. Warholm, the two-time defending world champion running in lane 8, was well clear of the field as usual during the final 100 meters, but hit hurdle 10, which caused him to slow just slightly. He recovered quickly though, and ran hard through the finish line to clock 46.87 — the second-fastest time in history, and an improvement on his own 46.92 European record.
Talking about just missing the world record, Warholm said, "I hit that last hurdle because I went really hard for the first nine, and stuff like this happens. But I think I was rewarded by just going all in at the end and I got a great time. It's a great lesson for me to always run until the finish line."
Article continues below player
Warholm's win streak in the 400 hurdles now stands at 11 (including prelims), dating back to the start of 2019. He's still a long way off the legendary Edwin Moses, who famously won 122 in a row from 1977-1987, but in one respect, Warholm has surpassed Moses and everyone else in track & field history: he is the first person to have broken 47 seconds twice. His times of 46.87 and 46.92 rank #2 and #3 on the all-time list, behind only Young's WR.
Just over 90  minutes after his 400 hurdles race, Warholm raced again in the flat 400. Yet again he got a win and yet again he came up a little short of a time – although the time that he missed this time was the world leader (44.91) as he ran 45.05. In the process, Warholm finished off the greatest 400h/400 single-day double in world history.
5 Fastest Same Day 400/400h Doubles (Via Jon Mulkeen).
@kwarholm 91.92 (45.05 / 46.87)
@elsupersanchez 92.87 (45.25 / 47.62)
Harald Schmid 93.16 (45.31 / 47.85)
@angelo_taylor 93.20 (45.04 / 48.16)
@elsupersanchez 93.22 (45.14 / 48.08)

Watch highlights of the race below. Talk about Warholm's near world record on our fan forum / messageboard.
Video of the final 100 meters below:
https://twitter.com/nzaccardi/status/1297536805261193217
400h Results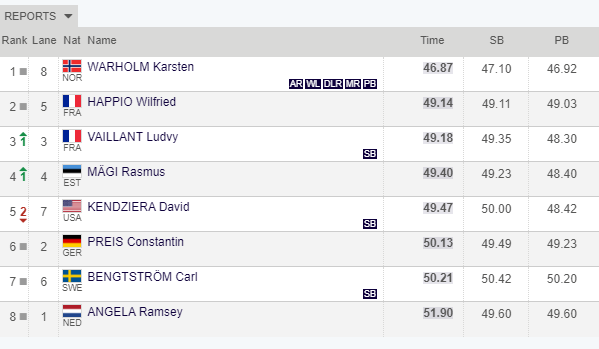 400 Results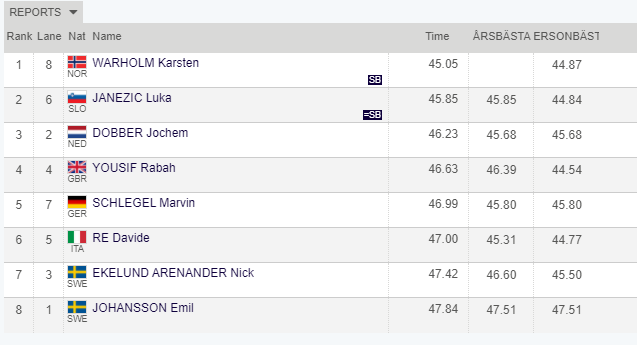 #StockholmDL #warholm
Hitting last hurdle like @hurdlegreat4678 during his world record! Both Young and @kwarholm were timed in 41.65 at H10 touch down!
Let's compare their 50m splits
50-100-150-200-250-300-350m
6.4 11.5 16.8 22.3 28.1 34.1 40.2
6.1 11.2 16.6 22.2 27.9 33.9 40.2 https://t.co/D15YjOGcAi pic.twitter.com/NEvoUG5STY

— PJ Vazel (@pjvazel) August 23, 2020
There are 2 great threads discussing Warholm.
One prerace: Warholm World Record Probability talks about Warholm now taking 13 steps between all the hurdles for the first time.
*Post race:  400h – WARHOLM 46.87  Warholm will likely now target the record in Rome