26:59! How Chris Solinsky Transformed a "Glorified Tempo" Into an All-Time Upset and Performance
Chris Solinsky entered the 2010 Payton Jordan Cardinal Invitational totally unproven over 10,000 meters, an afterthought behind Galen Rupp's American record attempt. Ten years after a barrier-breaking, rivalry-birthing upset, the race's appeal endures.
By Jonathan Gault
May 1, 2020
An Olympic gold medal. Every runner dreams of it. But how many of them truly, genuinely believe they can attain it?
Chris Solinsky always did, from his earliest days at Stevens Point Area Senior High School. And for the next decade, almost everything he did convinced him he was on the right path. As a high school senior, the burly Wisconsin native won the Foot Locker Cross Country Championships by 20 seconds, tying the largest margin of victory in meet history. At the University of Wisconsin, he collected five NCAA titles and ran personal bests of 7:36 in the 3,000 meters and 13:12 in the 5,000 just months after graduation at age 22.
One thing they don't tell you when you set out on the well-worn path chasing Olympic glory: you don't get to choose what you are remembered for.
Article continues below player.
"You would like to be able to say that every great athlete makes an Olympic team or wins a medal or whatever it may be," says Jerry Schumacher, who coached Solinsky for his entire collegiate and professional career. "But that's just not the truth. That's not how it works."
No runner dreams the defining moment of their career will come at the Payton Jordan Invitational. Even if it was, without question, the most exciting race in the history of the Payton Jordan Invitational.
"I remember saying after the race, I don't want to be remembered for this race," Chris Solinsky says. "But lo and behold, I'm remembered for that race."
It's been 10 years since that race. You know the one.
Twenty-six fifty-nine.
Ten years since the race in which Solinsky redefined what was possible for a runner of his size, nationality, and color; since he became, at least briefly, "the fastest white boy ever," as his teammate Evan Jager put it at the time. Ten years since Solinsky shocked Galen Rupp, ripping open a wound that would never heal between the two most powerful coaches in American distance running. Ten years since announcer Ryan Fenton immortalized the run by screaming into the Palo Alto night and more or less losing his shit on the Flotrack broadcast, creating an all-time running pump-up video in the process.

Yes, Event 21 of the 2010 Payton Jordan Cardinal Invitational at Stanford University, the Kim McDonald Men's 10,000 Meters — in which Solinsky ran 26:59 to smash the American record and become the first non-African-born man under 27 minutes — was special.
It's quite a legacy for a race that, just 11 days earlier, Solinsky had described as a "glorified tempo run."
***
Lessons Learned
Accountability is the glue that holds together any great cross country team. It is easy to justify a bad decision when the only person you are letting down is yourself; it is much harder when you are also letting down 20 of your closest friends.
For four years at the University of Wisconsin, that accountability held Chris Solinsky in check. But graduation in the spring of 2007 brought newfound freedom. Once Solinsky became a professional runner sponsored by Nike, team scores no longer mattered. He was still living in Madison in the house on Oakland Avenue, right by Camp Randall Stadium, the one that has been passed down through generations of Wisconsin distance runners (NCAA champs Olli Hoare and Morgan McDonald are more recent occupants), and that created an opportunity to sample a lifestyle he had mostly eschewed to that point.
"I was trying to find a girlfriend," Solinsky says. "So I was going out."
Two or three nights a week, Solinsky would bounce from house parties to bars like Wando's and State Street Brats, hoping to get lucky. He was young and invincible, so his workouts weren't suffering, but he wasn't living up to the "professional" part of his job as a professional athlete.
At 6'1″, with broad shoulders and a barrel chest, Solinsky was built more like a decathlete than a distance runner — when he broke 27:00, he was the tallest man to do so, and the heaviest by 20 pounds. He always viewed his build not as a disadvantage, but as a gift from God, a strong frame that allowed him to push harder and withstand more pounding than his rivals. But all those beers added up, something Schumacher would remind him of as his weight crept over 170 pounds. Initially, Solinsky swatted away the criticism.
Then he finished fifth in the 5,000 at the 2008 US Olympic Trials after leading with half a lap to go. After the race, Solinsky retreated to a corner of Hayward Field, crying to himself about a lesson learned the hard way.
"Running eight to 12 pounds heavy over my normal race weight, coming up 200 meters short of making that team, you can very much blame that on being a little heavy," Solinsky says.
The following year, Solinsky took a step forward, advancing to the 5,000 final at the World Championships in Berlin. At USAs, Solinsky had run his last lap in 53.90 seconds, which convinced him he could contend for a medal in Berlin, and Solinsky was one of 12 men still in contention at the bell. This time, however, he could only manage 61 for his final lap and finished 12th. For the second year in a row, he left his biggest race of the season humbled.
Solinsky examined what had gone wrong. Solinsky knew he could physically close the final lap of a 5,000 in 53 seconds, which is what Kenenisa Bekele (53.21) did to win gold in Berlin; he'd done it at USAs eight weeks earlier. But unlike USAs, where Solinsky hadn't run faster than 62 seconds until the last lap, Bekele had turned the screws earlier, dropping a 61.7 and a 60.8 before hitting the bell, at which point Solinsky was spent. Solinsky had the speed to contend for a medal. He just had to find a way to use it.
"That's what my goal [was] for 2010: I [had] to get strong enough that nobody could drop me," Solinsky says.
***
The Buildup
Solinsky's nights out on State Street damaged his Olympic prospects in 2008, but they paid off in one key respect: he did find that girlfriend he was looking for. Solinsky and Amy Dahlin, a former Wisconsin pole vaulter, were to be married in the fall of 2009. And the date of their wedding — December 5, Solinsky's 25th birthday — greatly impacted how he prepared for what would ultimately become a monumental 2010 track season.
Earlier that year, Schumacher and his athletes (including Solinsky) had moved from Madison to Portland to work alongside Alberto Salazar at a Nike-funded venture known as the Oregon Project. But while Solinsky's training partners, such as former Badgers Simon Bairu, Tim Nelson, and Matt Tegenkamp, spent the fall of 2009 training in Oregon, Solinsky temporarily relocated to the Midwest to prepare for his impending nuptials, splitting time between his and Amy's hometowns of Stevens Point, Wis., and Arlington Heights, Ill.
Despite suffering from a major case of FOMO, the separation from his teammates proved beneficial for Solinsky. Nothing motivates quite like fear, and with every training update he received, Solinsky became more and more afraid he was missing out on the gains his teammates were making out west.
Everyone's really fit, Schumacher would tell him. You're gonna have to do a lot of work when you get here.
So Solinsky ramped up his mileage and trained like a madman. No way was he going to risk getting dropped in his first workout back in Portland. By the time his teammates arrived in Madison for the wedding, they were the ones worried about getting dropped.
"He just looked so fit," Jager says. "The skinniest I'd ever seen Chris at the time."
He had dropped roughly 10 pounds from 2008, when he hovered around 170. Part of that was due to his intense training regimen, but Solinsky had always trained hard. The bigger reason? Solinsky split grocery duties with his parents, but he was 24 and no fan of shopping. In the battle between hunger and laziness, the latter often prevailed. When Solinsky did chow down, it was mostly on lean venison he'd killed with his father during hunting season.
Solinsky had always pushed the pace on easy runs — yes, he was a half-stepper — but reached a new level when he returned to Portland in January. His philosophy was simple: if he felt good, he would run fast. And in 2010, he was feeling good all the time.
"We were getting down to 5:30/5:40 [mile] pace and it was just hell trying to keep up with him," Jager says. "It was relentless, it was every single day, and you just kind of got the sense that he was out for blood."
Solinsky was best handled in small doses. He'd often start a run on his own to get the hammering out of his system before connecting with teammates and finishing up at a relaxed pace.
"It was impossible to hang with Chris in every workout," Bairu says. "We had a very talented group, but we knew we couldn't train with Chris every day or we would break down. I don't think there was ever a workout he didn't finish alone; if we finished with him, it was because Jerry kept it under control. I've never met anybody who trains like him."
With his renewed focus on strength, Solinsky spent the first four months of 2010 training with the group's marathoners, Bairu and Nelson, averaging around 110 miles per week, including several above 130. As the outdoor season approached, it was clear all three were in monster shape.
There was a grueling session of repeat miles with 90 seconds' recovery, all in the 4:20s or 4:10s (Nelson ran five reps, Bairu six, Solinsky seven). A 10-mile tempo run in under 48 minutes. One workout consisted of 600s with a scant 100-meter jog between reps. Solinsky and Nelson dropped Bairu — who had just finished an impressive 12th at the World Cross Country Championships — and knew they were ready to go.
"If you added up our 600s, obviously minus the 100 jog, we ran 13:01 for a 5k," Solinsky says. "That one, I was like, holy cow, that's insane."
While Solinsky's focus was the 5,000, Schumacher decided to test exactly how fit and strong he had grown and entered him alongside Nelson and Bairu in the 10,000 at Payton Jordan on May 1. It would be Solinsky's debut at the distance.
"What stood out," Schumacher says, "as it does with any of the athletes I've ever worked with: you know they're ready not by how fast they're running in practice, but by how they look doing the work…It looked like it was coming very, very easy to him."
***
Eugene or Palo Alto?
Twice during his career, Alberto Salazar attempted to break American records at Hayward Field. Twice, he failed. On April 10, 1982, he ran 27:30.0 in a famous 10,000m duel against Henry Rono, losing the race and missing Craig Virgin's American record by less than a second. Two months later, Salazar was beaten by his former Oregon teammate Matt Centrowitz, who ran 13:12.91 to break Marty Liquori's 5,000 record; Salazar's 13:15.72 was just .66 slower than Liquori's mark.
So as Rupp began his first professional season in 2010, Salazar decided Rupp would try to accomplish what he could not: break the American 10,000-meter record at Hayward Field.
The plan was hatched: Rupp would make his attempt at the Oregon Relays on Friday, April 30. Salazar found two Kenyan rabbits, Mathew Kisorio and Simon Ndirangu, who could set a pace to break the mark, which stood at 27:13.98 by Meb Keflezighi in 2001. Nike hired a film crew to document the race and printed up posters with Rupp's face and the words GO GALEN in big, black capital letters. Already an Olympian and a six-time NCAA champion at the University of Oregon, the race would serve as Rupp's coronation as the new king of American distance running.
Salazar knew Solinsky, Bairu, and Nelson were running a 10,000 that weekend as well, and told Schumacher he wanted them to run it in Eugene against Rupp.
It was a request Salazar felt comfortable making, because at this point, Salazar and Schumacher got along fine. After his heart stopped for 14 minutes during a near-fatal heart attack in June 2007, Salazar began pondering some serious questions. Among them: what would happen to Rupp, the star pupil he had begun coaching as a scrawny teenager, if the worst came to pass? So in 2008, he hired a successor to join him at the Oregon Project, a man he called the "best distance running coach in America": Jerry Schumacher.
"I'm looking to the future," Salazar told the Eugene Register-Guard. "…I have life insurance for my family, and now, with Jerry coming to Portland, I have coach insurance for Galen."
Salazar and Schumacher were, nominally, part of the same team during the spring of 2010. All of their athletes raced in the green singlets of the Oregon Track Club; some even lived together at the so-called "Nike House" in Portland. But there was a clear, though amicable, separation. Salazar coached his athletes and Schumacher coached his. The two groups did not work out together.
"It was cordial, but we just kind of did our own thing," Solinsky says.
Schumacher's response to Salazar's invitation to join the race in Eugene was simple: no. To Schumacher, racing in Eugene made no sense. Stanford's weather was reliably perfect. Eugene in April? Anything but.
While Schumacher's plans were locked in, Salazar's remained flexible. On Thursday, one day before the scheduled attempt, Salazar decided Rupp would not race in Eugene on Friday — too windy and cold. Salazar had also entered him at Payton Jordan as a contingency, but was worried the pollen levels in Palo Alto could affect Rupp's performance. So he considered two more options: either ask the Oregon Relays to move its 10,000 to Saturday or create a new standalone race on Saturday at Hayward Field.
Salazar kept Schumacher abreast of each new development; Schumacher, in turn, would inform his athletes. Eventually, Solinsky had had enough.
"I remember looking at Jerry and being like, Jerry, I don't care," Solinsky says. "It doesn't matter. He can run here, he can run there; it doesn't change what we're doing."
On Friday, after consulting with a Stanford researcher who assured him pollen would not be an issue by race time, Salazar announced his decision: Rupp would race at Stanford on Saturday night. Nike quickly spread the word, announcing Rupp would be made available to media on Sunday morning at the new Nike store in Palo Alto should he break the American record.
With Rupp in the field, there were now three pacemakers at Payton Jordan: Kisorio and Ndirangu, hired by Salazar, and Daniel Salel, another Kenyan hired by Schumacher to pace his athletes. Salazar and his assistant, Oregon Project high performance director Darren Treasure, were concerned Salel could beat Rupp, so before the race, Treasure told Schumacher to tell Salel he was not allowed to finish. But part of Salel's agreement with Schumacher was that he be able to finish after his pacing duties were complete in order to chase a qualifying mark for the Commonwealth Games. Schumacher said he was not going to tell Salel he could not finish, especially considering Rupp had his own pacers.
The request made two things crystal clear. First: it was very, very important to Salazar that Rupp win the race. And second: Salazar did not consider Solinsky — or any of Schumacher's athletes — a threat to defeat Rupp.
Rupp, coming off a US title and an 8th-place finish in the 10,000 at Worlds in 2009, was the clear favorite. But head-to-head, Solinsky owned a 6-2 record against Rupp on the track. Granted, none of those races were over 10,000 meters.
"Did I think [Solinsky] could win?" Schumacher says. "Sure, I thought he could win. I had no idea though…I didn't even know if he was going to beat Tim Nelson in that race or Simon Bairu."
Around Schumacher's group, the sense was that Solinsky could run anywhere from 27:10 to 27:50. The day before the race, Solinsky sent an email to friends and family telling them to watch.
"[I wrote], Hey, this guy's going for the American record," Solinsky says. "I've only lost to him once or twice before that. Myself and my training partners are in really good shape. A lot of times this stuff doesn't pan out, but if it does, who knows, maybe I'll get an American record tomorrow."
The general public was not as optimistic. On the LetsRun messageboard pre-race prediction thread, Solinsky's name was barely mentioned. One poster wondered if Solinsky was only entered to pace his teammates. Another said he'd be lucky to break 28:00.
An early indication that something special was in the works came on Friday night.
"If you look back at some of my better moments in my running career, I actually had, the night before, an insatiable appetite," Solinsky says.
Solinsky began with the gnocchi at Il Fornaio, an Italian restaurant in Palo Alto, but the portion was insultingly small. So when Solinsky showed up to Cold Stone Creamery, a pre-race tradition dating back to his Wisconsin days, for his usual order (vanilla ice cream with peanut butter cookie dough, white chocolate chips, and caramel), he ordered a "Gotta Have It" — the biggest size they had. That didn't do the job either. Only after devouring the majority of a medium pizza from Little Caesars that he "split" with Bairu did Solinsky go to bed satisfied.
***
The Race
Strategizing for the race, Schumacher urged the naturally aggressive Solinsky to be cautious; no big moves. Ideally, Schumacher wanted Solinsky to hang with the pacemakers as long as possible and wait until 100 meters to go to kick. Solinsky felt the better play would be to move earlier in the race; why let someone else hang around until the final 100 if Solinsky was feeling good?
Eventually, they reached a compromise.
"I said I tell you what, if there's a time when you feel you can [make a big move], I want you to be able to hold it to the finish line," Schumacher says.
Conditions for the race were, predictably, ideal. As darkness fell, the afternoon winds died and the temperature dropped into the 50s: perfect for section one of the men's 10,000, which would go off at 9:50 p.m.
Solinsky is usually one of those guys who feels like crap before every race and then races incredibly. So when he breezed through an effortless warmup, he was scared.
"Because in the past, if I ever did feel good, the race did not go well," Solinsky says.
Originally, Solinsky says, Salel had been tasked with rabbitting Schumacher's athletes at 27:20 pace. But with Rupp's pacers already targeting the AR (27:13), forming two separate pace groups made no sense.
"My instructions were: listen, here's the deal, they've got their thing going, I don't want you to mess with their race in any way, shape or form," Schumacher says. "I want you to do our race plan, which is gonna be follow our rabbit. He's gonna follow the rabbits and Galen, and at the point where you feel [or] our team feels like we need to step back from that pace and tempo because it's just too hard, all you gotta to do is tell our rabbit. That's what we have him here for. Like, 'Hey, little too quick, we need to back off a little bit.'"
As Solinsky prepared to head to the start line, his agent Tom Ratcliffe (who also represented Bairu and Nelson) sought out Salel. Not wanting to exacerbate an already prickly situation, Ratcliffe kept the instructions simple. You can finish the race, but make sure you don't trip Rupp. In fact, don't go anywhere near Rupp.
One problem. Salel, racing in the US for the first time, had never heard of Galen Rupp.
"Who is this mzungu?" he asked, using the Swahili term for white person.
Ratcliffe dutifully pointed to the tall blond athlete in the green OTC singlet. Now they were ready to race.
The first half passed without incident. Ndirangu had dropped out at 4k, leaving Kisorio to lead a pack of five (Rupp, Liberty University's Sam Chelanga, Salel, Solinsky, and Bairu) through 5k in 13:34, American record pace.
Solinsky still felt good, but hearing the split made him doubt himself. Panic began to creep in.
Shit, he thought to himself, this is too fast. I don't know if I can do it.
That panic intensified when Solinsky developed a cramp in his side shortly after halfway. Suddenly, breathing felt twice as difficult. To keep going, Solinsky thought back to a piece of advice he'd received from former American 5000 record holder Bob Kennedy. When Kennedy began hurting in races, such as the 5k in 1996 when he became the first non-African to break 13:00, he would tell himself to focus on running the next 200 meters. When he made it through that, he'd focus on the next 200. And the next 200. He'd keep it up until only 200 meters remained.
Fourteen years later, as Solinsky chased another monumental barrier, he employed the same approach during his rough patch. Rupp, growing impatient as the pace began to slack, seized the lead from Kisorio at 6400m. Solinsky hung tough.
200 more.
Just after seven kilometers, the leaders began lapping runners.
200 more.
At 7600m, Bairu, who had spent a mile struggling to hold on to the back of the pack, was finally dropped. It was now a four-man race.
200 more.
And then things got interesting. Despite fighting a cramp, Solinsky had run 20 laps under American record pace, and at no point did it look remotely challenging for him. Now the cramp was gone. When Solinsky eased past Salel just before eight kilometers, passing the young Kenyan as if he were a septuagenarian shuffling along the promenade, Ryan Fenton couldn't help but notice how comfortable he looked.
"Look at Solinsky, man," said Fenton, providing commentary while filming the race on his Sony Handycam. "It doesn't look like this pace is that difficult…When is it gonna creep into Solinsky's mind that he has a chance at the American record?"
Solinsky wasn't thinking about the record. He was thinking about one thing and one thing only: winning the race. Schumacher was stationed at the 300m mark, and now when Solinsky passed him, he'd look over for his coach for permission to move. The first time, Schumacher shook his head.
"[He] look[ed] amazing, but there's a mile to freaking go," Schumacher says. "That's a long way in a 10,000, and a lot can happen in that last mile."
Up front, Rupp was tiring. He ran the 400 from 8400 to 8800 in just 66.9 (27:52 pace), and the lead pack was bunching up. When they passed Schumacher with 1300 to go, Solinsky was right on Rupp's shoulder. Still nothing.
With 900 to go, Solinsky stepped outside next to Rupp, practically begging for permission to pass. Schumacher could hold out no longer. He nodded. Solinsky immediately stormed to the lead.
"I was like, he can't help himself, I'm just gonna let him run and we'll see what happens," Schumacher says.
The leash around his neck removed, Solinsky quickly put five meters on Rupp as Salel followed behind into second. Just 200 meters later, however, he momentarily let off the gas. This was not part of Schumacher's plan.
I want you to be able to hold it to the finish line.
Solinsky was thinking back to a race three years earlier, the Oregon Invitational at Hayward Field, where he had made a similar move, only for Rupp to run him down over the final 100 meters and out lean him at the line. He did not want to be run down again.
But Rupp would get no closer. Solinsky resumed pressing with 600 to go, and by the bell, his lead was 30 meters and growing. He heard his penultimate lap split — 60.1 — and grew excited. Solinsky had no idea of his overall pace, or that he only needed a 70 to break the American record. But he was 400 meters from the finish line, running 4:00 mile pace…and it still didn't feel hard.
There's no way that was a 60, Solinsky thought. If that was a 60, let's see what I can do on this last lap.
Finally, with 200 to go, he heard a time: 26:31. It took him another 50 meters to process what that meant.
Holy crap, I might be able to break 27:00.
With Solinsky accelerating and the crowd roaring him on, Fenton was having the same thought on the FloTrack broadcast. It was going to be fast. Very fast.
"He might break 27 minutes. COME ON CHRIS!" Fenton yelled as Solinsky steamed toward the finish line. "Here we go! OH MY GOD HE DID IT! CHRIS SOLINSKY, 26:59!"
26:59.60 to be precise, with a final 800 of 1:56.2 (60.1, 56.1). Behind Solinsky, the times were incredible. 27:07 for Salel, also making his 10,000 debut. A collegiate record of 27:08 for Chelanga. Rupp ran faster than the previous AR, but his 27:10 was only good for fourth. Bairu (27:23) set a Canadian record, while Nelson ran a 27:31 PB.
But 26:59 was the story, and when Solinsky crossed the line, the crowd exploded. Jager, who had flown down from Portland on his own dime to watch the race, sprinted across the infield to join the mob forming around Solinsky. A night that had begun with nearly everyone expecting Galen Rupp to break the American record had ended with Chris Solinsky breaking 27 minutes, a barrier that had appeared impenetrable for anyone born outside of Africa. Fans asked Solinsky to sign everything — hats, bare chests, and even a few of those GO GALEN posters (Solinsky would end up making Rupp's scheduled appearance at the Nike store the following morning). It was pure insanity.
Though the race ended after 1 a.m. on the East Coast, the shock quickly spread throughout the running world.
"I was getting emails from high school kids that were sending me things like, Hey coach, just wanted to tell you we got back from prom and we had a sleepover at my house, and we watched the race 13 times that night," Schumacher says. "The type of impact it felt it had, the way it reached to all levels of running, it was pretty cool."
Ten years later, Solinsky's final two laps have reached iconic status; in December, LetsRun's readers ranked the 2010 Payton Jordan 10,000 as one of the top four races of the decade, better than any Olympic Trials or NCAA final. It's easy to understand the race's appeal — the historic 26:59 time, the upset, the rivalries it eventually produced — and Solinsky believes Fenton's call should not be overlooked.
A 28-year-old track junkie at the time, Fenton's narration gave voice to the shock, excitement, and amazement all distance fans felt over that final 800 meters. The fans who watched the race live online did not hear Fenton; the live broadcast had been shown exclusively on GoStanford.com. But when distance running America watched replays of the race starting in the early hours of May 2, it was Fenton's call that inspired them.
"[It] gave me chills when I watched it back the first time," Solinsky says. "I tell him every time I see him, I'm like, we're gonna be forever linked."
***
The Aftermath
Solinsky made more history after the race; according to Solinsky, it was the only occasion during his entire running career in which he received a hug from Schumacher.
Informed of this fact a decade later, Schumacher erupts in laughter.
"I get a bad rap for being this standoffish, cold, good job, pat-on-the-back kind of guy," Schumacher says. "But I'm a lot warmer than that…I mean come on, there's pictures of me hugging athletes after some of their races! It's not like it's that unreasonable of an occurrence."
The two men agreed on one thing, however. Solinsky very much remained a 5,000-meter runner.
"Both of us, right away, we were like, what does this mean for a 5k?" Solinsky says.
As you might imagine, it meant very good things. There have been only six occasions in which an American has run faster than 12:57 for 5,000 meters. Half of them came from Chris Solinsky during the span of 77 days in 2010 — 12:56.66 in Oslo on June 4, 12:55.53 in Stockholm on August 6, and 12:56.56 in Zurich on August 19. Ten years later, he remains the fastest American-born runner in history.
On paper, it seems like an anomaly. In the three years prior to his breakthrough, Solinsky ran season's bests of 13:12, 13:18, and 13:18. But Schumacher says the idea that Solinsky made an insane jump in 2010 is misleading.
"I saw a 13:15 guy in practice in 2007, I saw a 13:10 guy in 2008, I saw a 13:00-mid-to-low guy in 2009, and then he ran 12:55 in 2010," Schumacher says. "That's what I was seeing, even though the official results weren't reflective of that."
But, as was the case with contemporaries Alan Webb and Ryan Hall, the very thing that made Solinsky great — the ability to push his body to its absolute limits in training — ultimately led to his undoing. Solinsky believes he was even fitter in 2011 when he ran his last 1600 of the US 5,000m final in 3:58.60, losing a tight battle to eventual Worlds silver medallist Bernard Lagat (13:23.06 to 13:23.65; Rupp was a distant third in 13:25.52). But that race, at age 26, would be Solinsky's last significant achievement. For the rest of his career, he'd only once break 13:30 and never run faster than 13:23. Blinded by his quest for Olympic gold, he ignored his body's warning signs and plowed ahead with training of ever-increasing intensity.
In August 2011, while at altitude camp in Boulder preparing for the World Championships, Solinsky tripped over Tucker, his English Cream Golden Retriever and suffered an avulsion, in which two of his hamstring tendons ripped clean off his pelvic bone. Solinsky blames himself, not his dog, for the injury that would derail his career.
"I was already kind of slipping and he was there — he gets a bad rap for it," Solinsky says. "…I did it to myself, essentially. I just overdid things that led to, basically my hamstring being a ticking time bomb. If it wasn't slipping on the stairs, it would have been probably the first round of the World Championships."
Solinsky had the tendons reattached — ironically, the surgery took place on the same day Rupp broke Solinsky's 10,000 American record in Brussels — and missed the entire 2012 track season. When he returned in 2013, he was not the same runner, and after a failed move to the marathon, he retired in 2016 at age 31. To this day, Solinsky says his left hamstring still looks like someone took a bite out of it.
At first, Solinsky says, coming to terms with the fact that he would never win Olympic gold — that he would never be an Olympian, period, "sucked." But, at 35 and now in his third year as the men's distance coach at the University of Florida, he chooses to share the lessons of his career with his pupils rather than dwell on what might have been.
"Now what I tell my runners at Florida is, if things go well, we don't have to change a whole lot," Solinsky says. "We just have to keep doing what we're doing…I love what I do as a coach and wouldn't change it for the world. And I think those experiences, and falling short, helps drive my messages home sometimes."
***
Solinsky's 26:59 had a profound effect on the sport in the United States. It offered proof, for a new generation of athletes, that there was room for runners of all shapes and sizes among the globe's distance running elite. It also sparked a rivalry that would come to define American distance running in the 2010s, between Salazar's Oregon Project and the group eventually known as the Bowerman Track Club, helmed by Schumacher.
Perhaps a rivalry between Salazar and Schumacher, his handpicked successor, was inevitable: things can get competitive when two brilliant coaches overseeing the top talents in American distance running are forced to share the same training facility. But the 2010 Payton Jordan Invitational marked a breaking point. The race was meant to be Rupp's moment, and Solinsky had stolen his thunder. Rather than accepting the outcome — which included a personal best for his athlete — a paranoid Salazar felt betrayed by Schumacher. Salazar believed that if Solinsky was fit enough to beat Rupp, Schumacher owed it to him to let him know beforehand.
This, despite the fact that Solinsky and Rupp had raced twice already in 2010, over the mile and 3,000 meters indoors, and split two close races. And despite the fact that it was Salazar and Rupp who came to Palo Alto at the last minute — after Salazar had asked Schumacher's athletes to race against Rupp in Eugene.
"The way I remember it is that Alberto was under the assumption that Jerry knew the whole time that Chris was gonna beat Galen and he had felt deceived that Jerry didn't tell him such," Jager says. "To Jerry's defense — Galen was going after the American record and had already made an Olympic team in the 10k and Chris was running it for the first time. I mean, Jerry really didn't know what was going to happen."
Tensions simmered over the rest of the 2010 track season, and by 2011, the two groups were distinctly different entities. After Rupp lost all four of his races to Solinsky during the 2010 outdoor season, Salazar brought in NOP's first international athlete, double European champion Mo Farah of Great Britain. While Schumacher's group continued to don the green colors of the Oregon Track Club, Salazar's athletes began racing in black jerseys with the now-infamous winged skull logo. Salazar even referred to Schumacher and his assistant Pascal Dobert as "our mortal enemies" in a 2011 email that was unearthed by the Wall Street Journal's Sara Germano in 2014.
The oddest episode of the 2011 season came at the Prefontaine Classic in June. Both Rupp and Solinsky were entered in the 10,000 meters, hoping to chase Solinsky's American record. Rupp completed a full warmup, but withdrew, unannounced, just minutes before the race.
After the race, Salazar explained Rupp had scratched due to allergy concerns. But one source close to Salazar says Salazar had made the decision to scratch Rupp before they even arrived at the track but had Rupp warm up as if he were racing anyway, perhaps to mess with Solinsky (Rupp declined to be interviewed for this story; Salazar did not respond to an interview request).
After dropping out of the race, Solinsky sensed something was fishy.
"Maybe it was a ploy," Solinsky told LetsRun.com afterwards. "Who knows?"
As NOP and BTC athletes gobbled up championships during the 2010s, the rivalry between the groups was largely hidden from public view, but it bubbled over at the 2014 USATF Indoor Championships in Albuquerque, when Salazar and Schumacher had to be physically separated. USADA's investigation into NOP for alleged anti-doping violations, which concluded last year with a four-year ban for Salazar, added fuel to the fire as many BTC members wondered if the NOP had broken any rules.
"We have always felt like we're the good guys and they're the bad guys," BTC steepler Colleen Quigley told the Clean Sport Collective Podcast in March 2020.
***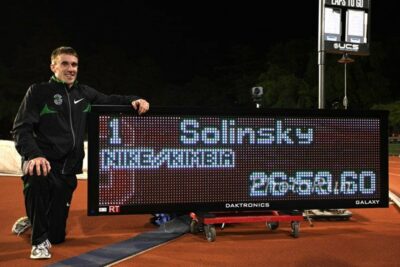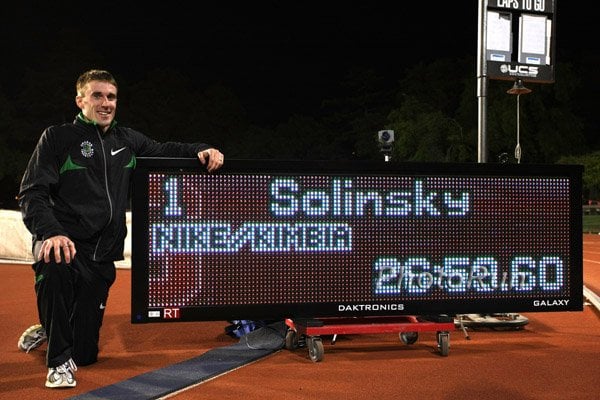 Chris Solinsky did not have the career he mapped out in his head when he graduated from Wisconsin. The plan was four Olympics: the 5,000 in 2008, 5k/10k in '12, 10k in '16, and the marathon in 2020, with a gold medal in there somewhere. He would retire after running the marathon in Tokyo in 2020, a plan that could not have gone farther off the rails, considering the Olympic marathon will be held without Solinsky, in Sapporo, in 2021.
But while Solinsky did not make any of those teams, how many athletes can claim they truly own a race the way Solinsky does with 2010 Payton Jordan? No, his 26:59 didn't come in an Olympic or World Championship final, but in some ways, that makes it more special. Molly Huddle set the US women's 10,000 record at the 2016 Olympics, but she finished 6th, almost a minute behind the winner; it just doesn't resonate the way Solinsky's run does. The fact that Solinsky won — and that he shocked Rupp to do it — is a significant part of the race's appeal.
When you can transform a "glorified tempo" into one of the most celebrated races in the history of American distance running, you've done something pretty extraordinary. A bond exists, between athlete and event, that is rare to find, in any sport. Just tell any running fan you're watching the Chris Solinsky race. They'll never have to ask "which one?"
Related: Chris Solinsky Podcast: "I Believe That I Was in Shape to Run Sub-7:30, Sub-12:50, and Probably Somewhere In The 26:40/26:30 Range"
Talk about Solinsky's 26:59 on the LetsRun.com messageboard/fan forum. MB: Chris Solinsky's 26:59 turns 10 years old today. Share your memories here.
*MB: Jonathan Gault's new story makes Alberto Salazar look totally cringe
*MB: Does anyone have access to a recording of the live broadcast by Stanford of Chris Solinksy's 26:59?
---
More from the LRC Archives:
*Chris Solinsky Retires And We Rank The Five Best Moments Of His Career – Sub-27:00, A Dominant Foot Locker Title And The Epic 2011 USA 5,000
*LRC Homepage of May 2, 2010
*LRC Messageboard live thread for Solinsky's 26:59
*LRC Preview of 2010 Stanford Meet