Chris Solinsky Podcast: "I Believe That I Was in Shape to Run Sub-7:30, Sub-12:50, and Probably Somewhere In The 26:40/26:30 Range"
By Robert Johnson
May 5, 2020
To celebrate the 10th anniversary of Chris Solinsky's 26:59 10,000-meter run, this week we are dropping an extra podcast where we talk to Solinsky for close to an hour. By now, the 26:59 has been discussed and broken down in amazing detail — heck, our own Jonathan Gault wrote 6,000+ words about it — so we only spent the first 10 minutes or so of our chat with Chris talking about that.
After the 26:59 talk, we spent a lot of time talking about the rest of Solinsky's magical 2010 season, during which he ran 12:56 or faster for 5,000 three times in the span of 77 days — a feat that has only been achieved six times by any American, ever. We also got Solinsky to talk about his vision for the University of Florida as he's currently the men's and women's distance coach at Florida. Chris revealed some fascinating things during this podcast, which you can listen to in its entirety at the bottom of this page or via your favorite podcast service. Subscribe to our podcasts here.
Article continues below player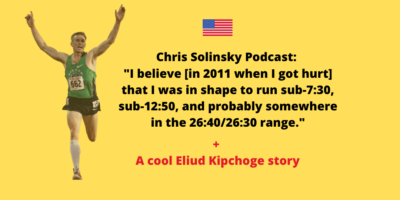 If you don't have time to listen, here are some highlights.
Solinsky tells a cool story that reveals a lot about the character of Eliud Kipchoge
"This shows you Kipchoge's character…After I [broke 13:00 for the first time and] ran 12:56 in Oslo, he was the first person to come up to me [and he was] genuinely excited like literally moments after the race, congratulating me for breaking 13. He was so excited, [saying] 'That is awesome. Congratulations.' I was like (thinking), 'Aren't you my competitor? You obviously probably had a bad day for you' (Kipchoge was way back in 14th in 13:09). He was already a world champ and had done amazing things and I looked up to him [so] to have him come and be the first person to congratulate me and be that excited, I was just like 'Holy cow. That is awesome.'"
Solinsky talks about what Jerry Schumacher taught him that he uses in his current coaching at the University of Florida
"Jerry always thought big and pushed us to think bigger and that's something I've taken from him as a coach. I love seeing the lightbulb [go off]. You push a kid further than they think they can [go] and then they realize they are capable of more than they ever dreamed…To me, that has been the really exciting part of [being a college coach]."
Solinsky shares his goal for the University of Florida distance program
"My goal, my mission is to build us into a top-10 cross country program," said Solinksy, who reminded us and the world that Gainesville has a rich distance history as Frank Shorter and Marty Liquori used to train there as part of the Florida Track Club. "This was the place to train before altitude really took off for big training groups."
Chris Solinsky thinks his peak fitness actually came in 2011, not  2010, and thinks he was in sub-12:50 5000 shape and 26:30-26:40 10,000 shape
"[2011], that's another year where I wish I could have demonstrated the fitness that I was in…The best race I ever ran, in my opinion, was the 2011 USAs. I closed in 7:37 for the last 3k and sub-4 last mile. I couldn't go any faster, but when I finished obviously I was tired but I could have kept going. I had more laps in me. And walking away from that race, Jerry and I talked about it. At the World Championships, if this didn't beat [Bernard] Lagat (who won USAs), I'm going to train to get myself to the point where I can run 3:55 for the last mile. The plan for Daegu was to run a 3:55 last mile and see what happens. I figured If I can do that, I'd at least get a medal.
"[In 2011 because of my hamstring problems] I couldn't do a lot of high intense speed work but 59-60-58s [for 400m reps] wasn't that taxing with regards to my hamstring. So we were like, 'Alright, we're just going to get really good at holding that speed at the end of races,' but I believe — and again, coulda, woulda, shoulda and what you believe versus what is reality — but I believe that I was in shape to sub-7:30, sub-12:50, and probably somewhere in the 26:40/26:30 range. And it never happened, but just like in 2008 and 2009, the fitness was there. I just never got to show it."
LRC 2011 USA 5k recap: Men's 5,000m: Bernard Lagat's 3:57.80 Close Wins A Thriller Over Chris Solinsky And Galen Rupp
Chris Solinsky is very thankful that America has a lot of African-born distance stars
"I am very thankful for him (Bernard Lagat) and [getting the opportunity] to race against him and people like Abdi and Meb as I don't know that US distance running would be where it's at if it wasn't for people like them. They definitely helped up the game as if you wanted to even consider competing for a US title you had to go through them. It definitely raised the game."
Show notes:
[0:01] We talk about the 26:59 for nearly the first ten minutes
[09:15] We talk about the rest of Solinsky's 2010 campaign, during which he broke 13:00 three times
[23:10] Solinsky talks about the first time he broke 13:00 and tells a cool story about how Eliud Kipchoge — whom he beat badly in the race — was the first person to congratulate him.
[26:10] Solinsky talks about dreaming big and what Jerry Schumacher has taught him about coaching in the NCAA.
[33:30] Solinsky talks about what drew him to the University of Florida and his vision for the distance program
[38:40] Solinsky responds to those who think his huge improvements in times in 2010 mean he was a doper
[43:30] We asked Chris about how many of the greats in US distance running history — himself, Salazar, Hall, Webb — didn't have really long careers. Chris talks about this and reveals what he thinks his peak fitness was.
Got audio feedback for the show? Fake Galen Rupp where are you? Call 844-LETSRUN (844-538-7786) and hit option 7.
Talk about the podcast on our messageboard.
MB: Chris Solinsky: "I Believe That I Was in Shape to Run Sub-7:30, Sub-12:50, and Probably Somewhere In The 26:40/26:30 Range"
More: LRC 26:59! How Chris Solinsky Transformed A "Glorified Tempo" Into An All-Time Upset And Performance 10