LRC's Race of the Decade: The Final Four Is Here!
By LetsRun.com
December 20, 2019
(Editor's note: We are determining the RACE OF THE DECADE. If you didn't participate in the first three rounds, you can find an overview of what is going on here.)
After four rounds of voting, LRC's RACE OF THE DECADE bracket is nearing its final stages. We're down to the Final Four, four races each judged to be the best in their own category, consisting of three iconic world records and one unforgettable 10k at Payton Jordan. Let's briefly recap what went down in the quarterfinals before getting to the Final Four matchups (which you can vote for if you scroll down).
Article continues below player
While three #1 seeds out of four advanced to the Final Four, there are two that have been particularly unstoppable: David Rudisha's 1:40.91 world record in the 2012 Olympic 800 final and Chris Solinsky's shocking 26:59 American 10k record at Stanford in 2010. Both of those races have received at least 78% of the vote in all four rounds so far. In the quarters, Rudisha's run earned international distance race of the decade honors by slaying the 2017 Worlds women's steeple final, 78.0% to 22.0%. Meanwhile, Solinsky's race was named US distance race of the decade after it earned 79.3% versus Bernard Lagat's win at the 2016 Olympic Trials (20.7%).
These two races have been the most popular in the bracket so far…but only one will advance to the final as they will square off in the semifinal. Which was better: the greatest 800 ever run or Solinsky's spine-tingling upset of Galen Rupp and the 27:00 minute barrier in the first serious 10,000 of his career? We'll get the answer soon.
On the other side of the bracket, marathon of the decade honors went to Eliud Kipchoge's world record at 2018 Berlin, the only non-#1 seed to advance (it was a #5). Lying in its wake is Meb Keflezighi's 2014 Boston win, which earned 39.5% of the vote to Kipchoge's 60.5%. Kipchoge will face a fellow world record breaker in the Final Four, as Wayde van Niekerk's 400 world record at the 2016 Olympics was voted sprint race of the decade ahead of the 2019 Worlds 400 final duel between Dalilah Muhammad and Sydney McLaughlin, 66.9% to 33.1%.
The big question now: 2:01:39 or 43.03?
(Full results of the quarterfinals appear at the bottom of this page).
There are only two rounds left, and voting for the Final Four will remain open until the end of the day (midnight ET) on Sunday, December 22. The two matchups are listed below; the winners advance to next week's final so make sure you vote!
To keep things suspenseful, we're hiding the results of the votes for this round and the final round. You'll have to check back on Monday to see who won.
Seeds are in ().
Race descriptions by Jonathan Gault.
Semifinal #1
(1) 2012 Olympics, men's 800 meters
David Rudisha's finest hour, which featured two Americans breaking 1:43 and poor Andrew Osagie running 1:43.77 and finishing last, is best described by 17 letters: WR, WJR, PB, PB, PB, NR, SB, PB.
LRC David Rudisha Becomes A Legend By Winning Gold With A World Record In A Truly Historic 800
(1) 2010 Payton Jordan Invitational, men's 10,000 meters
What was billed as an American record attempt for Galen Rupp instead ended with a stunning American record for Chris Solinsky, igniting the Alberto Salazar–Jerry Schumacher rivalry in the process. More importantly, in the first serious 10,000 of his career, Solinsky became the first non-African-born man to break 27:00 for 10,000; at 6-1 and roughly 165 lbs, Solinsky was also the tallest and heaviest man to break 27.
LRC Solinsky Stuns with USA 10,000m Record at Stanford
[gravityform action="polls" id="848″ mode="poll" cookie="1 month" show_results_link="false" display_results="false" percentages="false" counts="false" ajax="true"]
***
Semifinal #2
(1) 2016 Olympics, men's 400 meters
43.03 from lane 8. Need we say more?
LRC 43.03 From Lane 8! Wayde van Niekerk Takes Down Michael Johnson's 17-Year-Old 400M World Record to Win Olympic Gold
(5) 2018 Berlin Marathon, men's race
By September 2018, Eliud Kipchoge was already widely acknowledged as the greatest marathoner of all time. But whether due to weather, faulty equipment, or other factors, the world record had eluded him. Kipchoge put that right by crushing the 2:02 barrier and taking 78 seconds off Dennis Kimetto's world record with a 2:01:39 in Berlin.
LRC The Greatest Ever – 2:01:39 – Eliud Kipchoge Crushes World Record to Win 2018 Berlin Marathon
https://www.youtube.com/watch?v=_pKNBEsJJvM
[gravityform action="polls" id="849″ mode="poll" cookie="1 month" show_results_link="false" display_results="false" percentages="false" counts="false" ajax="true"]
Quarterfinal Results
Updated bracket and quarterfinal results below.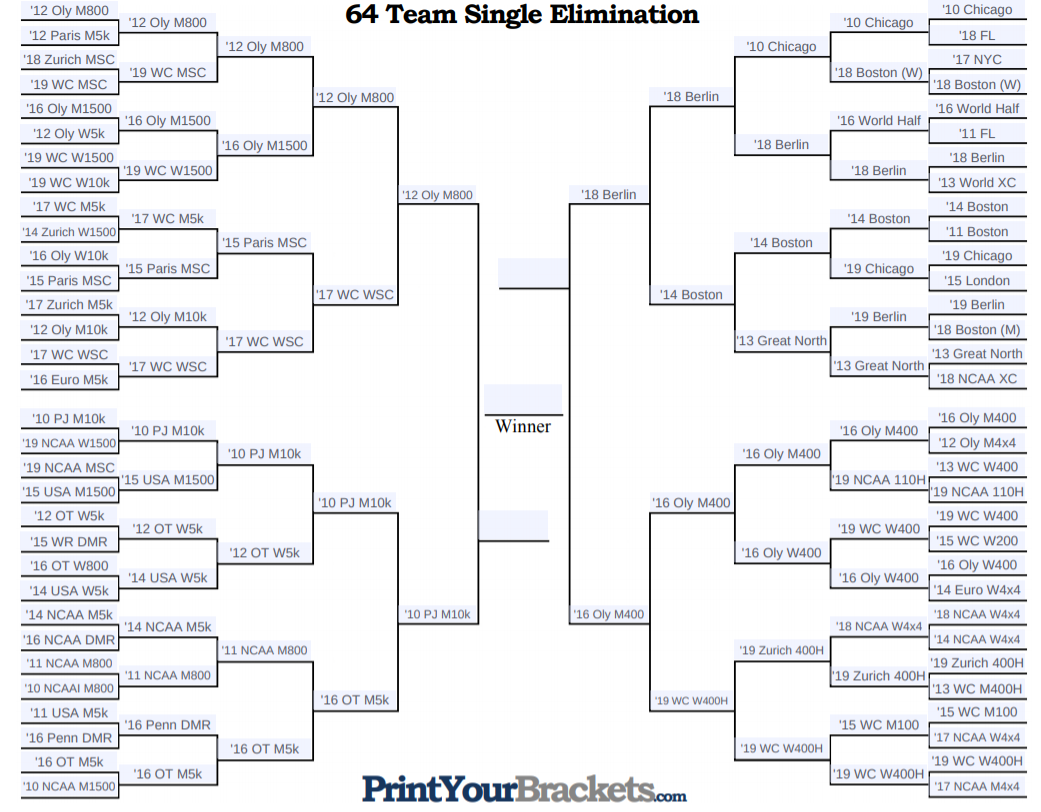 Quarterfinal results
Rudisha Region
(1) 2012 Olympic men's 800 78.0%
(2) 2017 Worlds women's steeplechase 28.0%
Kipchoge Region
(3) 2014 Boston Marathon, men's race 39.5%
(5) 2018 Berlin Marathon, men's race 60.5%
Lagat Region
(1) 2010 Payton Jordan men's 10,000 79.3%
(2) 2016 Olympic Trials men's 5,000 20.7%
Bolt Region
(1) 2016 Olympic men's 400 66.9%
(2) 2019 Worlds women's 400 hurdles 33.1%
More: Round 1 Recap: Kenenisa Bekele's 2019 Berlin Win Defeats Yuki Kawauchi's 2018 Boston Win In Controversial Fashion, Plus Des Linden Takes Down Shalane Flanagan
Round 2 Recap: What Was The Race Of The Decade? Vote Now In The Sweet 16
Round 3 Recap: LRC's Race of the Decade: It's Time for the Elite Eight