Chris Solinsky Retires And We Rank The Five Best Moments Of His Career – Sub-27:00, A Dominant Foot Locker Title And The Epic 2011 USA 5,000
The First Non-African-Born Person To Break 27:00 Retires at Age 31
by LetsRun.com
April 27, 2016
Another great American distance runner has called it a career.
Article continues below player
Chris Solinsky, one of the fastest non-African-born runners in history, has called it a career. The 31-year-old Solinsky, who has struggled ever since he suffered a left hamstring avulsion in 2011 where his hamstring tendons separated from his pelvis, forcing him to have surgery in September 2011, announced his retirement today in a release sent out by his agent Tom Ratcliffe of KIMbia Athletics. Solinsky said he recently realized that July's Olympic Trials weren't a realistic goal for him and thus he should hang it up.
"I thought maybe I'd just keep running and compete when and where I can," said Solinsky in the release. "But I don't really want to do that. That would feel like I was running for a paycheck, and running has never been like that for me."
Solinsky is the third great American male distance runner to hang them up so far this year as Ryan Hall retired in January and Matt Tegenkamp in February:
Solinsky accomplished an awful lot during his career and achieved great things at every level at which competed. He was a high school champion (2002 Foot Locker winner), collegiate champion (five individual NCAA titles), and as a pro he was the first non-African-born man in history to break 27:00. Even to this day, he is the second-fastest non-African-born man in history at both 5000 (12:55.53 pb) and 10,000 (26:59.60).
Below, we recall five of the greatest moments from Solinsky's career.
1) Chris Solinsky Becomes The First Non-African-Born Man To Run Under 27:00 – Runs 26:59.60 American Record In His 10,000 Debut At Stanford on May 1, 2010
This performance was obviously going to top our list. It helped redefine what was viewed as possible for non-African-born runners. But what made Solinsky's 10,000 run even more special was how unexpected it was. It was the 21st century's Billy Mills moment.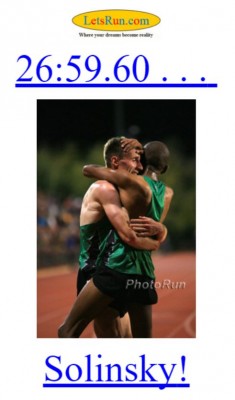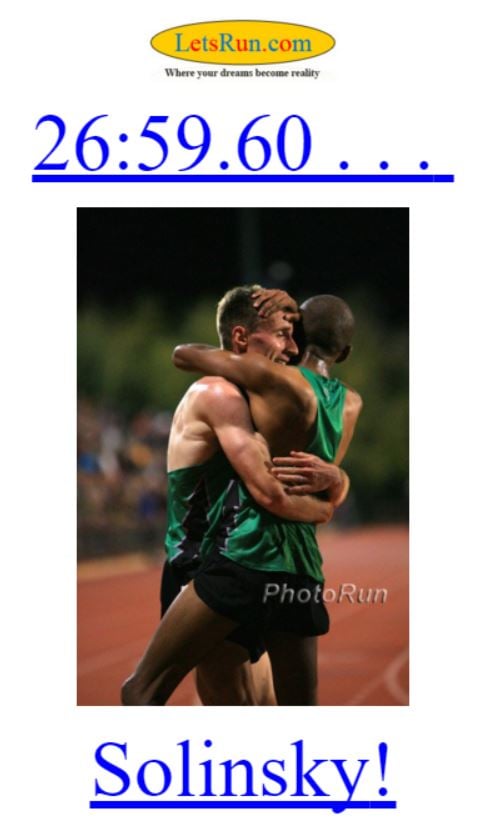 The race — which took place six years ago this week — was hyped as an American record attempt for someone else (Galen Rupp) and even then people weren't really talking about a potential sub-27:00 (the AR was 27:13.98). At LetsRun.com, before the race, we received an email from a Nike PR person saying that if the record fell, Rupp would be answering questions from the media on Sunday. Years later, we were told that Nike had already printed up signs celebrating Rupp's American record which had to be put in a trash bin.
Rupp did beat the 27:13.77 mark by running 27:10.74 but he ended up being an afterthought as he was just fourth in the race.
This morning, we went back and re-read the entire 150-post pre-race prediction thread for Rupp's run that day and Solinsky's name came up just a handful of times. The first time, someone asked if Solinsky was racing or rabbitting and then two predictions were made. One thought he could be dragged to sub-27:30 on a perfect day but would be impressed with a sub-27:45. The only other prediction was a 27:29 which was met with a caustic reply:

Considering how good Solinsky ended up being for the rest of 2010 and 2011, it's hard to remember why Solinsky wasn't being talked about more pre-race. But the facts show that while Solinsky had enjoyed a stellar HS (dominant Foot Locker champ) and college career (five NCAA individual titles) and ran 13:12.24 in the summer of 2007 after finishing up at Wisconsin, he'd only run 13:18 in his first two years as a pro (2008 and 2009). The 10,000 at Stanford was Solinsky's first outdoor race of 2010 and his indoor results were nothing amazing (Solinsky had run a 3:55 mile but was third at USAs in the 3000 behind both Bernard Lagat and Rupp).
But Solinsky's 10,000 debut certainly was amazing. He dominated the final 900 and closed in 1:56.2 (60.1, 56.1) to go into the history books.
"I looked at [coach Jerry] Schumacher with between 1000 and 900 to go, and he gave me the signal to go," Solinsky said to David Monti after the race.  "When he gave me the signal to go I felt good enough and I said I'm going to see what I can do. As soon as I went I said, OK, let's see if I can get 27 minutes."
He did get under and in the process surprised himself. "I kind of jokingly said to Jerry that I could go anywhere from 26:55 to 28 minutes," Solinsky told reporters after the race. "It was my first one; I've never done a 10-K before."
*Relive the 26:59 by looking at the LetsRun.com homepage the day after the race
*Homepage day before the race
*Pre-Race Thread on Solinsky: MB: Solinsky Running the 10K at Stanford
*Pre-Race Thread on Rupp: MB: Rupp 10,000 meter prediction thread
*Live Discussion of Race: MB: Men's 10,000 Splits By reading this thread, you get a great sense of how shocking the run was. Only halfway through the race do people contemplate Solinsky getting the record and never does anyone contemplate it being a sub-27 as they were slightly behind AR pace for much of the race.
Finish of Race 
2) Solinsky Almost Takes Down Lagat at 2011 USAs
Solinsky never made an Olympic team (MB: Is Solinsky the best US runner to never make the Olympic team?)and never won a U.S. title on the track (he didn't run USAs when he was on fire in 2010 as it was a non-World championship year), but he came close on a few occasions, taking second in the 5,000 in 2009 (when he and teammates Matt Tegenkmap and Evan Jager went 1-2-3) and 2011. The latter race — and not one of his many victories — was what Solinsky selected as the best race of his career, telling KIMbia Athletics in his retirement statement, "That was the closest I ever came to beating [Bernard] Lagat. I looked at Lagat as a measuring stick against how I could do versus anyone in the world. He was not just best in the U.S. but the best in the world. I always wanted to go for that challenge—I thrived off the challenge. Running against Lagat made me a way better runner."
Indeed, Lagat, one of the sport's all-time greats, said after the race that he was in the best 5,000 shape of his life, and he would go on to set the American record and earn silver at Worlds later that summer. But Solinsky gave him all he could handle in a classic race at USAs. The race featured not only Lagat and Solinsky — the two fastest Americans at 5,000 ever — but Matt Tegenkamp and Galen Rupp; of the six Americans to have broken 13:00, four were in the race (though Rupp would not accomplish the feat until the following year).
After a slow 4:39 first 1600, things picked up at 2k when Tegenkamp went to the lead and Rupp threw his infamous allergy mask to the ground. With three laps to go, there were still five men in the lead pack, but a vicious 60.6 lap from Solinsky created a massive 50-meter gap within the span of 400 meters as only Rupp and Lagat could hang with the move. Solinsky reeled off a 59.8 for his next 400 and 58.3 from 600 to 200. With a half-lap remaining, Rupp had been dropped, but Solinsky could not shake Lagat, who won it in 13:23.06 to Solinsky's 13:23.65. Rupp was third in 13:25.52. Just how much better were those three on that night? Fourth placer Bumbalough was over 14 seconds back of Rupp in 13:39.94 — and this was a race that went out in a pedestrian 4:39.
Solinsky had closed in an amazing 3:58.57 for his final 1600 but it was not enough as Lagat split 3:57.80 for the same span. Solinsky's final 3k was an unreal 7:37. Sadly for Solinsky, this would be the last great race of his career, as he missed the World Championships due to a left hamstring avulsion and would never fully recover.
Relive our coverage of the epic 2011 USA 5,000 here
3) Chris Solinsky Breaks 13:00 Three Times In 2010 Including a 12:55.53 – The Second-Fastest Time Ever By Non-African Born Runner*
After breaking 27 in his 10,000 debut in 2010, Solinsky had a great rest of the season. Three times he broke 13:00 that summer, an incredibly impressive feat. Think of it this way: in the history of the world, an American-born runner has only broken 13:00 eight times and Solinsky did it three times in three months in 2010 (Kenyan-born Bernard Lagat has done it six times for the U.S.). When Dathan Ritzenhein ran 12:56 to break Bob Kennedy's American record in 2009, it was a huge deal. Solinsky ran 12:56 or faster three times just a year later.
Solinsky actually ran four 5000s on the circuit that summer, with his lone race over 13:00 coming at the Pre Classic, which was held later than normal that year (July 3rd). Afer running 12:56.66 in Oslo, Solinsky went back into a base phase which resulted in him running over 13:00 at Pre but that helped him run 12:55.53 in Stockholm and 12:56.45 in Zurich in August.
12:55.53 is the second-fastest time ever recorded by a non-African-born runner. *It's the fastest time ever run by a non-African born runner who didn't serve a doping suspension (Germany's Dieter Baumann ran 12:54.70).
Chris Solinsky's 5000s in 2010
12:56.66, 6th in Oslo (June 4th)
13:08.11, 7th at Pre (July 3rd)
12:55.53, 5th in Stockholm (August 6th)
12:56.45, 3rd in Zurich (August 19th)
*Lagat Gets 5,000 American Record, Solinsky Runs 12:56!
*LRC Homepage after Pre Classic
*2010 Stockholm Distance Recap: Chris Solinsky Runs 12:55.53  *Stockholm Preview
*LRC 2010 Zürich Diamond League Recap: Like Old Times Wariner, Spearmon, Felix, Phillips, US 4 X 100 Impress, Solinsky Gets Closer
4) Solinsky Crushes Everyone at 2002 Foot Lockers
The performance that introduced Solinsky to the running world came in San Diego in 2002, when Solinsky, then a senior at Stevens Point (Wis.) Area Senior High School, laid waste to a field that included future pros Bobby Curtis, Garrett Heath, Ben True, Tim Nelson and Galen Rupp. Running with the lead pack until two miles, Solinsky made a massive move late in the race and simply destroyed his competitors, winning by 21 seconds in 14:41. Only two athletes — Marc Davis and Reuben Reina — have ever run faster on the Balboa Park course.
His 21-second margin of victory is the largest in Foot Locker history.
5) Chris Solinsky Delivers 18 of Wisconsin's 40 Points As Wisco Wins The 2007 NCAA Indoor Team Crown
Solinsky had a fantastic collegiate career at Wisconsin. He won five NCAA titles (indoor 3000 in 2005, indoor 3000 and outdoor 5000 in 2006, indoor 5000 and outdoor 5000 in 2007) but the 2007 indoor meet was extra special for Solinsky as he scored 18 points and led Wisconsin to the team title. On day 1, Solinsky won the 5000, taking down the likes of Galen Rupp, Sam Chelanga and Josh McDougal before finishing 2nd in the 3000 on day 2 (Lopez Lomong was the winner, McDougal was 3rd, Rupp was 4th).
*LRC homepage after 2007 NCAA indoors
*Article on Wisco winning 
6) Solinsky Speaks
Talking about the impact he made on US running and what he preaches to the runners he coaches at William and Mary, Solinsky said:
"First, runners come in all shapes and sizes. You don't have to be a scrawny little punk to be a top distance runner, if you have the determination and work your hardest. Second, I hope I'm remembered for not having fear. At the 2008 trials I didn't want to just make the team, but to win. I came up 100 meters short, but not having a fear of failure helped me to get the successes I had."
"… As a racer I liked to stick my neck out there, and I preach that a little to the [William and Mary] team. I tell them, 'Give yourself a chance to surprise yourself.' That means different things for different people. Maybe you get yourself in a position you didn't think you could be in, and with the adrenaline pumping you see what happens. You can't be afraid of failure because if you are you'll never succeed at the level you might be capable of."
More: Talk about Solinsky's great career on the messageboard: *SOLINSKY RETIRES
*Is Solinsky the best US runner to never make the Olympic team?