Pole Vault World Champion Shawn Barber Announces He Is Gay
by LetsRun.com
April 24, 2017
2015 World Champion in the pole vault, Shawn Barber of Canada, announced on facebook early this morning that he is gay.
He posted, "Gay and proud! Thank you to my parents for being such a great support. I continue to grow as a person and have a great support group. My parents are my greatest support and have helped me through a lot recently. To my friends, you are always my friends and i love you too!"
Article continues below player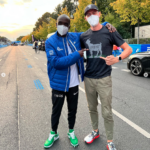 Kipchoge loves the 1:59:40 Shirt Get Yours Today
What a legend!
Barber becomes one of the most prominent openly gay male athletes in the world. We wish him the best.