Timothy Cheruiyot DOMINATES Men's 1500 and Wins First World Title in 3:29.26
By LetsRun.com
October 6, 2019
DOHA, Qatar —  The world title makes it official. Timothy Cheruiyot is the best 1,500m runner on the planet.
Cheruiyot put on a superb display of dominance to capture the men's 1,500m final on the last night of the 2019 IAAF World Athletics Championships in Khalifa Stadium. Just as he has done time after time on the Diamond League circuit over the last two years — only this time without the help of a rabbit — Cheruiyot got out hard and set a pace no one else could match.
Article continues below player
55.01 for 400, 1:51.74 for 800 and 2:48.22 for 1200. By that point, this race was all but over as Cheruiyot led by more than 2.5 seconds. Over the final 300, 2012 Olympic champ and 2016 Olympic silver medallist Taoufik Makhloufi made up a tiny bit of distance, but let there be no doubt, virtually from start to finish the men's 1500 was a coronation for Cheruiyot, who won in 3:29.26.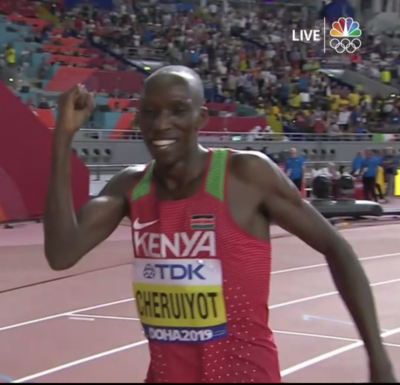 Makhloufi held off Poland's Marcin Lewandowski for the silver, 3:31.38 to 3:31.46, as Lewandowski, who had twice finished 4th at Worlds in the 800 (2011 and 2013), finally got a global outdoor medal, this time at the expense of Norway's teenage superstar Jakob Ingebrigtsen, who was 4th in 3:31.70. Lewandowski also got a Polish record as his time was a 0.25-second improvement over his previous pb. Lewandowski got the silver by running the fastest last lap in the field as his 54.55 final 400 was just faster than Cheruiyot's 54.72 and it was fast enough to take him from 9th to 2nd.
Cheruiyot's 2.12-second margin of victory was the largest in WC history.
Winning margin of 2.12 sec in largest in the history of WC 1500m; previous max was 2.00 sec in 1991

— K Ken Nakamura (@KKenNakamura) October 6, 2019
Lewandowski was one of four men to PR in this one as Brits Jake Wightman (3:31.87, previous pb 3:33.96) and Josh Kerr (3:32.52, previous pb 3:33.60) PR'd to take 5th and 6th and Sweden's Kalle Berglund PR'd to set a Swedish record in 9th (3:33.70, previous pb 3:34.89).
Olympic champion Matthew Centrowitz of the US ran very aggressively early moving up to third to try to stay in contact with Cheruiyot, but by 800 only Cheruiyot's teammate Ronald Kwemoi, who would fade to 7th in a seasonal best of 3:32.72, was within two seconds of Cheruiyot. Centrowitz started the last lap in the medal hunt but ended up 8th in 3:32.81. The other American in the final, Craig Engels, lost contact with the main chase pack on the third lap and ended up 10th in 3:34.24 — even though that was just .20 off his pb.
Race Video
Results
1 Timothy CHERUIYOT KEN 3:29.26
2 Taoufik MAKHLOUFI ALG 3:31.38 SB
3 Marcin LEWANDOWSKI POL 3:31.46 NR
4 Jakob INGEBRIGTSEN NOR 3:31.70
5 Jake WIGHTMAN GBR 3:31.87 PB
6 Josh KERR GBR 3:32.52 PB
7 Ronald KWEMOI KEN 3:32.72 SB
8 Matthew CENTROWITZ USA 3:32.81 SB
9 Kalle BERGLUND SWE 3:33.70 NR
10 Craig ENGELS USA 3:34.24
11 Neil GOURLEY GBR 3:37.30
12 Youssouf HISS BACHIR DJI 3:37.96
Quick Take: This was an epic performance from Cheruiyot
After tonight's race, agent Dan Lilot wondered on Twitter if we just witnessed the first non-rabbitted Sub-3:30 1500 in history.
Since there have been 106 sub-3:30s in history, we're not quite sure of the answer, but it wouldn't surprise us if tonight was the first one without a rabbit.
One thing that's not in doubt is Cheruiyot's performance was one of the greatest in championship history. Everyone in the field knew exactly what Cheruiyot was going to do, and they were powerless to stop him. That is pure dominance.
Hicham El Guerrouj has run faster in a World Championship final — 3:27.65 in 1999 — but he relied on Moroccan teammate Adil Kaouch to sacrifice himself as a pacemaker. Outside of races El Guerroj won, no one had ever run faster than 3:32 tonight in a Worlds final (Noureddine Morceli won the 1991 title in 3:32.84); Cheruiyot ran over three seconds faster than that tonight. He essentially offered himself up as a pacemaker to the rest of the field tonight, and no one could stay within two seconds of him.
To put it another way, Cheruiyot ran within a second of his PR (3:28.41) without a pacemaker in the World Championship final. That is incredible.  
But maybe we shouldn't get too carried away with Cheruiyot's run. Agent Ray Flynn was in the mixed zone and he told us about the 1974 Commonwealth Games 1,500m final where Filbert Bayi front-ran a 3:32.16 world record. You can read more about the race here and here. Bayi's splits were 54.4, 1.51.8, 2.36.75 (1100), 2.50.3. Cheruiyot's were 55.01, 1:51.47, 2:34.54, and 2:48.22. 
Quick Take: Cheruiyot hit his splits perfectly
Cheruiyot came into this race trying to hit specific splits: 1:51 at 800 meters, 2:48 at 1200 meters and sub-3:30 by the finish. His actual splits: 1:51.74, 2:48.22, and 3:29.26.
Trying to drop everyone in a World Championship final obviously requires a degree of risk, but when you've been almost unbeatable for the past two years in fast races — and when the only guy who has beaten you (defending champ Elijah Manangoi) isn't running — why not do it in the final as well?
Really, the only thing that could have brought Cheruiyot down today was a fall. By going straight to the front, he eliminated that threat.
"We wanted to be realistic, just to win and get away from being boxed and tripped like the way you saw in the heats were a little bit murky and a bit rough," Cheruiyot's coach Bernard Ouma told LetsRun.com.
Quick Take: Makhloufi said his coach wasn't allowed to coach him the last two years; he wouldn't go into details why
Makhloufi earned two silvers at the 2016 Olympics, then didn't race at all in 2017 or 2018. He didn't race in 2019 either until July 16, well into the season, but he wound up with another silver in tonight's 1500.
Makhloufi said one of the reasons was that he was tired after a grueling Olympic year in 2016.
"You need to have new energy to start again, fight, you train, you sacrifice," Makhloufi said, suggesting that he didn't have that at the start of 2017.
But Makhloufi also said that his coach, Frenchman Philippe Dupont, wasn't allowed to coach him, saying that Dupont's federation wouldn't allow it. Today, we asked him why the federation wouldn't allow it, and Makhloufi declined to go into details.
"We can't talk [about that]," Makhloufi said. "We cannot go deep."
Why not?
"We keep it like that," Makhloufi said, shrugging.
Quick Take: Should Marcin Lewandowski have moved to the 1500 earlier in his career?
Lewandowski enjoyed a fine career as an 800m runner, where he finished 4th at Worlds in 2011 and 2013 and 6th at the Olympics in 2016. But he began running the 1500 more seriously in 2017, and the results have been outstanding: two Euro indoor titles, a World Indoor silver, and now a World outdoor bronze.
We asked Lewandowski, 32, whether he regretted not focusing on the 1500 earlier, and he said no: the plan had always been to move up to the 1500 eventually, but after coming so close to a medal in the 800 in 2011 and 2013, he wanted to stick with it to see if he could get a medal in that event. There's no doubt about his event moving forward now, though.
"This year, I can say: I'm definitely a 1500 runner," Lewandowski said.
Quick Take: Matthew Centrowitz wished he had been more aggressive
Centrowitz ran somewhat aggressively early on, as after Cheruiyot and Kwemoi broke away, Centrowitz and Makhloufi dropped the chase pack to try to close the gap to the leading duo.
After the race, however, Centrowitz felt as if he didn't commit enough; his move was a half measure when he should have gone all the way. He was right next to Cheruiyot on the start line and knew Cheruiyot was going to take it out hard. If he could slot in behind him, Centrowitz thought, he could ride the train to "PR town" to a fast time and a medal.
"I was just anticipating him going, me falling in in second/third, whatever position, and just going along for the ride," Centrowitz said. "The only thing I'm really disappointed in, like I was saying, was just not being in a better position to cover that move."
Centrowitz added that getting right on Cheruiyot's shoulder would have been his best shot at a medal as well; he wasn't great in the rounds when it came to a kick and thought that with his strength, running 3:30 in his third race in four days would be something not many guys could do. He turned out to be right.
Quick Take: Centro says he didn't learn that Salazar had been charged by USADA until this week
Centrowitz was coached by Alberto Salazar for seven years, from 2012-2018, and after the race spoke at length about his association with Salazar and Salazar's four-year ban from the sport.
Centrowitz began by saying that it was a no-brainer for him to join the Oregon Project in 2012. Though Salazar had coached Mary Slaney, who was banned for doping in the late '90s, there had been no public allegations against him for the controversy that caused his ban (those would not surface until 2015), and Salazar coached the best runner in the world in Mo Farah and two of America's best in Galen Rupp and Dathan Ritzenhein.
And though some of the allegations that Salazar was banned for first surfaced in the BBC/ProPublica report in 2015 (and more widely in the leaked USADA interim report in 2017), Centrowitz said that he never witnessed anything that would have caused him to leave while he was a member of the group.
"Never once was [I] offered or seen anything, or else I would have gotten out of there a long time ago," Centrowitz said.
Centrowitz also said that he had no idea Salazar had been charged by USADA until this week, and that his only involvement in that investigation was when a lawyer called him around two years ago to ask if he had ever visited Dr. Jeffrey Brown (who was banned along with Salazar).
"My conversation with that lawyer was less than 45 seconds long. He asked if I had ever met or talked to the guy. I said no to both of them. I said the guy could have walked into the room that I took the phone call in, wouldn't even know what he looks like."
Finally, Centrowitz reiterated that his decision to leave the Oregon Project had nothing to do with the USADA investigation or allegations against Salazar.
Quick Take: Craig Engels thought he was mentally ready to run 3:30
Engels expected Cheruiyot to take the race out and his hope was to hang back with the chase pack, run 3:34 and snag a medal. He accomplished the latter, but wound up getting dropped with the chase pack as it took 3:31 to medal tonight. Engels said that, mentally, he was ready to run 3:30 tonight. But for whatever reason, his legs wouldn't cooperate.
"I don't know what happened, but I just couldn't stay with that move when they went," Engels said. "…I have no idea. Maybe it was mental. Who knows?"
It is worth pointing out that Engels almost ran a PR tonight, in his third race in four days, in the World Championship final. It wasn't a bad run. Just not what he hoped for.
Engels said that he will stay with coach Pete Julian and NOP moving forward and is looking forward to training to Eric Jenkins next year. But first, it's off to Croatia, where Engels said he will be partying.
Quick Take: Jakob Ingebrigtsen made no excuses
Teenager Jakob was the only one of the three Ingebrigtsen brothers to make the 1,500m final. He was leading the 5,000m with 250m to go but he faded to 5th in the 5,000m and was left out just out of the 1500 medals thanks to Lewandowski. Not a terrible showing for a 19-year-old right?
Think again. Jakob showed his high expectations in the interview below and in what he told the IAAF, "For me, it was a horrible championships. I know it is my first big one and I am still very young, but when you feel so strong, I really wanted to go home with a medal in my bag. Everything was perfect here, I was in the best shape ever and I was here to win. It is a terrible feeling and my legs feel bad now, I feel hopeless and terrible in every way. It was just not good enough today."
Quick Take: Two of the three Scots PR
Great Britain and Scotland had three men in the 1,500m final and two of them left with PBs. Jake Wightman, son of stadium announcer Geoff, was 5th in 3:31.87 (previous PB 3:33.96) and more than justified his selection to the team after his 3rd place at the British Trials.
Former NCAA champ Josh Kerr of the Brooks Beast was sixth in 3:32.52 (previous best 3:33.60). Kerr couldn't be totally satisfied with the result, however, because he wanted a medal.
Talk about the action on our messageboard/fan forum.