2019 Worlds Men's 5K Preview: With No Clear Favorite, Could Jakob Ingebrigtsen Earn Norway's First-Ever 5K Medal?
By Jonathan Gault
September 24, 2019
For the first time since 1993, the men's 5,000 final at Worlds will be held before the men's 10,000 final. The schedule was better the other way around — it was always nice to start the meet with a final right away — but it's too late now to change it.
That's not the only thing that makes this year's men's 5,000 feel a little different. The Olympic champion and most dominant 5,000 runner of the decade, Mo Farah, has moved up to the marathon and will miss Worlds for the first time since 2005. The Diamond League champion, Joshua Cheptegei of Uganda? He's not running either, electing to do the 10,000 only in Doha. Two-time defending world indoor champ Yomif Kejelcha, who set a world indoor mile record in March and was undefeated in the 5,000 this year heading into the Diamond League final, didn't even make the Ethiopian team. Three Americans just ran 13:00 or faster, and none of them are running this race.
Defending champ Muktar Edris, who flashed the Mobot after slaying Farah in London two years ago is running, but he's barely raced and finished 18th in his only 5k of the year. Paul Chelimo, the bronze medalist at the 2017 Worlds, hasn't been at his best in 2019 either, and was upset at USAs by Lopez Lomong.
What we do have: four Ethiopian-born men who have broken 13:00 this year (Telahun Bekele is the world leader at 12:52), 12:57 man Nicholas Kimeli looking to restore some pride in an event Kenya used to own, and an upstart — 19-year-old Jakob Ingebrigtsen of Norway — trying to become the first non-African-born man to medal in this event in 14 years. It all makes for an unpredictable race, which is just what we like to see at Worlds.
How to watch: TV/streaming information *Full 2019 Worlds schedule/entries/results
Other LRC event previews: W 800 * M 100 * W marathon * W steeple
LRC $200,019 prediction contest * LRC 2019 Worlds coverage hub
Race times
Prelims: Friday, September 27, 12:45 p.m. ET
Final: Monday, September 30, 2:20 p.m. ET

2019's fastest performers (among men entered)
1. Telahun Bekele, Ethiopia 12:52.98
2. Selemon Barega, Ethiopia 12:53.04
3. Hagos Gebrhiwet, Ethiopia 12:54.92
4. Birhanu Balew, Bahrain 12:56.26
5. Abadi Hadis, Ethiopia 12:56.48*
*Ethiopia named five men to its team but can only race four of them, one of whom must be Muktar Edris.
Who Should Be the Favorite?
Usually when you have to ask this question, that's a pretty good indication that there isn't a favorite at all. 888sport.com doesn't have anyone at better than 2.75/1 odds to win — a sign that the bookies don't know what to make of this event either (incredibly, Jakob Ingebrigtsen is the slight betting favorite).
Ethiopia's Hagos Gebrhiwet is in the best form right now. Gebrhiwet missed the 2017 Worlds due to injury, but he medalled in the previous three global championships, with a silver in 2013 and bronzes in 2015 and 2016. This year, he began the year with back-to-back 3rds in Shanghai and Rome and looked to be en route to an easy win in Lausanne until he realized he had kicked a lap early.
Since that gaffe, his results have been tremendous. He defeated Kejelcha and 12:43 man Selemon Barega to win the Ethiopian 10,000 trials on July 17 in a performance that had us comparing him to Farah. Just three days after that, Gebrhiwet used an impressive 53.3 last lap to run 13:01 in London and beat Jakob Ingebrigtsen. And he won the race-within-a-race in the DL final, outkicking everyone else after Cheptegei broke away to win.
So we know he can close, and he's battle-tested at the major champs. He's a pretty solid pick.
The only problem is, we still don't know for sure which Ethiopians will be running in this event. Because Edris is the reigning world champion, Ethiopia can enter five men, four of whom can race. Edris must be one of the racers, but the other three spots are up to the Ethiopian federation.
Since Ethiopia selected its team based on season's best, it seems logical to conclude that the three fastest men this year — Bekele, Barega, and Gebrhiwet — would get the nod alongside Edris. But there has also been some talk that Ethiopia doesn't want anyone to double at Worlds this year, and Gebrhiwet is entered in both the 5k and 10k. Gebrhiwet's agent, Mark Wetmore, told LetsRun that Gebrhiwet wants to run both the 5k and 10k in Doha, but, as of September 20, had not received final word on which events he will be allowed to run.
While Edris doesn't look like a serious threat unless he suddenly regains his 2017 form, the other two Ethiopians that are presumptively running, Bekele and Barega, are both contenders for gold. Bekele burst onto the scene with a world-leading 12:52 in Rome in June, a 12-second PR, while Barega was the World Indoor runner-up at 3,000 last year before running 12:43 in Brussels in August 2018, making him the fourth-fastest man ever.
It seems incredible that two men who couldn't even medal at the World U20 champs last year (Barega was 4th, Bekele 5th) could be duking it out for gold in Doha, but when you're one of the top Ethiopians, you're always a medal threat in the 5k — an Ethiopian man has medalled in this event at every Worlds/Olympics since 2008.
Bekele and Barega are also the only two men in this field to have won a Diamond League this year, and they've been the two most consistent runners on the circuit in 2019: Barega has gone 2nd, 2nd, 3rd, 2nd, 5th; Bekele has gone 5th, 1st, 3rd, 4th. If anyone has an incentive to make this race fast, it's these two. They struggled at World U20s last year when the winning time was just 13:20.
Of course, it's hard to have a lot of confidence in them winning gold considering they just finished 4th and 5th in the Diamond League final. But then again, it's hard to have total confidence in Gebrhiwet as we don't know 100% he's running it. Plus earlier in the year, it sounded like Gebrhiwet doubted his own chances at 5000. After finishing third in Rome he said, "We have a very strong Ethiopian team for the World Championships. I will be concentrating on the 10k, which is a very hard race."
Kenya's best shot at a medal is Nicholas Kimeli. He was 3rd at the DL final, but then only finished 3rd at the Kenyan trials two weeks later (trials champ Michael Kibet won't be in Doha because he was not drug-tested out of competition enough prior to Worlds — even though his agency says they asked to join the out-of-competition pool in May; trials runner-up Daniel Simiyu is likely out for the same reason). At the very least, he should top Kenya's performance at the last Worlds, where Cyrus Rutto was their lone finalist and finished 13th.
It's an Ingebrigtsen Party! Could One of Them Medal? (Hint: Yes)
For the first time at a World Championships, all three Ingebrigtsen brothers — 28-year-old Henrik, 26-year-old Filip, and 19-year-old Jakob — will be running the same event (Filip and Jakob are also doubling back in the 1500). And there's reason to believe one of them could head back to Norway with a medal.
Jakob is, of course, immensely talented, but one of the biggest reasons for his success at such a young age — he won the European titles in the 1500 and 5,000 at age 17 last year — is his confidence. Jakob's best event is the 1500, and most runners in his situation would choose to focus on that event only, especially since it comes after the 5k in Doha. Not Jakob. In explaining his decision to double to the Norwegian press, he made two points: the 5k is an extra medal opportunity, and the 5k at Worlds usually comes down to a kick (so it won't be a full 12.5 laps of hard running).
"I am sure that I will manage 5000 meters without ruining for 1500 meters," Jakob said, through translation.
We'll have to wait and see on that, but Jakob is right that the 5,000 is a medal opportunity. That's rarely the case for athletes born outside of Africa — in the last 30 years, just one non-African-born man (Craig Mottram) has medalled in this event at Worlds — but with Kenya no longer a major player in the 5k (just one of their entrants at Worlds has broken 13:10), there are more medals available to other countries. And anyone who watched Jakob in London this summer knows he's the real deal in the 5k.
In that race, Jakob ran a Norwegian record of 13:02.03 by closing in 1:54.5 for his last 800 and 53.6 for his last lap. He wound up second, just .17 behind Gebrhiwet (though Gebrhiwet had run a hard 10k at the Ethiopian 10k trials three days earlier). If you can do that, you can medal at Worlds.
And a championship race only favors Jakob. He owns a 3:30 1500 pb — in this field, only Filip has run faster — and was second in the DL final at that distance. And remember how Barega and Bekele were only 4th and 5th at World U20s last year? Jakob was 3rd in that race (and the two men who beat him aren't running here). Discount him at your peril.
Filip, by the way, medalled in the 1500 at Worlds in 2017, so he clearly has good speed. But he hasn't shown the same ability as Jakob to succeed in the 5k — he was 12th in Stockholm and 13th in Heusden last summer, and just 14th in Rome this year.
The Americans
Paul Chelimo is the obvious headliner of the American squad, having medalled at the Olympics in 2016 and Worlds in 2017. That track record means that he can't be discounted for a medal in Doha, but that's about all Chelimo fans have to go off as he has taken a step back in 2019. Though he was 2nd at the Pre Classic in June, he finished 12th, 6th, and 8th (DL final) in his other DL races this year and lost to 34-year-old Lopez Lomong in the 5k at USAs. Of course, Chelimo did go from 3rd at the Olympic Trials to 2nd at the Olympics in 2016…
Hassan Mead and Ben True are the other members of Team USA, but neither has a serious shot at a medal. In fact, both are a little fortunate to be in Doha at all considering neither finished in the top 3 at USAs. Mead was 4th but got to go because Lomong didn't have the IAAF standard at the time of USAs; True was 7th but gets to go because Woody Kincaid (3rd) and Riley Masters (6th) didn't have the standard and Drew Hunter (5th) pulled out injured.
True and Mead technically did what they needed to do to make the team — and Lomong, Kincaid, and Masters didn't — but this is a prime example of why USATF should have allowed athletes to chase the standard this year. Kincaid just ran 12:58 — how exciting would it be to have that guy at Worlds right now? Instead, he has to watch from home.
There are several more names competing that should be familiar to American fans. Recent NCAA XC champs Justyn Knight and Morgan McDonald will be representing Canada and Australia, respectively, while Marc Scott (Great Britain) and Sam Parsons (Germany) are also entered.
The best former NCAA athlete in the field, however, is Moh Ahmed of Canada. Ahmed is on the Jerry Schumacher plan, which means he hasn't raced since July, but he finished 4th and 6th at the last two global champs and looked super fit in rabbitting Kincaid et al. through 4600 meters in Beaverton two weeks ago. He's a serious medal contender. If he wins one, it would be Canada's first-ever World or Olympic medal in a men's event longer than 1500 meters.
JG prediction: 1. Gebrhiwet 2. Ingebrigtsen 3. Bekele
Really? A 19-year-old Norwegian medalling at Worlds?
Yes. There's a lot of uncertainty in this event, but we know that Ingebrigtsen has wheels, races smart, and can hang with the best in the world. It's a bold pick, but the kid is the real deal.
Gebrhiwet, assuming he runs, has been the best guy in 2019 and has a proven record of success in championships. Bekele, who was 4th in the DL final, gets in for 3rd.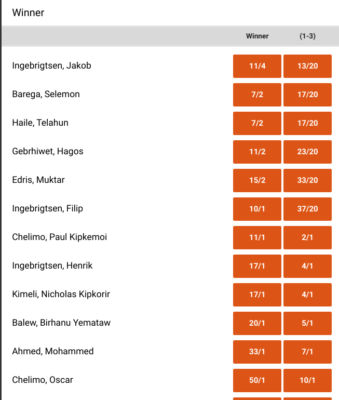 Rojo's betting advice and reaction to JG's picks: How is it a bold pick to pick the betting favorite to medal at Worlds? Admittedly, he shouldn't be the betting favorite, but that's another story.
I too am high on Ingebrigtsen's medal chances, but the odds on him aren't good enough to bet. Assuming he runs, Gebrhiwet to win at 11/2 (implied odds of 15.4%) is worth considering but my favorite bet is Moh Ahmed at 7/1 to medal (implied odds of just 12.5%). If three of his teammates are in 12:58-13:00 flat shape, you have to think he's in sub-12:55 shape considering he rabbitted them for virtually the entire race and has a much better track record at 5000. It wouldn't SHOCK me if he won this race. If you like longshots, put some loonies down on him at 33/1 to win it.