2019 Pre Classic Men's Distance Preview: Centro Returns in a Stacked Bowerman Mile vs. Kejelcha, Cheruiyot, J. Ingebrigtsen & More
By Jonathan Gault
June 27, 2019
It's coming to us a little later than usual, and it's being held outside Hayward Field (RIP) for the first time ever, but the best part of the Prefontaine Classic has always been the stacked races. And that's not changing in 2019. As always, meet director Tom Jordan has assembled stellar fields up and down the schedule for Sunday's Prefontaine Classic, the IAAF Diamond League track and field meeting that will be held this year at the Cobb Track and Angell Field at Stanford University while a new track is built in Eugene, Oregon.
The fields are so good, in fact, that one preview isn't enough to talk about them all. We've broken our distance previews into separate men's and women's articles (you can read the women's article here), and we have another story coming that takes a look at the major storylines across the entire meet, including the Sha'Carri Richardson vs. Shelly-Ann Fraser-Pryce showdown in the women's 100 plus young US sprint stars Michael Norman and Christian Coleman in the 400 and 100, respectively.
Starting Friday, we'll have boots-on-the-ground coverage from Stanford (it still seems weird not to be going to Eugene this year), where we'll have updates from the press conference on Saturday and on-site analysis and interviews from all the top races on Sunday. It's going to be an epic weekend.
So without further ado, let's dig in. There's no Distance Night this year, which means that we've only got two men's distance events: the 2-mile and the Bowerman Mile. The good news is that both of the fields are stacked. Here we go!
What: 2019 Prefontaine Classic
Where: Cobb Track and Angell Field, Stanford, California
When: Sunday June 30, 2019
Article continues below player.
Schedule/entries/results * TV/streaming information * All LRC coverage * 2018 LRC coverage
Men's 2-mile (4:34 p.m. ET): Barega tries to keep it rolling
| | | | |
| --- | --- | --- | --- |
| Name | Country | PB | SB |
| Moh Ahmed | Canada | 8:13.16 | |
| Birhanu Balew | Bahrain | 8:21.54 | |
| Selemon Barega | Ethiopia | 8:20.01 | |
| Paul Chelimo | USA | 8:20.91 | |
| Joshua Cheptegei | Uganda | | |
| Hagos Gebrhiwet | Ethiopia | | |
| Abadi Hadis | Ethiopia | | |
| Eric Jenkins | USA | 8:23.50 | |
| Vincent Kibet | Kenya | | |
| Davis Kiplangat | Kenya | | |
| Jacob Kiplimo | Uganda | 8:25.17 | |
| Justyn Knight | Canada | | |
| Ronald Kwemoi | Kenya | | |
| Stewart McSweyn | Australia | | |
| Milkesa Mengesha | Ethiopia | | |
| Getaneh Molla | Ethiopia | | |
| Justus Soget | Kenya | | |
| Bram Som | Netherlands | | |
| Paul Tanui | Kenya | 8:33.44 | |
| Richard Yator | Kenya | 8:31.92 | |
Why this race is a 2-mile and not a 3k or a 5k is totally beyond us, but the field is strong, so it should be a fun race to watch.
Of the three winners on the DL circuit so far this year, only Selemon Barega is present in this non-DL event (Yomif Kejelcha is running the Bowerman Mile, while Telahun Bekele is skipping the meet altogether). That makes him the favorite in our books, considering he won this race last year and dealt with a similar field in Oslo two weeks ago fairly easily.
Joshua Cheptegei may be the World XC champion, and he finished an impressive second in Oslo. But that race proved why Cheptegei will struggle to drop Barega at Pre: Cheptegei closed his final 1600 in 3:56.8 yet still lost to Barega by over a second. Cheptegei is an exceptional 10k man, but he just doesn't have the wheels to beat a guy like Barega at 2 miles.
One man who might is Hagos Gebrhiwet, who has three global medals at 5k and finished just one spot behind Barega in Shanghai and Rome this year. We're impressed that he's even at the meet as this is a non-DL event with no official prize money and he's an adidas athlete. We're also not ruling out Vincent Kibet, second in the mile in Oslo and winner of the 1500 in Rabat, who could be a threat in a tactical race. Likewise, 3:28 1500 man Ronald Kwemoi, who won the Bowerman Mile two years ago, is dangerous if (a big if) he's back to full health. Remember, Kwemoi is the guy who Renato Canova said in 2016 would 100% would win 5000 gold at the 2020 Tokyo Olympics, but has struggled with injuries in recent years. This year he opened at 3:33.99 in Doha in early May and thus should be dangerous.
Paul Chelimo is America's best hope here, but he hasn't looked great so far in 2019, taking 12th in the 5k in Shanghai and 5th in the 10k in Oslo (where he missed the Worlds standard). Clearly, he has the talent, but he hasn't been up to his usual standard so far this year.
One other guy worth noting is Getaneh Molla. Yes, the same Getaneh Molla who set the course record by running 2:03:34 at the Dubai Marathon in January, putting him 10th on the all-time list. Very few guys run a 2:03 marathon and return to the track. In fact, Molla is the fastest marathoner to ever contest a race on the track — unless you count Moses Mosop, who ran a wind-aided 2:03:06 in Boston in 2011 and ran a 30k on the track at the Pre Classic six weeks later. Molla ran 12:59 in the DL final last year, so he's hardly out of his depth.
JG prediction: Barega should win this. We're interested to see if anyone tries to get the pace rolling. Barega doesn't have much incentive, but Cheptegei might be inclined to push it early. The American record is Matt Tegenkamp's 8:07.07 from 2007.
Men's Bowerman Mile (5:51 p.m. ET): Centro returns to face a stacked field
| | | | |
| --- | --- | --- | --- |
| Name | Country | PB | SB |
| Harun Abda | USA | 4:08.37 | 4:08.37 |
| Bethwell Birgen | Kenya | 3:50.42 | 3:54.82 |
| Ben Blankenship | USA | 3:53.04 | 3:57.27 |
| Matthew Centrowitz | USA | 3:50.53 | |
| Timothy Cheruiyot | Kenya | 3:49.64 | |
| Craig Engels | USA | 3:53.89 | 3:53.89 |
| Johnny Gregorek | USA | 3:49.98 | 3:49.98 |
| Filip Ingebrigtsen | Norway | 3:53.23 | 3:54.41 |
| Jakob Ingebrigtsen | Norway | 3:52.28 | 3:53.04 |
| Brahim Kaazouzi | Morocco | 3:58.51 | 3:58.51 |
| Yomif Kejelcha | Ethiopia | 3:47.01 | 3:47.01 |
| Elijah Manangoi | Kenya | 3:49.08 | |
| Clayton Murphy | USA | 3:51.99 | 3:52.97 |
| Timothy Sein | Kenya | | |
| Ayanleh Souleiman | Djibouti | 3:47.32 | |
| Samuel Tefera | Ethiopia | 3:51.26 | |
| Nick Willis | New Zealand | 3:49.83 | 3:54.80 |
If this year's Bowerman Mile field feels familiar, that's because it should. Eleven of the 15 starters (not including pacers Harun Abda and Timothy Sein) return from the 2018 edition, won by Kenya's Timothy Cheruiyot. But it's one of the new additions, Yomif Kejelcha of Ethiopia and the Nike Oregon Project, that is arguably the most intriguing man in the field.
Kejelcha spent the winter trying to rewrite the record books, and the results were spectacular: a 3:48.46 mile at Millrose followed by a 3:47.01 world indoor record in Boston — the fastest mile, anywhere, since Alan Webb's 3:46.91 in 2007. He also spurred Samuel Tefera, also in this field, to a world indoor 1500 record of 3:31.04 in Birmingham.
But those races were billed as record attempts ahead of time; the goal was always time, not place. Kejelcha's camp has made no such proclamations about Sunday's race, which is Kejelcha's first-ever Diamond League 1500/mile. The priority would seem to be on winning.
So Kejelcha faces a choice. Option A: repeat his indoor strategy, where he tries to run away from everyone and clock the fastest time possible. Or Option B: race it more conventionally and rely on his kick. You would think, as a 3k/5k guy coming down, that Option A is the best one here. I disagree. That choice is great when you're easily the best guy in the field, but that's not the case here: this field contains the top five in our 2018 world rankings, including Cheruiyot, who has won eight of his last nine DL 1500/miles.
We saw what happened when Kejelcha tried this indoors in Birmingham: Tefera sat on him and pulled away late to break the WR. None of the guys in this field have run 3:47.01 for the mile, but several of them have run the equivalent in the 1500 (roughly 3:30 or faster). If Kejelcha tries to break everyone from the gun, we'll probably see a bunch of fast times with someone kicking by Kejelcha in the home straight (though if everyone runs like they did in Stockholm, that may be enough for Kejelcha to win).
If I were Kejelcha, I'd employ Option B. Kejelcha has a strong kick — he closed in 53.2 to dust all the 5k guys in Shanghai last month. He just may have to employ it a little differently to prevail in a mile. Consider Cheruiyot and his training partner Elijah Manangoi, who have dominated the global 1500/mile scene over the last two years. Both men can kick, but they kick in different ways. Cheruiyot likes to go from farther out, often pushing hard at the bell or even before, with the goal of breaking everyone else by the time they reach the home straight. Manangoi, however, prefers to wait until the final 100 before unleashing his incredible top gear.
The world's top 5,000 runner might have trouble kicking away from the world's top milers over the final 100 or final 400. But what about the final 800? That just might be Kejelcha's best path to victory. It's close enough to the finish that Kejelcha should be able to sustain a hard move, but not so far out that he'd have to push the pace the entire way. Move to the lead with two to go, get the jump on someone like Cheruiyot (though that could be tough considering Cheruiyot usually goes straight to the front), and that could be enough to win.
We're sure that Alberto Salazar has his own plans for how he wants Kejelcha to run on Sunday, but his presence undeniably makes this race more interesting. Which is a good thing for an event that became very predictable down the stretch in 2018 as Cheruiyot began to dominate.
***
Of course, there's way more to this race than Yomif Kejelcha. Cheruiyot is back to defend his title, 18-year-old Jakob Ingebrigtsen continues his quest to earn his first Diamond League victory, and…oh yeah, some guy by the name of Centrowitz is racing.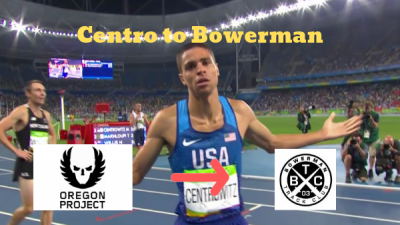 The three years since his Olympic triumph in Rio have contained their fair share of frustration for Matthew Centrowitz. When fit, he's looked like his old self — a fifth US title at 1500 meters in 2018, followed by a 3:31 in Monaco and a 3:35 win in London two days later. But Centrowitz simply hasn't been fit that often, a series of injuries stifling his training. Is that why he has yet to race in 2019? Centrowitz has been mum on that front.
What remains unchanged is Centrowitz' status as America's most fascinating miler, especially after his decision to leave the Nike Oregon Project for the rival Bowerman Track Club — the track equivalent of leaving the Yankees to join the Red Sox (well assuming both teams has the same owner). How will Centrowitz look training under Jerry Schumacher? And, in the short term, how will he fare against his former teammates?
The race-within-a-race is one of the most exciting subplots of the 2019 Bowerman Mile. Each of the three US Nike-sponsored groups is trotting out their best miler(s) at Pre: Centro for Bowerman, Ben Blankenship for OTC, and Kejelcha, Craig Engels, and Clayton Murphy for NOP. Bragging rights are on the line.
JG prediction: If Kejelcha gets after it early, we could see some super fast times up front. We'll take the lanky Ethiopian for second, but given his history, we can't bet against Cheruiyot, who looked miles better than everyone else last time out in Stockholm.
Want more Pre analysis? We spent about 45 minutes talking about Pre on this week's podcast. Check it out here.
Talk about Pre on our world famous messageboard / fan forum: MB: Pre Classic 2019 (6/30) – official discussion thread.