2018 LRC World & US Rankings, M 1500: Timothy Cheruiyot & Matthew Centrowitz Are Our Picks For World & US #1
By LetsRun.com
December 21, 2018
As 2018 draws to a close, it's once again time to publish the fifth annual LetsRun.com world and US rankings. From now until the end of the year, we'll be ranking the top 10 men and women in the world (plus the top five Americans) in the 800, 1500/mile, 3000 steeplechase, 3,000/5,000, and marathon.
Since these rankings are obviously subjective, we'll lay out the criteria we're using for them:
An emphasis on performance in big races. Obviously there was no global outdoor championship in 2018, but meets like the Diamond League finals, World Indoors and, in the case of the US rankings, USATF Championships, will factor heavily in the rankings. Performance in regular-season Diamond League meets is also an important factor.
Season-best times matter, and if an athlete has a bunch of fast performances, they're more likely to be ranked highly.
Runners who specialized in one event will be considered for other events but can be penalized in the rankings for not running enough races.
Indoor races will be considered and can help an athlete's ranking.
LRC 2017 men's 1500 rankings * LRC All 2018 Year-End Rankings * LRC 2018 World Indoors 1500 Recap Young Ethiopian Samuel Tefera Wins 1500m Gold 36 Days after His First Indoor Race, Blankenship 5th, Engels 7th
Men's 1500 World Rankings
1. Timothy Cheruiyot • Kenya • 23 years old • 3:28.41 sb (#1) • Diamond League champion • Commonwealth silver • African Champs silver • Kenyan champion
DL results: 1st Shanghai, 1st Pre (non-DL), 1st Rome, 1st Paris, 1st Monaco, 1st Zurich (DL final)
Article continues below player.
Never before has an athlete dominated a Diamond League 1500/mile season the way Cheruiyot dominated in 2018. He became the first man in the nine-year history of the DL to win five 1500/miles in a single season — and that did not even include his victory in the Bowerman Mile at Pre, in which he ran an outdoor world leader of 3:49.87.
And when Cheruiyot won, he won big. These are his margins of victory in his six DL 1500/miles (counting Pre):
| | | | |
| --- | --- | --- | --- |
| Date | Race | Time | Margin to second place |
| May 12 | Shanghai | 3:31.48 | 0.15 |
| May 26 | Pre | 3:49.87 (mile) | 1.39 |
| May 31 | Rome | 3:31.22 | 2.57 |
| June 30 | Paris | 3:29.71 | 2.06 |
| July 20 | Monaco | 3:28.41 | 1.23 |
| August 30 | Zurich | 3:30.27 | 0.89 |
Even more impressively, five of those six times were world leaders when he ran them. His PR of 3:28.41 from Monaco places him seventh on the all-time list (and bumped Mo Farah from the top 10).
The only knock on Cheruiyot — and it is not insignificant — is that in each of his two championship meets of 2018, the Commonwealth Games and African champs, he finished second behind his Rongai Athletics Club teammate Elijah Manangoi. So if it's championships you value, there is a case to be made for Manangoi as World #1. But ultimately, Cheruiyot was so dominant in Diamond League races — just look at those margins of victory again — that he earns the top spot over his training partner.
For more on Cheruiyot, Manangoi, and the Rongai Athletics Club, check out our feature from August: LRC The Secrets of the World's Best 1500-Meter Training Group: How Elijah Manangoi, Timothy Cheruiyot, & Coach Bernard Ouma Turned Rongai Athletics Club Into a Powerhouse
2. Elijah Manangoi • Kenya • 25 years old • 3:29.64 sb (#2) • Commonwealth champion • African champion
DL results: 3rd Pre (non-DL), 2nd Rome, 1st Oslo, 2nd Monaco, 2nd Zurich (DL final)
The world champ added Commonwealth and African titles to his trophy case in 2018, and never finished lower than third in five Diamond League appearances, which included a win in Oslo. Manangoi's kick over the final 100 meters is the most fearsome in the world, which is perhaps why his training mate Cheruiyot made sure to break away well before that point in his Diamond League victories.
With Asbel Kiprop still provisionally suspended following his doping positive from November 2017, Cheruiyot and Manangoi have taken over as the faces of Kenyan 1500 running. And should Manangoi medal again next year in Doha, he'd join Kiprop as the only Kenyans to have earned 1500 medals at three straight World Championships.
3. Samuel Tefera • Ethiopia • 19 years old • 3:31.63 sb (#8) • World Indoor champion • 5th at World U20 champs • 10th at African champs
DL results: 2nd Shanghai, 2nd Pre (non-DL), 3rd Rome, 8th Zurich (DL final)
2018 was a tale of two seasons for the young Ethiopian. Tefera, who ran 3:33 last summer but went out in the first round at Worlds, began 2018 on fire, clocking an indoor pb of 3:36.05 en route to a win in Val-de-Reuil and claiming the World Indoor title in Birmingham in March. And through the month of May, he looked like a genuine contender for the Diamond League title, finishing second behind Cheruiyot in Shanghai and Eugene and third in Rome.
After that, things fell apart. He shockingly failed to medal at the World U20 champs in July and was just 10th at the African champs in August before closing out his season with an eighth-place finish at the DL final in Zurich.
Clearly the Tefera who competed over the second half of 2018 was not the third-best runner in the world. But his first half was tremendous, and the World Indoor title is worth a lot in our book, so he gets the nod at #3.
4. Jakob Ingebrigtsen • Norway • 18 years old • 3:31.18 sb (#4) • European champion • World U20 silver
DL results: 4th Pre (non-DL), 1st Stockholm (non-DL), 4th Monaco
Ingebrigtsen was 17 during the 2018 season (he turned 18 on September 19) but ran like a man a decade older. Ingebrigtsen first made international headlines at the 2017 Pre Classic when he became, at 16, the youngest sub-4:00 miler ever. But that was merely a prelude for what was to come in 2018: PRs of 3:31.18 (1500) and 3:52.28 (mile), a silver medal in the 1500 at the World U20 championships (the first medal in that event by a non-African-born runner in 18 years), and a bronze in the 5000 at the same meet (the first medal in that event by a non-African-born runner in 24 years).
Oh, and he won the 1500 and the 5000 at the European Championships. In the 84-year history of the Euros, no one — any age, male or female — had ever done that.
The Euros obviously isn't the Worlds, but Ingebrigtsen beat some quality runners in that 1500 final, including World Indoor silver medalist Marcin Lewandowski and Jake Wightman — and did it despite seeming to lose count of what lap he was on at the finish. His 3:31.18 earlier in the summer in Monaco made him the fourth-fastest man on the year, and he also ran well against a Diamond League-quality field at the Pre Classic, finishing fourth.
Again, he did all of this at 17. Absolutely ridiculous.
To be honest, we were unsure in what order we should rank everyone at 3-4-5-6 on this list. If you want to put Ingebrigtsen as low as sixth, we aren't going to argue too much but we gave him the edge over Souleiman and Iguider based on his head to head victory over them in Monaco. In many ways, one could argue that Monaco is the unofficial Worlds in the 1500 in the non-World Championship year and Jakob ran very well there.
LRC 17-year-old Jakob Ingebrigtsen wins 2018 European 1500 title
5. Ayanleh Souleiman • Djibouti • 26 years old • 3:31.19 sb (#5) • 4th at African champs
DL results: 8th Pre (non-DL), 4th Rome, 2nd Paris, 3rd Rabat, 5th Monaco, 3rd Zurich (DL final)
"Solid" would be the word to describe Souleiman's 2018 campaign. He didn't win a single race outdoors at 1500 or the mile (he did go 2-0 across the 800 and 1000), but he only finished outside the top five once in eight starts, and that came at the Pre Classic, where he faded from fifth to eighth over the final 109 meters. That marked a return to form for the Djiboutian after a rough 2017 that saw him go DNF, 11th, 10th, and sixth in four DL appearances and go out in the first round at Worlds.
6. Abdelaati Iguider • Morocco • 31 years old • 3:31.59 sb (#6) • World Indoor bronze • 6th at African champs
DL results: 6th Doha (non-DL), 3rd Shanghai, 14th Monaco, 4th Zurich (DL final)
Iguider earned the bronze at World Indoors, which brings his global medal tally to six across World Indoors, World Outdoors, and the Olympics. He never finished higher than third in an outdoor race, but he did take fourth at the DL final, behind only Cheruiyot, Manangoi, and Souleiman, and finished third in Shanghai behind Cheruiyot and Tefera. He was only sixth (albeit against a tough field) at the African champs, but his World Indoor medal and strong showing at the DL final are enough for him to rank sixth globally for us.
7. Marcin Lewandowski • Poland • 31 years old • 3:35.06 sb (#25) • World Indoor silver • European silver
DL results: 9th Rabat
Lewandowski only raced once on the Diamond League circuit, and the result was a disappointing ninth-place finish in Rabat. But thanks to his terrific 800 speed (1:43 pb), he was a thread in every championship race he entered, and the results show it: silver at World Indoors, Euros, and the Continental Cup, and a win at the Athletics World Cup. Taken collectively, that resume — particularly the silver at World Indoors — makes Lewandowski worthy of the #7 spot in the LRC rankings.
8. Brahim Kaazouzi • Morocco • 28 years old • 3:31.62 sb (#7) • Did not make World Indoor final
DL results: 1st Rabat, 6th Monaco, 5th Zurich (DL final)
Kaazouzi, a 2016 Olympic semifinalist, did not enter the 2018 season as a big name and — if we're being honest — he still isn't a big name, even after a season in which he lowered his 1500 pb from 3:34 to 3:31 and earned a Diamond League win. That win was special for Kaazouzi — not only did he do it on home soil in Rabat, but his win came in his very first start in a DL 1500/mile race, and he did it by running a PR of 3:33 (that he would lower to 3:31 a week later in Monaco). Add in a fifth-place finish at the DL final in Zurich, and Kaazouzi has to be mentioned as one of the top 10 1500 runners in the world — even if you may not remember his name.
9. Aman Wote • Ethiopia • 34 years old • 3:31.90 sb (#10) • 4th at World Indoors • 5th at African champs
DL results: 6th Shanghai, 10th Pre (non-DL), 8th Rome, 4th Paris, 7th Rabat, 8th Monaco, 6th Zurich (DL final)
Wote didn't finish higher than fourth in any race outdoors, but that's because he consistently ran against top-notch competition: of his nine outdoor races, seven were Diamond Leagues, one was the African champs, and the other was the ISTAF meet in Berlin, which attracts DL-quality fields. Wote finished fourth at World Indoors, fifth at the African champs, and sixth at the DL final; every man who beat him in those races is in our top eight, save for Uganda's Ronald Musagala, who didn't do much this year outside of finishing third at the African champs. Wote could have run easier races in order to rack up some wins, but we'll give him credit for a string of solid performances against the world's best milers. Any runner would be happy with Wote's consistency in 2018 (he broke 3:35 five times).
10. Filip Ingebrigtsen • Norway • 25 years old • 3:30.01 (#3) • 12th at European champs
DL results: 4th Oslo, 6th Paris, 2nd Rabat, 3rd Monaco, 7th Zurich (DL final)
On July 20, Filip Ingebrigtsen was in the shape of his life. He had just run 3:30.01 in Monaco — the fastest time by a European-born athlete since France's Mehdi Baala clocked 3:28.98 in 2003 — and looked set to repeat as European champion in Berlin. But Ingebrigtsen fell in the heats at the Euros, and from that point on, it was clear he was not the same runner: he finished 12th in the final two days later and never threatened, and pulled out of the 5,000 due to injury. He managed to finish seventh at the Diamond League final in Zurich, but Ingebrigtsen will have wanted more from this season.
Still, it's hard to be too upset with running 3:30.01, even if Filip did lose his European title to his little brother. Regardless, Filip, the bronze medallist at Worlds outdoors in 2017, showed in Monaco that, when healthy, he was still a significantly ahead of Jakob this year. But after a breakout season and two European golds, will that still be the case in 2019?
We know much of running fandom seems to be an obsession on talking about the next great talent but we hope people appreciate Filip Ingebrigtsen. To be honest, if everyone in our top 10 lined up to race, we'd be picking Filip to finish 3rd or 4th well ahead of his younger brother.
U.S. Rankings
1. Matthew Centrowitz • Nike • 29 years old • 3:31.77 sb • US Outdoor champion
DL results: 6th Pre (non-DL), 10th Rabat, 7th Monaco, 1st London (non-DL)
After a rocky 2017 season in which Centrowitz battled injury and illness and bombed out of Worlds in the first round, he resembled his old self in 2018, reclaiming his US title (his fifth overall outdoors) and clocking 3:31.77 in Monaco, his fastest time since July 2015.
While Centrowitz was unquestionably the top American in the 1500 this year (his SB was over four seconds faster than the US #2, Drew Hunter), he was not competitive against the very best in the world on the Diamond League circuit, finishing 6th at Pre, 10th in Rabat, and 7th in Monaco. The one exception was London, where Centrowitz earned his first ever win in Europe in a 1500/mile. Though it was not a Diamond League points event (and thus the field was not as good as a regular DL event), Centrowitz was racing just two days after his 3:31 in Monaco, so to come back and win on short rest was some feat. Centrowitz's medal cabinet — Olympic gold, World Indoor gold, World Outdoor silver and bronze — shows that he is clearly one of the best milers of his generation, but he has still yet to win an official Diamond League race, something he will look to remedy in 2019.
At the end of 2018, Centrowitz revealed to LetsRun that he had split with the Nike Oregon Project and Alberto Salazar, the man who had guided him during the first seven years of his professional career. So heading into next season, the big question is: who will coach Centrowitz? There are a couple of obvious candidates. The University of Washington's Andy Powell coached Centrowitz in college, and Centrowitz is currently based in Seattle, where his best friend, Chris Kwiatkowski, serves as an assistant on Powell's staff (Centrowitz is a volunteer assistant). There's also Matthew's father, Matt Centrowitz, Sr., who is closely involved in his son's career and coaches at Manhattan College. Whoever winds up coaching him will inherit one of America's greatest ever talents who, at 29, still figures to have several productive years ahead of him.
LRC Matthew Centrowitz Returns to the Top and Wins his 5th outdoor US 1500 title
2. Izaic Yorks • Brooks Beasts • 24 years old • 3:36.81 sb • US Outdoor runner-up
DL result: 12th London (non-DL)
After Centrowitz, the US men's 1500 ranks were a muddled mess in 2018. Centrowitz and Drew Hunter were the only men to break 3:36. Robby Andrews, the reigning US champ, didn't even make the final at USAs this year. Yorks, the runner-up outdoors, didn't run USA Indoors. Ben Blankenship was fifth at World Indoors, but he lost at USA Indoors to Paul Chelimo and didn't run USA Outdoors. You could throw a bunch of names into a hat and it wouldn't really matter in which order they came out (note: we didn't actually do this).
We ultimately went with Yorks because he ran pretty fast outdoors (his 3:36.81 1500 sb ranked him seventh in the US) and indoors (his 3:53.40 mile tied for the fastest among all Americans this year, indoors and out) and, more than anything, he ran the US Outdoor champs and ran well. Both Chelimo and Blankenship have cases to be US #2, but neither of them ran USA Outdoors, and when it comes to US rankings, that's a meet that matters a lot and we chose to penalize them for skipping it. To be fair to Chelimo, he didn't actually skip USAs; he just chose to run his best event, the 5k, instead (perfectly understandable). Blankenship has no excuse for not showing up to the national championship.
That doesn't mean we're going to ignore Chelimo or Blankenship completely, but in a tight situation like this one, running USAs pushed Yorks over the top.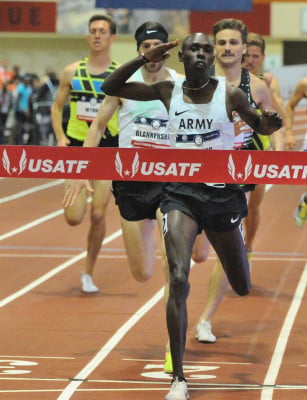 3. Paul Chelimo • US Army WCAP/Nike • 28 years old • 3:40.16 sb • US Indoor champion
DL result: 3rd Birmingham (non-DL)
Chelimo gets the nod over Blankenship for beating him head-to-head at USA Indoors. Though he's not a miler by trade, Chelimo also impressed with a third-place showing in the Emsley Carr Mile outdoors (it was not a DL points race, Chelimo still beat some good guys), and in an uneven year for American 1500 running, that's enough to put him at #3.
LRC Paul Chelimo and Shelby Houlihan Complete Doubles, Win 1500 Titles at 2018 USATF Indoors
4. Ben Blankenship • Nike Oregon Track Club • 30 years old • 3:39.19i sb • 5th at World Indoors • US Indoor runner-up
DL result: 11th Pre (non-DL)
Blankenship put together a strong indoor season, finishing as the top American in the Wanamaker Mile (third), taking runner-up honors at USA Indoors, and earning his highest finish ever in a global final, fifth at World Indoors.
Outdoors, Blankenship did not go to Europe, choosing instead to race a series of miles stateside, in which his performances were unimpressive. He didn't win any of them — his highest finish was third at Falmouth — but his indoor season was good enough for him to crack our top five, even after he skipped USA Outdoors.
5. Craig Engels • Nike Oregon Project • 24 years old • 3:36.89 sb • 10th at USA Outdoors • 3rd at USA Indoors
DL result: 12th Pre (non-DL)
Like Blankenship, Engels didn't exactly tear it up outdoors, finishing just 10th at USAs (though he did manage to run 3:36 in Belgium in July). But it's hard not to include him in our top five when he made the only global final on offer this year at World Indoors. When you add up everything that Engels accomplished indoors — a 3:53.93 mile (second-fastest by an American this year indoors), a third-place finish at USA Indoors, and a seventh-place finish at World Indoors — it's more impressive than what the rest of the guys not on this list were able to do outdoors.
---
LRC 2017 men's 1500 rankings * LRC All 2018 Year-End Rankings * LRC 2018 World Indoors 1500 Recap Young Ethiopian Samuel Tefera Wins 1500m Gold 36 Days after His First Indoor Race, Blankenship 5th, Engels 7th