Samuel Tefera Breaks Hicham El Guerrouj's 1500 Indoor WR – Runs 3:31.04!
By Jonathan Gault
February 16, 2019
Yomif Kejelcha's season of record-chasing produced a world record in the men's indoor 1500 meters on Saturday in Birmingham.
The only problem for Kejelcha is he wasn't the one to break it.
Article continues below player
In a thrilling duel between two young Ethiopian stars, it was Samuel Tefera, the World Indoor 1500 champion, who outsprinted Kejelcha, the 21-year-old World Indoor 3000 champion, over the final 100 meters to run 3:31.04 and break Hicham El Guerrouj's 22-year-old world record of 3:31.18.
Still only 19 years old officially until October, Tefera's run on Saturday was the latest exploit in a rapid rise to the top of the sport. He emerged from obscurity to run 3:33 outdoors in 2017, won the World Indoor title last year barely a month after his first race on an indoor track, and has now taken down a world record held by the greatest miler of all time.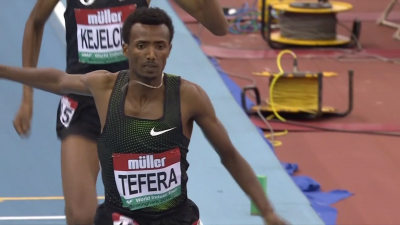 Today's race brought to mind another El Guerrouj record: his 3:43.13 mile in Rome in 1999. Tefera may have broken the world record, but he had to fight hard to even win the race, just as El Guerrouj had to hold off Noah Ngeny in Rome. Kejelcha, fresh off his narrow miss of the mile world record at last week's Millrose Games, was once again targeting a fast time, and immediately sprinted toward the front, settling in behind pacemakers Bram Som and Jordy Williamsz. Tefera and Aussie Stewart McSweyn were the only ones who dared go with him (Som hit 200 in a quick 27.66), with McSweyn giving the two Ethiopians a berth of a few meters.
Som hit the next two laps in 28.03 and 28.08 to tow the men through 600 below WR pace in 1:23.76 (WR pace was 28.15 for 200, 1:24.45) but once Williamsz took over, they began to slow, running the next lap in 28.95. As they approached 1k, Kejelcha was beginning to grow impatient, sensing that another world record could be slipping away, and as Williamsz dropped off just before 1k (2:21.27, a shade behind WR pace of 2:20.78), Kejelcha did exactly what coach Alberto Salazar said he wanted him to do at Millrose — attack after the rabbit stopped.
McSweyn was gone by this point, but Tefera was gamely hanging on. More than hanging on, in fact. As they hit 1200 in 2:49.28 thanks to a 28.01 from Kejelcha, Tefera, who had done a fantastic job of hugging the rail and running the shortest distance possible, briefly drifted onto Kejelcha's outside shoulder, contemplating a pass.
Tefera held off, and as they hit the bell (3:03.3 approximately for Kejelcha, 3:03.5 approximately for Tefera), the world record was very much in play. Kejelcha was throwing himself forward, trying to wring every inch out of his body after coming agonizingly short in New York. But he could not separate, and as they hit the backstretch, Tefera again moved onto his outside shoulder, this time with full intent to pass. Kejelcha was starting to tire, and he drifted wide to try block Tefera off. But Tefera's momentum was too great, and he moved into the lead entering the final turn.
Results
1 Samuel TEFERA ETH(ETH) 3:31.04 WR
2 Yomif KEJELCHA ETH(ETH) 3:31.58 PB
3 Stewart MCSWEYN AUS(AUS) 3:35.10 NR
4 Josh KERR GBR(GBR) 3:35.72 PB
5 Chris O'HARE GBR(GBR) 3:37.42 SB
6 Ryan GREGSON AUS(AUS) 3:37.52 SB
7 Vincent KIBET KEN(KEN) 3:38.01 SB
8 Neil GOURLEY GBR(GBR) 3:38.32 PB
9 Charles GRICE GBR(GBR) 3:39.04 PB
10 Elliot GILES GBR(GBR) 3:39.53 PB
11 Bethwel BIRGEN KEN(KEN) 3:41.03
12 Brimin KIPROTICH KEN(KEN) 3:41.30 PB
13 Jake HEYWARD GBR(GBR) 3:42.84 PB
14 Piers COPELAND GBR(GBR) 3:44.21 PB
Andrew BUTCHART GBR(GBR) DNF
Bram SOM NET(NED) DNF
Jordan WILLIAMSZ AUS(AUS) DNFSplits
400 Bram SOM NET(NED) 55.69
800 Jordan WILLIAMSZ AUS(AUS) (57.01) 1:52.70
1200 Yomif KEJELCHA ETH(ETH) (56.58) 2:49.28
Finish Samuel TEFERA ETH(ETH) (41.76) 3:31.04
Even as he opened a gap on Kejelcha, Tefera continued to press in the home straight; it was only until he was a few steps from the line, when he began to lean early, that he showed any hint at fatigue.
But that was irrelevant; he had the record at 3:31.04, a sizeable improvement on his 3:35.57 indoor PR set 10 days ago in Torun and a slight improvement on his outdoor PR of 3:31.63 from Shanghai last year. We clocked his last lap in an unofficial 27.2.
Kejelcha also earned a PR of 3:31.58 in his first indoor 1500 (he split 3:33.17 at Millrose last week); the time was also superior to his 3:32.59 outdoor PR from Zagreb last year and puts him at #3 on the all-time world indoor list, .18 ahead of #4 Haile Gebrselassie.
There were fast times farther back as well as McSweyn held on for an Australian indoor record of 3:35.10 and the Brooks Beasts' Josh Kerr ran 3:35.72 in his first indoor 1500 (he split 3:38.75 at Millrose last week). In all, 10 of the 14 men set PRs.
Quick Take: What a race
Record attempts can be dramatic — Kejelcha's run at the Wanamaker Mile was certainly thrilling — but they're more fun when they come as part of a terrific race, and this one did. It was clear once Williamsz stepped off that it would require a big effort from Kejelcha to drop Tefera — a world record, as it turns out. Watching the final lap unfold with the win and the world record both at stake was a thrill for the neutral fan.
Watch a replay of it yourself:
Quick Take: A Hicham El Guerrouj world record is finally broken
El Guerrouj broke the mile world record on July 7, 1999, which gave him world records in both the 1500 and mile, indoors and outdoors. He held all four records simultaneously for almost two decades, and after Kejelcha just missed his indoor mile WR last week, one of El Guerrouj's records finally fell today to Tefera.
Though the outdoor times (3:26.00 & 3:43.13) are clearly superior performances, breaking a world record held by the greatest miler of all time is no small feat. A fantastic performance by Tefera.
That said…
Quick Take: Tefera is the world record holder, but can he be the best miler in the world this year?
Tefera was brilliant in Birmingham last year as well, winning the World Indoor title, but he faded badly down the stretch outdoors as he failed to medal at World Juniors, was only 10th at the African champs and 8th at the DL final. Part of that may have been down to lack of experience — 2018 was Tefera's first full outdoor season (he ran Worlds in 2017, but Tilastopaja lists just two other races for him that year).
And while today's run was impressive, we pointed out in our Wanamaker Mile preview last week that the indoor world records are softer than the outdoor ones because many of the greatest milers in history either didn't run indoors or weren't in peak shape for those races. Timothy Cheruiyot (who doesn't run indoor track) and Elijah Manangoi have been the two best milers in the world the past two years, and Tefera still has to prove that he consistently race at their level outdoors (he did give Cheruiyot a good challenge in Shanghai last year before he began to tail off).
We don't want to sound too critical of Tefera, however. He did just break the world record, and it's possible that he could be in even better shape outdoors. When El Guerrouj ran his world record in 1997, he followed that up with a mile world record 10 days later and an undefeated outdoor season that included a 1500 world title and SBs of 3:28.91 (1500) and 3:44.90 (mile).
Quick Take: Yomif Kejelcha sets an incredibly fast pace and ends up as a bridesmaid once again
It's been a rough last six months for Yomif Kejelcha. Well, as rough as it can get for someone who is one of the greatest runners in the world running historically fast times.
It began in last year's Diamond League 5k final in Brussels, where Kejelcha bravely pushed the pace during the latter half of the race. He was rewarded with a big PR of 12:46.79, but Selemon Barega grabbed the headlines after sitting on Kejelcha and blowing him away on the last lap to run 12:43.02, #4 all-time.
Last week, Kejelcha came .01 shy of the mile WR at Millrose.
Today, Kejelcha combined those two outcomes. He missed the previous world record by .40 of a second and acted as the perfect pacemaker for his countryman Tefera, who blew by him in the final 100 meters of the race.
We've been wondering who the perfect pacemaker would be for Kejelcha's next world record attempt. We know the answer: it's Yomif Kejelcha. Get cracking on that cloning technology, NOP.
Quick Take: The pacing was more consistent today than at Millrose
Check out the leader-to-leader splits through 1400 today vs. Millrose last week
| | | |
| --- | --- | --- |
| | Millrose | Birmingham |
| Lap 1 | 29.62* | 27.66 |
| Lap 2 | 26.38 | 28.03 |
| Lap 3 | 28.00 | 28.08 |
| Lap 4 | 29.00 | 28.95 |
| Lap 5 | 28.80 | 28.57 |
| Lap 6 | 29.16 | 28.01 |
| Lap 7 | 29.21 | 27.92 |
*The first lap at Millrose was 209 meters; every subsequent lap was 200m
Unlike at Millrose last week, there was no super-fast early lap, which may explain why Kejelcha did not fade on laps six as he did last week (lap 7 was also faster today, but since this was a 1500 and not a mile he was kicking today at the end of lap 7). As David Monti points out, Kejelcha's 1k split last week (2:20.41) was actually faster than his 1k split today (2:21.27) — Kejelcha just closed way better in Birmingham
Quick Take: Tefera's time is equivalent to a 3:47.97 mile.
Using our 1.0802 conversion, 3:31.04 converts to 3:47.97.
Talk about the historic face on our world famous fan forum / messageboard: