2018 Lausanne DL Preview: Houlihan vs. Semenya, the Quest for Sub-13:00, & Could the 400 Hurdles WR Go Down?
By LetsRun.com
July 3, 2018
We get a break from the madness that is the 2018 FIFA World Cup on Thursday, but for those of you jonesing for an afternoon sports fix, we've got just the thing: the 2018 Athletissima Diamond League meet in Lausanne, Switzerland. The most recent stop on the DL circuit, in Paris on Saturday, was the meet of the year to date, featuring seven world leaders. But Lausanne is already shaping up as a special one, and the main reason for it will come at 3:38 p.m. U.S. Eastern Time when 20-year-old American stars Noah Lyles and Michael Norman square off for the first time since they went 4-5 at the 2016 U.S. Olympic Trials as high schoolers. Now the two men account for the world-leading times in all three sprint events (Lyles in the 100 and 200, Norman in the 400) and will square off in what is a MUST-WATCH men's 200.
Seriously. If you only watch one track race this year, make it Lyles vs. Norman in the 200 in Lausanne.
Article continues below player
We're so excited about the race that we've written a separate preview article on it here — a rarity for a sprint event on LetsRun.com.
LRC The Race of the Year Is Here: Noah Lyles vs. Michael Norman in the 200 in Lausanne
Elsewhere, there's also a terrific women's 1500 on tap. Shelby Houlihan, Caster Semenya, Gudaf Tsegay (dominant 3:57 win in Stockholm), Laura Muir, and Sifan Hassan are all entered in what should be a classic. There's also a men's 5k featuring breakout star Selemon Barega and a women's 800 where Ajee Wilson will attempt to earn her first Diamond League win in three years (though Semenya is in the 1500, she'll still have to deal with Francine Niyonsaba).
We're also declaring an official WORLD RECORD ALERT in the men's 400 hurdles. On Saturday in Paris, Abderrahman Samba became just the second man ever under 47 seconds by running 46.98 even though he felt that he made a mistake on hurdle 1. Kevin Young's 46.78 world record dates all the way back to 1992 — three years before Samba was born — but it may be living on borrowed time.
We preview all of those events and more below.
What: 2018 Athletissima
Where: Stade Olympique de la Pontaise, Lausanne, Switzerland
When: Thursday, July 5
How to watch: This meet will air live in the United States on the Olympic Channel from 2:00 to 4:00 p.m. ET on Thursday. In Canada, it's on CBC, while in Europe, it's on Eurosport.
Schedule/entries/results * TV/streaming information * All LRC coverage * 2017 LRC coverage
Women's 800 (2:32 p.m. ET): While the cat's away, the mice will play
| | | | |
| --- | --- | --- | --- |
| Name | Country | PB | SB |
| Habitam Alemu | Ethiopia | 1:57.05 | 1:57.17 |
| Selina Buchel | Switzerland | 1:57.95 | 2:00.78 |
| Charlene Lipsey | USA | 1:57.38 | 1:58.05 |
| Francine Niyonsaba | Burundi | 1:55.47 | 1:55.86 |
| Raevyn Rogers | USA | 1:58.57 | 1:58.57 |
| Lynsey Sharp | Great Britain | 1:57.69 | 2:00.44 |
| Eunice Sum | Kenya | 1:56.99 | 1:59.25 |
| Margaret Wambui | Kenya | 1:56.87 | 1:58.07 |
| Chrishuna Williams | USA | 1:59.59 | 2:02.45 |
| Ajee Wilson | USA | 1:55.61 | 1:56.86 |
Since the start of 2016, Caster Semenya has competed in 12 Diamond League 800s. She has won all 12. So with Semenya running the 1500 in Lausanne, it's finally time for someone else to win one, right?
Well, yes and no.
Yes, Semenya won't be your winner in Lausanne. But the outcome remains predictable. Francine Niyonsaba has won all four of the DL 800s that Semenya did not contest in that timespan. And outside of the last two Pre Classics, no one other than Semenya has defeated Niyonsaba in a DL 800. Considering she's on the start list in Lausanne and is coming off a season's best 1:55.86 in Paris — where she whomped everyone other than Semenya by over a second — she is the heavy favorite to win here.
While it is unlikely, Niyonsaba could be beaten — this is sports, after all. U.S. champ Ajee Wilson did just that a little over a month ago at Pre, but when the two raced in Paris on Saturday, Wilson was third in 1:57.11, well behind Niyonsaba's 1:55.86. Perhaps Wilson will be better in her second European meet of the year. Or perhaps, without Semenya acting as a de facto rabbit, Niyonsaba will be forced to take on the race herself, where it won't be as easy to dispose of Wilson. If Wilson can spring the upset, it would be her first Diamond League victory since she won in New York in 2015, and the first by anyone not named Semenya or Niyonsaba since the DL final in Zurich on September 3, 2015.
LRC prediction: We'll take Niyonsaba's history of dominance and her 1:55 in Paris as a sign that she's not losing here.
[gravityform action="polls" id="710″ mode="poll" cookie="1 month" show_results_link="false" display_results="true" percentages="true" counts="false" ajax="true"]
Men's 5,000 (3:02 p.m. ET): Will we see the first sub-13:00 of 2018?
| | | | |
| --- | --- | --- | --- |
| Name | Country | PB | SB |
| Birhanu Balew | Bahrain | 13:04.25 | 13:04.25 |
| Selemon Barega | Ethiopia | 12:55.58 | 13:04.05 |
| Telahun Bekele | Ethiopia | 13:04.63 | 13:04.63 |
| David Bett | Kenya | 13:06.06 | 13:30.56 |
| Soufiyan Bouqantar | Morocco | 13:14.06 | 13:17.81 |
| Collins Cheboi | Kenya | 13:51.3h | |
| Muktar Edris | Ethiopia | 12:54.83 | 13:10.98 |
| Abadi Hadis | Ethiopia | 13:02.49 | 13:06.76 |
| Henrik Ingebrigtsen | Norway | 13:16.97 | 13:16.97 |
| Brahim Kaazouzi | Morocco | 13:16.98 | |
| Yomif Kejelcha | Ethiopia | 12:53.98 | |
| Aron Kifle | Eritrea | 13:09.06 | 13:09.06 |
| Sylvester Kipchirchir | Kenya | 13:38.77 | |
| Davis Kiplangat | Kenya | 13:13.55 | 13:13.55 |
| Stephen Kissa | Uganda | 13:13.00 | 13:15.04 |
| Richard Kumunyan | Kenya | 13:22.66 | 13:34.86 |
| Vincent Letting | Kenya | 13:49.04 | |
| Getaneh Molla | Ethiopia | 13:05.59 | 13:31.5h |
| Homiyu Tesfaye | Germany | 13:58.73 | |
| Julien Wanders | Switzerland | 13:27.72 | 13:27.72 |
| Dawit Wolde | Ethiopia | 13:10.13 | 13:18.57 |
The sub-13:00 5k is officially an endangered species. We're over halfway through 2018, and the fastest anyone has covered 5,000 meters this year was done by a guy at the end of a half marathon. Granted Geoffrey Kamworor had the aid of a healthy tailwind for that performance, he also had some things working against him that no track runner has had to face, most notably that he had already run 15 kilometers.
You may point out that since this is only the second Diamond League 5,000 of the year, it's understandable that we may not have seen a sub-13:00 yet. But we should also point out that there was a Diamond League-quality 5,000 in Shanghai on May 12 that saw a winning time of 13:09, and a totally stacked 2-mile in Eugene on May 25 that saw a winning time of 8:20.
This is not an aberration. Last year, only one 5,000 on the globe was won in sub-13:00 — this same race in Lausanne, which produced all three of 2017's sub-13:00s. That was the lowest number of sub-13:00s in a year since 1994, and well down from the all-time record of 33 in 2006. From 2009 to 2012, there were at least 20 sub-13:00s every single year. Since the start of 2014, there have been 21 total. This graph tells the story: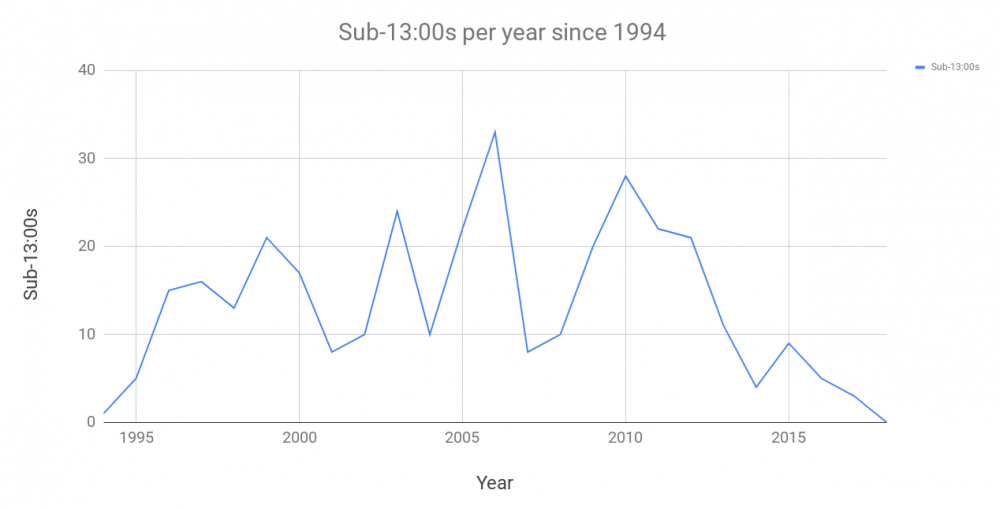 You can debate the exact cause — it's likely mainly some combo of a shift of talent toward the marathon and more robust drug testing — but it's a lot harder to break 13:00 these days. And even the guys who are in sub-13:00 shape are reluctant to chase after it too hard. To run sub-13:00, you need someone to push the pace in the fourth kilometer once the rabbits have dropped, but there's no one on the circuit right now who has shown themselves to be confident enough in their kick to do that.
All of which is to say that unless someone takes up that role on Thursday, we're likely to see another winning time in the 13:00s. And the guy most likely to win is Selemon Barega, who has won everything in sight this year outdoors (2-mile at Pre, 5,000 in Stockholm, 3,000 in Ostrava). Expect him to be challenged by Birhanu Balew (win in Shanghai, second by .20 to Barega in Stockholm) and Telahun Bekele, who ran 13:04.63 (world #3) in Huelva on June 8 (though he lost to Barega in Ostrava five days later).
Two-time defending World Indoor 3,000 champ Yomif Kejelcha is also entered in this one, but we're not sure if he'll even race as he was also entered in Stockholm but scratched due to injury. When we spoke to him at the Pre Classic, he said he hoped to be running again in July, but there's a difference between running and beating the world's best. We'd be surprised if he makes it to the start line.
LRC prediction: Barega has been great and he's our pick. As for sub-13:00, the forecast is for decent temps (high 60s or low 70s) so that makes us think it will happen assuming it's not in the middle of a thunderstorm.
[gravityform action="polls" id="711″ mode="poll" cookie="1 month" show_results_link="false" display_results="true" percentages="true" counts="false" ajax="true"]
Men's 400 hurdles (3:18 p.m. ET): Could the world record go down?
| | | | |
| --- | --- | --- | --- |
| Name | Country | PB | SB |
| Yasmani Copello | Turkey | 47.92 | 48.31 |
| Jehue Gordon | Trinidad & Tobago | 47.69 | 50.41 |
| TJ Holmes | USA | 48.30 | 48.30 |
| Bershawn Jackson | USA | 47.30 | 49.08 |
| Rasmus Magi | Estonia | 48.40 | 49.19 |
| Kyron McMaster | British Virgin Islands | 47.54 | 47.54 |
| Abderrahman Samba | Qatar | 46.98 | 46.98 |
| Karsten Warholm | Norway | 47.81 | 47.81 |
The 2018 season has been one for the ages in the 400 hurdles. On the women's side, 18-year-old Sydney McLaughlin has rewritten the world junior and NCAA record books multiple times, most impressively clocking 52.75 at the SEC championships to move into a tie for 9th on the all-time list — and 1.65 seconds faster than any U20 athlete in history.
But the men's 400 hurdles has produced even stronger performances to go with an impressive level of depth. Qatar's Abderrahman Samba got things started by opening up with a 47.90 on April 19 and proceeded to break the Diamond League record in his next two races in Doha and Rome, going 47.57 and 47.48. Then on June 8, USC's Rai Benjamin clocked a stunning 47.02 to win NCAAs, tied for the second-best performance in history and the fastest in 26 years.
That held up as the world leader for all of three weeks as Samba responded by breaking the Diamond League record for a third time in Stockholm (47.41) before breaking it again on Saturday (46.98) to join world record holder Kevin Young as the only members of the sub-47 club.
Benjamin and Samba have been so good that they've totally overshadowed some fantastic performances by their competitors. Norway's Karsten Warholm won the world title as a 21-year-old in 2017 and finished the year with a 48.22 personal best. 48.22 has been his slowest time of 2018 yet he has not won a single race! Likewise, 2017 world leader/Diamond League champ Kyron McMaster set a pb of 47.54 on Saturday and Paris and still wound up over half a second behind Samba.
Considering Samba is just .20 behind the world record, he is a serious threat to break it at some point this year, and Thursday in Lausanne will be one of his best opportunities to do so (there is only one other DL 400 hurdles this year — the final in Zurich on August 30). Of course, breaking a world record requires a special day, but there are a couple of reasons to think Samba might be able to do it.
1) He's only getting faster
Samba, who was born in Saudia Arabia and represented Mauritania before switching allegiances to Qatar, is still only 22 years old. He ran his first 400 hurdles race in March 2017. And, with the exception of Oslo, he's run faster every time out this year.
Samba's 400 hurdle races in 2018
| | | |
| --- | --- | --- |
| Date | Location | Time |
| April 19 | Potchefstroom | 47.90 |
| May 4 | Doha | 47.57 |
| May 31 | Rome | 47.48 |
| June 7 | Oslo | 47.60 |
| June 10 | Stockholm | 47.41 |
| June 30 | Paris | 46.98 |
One of our favorite truisms is that if you keep PRing, eventually you'll break the world record. Samba is almost there.
2) He's still got room to improve
While Samba was pleased to break 47 in Paris, he felt he left more on the table.
"It definitely did not feel like under 47 s[econd] race today," Samba told meet organizers. "I made a small mistake at the start, lost my balance on the first hurdle so I did not expect to run so fast."
It certainly seems feasible that Samba could shave off two-tenths in Lausanne with a better start.
***
Should Samba break the world record in Lausanne, it would be historic for multiple reasons. Obviously any time someone breaks a world record, they're making history, but the 400 hurdles record is one of the longest-standing in the books. Among official IAAF men's world record events, Young's 46.78 in the 400 hurdles (run in the 1992 Olympic final) is the oldest in a running event and, outside of the throws (all of which carry some doping suspicion), ranks second behind only Mike Powell's 8.95 meters in the long jump. And among the men's Olympic running events, it is one of only three set in the 1990s (the USA's 2:54.29 in the 4×400 and Hicham El Guerrouj's 3:26.00 in the 1500 are the others). It has lasted an incredibly long time.
If Samba can break it in Lausanne, he'd also join fellow hurdler Aries Merritt as the only men to break a world record at a Diamond League meet (Moses Mosop did break the 25,000 and 30,000-meter WRs at the Pre Classic, but those aren't regularly contested on the DL circuit). On the women's side, Genzebe Dibaba (1500 in Monaco in 2015), Keni Harrison (100 hurdles in London in 2016), and Ruth Jebet (3000 steeple in Paris in 2016) have all accomplished that feat.
Also can we reiterate our disappointment that Rai Benjamin is not in this race? He ran the 200 in Paris when Samba ran his 46.98, and now he's running the 200 again in Lausanne. After his race in Paris, he was asked if he planned on racing Samba.
"Of course, of course, during the championships part of the season," Benjamin told the IAAF. "But at the moment I'm getting the best out of the circuit, and it's towards the end of the season for me. There's no need for me to do 400m hurdles any more. It's been a long collegiate season and it's time to rest up a bit, so I won't be racing Samba until next year."
That sounds like a no, but then Benjamin said he wanted to run for the Americas in the Continental Cup — which is held September 8-9 — and it's likely that the 400 hurdles would be the only event he'd be selected for. So maybe he could face Samba there.
But considering Benjamin may not even get to race Worlds next year — he wants to represent the U.S., but he can't until the IAAF lifts its freeze on transfers of allegiance — we don't see a good reason why Benjamin can't race Samba in Lausanne.
MB: Is he scared? Or just shrewd? Rai Benjamin announces he'll be duck Samba for the rest of the year, won't race another 400h 
LRC prediction: Samba wins, and while he has a realistic shot at the WR, when you have the option of picking WR or no WR, it almost always makes sense to pick no WR. So that's what we'll pick here. But we do believe magic can happen when thunderstorms are rolling and that's a possibility based on the forecast so we aren't ruling it out. Check the weather. If it's about to storm, we say WR.
[gravityform action="polls" id="712″ mode="poll" cookie="1 month" show_results_link="false" display_results="true" percentages="true" counts="false" ajax="true"]
Women's 1500 (3:28 p.m. ET): Can Caster Semenya halt Shelby Houlihan's hot streak?
| | | | |
| --- | --- | --- | --- |
| Name | Country | PB | SB |
| Malika Akkaoui | Morocco | 4:03.36 | 4:08.36 |
| Rababe Arafi | Morocco | 3:59.51 | 3:59.51 |
| Meraf Bahta | Sweden | 4:00.49 | 4:02.31 |
| Winny Chebet | Kenya | 3:59.16 | 4:00.60 |
| Linden Hall | Australia | 4:00.86 | 4:00.86 |
| Sifan Hassan | Netherlands | 3:56.05 | |
| Shelby Houlihan | USA | 3:59.06 | 3:59.06 |
| Nelly Jepkosgei | Kenya | 4:00.99 | 4:00.99 |
| Eilish McColgan | Great Britain | 4:01.60 | 4:04.30 |
| Laura Muir | Great Britain | 3:55.22 | 3:58.53 |
| Besu Sado | Ethiopia | 3:59.47 | 4:01.75 |
| Delia Sclabas | Switzerland | 4:12.00 | 4:18.44 |
| Caster Semenya | South Africa | 3:59.92 | 3:59.92 |
| Dawit Seyaum | Ethiopia | 3:58.09 | 4:02.81 |
| Gudaf Tsegay | Ethiopia | 3:57.64 | 3:57.64 |
| Emily Tuei | Kenya | 4:12.47 | |
| Laura Weightman | Great Britain | 4:00.17 | 4:02.90 |
| Noelie Yarigo | Benin | 4:20.09 | 4:20.09 |
Shelby Houlihan has looked invincible in recent weeks, using her big kick to earn her first Diamond League win at the Pre Classic and a pair of titles at USAs (including a scintillating 57.67 final lap to end Jenny Simpson's four-year reign in the 1500). Now she's taking this show international. First stop: Lausanne.
And how do you stop a kicker? Well, either you break them or you find yourself an even bigger kicker. Enter Caster Semenya. No woman in this field has close to the top-end speed of Semenya, who ran 50.40 to win the Diamond League 400 final in 2016. The question is whether Semenya can still draw on that speed at the end of a fast 1500. Based on recent evidence, the answer is yes: she closed out her 1:54.25 800 PR in Paris on Saturday with a 28.88 final 200 — nearly identical to the 28.9 that Houlihan split at the end of her 3:59.06 1500 pb at Pre. Obviously she will have 700 extra meters in her legs in Lausanne, but she also won't have had to cover them nearly as fast as in Paris.
Semenya's certainly not a lock as she's still learning the 1500, but she's already put up some mighty impressive results. She earned bronze against a stacked field at Worlds last year, cruised to the Commonwealth title in April, and ran 3:59.92 to win in Doha in May. We couldn't get an exact split for her final 200 in that race, but she put over a second on the field over the final 90 meters, so she was clearly able to close well even in a quick race.
Houlihan obviously remains a threat, as does Laura Muir, who ran 3:58 last month in Stockholm and clocked a 58.5 final lap to win the 800 at last week's British champs. Sifan Hassan has the fastest pb in the field at 3:56.05, but she may not be ready to deal with a field of this quality just yet — she was 10th in the 800 in Paris on Saturday, her first race since March (though she ran a respectable 1:59.35, that's well off her 1:56.81 pb).
The world's best 1500 runner right now may not be any of those women, however, as Ethiopia's Gudaf Tsegay stormed to a 3:57.64 victory in Stockholm on June 10 (despite an insane 60.7 first lap) and followed that up with dominant wins in Ostrava and Madrid. She may want to try to replicate her Stockholm strategy and try to run away from the field early (and rid herself of Semenya in the process).
Can we also point out that Genzebe Dibaba is not running here? Dibaba didn't run Stockholm, instead putting up a 3:56.68 world leader in Poland two days earlier, and instead of running Lausanne, Dibaba ran a 4:24.29 mile in Hungary on Monday. We reached out to Dibaba's agency for an answer (as of publication, we had not received a response). Usually, we want all the fastest athletes running in Diamond League races, but considering the question marks surrounding Dibaba's coach Jama Aden, we imagine most of the athletes won't be shedding a tear about her absence.
LRC prediction: Houlihan has been brilliant, but if Semenya is there with 100 to go, this is her race. Semenya FTW.
[gravityform action="polls" id="713″ mode="poll" cookie="1 month" show_results_link="false" display_results="true" percentages="true" counts="false" ajax="true"]
---
Talk about the meet on our messageboard: