2018 Stockholm Recap: Young Stars Duplantis & Echevarria Fly to First Diamond League Wins, Women's 1500 Goes Out in Sub 60!
by LetsRun.com
June 10, 2018
The future of our sport was on full display at the Stockholm Diamond League meet as two young superstars, Juan Miguel Echevarria and Armand Duplantis, put on a show.
The Swedes turned out in droves on the unseasonably warm day (high of 84 degrees) to see the 18-year-old Duplantis, a recent high school graduate, in the pole vault, and the Swede did not disappoint as he earned his first Diamond League win.
Article continues below player
Like our coverage from Albuquerque?
Prior to that, 19-year-old Juan Miguel Echevarria of Cuba unleashed a massive 8.83 long jump, that was barely wind aided (2.1 m/s wind). Otherwise it would have been the longest jump in the world since Mike Powell set the world record in 1991.
Then the meet concluded with the women's 1500m going out in sub-60 seconds, and Gudaf Tsegay holding on for an impressive 3:57.64. In between all of this there was another Diamond League record in the 400m hurdles by Abderrahman Samba, and world leaders in the 5000m, 1000m, and discus.
We recap it all below starting with the two young phenoms in long jump and pole vault, then we go to the distances and sprints and end with field events.
Men's long jump: Juan Miguel Echevarria unleashes monstrous wind-aided (barely) 8.83 leap
In Rome two weeks ago, Echevarria, the world indoor champ, flirted with the nine-meter mark a couple of times, but fouled both jumps. This time, he got the white flag, flying out to an incredible 8.83 meters (28-11.5). Unfortunately for Echevarria, the wind (+2.1) was just above the legal limit, but it was still an amazing performance. Had the wind been +2.0, it would have stood as the longest legal jump since Mike Powell set the world record of 8.95 way back in 1991.
Nonetheless, Echevarria was pumped, his coach was pumped, and the other jumpers, including Olympic champion Jeff Henderson, were pumped.  Watch it yourself. We've got two versions (2nd one is in English) of the jump because the reaction is palpable no matter the language.
https://www.youtube.com/watch?v=J3LapnkmYQE
"Today, I wanted over 8.50m but I didn't think I could jump so far!" Echevarria said. "I want to jump at this level for a long time but it's early season so I will just take it all step by step. I'm not even thinking about nine meters – I will have to keep working very hard in order to jump that, it is a huge barrier."
Long Jump - Men  - Diamond Discipline
                                                             Pts    Wind
    1 Echevarría , Juan Miguel         CUB       8.83          8    +2.1
    2 Henderson , Jeff                 USA       8.39          7    +3.4
    3 Manyonga , Luvo                  RSA       8.25          6    +0.7
    4 Samaai , Ruswahl                 RSA       8.20          5    +1.9
    5 Nilsson Montler , Thobias        SWE       8.09          4    +3.3
    6 Tentoglou , Miltiadis            GRE       8.05          3    +3.1
    7 Frayne , Henry                   AUS       8.04          2    +2.8
    8 Smith , Tyrone                   BER       7.94          1    -0.8
Men's pole vault: Armand Duplantis gets first Diamond League win before home fans
Duplantis, who lives in Louisiana and speaks with a Cajun twang, is Swedish as his mom is Swedish and he represents Sweden internationally. The 18-year-old picked the perfect place to get his first Diamond League win as he was the only athlete to clear 5.86 and he got the deserved victory over Sam Kendricks of the US. Duplantis took two attempts at a world-leading (and meet record) 5.96 but came up short. To show how good Duplantis is, this was not even his PR. That came at the Louisiana High School All State Sugar Bowl Track and Field Meet (5.93).
"It's my first IAAF Diamond League victory and of course, I love it here — the crowd were fantastic and I really felt their support," Duplantis said. "I felt good and I found my rhythm well. Sam kept me fired up, as well as the crowd and they took me to some high heights."
Pole Vault - Men  - Diamond Discipline
                                                             Pts
    1 Duplantis , Armand               SWE       5.86          8
    2 Kendricks , Sam                  USA       5.81          7
    3 Lisek , Piotr                    POL       5.76          6
    4 Wojciechowski , Pawel            POL       5.76          5
    5 Barber , Shawnacy                CAN       5.66          4
    6 Holzdeppe , Raphael              GER       5.66          3
    7 Joseph , Stanley                 FRA       5.50          2
    8 Huang , Bokai                    CHN       5.50          1
    9 Filippídis , Konstadínos         GRE       5.50          M 
   10 Houston , Scott                  USA       5.50
Distances:
Women's 1500: Gudaf Tsegay holds on to run 3:57 after rabbit goes out in sub-60 
After the ridiculous 4:22 opening mile at this year's London Marathon, it looked as if that race would go unchallenged in the category of "Worst Rabbitting Job of the Year." But today, Benin's Noelie Yarigo announced herself as a serious contender for that dubious distinction. Yarigo, who was supposed to come through in 64 seconds, ran the first 400 meters of the 1500 in 59.96. That is 4:01 mile pace, or 3:44 for 1500 — which is six seconds faster than Genzebe Dibaba's world record.
As a result, the field was totally strung out, but Yarigo wasn't all alone up front as the second rabbit, Emily Tuei, was behind her, followed by Ethiopia's Gudaf Tsegay (60.7) and Kenya's Nelly Jepkosgei (61.1). Yarigo only made it 700 meters before dropping out, and though the second lap was run in almost exactly 64 seconds leader-to-leader, the 800 split of 2:03.93 for rabbit Tuei (2:05.4 for Tsegay as the first racer) still appeared suicidal.
At that point, Jepkosgei was still close behind Tsegay but the rest of the pack, led by Ethiopia's Besu Sado, were about 20 meters back.
Tsegay, the world indoor bronze medalist in 2016, still led at the bell (2:54.2), but Great Britain's Laura Muir, 2.6 behind, was closing hard. Third at the bell, Muir moved past Jepkosgei into second with 200 to go. But she was still 10 meters back of Tsegay, who was not giving in. Tsegay could feel the pressure, glancing over her shoulder to check on Muir as she rounded the final turn, but she held on extremely well to win in a big pb of 3:57.64 (previous pb 3:59.55). Muir continued her fine 2018 campaign with an SB of 3:58.53 in second. American Jenny Simpson was fourth in 4:00.34.
1500 Metres - Women  - Diamond Discipline
                                                             Pts
    1 Tsegay , Gudaf                   ETH    3:57.64          8
    2 Muir , Laura                     GBR    3:58.53          7
    3 Arafi , Rababe                   MAR    4:00.28          6
    4 Simpson , Jennifer               USA    4:00.34          5
    5 Jepkosgei , Nelly                KEN    4:01.95          4
    6 Bahta , Meraf                    SWE    4:02.31          3
    7 Sado , Besu                      ETH    4:02.81          2
    8 Hall , Linden                    AUS    4:02.89          1
    9 Weightman , Laura                GBR    4:02.90           
   10 Grøvdal , Karoline Bjerkeli      NOR    4:05.57           
   11 Martinez , Brenda                USA    4:06.54           
   12 Alemu , Habitam                  ETH    4:08.19           
      Tuei , Emily Cherotich           KEN        DNF           
      Yarigo , Noélie                  BEN        DNF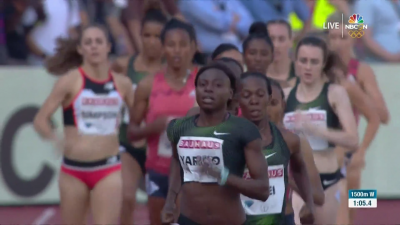 Quick Take: What an incredibly tough run from Tsegay. How much faster can she go?
After seeing Tsegay go out in 60.7, it seemed certain that she would be run down over the final lap; it's hard to go out that fast and still have something left in the tank to kick with. And though her 63.4 final lap would not win most Diamond League meets, it did today as she had a 2.6-second lead to work with over Muir (Jepkosgei, who was ahead of Muir at the bell, could not hold on and faded to 5th).
Tsegay deserves major props for running an extremely tough race and notching a two-second PR to boot. Considering how uneven the pacing was, it wouldn't be a surprise to see her go even faster later this year.
Quick Take: The pacemaking was truly awful, but this was not even close to the fastest first lap in a women's 1500
We don't blame you if you watched this race and thought "that had to be the fastest first lap ever in a women's 1500." But you'd be wrong.
According to PJ Vazel, when China's Qu Yunxia ran 3:50.46 in 1993 (a world record at the time), the unofficial rabbit Liu Dong hit 400 in 57.13, with Yunxia behind in 57.39. We found a video of the race here, and while they appear to be running very fast, it cuts off before 400 meters. It's worth taking those performances with a grain of salt, however, as both of those women were almost certainly doping at the time.
Liu was the unofficial pacemaker and dnf, Qu Yunxia followed in 57.39 and won in 3:50.46 WR. That's the fastest ever first lap.

— PJ Vazel (@pjvazel) June 10, 2018
Quick Take: A great run for Laura Muir
Muir has had a lot on her plate this year, between earning two medals at World Indoors, finishing up vet school, and now competing in a summer season, but the 25-year-old has handled it all remarkably well, following up her 3:59 at Pre and 1:59 in Oslo with a 3:58 today.
Quick Take: Ho-hum from the Americans
Jenny Simpson didn't run badly (4:00 for fourth), but after losing narrowly to Muir at Pre, she was outclassed by her British rival today. Obviously the erratic rabbiting made things more difficult, but out of everyone, you would expect Simpson to be the least affected given her experience and tactical prowess.
The other American, Brenda Martinez, struggled and was second-to-last in 4:06.
5k: Selemon Barega backs up his Pre Classic win with world leader
The pace was hot early in this one, as the first km was run in 2:32.53 (12:42 pace), and then rabbit Vincent Letting hit 2k in 5:10.20 (12:55 pace). And even once he dropped, the leaders were still on 13:01 pace through 3k (7:48.75, led by Selemon Barega of Ethiopia).
They would continue to slow slightly as the race wore on, but they were running fast enough to burn off almost everyone; with two laps to go, three Ethiopian-born athletes (Barega, Abadi Hadis, and Birhanu Balew, the winner in Shanghai) were clear of the rest of the field. Barega took the lead on the final lap, and Balew moved on his shoulder with 200 to go, but Hadis wasn't done either, and all three men were close coming off the final turn.
Barega and Balew would ultimately separate from Hadis, and while Balew did not give up any ground, he could not close the slight gap Barega held off the final turn and had to settle for second as Barega clocked a world-leading 13:04.05. Balew was second in a PR of 13:04.25, Hadis third in 13:06.76.
Ben True did yeoman's work leading the chase pack for a chunk of the race, but had to settle for fifth in 13:16.48 behind Mo Ahmed of Canada (13:14.88), though both men were well behind the top three.
5000 Metres - Men  - Diamond Discipline
                                                             Pts
    1 Barega , Selemon                 ETH   13:04.05          8
    2 Balew , Birhanu                  BRN   13:04.25          7
    3 Hadis , Abadi                    ETH   13:06.76          6
    4 Ahmed , Mohammed                 CAN   13:14.88          5
    5 True , Ben                       USA   13:16.48          4
    6 Kiplimo , Jacob                  UGA   13:19.66          3
    7 Amdouni , Morhad                 FRA   13:19.93          2
    8 Wolde , Dawit                    ETH   13:28.86          1
    9 Ingebrigtsen , Henrik            NOR   13:28.89           
   10 Ringer , Richard                 GER   13:37.37           
   11 Bouqantar , Soufiyan             MAR   13:43.85           
   12 Ingebrigtsen , Filip             NOR   13:46.40           
   13 Tanui , Paul Kipngetich          KEN   13:49.06           
   14 Rutto , Cyrus                    KEN   14:10.08           
      Kangogo , Cornelius              KEN        DNF           
      Kazi , Tamás                     HUN        DNF           
      Letting , Vincent                KEN        DNF           
      Mead , Hassan                    USA        DNF           
      Mechaal , Adel                   ESP        DNF
Quick Take: Another big win for Selemon Barega
Barega took on a stellar field at the Pre Classic 2-mile and beat them all, and backed up that performance with his first win in a Diamond League points event. The time was also impressive as well. While Barega has run almost 10 seconds faster (12:55 is his pb), this race was held in bright sunlight in the late afternoon, with temps in the low-80s, plus it was windy. To run a world leader in those conditions takes some doing. Right now, he's the man to beat in the 3k/5k.
Quick Take: A good run by Ben True; not so much for Hassan Mead
Paul Chelimo remains the heavy favorite to win a second straight U.S. title at 5,000 meters, but this was a solid run by True, who had to pull out of Payton Jordan last month with illness. U.S. 10k champ Hassan Mead struggled, however, and dropped out before the finish.
Men's 1500: Jakob Ingebrigtsen wins again
17-year-old Jakob Ingebrigtsen has made the amazing look routine this season, and he produced another good performance today. Just three days after clocking a pb of 3:36.06 in Oslo, he ran 3:37.42 to win this non-DL event comfortably by .88 of a second over Australia's Jordy Williamsz. Full results for the non-DL 1500 can be found here.
Men's 800: Bol edges Deng in battle of Australians as they sniff Doubell's 50 year Aussie record
For 50 years, Ralph Doubell's Australian 800-meter record of 1:44.40, run to win Olympic gold in Mexico City, has stood unsurpassed. Alex Rowe came closest to breaking it, tying the mark four years ago in Monaco. But based on today's race, Doubell's record may not have much time left as Aussies Peter Bol and Joseph Deng went 1-2 in 1:44.56 and 1:44.61 in this non-DL event.
Deng was determined to get out well and at 400 (50.24 for the rabbit), Deng was the first racer, seven meters back of the rabbit. Bol moved into second behind Bol entering the final turn, and would run on Deng's shoulder for most of the home straight before pulling past just before the finish line. Given their ages (Bol is 24, Deng just 19), Doubell's record looks set to fall soon, but remember that Rowe had just celebrated his 22nd birthday when he tied the mark in 2014 and has not run faster since.
Prior to this year Deng had only run 1:46.51, he went 1:45.71 in the "B" race at the Aussie national champs and 1:44.97 in Hengelo last week.  According to tilastopaja.eu, Bol who ran 1:45.21 last year, hadn't raced since February or broken 1:46 this year. What a run by both.
800 Metres - Men  - Promotional Event
                                                                
    1 Bol , Peter                      AUS    1:44.56           
    2 Deng , Joseph                    AUS    1:44.61           
    3 Van Rensburg , Rynhardt          RSA    1:45.73           
    4 Webb , Jamie                     GBR    1:46.37           
    5 Roth , Thomas                    NOR    1:46.52           
    6 Bube , Andreas                   DEN    1:46.66           
    7 Engholm , Elmar                  SWE    1:48.19           
    8 Andersson , Joakim               SWE    1:50.19           
      Roth , Andreas                   NOR        DNF           
      Smaili , Mostafa                 MAR        DNF
Women's 800: 2:01 win for Regasa
This was a non-Diamond League event and no one in the field had broken 2:00 this year. American Chrishuna Williams led at 600 (1:30.75) but down the homestretch Shuma Chaltu Regasa of Ethiopia and Halimah Nakaayi of Uganda were a notch better than everyone else with Regasa overtaking Nakaayi for the win.
QT: Chrishuna Williams is still struggling

Williams ran 1:59.59 in 2016 and made the Olympic team. Last year she ran 2:00.03 and this year has only run 2:02.55.
800 Metres - Women  - Promotional Event
                                                                
    1 Regasa , Shume Chaltu            ETH    2:01.16           
    2 Nakaayi , Halimah                UGA    2:01.37           
    3 Oskan-Clarke , Shelayna          GBR    2:02.09           
    4 Hinríksdóttír , Aníta            ISL    2:02.21           
    5 Sharp , Lynsey                   GBR    2:02.78           
    6 Williams , Chrishuna             USA    2:02.80           
    7 Lindh , Lovisa                   SWE    2:02.81           
    8 Hermansson , Hanna               SWE    2:03.11           
    9 Hynne , Hedda                    NOR    2:03.87           
      Bibik , Olha                     UKR        DNF
Men's 1000: Ferguson Rotich wins it
Rabbit Bram Som was tasked with going through 400 in 52.5 (2:11.25 pace), a crazy-fast split given that the world record is 2:11.96. Som did his job, hitting one lap in 52.62, and surprisingly he had company in the form of Sweden's Andreas Kramer. At the bell (1:20), and with Som gone, Kramer led the field by 15 meters, but the kickers were coming for him.
Bahrain's Sadik Mikhou was the first to give chase, closing Kramer down around the first turn, but it was Kenya's Ferguson Rotich, 5th at the 2016 Olympics, who was moving fastest of all down the back stretch and he held the lead at 800 in 1:48.8.
Mikhou was in second coming off the final turn, but no one would challenge Rotich the rest of the way as he streaked home to win in 2:14.88, well ahead of Mikhou's 2:16.09. Brit Jake Wightman, who could only manage 9th in the mile in Oslo three days ago, was better here as he closed well to run a Scottish record of 2:16.27.
1000 Metres - Men  - Diamond Discipline
                                                             Pts
    1 Rotich , Ferguson Cheruiyot      KEN    2:14.88          8
    2 Mikhou , Sadik                   BRN    2:16.09          7
    3 Wightman , Jake                  GBR    2:16.27          6
    4 Kszczot , Adam                   POL    2:16.58          5
    5 Gakeme , Antoine                 BDI    2:16.85          4
    6 Bett , Kipyegon                  KEN    2:16.98          3
    7 Osagie , Andrew                  GBR    2:17.18          2
    8 Kipketer , Alfred                KEN    2:17.40          1
    9 Kramer , Andreas                 SWE    2:18.30           
   10 Bodena , Tolesa                  ETH    2:18.87           
   11 Berglund , Kalle                 SWE    2:19.21           
      Som , Bram                       NED        DNF
Quick Take: Is Ferguson Rotich back?
Rotich finished in the top 5 at the 2015 Worlds and 2016 Olympics, and was the 2016 Diamond League champion. But he had not won a DL race in almost two years — his last win was also in Stockholm, in June 2016 — so he will be happy to be back in the winner's column today. Granted, he did not have to face Nijel Amos or Emmanuel Korir, but you can only race who's on the line, and Rotich beat his opponents today by a ton, and he keeps improving (7th at Pre, 2nd in Rome).
Sprints
Women's 110 hurdles: Brianna McNeal clocks world-leading 12.39
The first three DL hurdles races have been won by three different Americans, and after Christina Manning got out well in Stockholm, it looked like she would become the fourth to win one in 2018. But Olympic champ Brianna McNeal, who hit a hurdle in Rome and totally flopped, was much better today as she became the first woman this year to break 12.40 seconds.
It was a very fast race behind her as three of the top four set pbs, including a Dutch national record of 12.71 for Nadine Visser.
100 Metres - Women  - Diamond Discipline               Wind: -0.1 m/s
                                                             Pts
    1 Asher-Smith , Dina               GBR      10.93          8
    2 Ahouré , Murielle                CIV      11.03          7
    3 Ahye , Michelle-Lee              TTO      11.11          6
    4 Lückenkemper , Gina              GER      11.23          5
    5 Okagbare-Ighoteguonor , Blessing NGR      11.29          4
    6 Horn , Carina                    RSA      11.29          3
    7 St Fort , Khalifa                TTO      11.35          2
    8 Ekelund , Iréne                  SWE      11.77          1
Men's 400 hurdles: Abderrahman Samba breaks Diamond League record for third time this year
The 400 hurdles is quickly become a must-watch event, and a big reason for that is the fast times being laid down by Qatar's Abderrahman Samba and Norway's world champion Karsten Warholm. As usual, this race began with Warholm taking it out hard, but Samba was right with him off the final turn and, just as he did in Doha, Rome, and Oslo, pulled away to victory.
Both men PR'd once again, 47.41 for Samba and 47.81 for Warholm, making it three DL records in four races for Samba this year. Despite that, Samba is still well back of world leader Rai Benjamin, who clocked 47.02 at NCAAs.
400 Metres Hurdles - Men  - Diamond Discipline
                                                             Pts
    1 Samba , Abderrahman              QAT      47.41          8
    2 Warholm , Karsten                NOR      47.81          7
    3 Copello , Yasmani                TUR      48.91          6
    4 Hann , Mamadou Kasse             FRA      49.58          5
    5 Green , Jack                     GBR      49.73          4
    6 Rodger , Sebastian               GBR      49.87          3
    7 Mägi , Rasmus                    EST      50.11          2
    8 Andersson , Isak                 SWE      51.16          1
Women's 400: Salwa Eid Naser earns second victory in four days
This was a re-run of the Oslo Diamond League on Thursday, and we saw the same result, with World Champs silver medalist Salwa Eid Naser of Bahrain beating out world champ Phyllis Francis of the U.S. Both women ran faster today, however, as Naser clocked a pb of 49.84 and Francis a season's best of 50.07.
For some perspective, the University of Georgia's Lynna Irby — who is almost seven months younger than the 20-year-old Naser — ran 49.80 to win NCAAs yesterday. So Irby ran faster on a wet track than last year's gold and silver medalists have ever run in their lives (Francis' pb is 49.92).
400 Metres - Women  - Diamond Discipline
                                                             Pts
    1 Naser , Salwa Eid                BRN      49.84          8
    2 Francis , Phyllis                USA      50.07          7
    3 Beard , Jessica                  USA      50.55          6
    4 Little , Shamier                 USA      50.82          5
    5 Stepter , Jaide                  USA      50.99          4
    6 Okolo , Courtney                 USA      51.28          3
    7 Swiety-Ersetic , Justyna         POL      51.34          2
    8 Hjelmer , Moa                    SWE      53.47          1

Women's 100: Dina Asher-Smith gets revenge, first DL 100 victory
A British woman has only won a DL short-sprint event (100/200) on two occasions. Both times it was done by Dina Asher-Smith, and both times it took place on the Stockholm track as she won the 200 here in 2016 and the 100 today in 10.93. Despite setting the British record of 10.92, Asher-Smith was just edged out by Murielle Ahoure in Oslo on Thursday, but she got revenge here, turning the tables on Ahoure to make history as the first British woman to win a DL 100.
100 Metres - Women  - Diamond Discipline               Wind: -0.1 m/s
                                                             Pts
    1 Asher-Smith , Dina               GBR      10.93          8
    2 Ahouré , Murielle                CIV      11.03          7
    3 Ahye , Michelle-Lee              TTO      11.11          6
    4 Lückenkemper , Gina              GER      11.23          5
    5 Okagbare-Ighoteguonor , Blessing NGR      11.29          4
    6 Horn , Carina                    RSA      11.29          3
    7 St Fort , Khalifa                TTO      11.35          2
    8 Ekelund , Iréne                  SWE      11.77          1
Men's 200: Ramil Guliyev wins as Steven Gardiner pulls up
This was supposed to be a showdown between Gardiner, who ran 19.75 in April, and Guliyev, the reigning world champ, but Gardiner pulled up in the home straight, paving the way for Guliyev to sprint to victory in 19.92. It was hard to tell exactly what happened to Gardiner, who was the world leader at 400 until NCAAs, as he wasn't limping significantly. Coming around the turn, he got out of his rhythm as he almost ran out of his lane to the inside, and from there he slowed it down to finish last in 23.35.
Fortunately, Gardiner's injury does not appear serious:
Hej! Hej! Slight tightness to my hamstring. Sorry Stockholm but I will be back! Thank you for your support! #bauhausgalan #stockholmstadion @iaafdiamondleague @ontrackmanagement @adidasrunning @SpencerNel ?

— Skinny Legend (@_SpeedyStevie) June 10, 2018
200 Metres - Men  - Diamond Discipline                 Wind: +0.9 m/s
                                                             Pts
    1 Guliyev , Ramil                  TUR      19.92          8
    2 Brown , Aaron                    CAN      20.07          7
    3 Adams , Luxolo                   RSA      20.36          6
    4 Webb , Ameer                     USA      20.41          5
    5 Mitchell-Blake , Nethaneel       GBR      20.47          4
    6 Martina , Churandy               NED      20.82          3
    7 Larsson , Henrik                 SWE      20.85          2
    8 Gardiner , Steven                BAH      23.35          1
Field:
Women's high jump: Lasitskene barely wins #42 in a row
According to tilastopaja.eu, Mariya Lasitskene has won 42 finals in a row after clearing 2.00 to get the win Stockholm. She was challenged in Stockholm however as Mirela Demireva of Bulgaria set a new PB of 2.00 but still loss on countbacks.
High Jump - Women  - Diamond Discipline
                                                             Pts
    1 Lasitskene , Mariya              ANA       2.00          8
    2 Demireva , Mirela                BUL       2.00          7
    3 Kinsey , Erika                   SWE       1.94          6
    4 Levchenko , Yuliya               UKR       1.94          5
    5 Trost , Alessia                  ITA       1.90          4
    6 Skoog , Sofie                    SWE       1.90          3
    6 Spencer , Levern                 LCA       1.90          3
    8 Lake , Morgan                    GBR       1.90          1
    9 Salming , Bianca                 SWE       1.85           

Men's discus: Fedrick Dacres gets national record and meet record
Dacres of Jamaica continued his great 2018 by winning in a meet record, world-leading, and Jamaican national record of 69.67. Meet record breakers win diamonds in Stockholm and Andrius Gudzius broke the old record of 69.46 as well but was beaten by Dacres. Dacres had won in Rome at the end of May but was only 8th in Oslo earlier this week. He more than bounced back well here.
Discus Throw - Men  - Diamond Discipline
                                                             Pts
    1 Dacres , Fedrick                 JAM      69.67          8
    2 Gudžius , Andrius                LTU      69.59          7
    3 Hadadi , Ehsan                   IRI      67.68          6
    4 Milanov , Philip                 BEL      66.51          5
    5 Weisshaidinger , Lukas           AUT      66.25          4
    6 Ståhl , Daniel                   SWE      66.16          3
    7 Pettersson , Simon               SWE      65.49          2
    8 Finley , Mason                   USA      62.86          1
    9 Harting , Robert                 GER      62.33           

Women's pole vault: Sandi Morris breaks meet record
This wasn't a Diamond League meet but that didn't stop Sandi Morris from breaking the meet record of 4.85.
Pole Vault - Women  - Promotional Event
                                                                
    1 Morris , Sandi                   USA       4.86           
    2 Bengtsson , Angelica             SWE       4.65           
    3 Kylypko , Maryna                 UKR       4.45           
    4 Zhuk , Iryna                     BLR       4.30           
      Kyriakopoúlou , Nikoléta         GRE         NM           
      Olsson , Ellen                   SWE         NM
Women's long jump: Lorraine Ugen's big first-rounder holds up for the win
Ugen, the world indoor bronze medalist two years ago, started the competition with a bang by going 6.85 meters in round one. Germany's Malaika Mihambo, who entered as the world leader at 6.99, equalled Ugen's 6.85 in round four. Those two would finish with an identical best mark, but Ugen's second-best mark (also 6.85 as she jumped it again in round five) was superior, giving her the victory.
                                                                
Long Jump - Women  - Diamond Discipline
                                                             Pts    Wind
    1 Ugen , Lorraine                  GBR       6.85          8    +1.7
    2 Mihambo , Malaika                GER       6.85          7    +1.8
    3 Nettey , Christabel              CAN       6.83          6    +1.1
    4 Španovic , Ivana                 SRB       6.81          5    +2.4
    5 Saunders , Shakeelah             USA       6.72          4    +0.9
    6 Burks , Quanesha                 USA       6.59          3    +1.1
    7 Moguenara-Taroum , Sosthene      GER       6.58          2    +1.6
    8 Jarder , Erica                   SWE       6.53          1    +2.3
    9 Bartoletta , Tianna              USA       6.32               +1.0
Be a fan and talk about the meet on our world famous messageboard. MB: LRC Live Stockholm DL Thread