Caster Semenya Runs 1:54.25 with No Rabbits to Become 4th Fastest Ever and Destroy World's Best in Paris
by LetsRun.com
June 30, 2018
Ever since a 2015 court ruling gave Caster Semenya a second act as a dominant 800 runner, there has been no doubting Semenya's mastery of the event as entering today she had racked up 36 straight victories, counting prelims. But some 800 aficionados had wondered if Semenya has been sand-bagging in her specialty. After a virtuoso performance tonight in Paris, that debate will only intensify.
Running without the help of any pacemakers, Semenya put up the performance of her life as she destroyed her personal best of 1:55.16 with a 1:54.25 clocking — the fastest time in the world in nearly 10 years and the #4 mark in history.
Article continues below player
Semenya got out well — 26-mid for the first 200 — and was followed closely by 2016 and 2017 silver medallist Francine Niyonsaba. The quick running continued through 400 (56.12 for Semenya) and a question hung in the air. Was Semenya, who told meet organizers she didn't want a rabbit, trying to make a statement?
The answer was yes as on the backstretch she didn't let off the gas and by 600 (1:25.37) she had gapped Niyonsaba by 3-4 meters. The gap between Semenya and Niyonsaba would only grow to the finish line as Semenya was now battling the clock and history. Amazingly, despite the fast start, Semenya's final 200 wouldn't be her slowest 200, which is normally what happens when someone runs an 800 pb. No, Semenya picked it up and ran her final 200 in 28.88 (her third 200 was 29.25) and in the process set a new Diamond League and South African record.
You can watch her final 200 here:
Behind Semenya, the times were quick as overall 8 of the 11 finishers in this race set either seasonal or lifetime bests. Niyonsaba finished second in a seasonal best of 1:55.86 as American Ajee Wilson, who backed off the pace between 200 and 400, was third in 1:57.11 as  Ethiopia's 20-year-old Habitam Alemu just missed her 1:57.05 national record with a 1:57.17 seasonal best for fourth. Former NCAA star Natoya Goule of Jamaica, the Commonwealth Games bronze medalist earlier this year, destroyed her lifetime pb of 1:58.82 by more than a second by running 1:57.69 to finish fifth and break Kenia Sinclair's Jamaican record of 1:57.88 which had stood since 2006.
Semenya admitted she surprised herself by coming close to the 1:54 barrier.
"In Oslo, we were not very happy about the pace so I said, 'No pace this time. See what you can get out of it,'" Semenya said to meet organizers after the race. "But 1:54.25… I did not expect that. I was thinking 1:54.99 could be possible but this was great. I am not a very emotional person and I was always about chasing records. This season is about trying good things, new challenges and to see what you are capable of. I am just a human and if you want to be an inspiration to the world and to the youth, you cannot focus on negative things. With the help of God, you can do big things."
Paris Results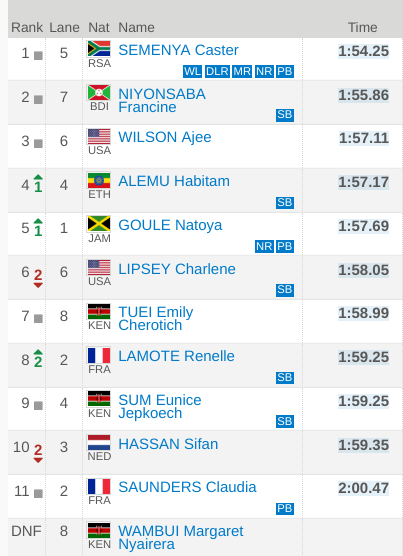 All time 800 list:
1      1:53.28    Jarmila Kratochvílová          CZE         München                     26.07.1983
2      1:53.43    Nadezhda Olizarenko            UKR      Moskva                      27.07.1980
3      1:54.01    Pamela Jelimo                  KEN        Zürich                     29.08.2008
4      1:54.25   Caster Semenya                RSA        Paris                       30.06.2018
(Semenya was 8th in 1:55.16 before today)
Quick Take: A great run for Caster Semenya
While we have openly stated we don't think women like Caster Semenya, who is believed to have XY chromosomes, internal testicles, and no ovaries, should be allowed to compete in the women's category of professional athletics without hormone treatment, we continue to be impressed by Semenya and were very impressed by this run from her.
As fans of the sport who have long been critical of the fact that virtually every Diamond League distance race uses pacemakers, we've grown especially tired of seeing rabbit after rabbit set a fast pace for Semenya and see her so often refuse to go with them. So we were pleased to hear that Semenya told meet organizers she didn't want a rabbit. If the people aren't going to go for a fast time and go with the rabbits, then there is no reason for them. But for Semenya to ask not to have rabbits and then finally go for a quick time, that caught us off guard. Often, the best moments in sport are the unexpected and surprising flashes of brilliance.
It would be easy for Semenya to pout since her days of dominance may soon be coming to an end (if the IAAF's new rules on hyperandrogenism aren't overturned). Instead, we love how she's has been motivated by the ruling and seems to be saying, "Fine, if this is my last year on the circuit as a dominant player, I'm going to put up a season for the ages." Remember, Semenya has also been excelling at the 1500 this year where she's won all 6 of her races counting heats and run 3:59.
Quick Take: Order is restored (for now) in the women's 800
For the last two years, every time Semenya and Niyonsaba have lined up in an 800 together, they've finished 1-2, save for the 2017 and 2018 Prefontaine Classics. After American Ajee Wilson beat Niyonsaba at Pre and cruised to a second straight U.S. title, we wondered if she could beat Niyonsaba again in Paris and perhaps even get close to Semenya. That didn't happen, however, as Semenya was a dominant winner and Niyonsaba a clear second — the usual order of business in the women's 800.
Not that Wilson ran poorly. Wilson ran 1:57.11 today, which is faster than either of the times she ran in her two DL victories (1:57.67 in Monaco in 2014, 1:58.83 in New York in 2015). In fact, it would have won all but two DL 800s from 2013 to 2015 as only two women (Eunice Sum and Niyonsaba) broke 1:57 in a DL race during that span.
Be a fan and talk about the race on our messageboard: MB: Caster Semenya has just destroyed her lifetime PB, without any rabbits. 1:54.25!! *Official Paris DL Discussion Thread
---
More: Full Meet Recap: LRC 2018 Paris DL Recap & Video Highlights: What An Incredible, Incredible Meet – World Leaders Galore