Geoffrey Kamworor Splits 13:01 5k – Yes 13:01 – At End of Race To Win 3rd Straight World Half Marathon Title
By LetsRun.com
March 24, 2018
The first 15 kilometers of the men's race at the 2018 IAAF World Half Marathon Championships in Valencia weren't much to watch. On a day where winds topped 30 mph, the key players played it conservatively and a massive lead pack (29 men within three seconds of the lead) passed 15k in 44:13 — a dawdling pace of 62:11 for men capable of running several minutes faster for the 13.1-mile distance.
The the Geoffrey Kamworor show began.
No one who watched this race will forget what happened over the final 6.097 kilometers as the 25-year-old Kenyan, already the two-time defending champion, unleashed one of the most ridiculous closes in the history of running.
That is not hyperbole. Spurred on by a massive tailwind for much of the final five kilometers, Kamworor attacked at 15k and proceeded to reel off splits that still seem impossible: 7:48 for the 3k segment from 15k to 18k; 13:01 for the 5k segment from 15k to 20k.
Let us write that again.
Article continues below player.
Geoffrey Kamworor dropped a 13:01 5k at the end of the a half marathon.
And not just any half marathon — this was the world's best that Kamworor was ripping apart. After averaging an unreal 4:10 per mile over the final 6.097 km, Kamworor broke the tape in 60:02 with a wide grin and several fist pumps, finishing 20 seconds clear of Bahrain's Abraham Cheroben — the third-fastest man in history (58:40 pb). Eritrea's Aron Kifle, the fifth placer at World XC last year, was third in 60:31, just edging out Ethiopia's Jemal Yimer, who was 4th at World XC last year and ran the fastest debut half marathon ever last month (59:00). These guys are studs yet Kamworor squashed them like mosquitoes over the final five kilometers.
Cheroben did his best to stay close, himself splitting 13:14 between 15k and 20k, but no one in the world is better than Geoffrey Kamworor at the 13.1 distance as he won his third straight World Half title in incredible fashion.
Despite Kamworor's victory, Ethiopia took the team crown by going 4-5-6 (Getaneh Molla 60:47, and Betsefa Getahun 60:54 were their second and third scorers — the team score is determined by adding up the first three finishers' times) as their total time of 3:02:14 beat Kenya (3:02:40) by 26 seconds and Bahrain (3:02:52) by 38. Kenya's team chances were hurt when their ultimate third scorer Barselius Kipyego went down in a fall around the 9km mark.
Kenya's Barselius Kipyego goes down around the 27-minute mark of World Half Champs pic.twitter.com/ADGDN7vdXA

— LetsRun.com (@letsrundotcom) March 24, 2018
Samuel Chelanga, the top American at World XC last year, was the top American again in 14th in 61:23, leading the US to a seventh place showing. 43-year-old Bernard Lagat ran impressively to finish as the second American 31st in 62:16, just 16 seconds off his pb while Diego Estrada (69th, 63:69) was the third American scorer (Jared Ward was 83rd in 64:49). America's sub-60 man Leonard Korir struggled, however, and wound up dropping out.
Top non-African honors went to Switzerland's Julien Wanders in 8th (61:03), the 22-year-old who has spent most of the last three years training in Kenya. He was the lone non-African born runner in the top 20. Belgium's Koen Nart, a 2:10:16 marathoner, was the next non-African born finisher in 22nd.
Quick Take: What else can we say? 13:01 for 5k!!
What a crazy split and what a magnificent champion. Watching Kamworor rip races open by pushing races from the front and then seeing his huge smile at the end is a real treat. Kudos to race commentators Paula Radcliffe and Tim Hutchings realizing the significance of the split. Rather than write paragraph after paragraph about how good it was, we'll let Hutchings' race commentary do it justice as it sounds more impressive when someone with a British accent raves about it. After Radcliffe announced the split, here is what Hutchings had to say about it.
(For good measure, he ran the entire 10k from 10k to 20k in 27:46)
While 13:01 is a simply ridiculous split, we should point out that Kamworor did have some help. The wind was blowing hard out of the northwest, which meant that it was at his back for much of the final 5k (see map below).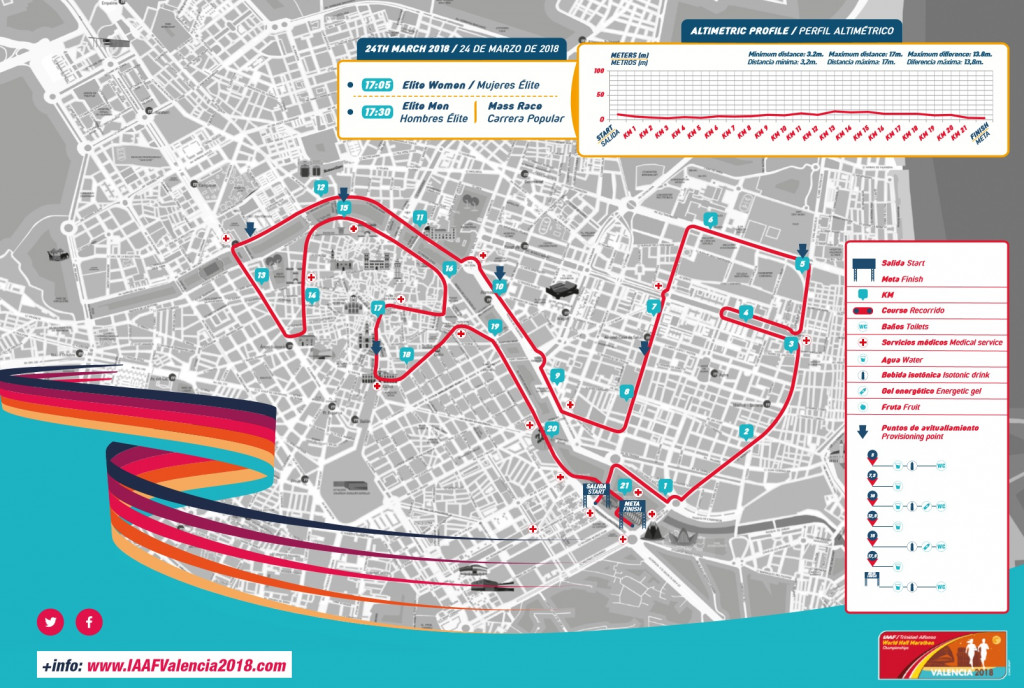 But it's still insane. Abraham Cheroben split 13:14 from 15k to 20k and wound up losing 13 seconds on the leader. That's just unfair.
Quick Take: Geoffrey Kamworor was already a legend, but this ranks among his finest performances
When a guy has won three World Half Marathon titles, two World XC titles, and the New York City Marathon, it's hard to single out one of those as his greatest victory. His close today was absolutely unreal, but don't forget that two years ago, he fell down at the start, got trampled, sprinted back to the front and ran 59:10 in windy, rainy conditions in Cardiff.
What we can say is that Kamworor has produced two legendary performances in his last two appearances in this race. It's fair to wonder how fast he could go in a rabbitted race with perfect conditions. Kamworor's PR is 58:54, but that dates to February 2013, over a year before he won any of his world titles. Zersenay Tadese's 58:23 world record certainly seems within Kamworor's range should he choose to attack it, and it's not outside the realm of possibility to suggest Kamworor could challenge the 58-minute barrier.
But let's not get caught up in times and appreciate Kamworor for what he is: an outstanding championship racer over a variety of surfaces and distances.
Quick Take: Valencia, what a magnificent city and host. The visuals from the race were unreal. We want Valencia to host this race again. Well done.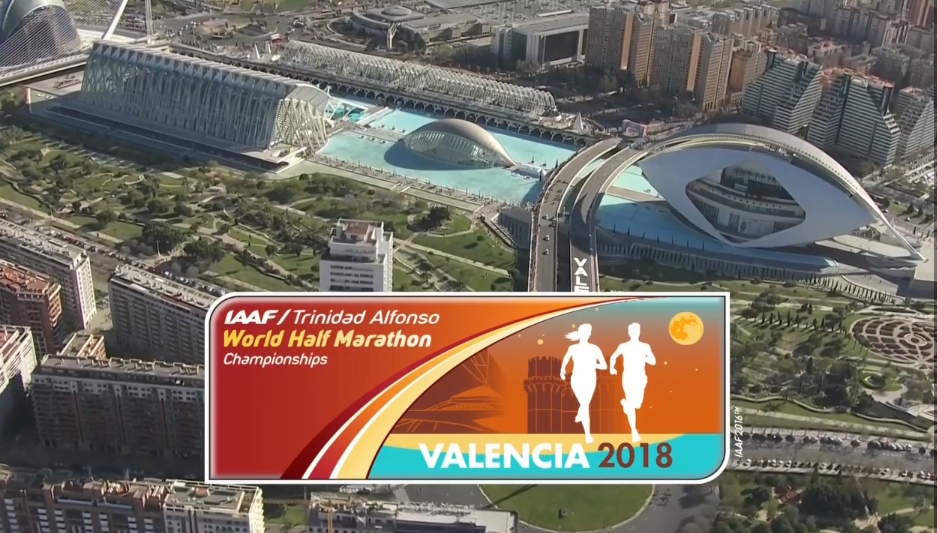 Spectacular setting for @Valencia2018 #worldhalf which is starting now. https://t.co/Q19DEysBGh pic.twitter.com/oebVMFBPYD

— LetsRun.com (@letsrundotcom) March 24, 2018
Talk about the race on our messageboard.
More: *RRW Recap with Quotes From Kamworor: "I can say I was really prepared for this race and I had no pressure." 
Women's Recap: Netsanet Gudeta Kebede of Ethiopia Sets Women's Only World Record of 66:11 at 2018 IAAF World Half Marathon Championships Ethiopia won both team and individual gold.