2018 Shanghai Diamond League Recap: Paul Chelimo Just Misses, Drew Windle Bombs, Keni Harrison's Win Streak Stopped, Gardiner Keeps Winning
By LetsRun.com
May 12, 2018
The 2018 Diamond League moved 4,200 miles across the Asian continent from Doha to Shanghai for stop #2 in the 2018 season.
Paul Chelimo came up just short of getting his first win at a Diamond League meet as the Kenyan favorites prevailed in the men's 800 and 1500 and women's steeple. Steven Gardiner kept winning, Keni Harrison's win streak stopped, Omar McLeod was back to his winning ways, and there were some stiff Chinese challenges thwarted in the 100 and long jump.
Full meet recap below.
Men's 5000: Paul Chelimo Looks Over His Shoulder 19 Times Over Final 400 And Loses By .02
Though this was not officially a Diamond League points event, the field was Diamond League quality, and for a while it looked as if the U.S.'s Paul Chelimo was going to earn his first victory in a DL meet. But he could not hold off the charge of another former East African, Ethiopian-born Birhanu Balew of Bahrain, who beat out Chelimo in the final meters, 13:09.64 to 13:09.66.
Article continues below player.
13:00 was the pace requested for the rabbits (2:36/km), and through 2k (2:37.37), they were just one second behind the required split. But as the rabbits dropped out, the pace began to slow, as their next two kilometers were covered in 2:39 and 2:46 to kiss any hopes of sub-13:00 goodbye.
The result was a bunched-up pack off 11 guys with two laps to go, headed by Chelimo, who was attempting to use Mo Farah's preferred strategy of controlling the race from the front. He succeeded for the first of the final two laps, holding off a challenge from Ethiopia's Abadi Hadis on the backstretch of the penultimate lap, and hit the bell in the lead at 12:15. Eight more men were in contention behind him.
Hadis remained on Chelimo's shoulder until 200 meters remained, when Balew made his move into second. World champ Muktar Edris was in the back of the lead pack of nine and could not summon the same kick that carried him to victory in London last year.
Chelimo began to accelerate around the final turn, but he could not relax as Balew and 18-year-old Kenyan Stanley Waithaka were still on him — a fact Chelimo made sure to verify every few seconds by turning his head.
Midway down the home stretch, it looked as if Chelimo would have enough to hold them off, but Balew would not relent and Chelimo began to strain. In an act of desperation, he began to drift outside, forcing Balew to run way wide — he wound up finishing in lane 4 — but it was no use as Balew earned a narrow victory, 13:09.64 to 13:09.66.
World/Olympic steeple champion Conseslus Kipruto was a total nonfactor and wound up dropping out.
5000 Metres - Men 
                                                                
    1 Balew , Birhanu                  BRN   13:09.64           
    2 Chelimo , Paul                   USA   13:09.66           
    3 Waithaka , Stanley Mburu         KEN   13:10.14           
    4 Rutto , Cyrus                    KEN   13:10.79           
    5 Edris , Muktar                   ETH   13:10.98           
    6 Melak , Nibret                   ETH   13:10.99           
    7 Hadis , Abadi                    ETH   13:11.04           
    8 Rop , Albert                     BRN   13:12.72           
    9 Kiplangat , Davis                KEN   13:13.55           
   10 Kissa , Stephen                  UGA   13:25.40           
   11 McSweyn , Stewart                AUS   13:31.97           
   12 Ayeko , Joel                     UGA   14:08.39           
      Kangogo , Cornelius              KEN        DNF           
      Kazi , Tamás                     HUN        DNF           
      Kipruto , Conseslus              KEN        DNF           
      Letting , Vincent                KEN        DNF           
      Liu , Hongliang                  CHN        DNF           
      Gebrhiwet , Hagos                ETH        DNS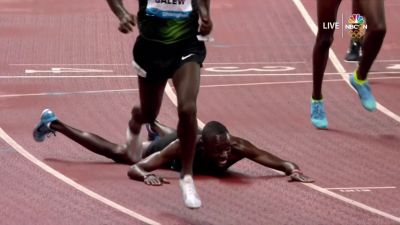 Quick Take #1: A solid run by Chelimo, but he needs to stop looking back so much
If you're going to use the Farah strategy of controlling the race from the front, you need to know where your competition is so that you're not caught by surprise by any moves that are made behind you. But there's a difference between knowing where your competition is and looking back too much, and Chelimo — who by our count looked back 19 times over the final lap, including 12 times over the final 200 — was guilty of the latter. In a race decided by just .02, all those glances back may have actually cost him the win. At a certain point, you have to stop looking back and trust your kick.
Also Chelimo shouldn't be finishing out in lane 3. That's bush league and worthy of a DQ if it continues.
More: Paul Chelimo OH So Close – loses in Shanghai by .02 after looking over shoulder 19 times during final lap
Quick Take #2: Could Stanley Waithaka be the answer to Kenya's 5000m woes?
Kenya has really struggled in the men's 5000 recently, with no Olympic finalists in 2016 and just one at Worlds last year (Cyrus Rutto in 13th). Maybe 18-year-old Stanley Waithaka is the answer? Waithaka, who earned 3k bronze at the World U18 champs last year, entered with a pb of just 13:57 but ran a huge personal best of 13:10.14 to take third in his first-ever Diamond League meet.
With how much Chelimo drifted out from lane 1 at the end of the race, Waithaka actually would have had a shot at victory had he hugged the rail, but he spent some energy moving from the rail to lane 2 with 115 meters to go to try to get around Chelimo and Balew and was not quite able to catch them. Given his lack of high-level racing experience, however, he can be forgiven.
Quick Take #3: The title of world's best 5000 runner remains wide open
The winner today was Birhanu Balew, who finished just 12th at Worlds last year, while world champ Muktar Edris was only 5th. Mo Farah made staying on top of the world in this event look easy, but that may no longer be the case.
Quick Take #4: The wait for a U.S. sub-13:00 continues
Chelimo should break the barrier sooner or later, but today's race showed why it's not so easy. You have to have someone willing to push the third and fourth kilometers once the rabbits drop and no one wanted to do that in Shanghai.
Quick Take #5: Come on now, Nike
We are annoyed that in the 2018 season Nike has once again decided to make everyone wear the same uniform.
Men's 5k. @Paulchelimo beaten late by tiniest of margins at @ShanghaiDL https://t.co/JoCxiPNkLM pic.twitter.com/mbr8sWurGn

— LetsRun.com (@letsrundotcom) May 12, 2018
Men's 1500: Timothy Cheruiyot Picks Up World Leader And Outduels Samuel Tefera
We expected the men's 1500 to be a battle between world indoor champ Samuel Tefera of Ethiopia, 18, and world outdoor silver medallist Timothy Cheruiyot of Kenya, 22, and that's exactly what happened. In the end, Cheruiyot got a narrow win a world-leading 3:31.48 as Tefera had to settle for a pb of 3:31.63 (previous pb of 3:33.78) with Abdelaati Iguider third in 3:32.72.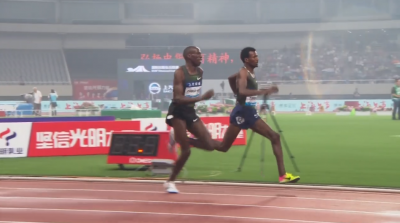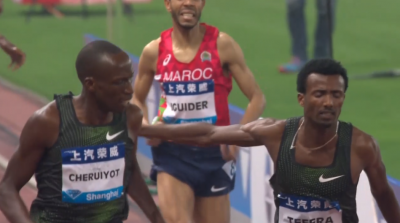 Tefera was the first racer at 800 (1:54) and he still had the lead at the bell (2:37) with Iguider second and Cheruiyot third. However, Cheruiyot closed in an unofficial 52.4 (26.5 final 200) as he passed Tefera with roughly 30 meters remaining.
1500 Metres - Men 
                                                             Pts
    1 Cheruiyot , Timothy              KEN    3:31.48          8
    2 Tefera , Samuel                  ETH    3:31.63          7
    3 Iguider , Abdelaati              MAR    3:32.72          6
    4 Simotwo , Charles Cheboi         KEN    3:33.54          5
    5 Soget , Justus                   KEN    3:34.33          4
    6 Wote , Aman                      ETH    3:34.43          3
    7 Andrè , Thiago                   BRA    3:35.40          2
    8 Birgen , Bethwell                KEN    3:35.95          1
    9 Kibet , Vincent                  KEN    3:36.44           
   10 Gregson , Ryan                   AUS    3:36.94           
   11 Taki , Kumari                    KEN    3:37.66           
   12 Sasínek , Filip                  CZE    3:41.24           
   13 Luo , Yuxi                       CHN    3:45.68           
      Bett , Reuben                    KEN        DNF           
      Kiplangat , Cornelius            KEN        DNF
QT: It's good for the sport for Ethiopia to have a budding 1500 star
Given how good Ethiopia has been historically at the 5k, 10k and marathon, many fans fail to realize that they hardly have any history in the middle distances — particularly on the men's side. Only one Ethiopian has ever beaten 3:31.00. With his 3:31.63 today, Tefera is now the 4th fastest Ethiopian in history. For comparison's sake, six Americans have done it. If Tefera were American, he'd be ranked #9 in US history.
Tefera set his pb by finishing second in Shanghai — the same place where Kenenisa Bekele set his 1500 pb by finishing 2nd 11 years ago.
The 6 Fastest Ethiopians Ever at 1500
3:29.91

Aman Wote

2014 Monaco (31st fastest on world list)


3:31.13

Mulugeta Wondimu

2004 Heusden (64th on world list)




3:31.45

Mekonnen Gebremedhin

2012 Hengelo (75th on world list)

3:31.63

Samuel Tefera 2018 Shanghai (88th on world list)

3:32.18

Deresse Mekonnen

2009 Monaco (115th on world list)

3:32.35

Kenenisa Bekele

ETH

2007 Shanghai 

(119th on world list)
Men's 800: Kenyans Kinyamal and Kitilit Dominate as Murphy Improves and Windle Bombs
Kenyans Jonathan Kitilit and Wycliffe Kinyamal put on a show in the men's 800. Kitilit, the winner of the Kenyan Commonwealth Trials (6th in CWG final), and Kinyamal (CWG champ) were the only two guys under 1:46 this year outdoors in the field, and it showed.
No one wanted to go with rabbit Bram Som at 400 (51.20) and there was a gap to the field at 400. When Som dropped out at 300 to go, Kitilit began to make his push on the backstretch. The field tried to go with him but Kinyamal was the only one to stay close. They opened up a gap with 200 to go and would extend it to the finish. Kitilit led all the way down the homestretch until Kinyamal made a late surge and caught him right before the finish to win in 1:43.91 as Kitilit also dipped under 1:44 in 1:43.95.
Marcin Lewandowski was a distant third in 1:45.41 as American Clayton Murphy was much improved over his 1:47.22 season's best in 1:45.97 in 6th. Drew Windle, world indoor silver medallist, racing with clear sunglasses on the top of his head at night, was positioned ahead of Murphy at the bell, but went the wrong way on the final lap and was 10th in 1:47.77.
QT: Is the 800 this year going to be young, US-based Kenyans vs. Kitilit & Kinyamal?
Kitilit and Kinyamal have been impressive so far in 2018 and have been linked together throughout the year (today, at CWG Trials, and at CWG). However, the world leader in 2018 is Michael Saruni of UTEP, who trains with another Kenyan, Emmanuel Korir, who got the Diamond League win in Doha.
800 Metres - Men 
                                                             Pts
    1 Kinyamal , Wycliffe              KEN    1:43.91          8
    2 Kitilit , Jonathan               KEN    1:43.95          7
    3 Lewandowski , Marcin             POL    1:45.41          6
    4 Gakeme , Antoine                 BDI    1:45.73          5
    5 McBride , Brandon                CAN    1:45.78          4
    6 Murphy , Clayton                 USA    1:45.97          3
    7 Osagie , Andrew                  GBR    1:46.36          2
    8 van Rensburg , Rynardt           RSA    1:46.57          1
    9 Lekuta , Solomon                 KEN    1:47.51           
   10 Windle , Drew                    USA    1:47.77           
   11 Ma , Junyi                       CHN    1:50.00           
      Som , Bram                       NED        DNF           

QT #2: Move over David Rudisha?
Afterwards Kinyamal said, "A PB and meeting record, the race was fine. We were fighting for the last 100 metres, but I was stronger and I knew it. I come from the same village as Rudisha, he was always my example. Now I take over."
MB: Bye bye David Rudisha? Kinyamal (from same village as Rudisha) wins in Shanghai and says, "Now I take over"
QT #3: Drew Windle bombs
A year ago, very few people knew who Drew Windle was on the world stage and he wouldn't have sniffed a lane in any of the early Diamond League meets. Now he's the World Indoor silver medallist focusing on making the Diamond League final this year (according to Josh Cox on the NBCSN broadcast). This race went terribly for him and people want to know what he was doing wearing sunglasses on his head at a race at night. (For the record, the Brooks Beasts signed a deal with ROKA this year, but presumably he doesn't have to wear the glasses at night or on his head). With success comes scrutiny, and if Windle had done well, people who have laughed off the glasses on his head. Windle may have been distracted, but our bet was he knew he had the opportunity to really make his mark on a Diamond League meet here and pressed a bit. He'll be back for sure, but with Clayton Murphy rounding into form, winning USAs won't be easy.
More: Mystery from the 800 at Shanghai DL – Why was Drew Windle wearing sunglasses when the race was being run at night?
Women's 3000 steeple: Beatrice Chepkoech wins after Norah Jeruto slips coming off final barrier
On paper, the women's steeple looked to be a duel between 2017 World #1 Beatrice Chepkoech and Kenyan rival Norah Jeruto as both women had PRs well faster than the rest of the field (Chepkoech 8:59, Jeruto 9:03, no one else faster than 9:17). And indeed, that is exactly what happened as the two women separated from the field early and battled close to each other for almost the entire race.
Chepkoech held the lead until just before the bell (7:56), when Jeruto moved into first, but Chepkoech answered quickly, regaining the lead around the first turn. It stayed that way until the final water jump, when Jeruto made a concerted effort to pass on Chepkoech's outside, but Chepkoech held her back. Coming off the turn, Jeruto decided to try to go around on the inside this time, and she dramatically drew level over the final barrier.
Unfortunately for Jeruto, the skies had opened up before the race, and she became the victim of the soaked track over the final barrier. Though Jeruto landed off-balance, she was on her feet and looked set to challenge Chepkoech — who hurdled the final barrier beautifully — over the final 50 meters. But as Jeruto tried to steady herself on her third step off the barrier, she slipped on the wet track and her chances of victory came crashing down.
Crazy ending to women's steeple at @ShanghaiDL https://t.co/JoCxiPNkLM pic.twitter.com/eDT1pbr0TZ

— LetsRun.com (@letsrundotcom) May 12, 2018
Chepkoech pulled away to win with ease in a world-leading 9:07.27 while Jeruto had to settle for second in this non-Diamond League event in 9:09.30.
3000 Metres Steeplechase - Women 
                                                                
    1 Chepkoech , Beatrice             KEN    9:07.27           
    2 Jeruto , Norah                   KEN    9:09.30           
    3 Jepkemei , Daisy                 KEN    9:15.56           
    4 Chepngetich , Roseline           KEN    9:21.05           
    5 Kirui , Purity                   KEN    9:21.34           
    6 Chepkemoi , Joan                 KEN    9:22.85           
    7 Chemutai , Peruth                UGA    9:22.94           
    8 Yavi , Winfred Mutile            BRN    9:44.02           
    9 Chebet , Caren                   KEN    9:46.58           
   10 Cherono , Fancy                  KEN    9:47.48           
   11 Gathoni , Ann                    KEN    9:47.71           
   12 Adamu , Birtukan                 ETH    9:48.38           
   13 Xu , Shuangshuang                CHN    9:55.56           
   14 Ketema , Maritu                  ETH   10:05.61           
   15 Pease , Sarah                    USA   10:08.39           
      Gyürkés , Viktória               HUN        DNF           
      Tuigong , Caroline               KEN        DNF
Quick Take #1: 9:07 in these conditions is a strong mark, but Chepkoech is thinking about the world record
The level of women's steepling has risen considerably over the past few years. Part of that, it turns out, may have been fueled by PEDs as world record holder Ruth Jebet has reportedly tested positive but there is depth behind her. Chepkoech ran 8:59 in the Diamond League final in Zurich last year and 9:07 today in rainy conditions that were far from ideal.
But Chepkoech was disappointed by the time as she was aiming a lot higher — she went in with Jebet's 8:52.78 world record in mind.
"Was a tough race, it was raining before the start, and had some problems to breath because of the humidity, felt a bit sick," Chepkoech said. "I didn't change any plans because of the rain, still had the world record in my head. But it makes me a bit confused. I know I'm in shape, the times on training shows. With a race in good circumstances, I will go for the world record again."
The next Diamond League steeple is in Rome on May 31, which will presumably have better weather for running than this one.
Sprints
Men's 400: Steven Gardiner Gets Another Win and Meet Record
Steven Gardiner came under more pressure than he did last week in Doha but he once again was the winner and once again he was under 44.00 (43.99 this time, 43.87 last week) and once again he had set a new meet record. The top three was the same as in Doha, but the order was different as Isaac Makwala was second in 44.23 (44.92 last week) and Abdalelah Haroun third in 44.51 (44.50 last week). American Fred Kerley was fourth in 44.71.
Quick Take: It's kind of foolish to run the same events with largely the same competitors in back to back back meets and expect different results. This isn't the NBA where lucky bounces or the NFL where fumbles/interceptions can have a big impact on the results.
400 Metres - Men 
                                                             Pts
    1 Gardiner , Steven                BAH      43.99          8
    2 Makwala , Isaac                  BOT      44.23          7
    3 Haroun , Abdalleleh              QAT      44.51          6
    4 Kerley , Fred                    USA      44.71          5
    5 Taylor , Christian               USA      45.24          4
    6 Cherry , Michael                 USA      45.60          3
    7 Norwood , Vernon                 USA      45.82          2
    8 Guo , Zhongze                    CHN      47.04          1
    9 Francis , Javon                  JAM      47.06
Women's 100 Hurdles: Keni's Harrison's win streak comes to an end
World record holder Keni Harrison's 11 straight Diamond League wins came to an end as she was beaten. Harrison and Sharika Nelvis were running dead even for much of the early race but Harrison clipped hurdle #7 and lost momentum, but the winner ended up being the Olympic champion Brianna McNeal who was just a tiny bit behind early in third.
100 Metres Hurdles - Women                        Wind: +0.9 m/s
                                                             Pts
    1 McNeal , Brianna                 USA      12.50          8
    2 Nelvis , Sharika                 USA      12.52          7
    3 Harrison , Kendra                USA      12.56          6
    4 Stowers , Jasmin                 USA      12.71          5
    5 Pedersen , Isabelle              NOR      12.76          4
    6 Visser , Nadine                  NED      12.81          3
    7 Roleder , Cindy                  GER      12.81          2
    8 Harper-Nelson , Dawn             USA      12.94          1
    9 Wu , Shujiao                     CHN      13.08
QT: Harrison losing may be a good thing for her. In the past, she has sailed through the non-championship meets and struggled in championships. If she starts going into Diamond League meets like this one, feeling pressure, she might better learn how to handle it for the championships which will be key as we agree with Ato Boldon who said on NBCSN today that despite Harrison's world title last summer he's not convinced she still doesn't get tight if people are close to her mid-race.
Women's 200: Shaunae Miller-Uibo destroys a strong field
The Bahamas' Shaunae Miller-Uibo won Diamond League titles in both the 200 and 400 meters last year, and she began her title defense in the shorter event in fine fashion, blasting a 22.06 — the #2 time in the world this year — to crush a field that included two-time defending world champ Dafne Schippers and Marie-Josee Ta Lou, last year's world silver medalist and winner of the 100 at last week's Doha DL.
The lanky Miller-Uibo blasted out of the blocks and led coming off the turn, but Schippers, Ta Lou, and Jamaica's Shericka Jackson were closing the gap, setting the stage for what could have been an epic final 100 meters. But Miller-Uibo removed all drama, crushing everyone over the final 50 meters to win comfortably by an enormous .28 of a second, Schippers second in 22.34.
There were three Americans in the field — reigning NCAA champion/NCAA record holder Kyra Jefferson, reigning U.S. champ Deajah Stevens, and 2015 U.S. champ Jenna Prandini — but all three were totally outclassed as they went 6-7-8 and all failed to break 23 seconds.
200 Metres - Women                                Wind: -0.4 m/s
                                                             Pts
    1 Miller-Uibo , Shaunae            BAH      22.06          8
    2 Schippers , Dafne                NED      22.34          7
    3 Jackson , Shericka               JAM      22.36          6
    4 Ta Lou , Marie-Josée             CIV      22.58          5
    5 Kambundji , Mujinga              SUI      22.72          4
    6 Prandini , Jenna                 USA      23.02          3
    7 Jefferson , Kyra                 USA      23.05          2
    8 Stevens , Deajah                 USA      23.05          1
    9 Wei , Yongli                     CHN      23.56           

Men's 110 Hurdles: Omar McLeod barely gets it
Olympic champion Omar McLeod was full of doubts before this one as to whether he should start as he's been battling injury and pulled out of the 200 in Doha but he did start and 110 meters later he was thrilled that he did as he earned a narrow win in 13.16 over Olympic silver medallist Orlando Ortega (13.17), who came on really strong after the final hurdle to nearly steal the win.
The perfect reaction when you open the year with a win and world leader. https://t.co/JoCxiPNkLM pic.twitter.com/kvMkUah5EY

— LetsRun.com (@letsrundotcom) May 12, 2018
"It's a great victory. I was overcome with emotion. I would have normally had two races by this time of the season," said McLeod who was making his 110 hurdle debut on the year tonight. "I have been battling a lot of injuries this winter, had a hamstring strain, shin splints and a month ago I picked up a slight abductor problem. Today I was running on blind trust. It was great to come out here and complete the three-peat. This meet loves the hurdles and their hurdlers."
110 Metres Hurdles - Men                          Wind: +0.2 m/s
                                                             Pts
    1 McLeod , Omar                    JAM      13.16          8
    2 Ortega , Orlando                 ESP      13.17          7
    3 Shubenkov , Sergey               ANA      13.27          6
    4 Levy , Ronald                    JAM      13.33          5
    5 Parchment , Hansle               JAM      13.48          4
    6 Merritt , Aries                  USA      13.65          3
    7 Darien , Garfield                FRA      13.74          2
    8 Zeng , Jianhang                  CHN      13.76          1
    9 Manga , Aurel                    FRA      13.86
Men's 100: Reece Prescod of Great Britain Pulls Upset
There is a reason you run the race. Reece Prescod, the guy in the field with the slowest PR outside of any local entrants (10.03), running in lane 8, stunned a field that included world champ Justin Gatlin.
The race was run in the rain and Gatlin was never a factor as Bingtian Su of China got a great start and was leading in the middle of the track until Prescod, who was the British champ and did make the final at Worlds last year, closed best in lane 8 to just take it at the line. Gatlin was way back in 7th in 10.20 (10.05 best this year) and Andre De Grasse's 2018 struggles continued as he was 8th in 10.25.
Prescod, being a Brit, relished running in the rain. "When I saw the rain tonight I thought, 'yes', I train in these conditions all the time in the East Midlands [of England]. It suits me. My expectations going in was I knew I had it in me (to win) as long as I executed my race. It is definitely the happiest moment in my time on the Diamond League circuit."
100 Metres - Men                                  Wind: -0.5 m/s
                                                             Pts
    1 Prescod , Reece                  GBR      10.04          8
    2 Su , Bingtian                    CHN      10.05          7
    3 Xie , Zhenye                     CHN      10.17          6
    4 Ujah , Chijindu                  GBR      10.18          5
    5 Young , Isiah                    USA      10.18          4
    6 Guliyev , Ramil                  TUR      10.20          3
    7 Gatlin , Justin                  USA      10.20          2
    8 De Grasse , Andre                CAN      10.25          1
    9 Kiryu , Yoshihide                JPN      10.26
Women's 400 Hurdles: Dalilah Muhammad Gets Narrow Win
Olympic champ Dalilah Muhammad, who only ran 55.08 for 2nd in Drake, had the lead coming off the final turn but Jamaica's Commonwealth Games champ Janieve Russell pulled upside her just before the final hurdle. Muhammad responded and got the narrow win in 53.77 to Russell's 53.78, meaning Kentucky's Sydney McLaughlin keeps her world-leading position (53.60). Former Arizona star Sage Watson was third in 55.23.
Muhammad admitted after the race she wasn't sure she won.
"I didn't think I had taken the race and I was relieved to have won. To be honest, I wouldn't have minded either way. I just wanted to go out and run well," said Muhammad. "I am pleased to have run so quickly early in the season. I have lacked a little motivation during the training this season because there is no major championship."
400 Metres Hurdles - Women 
                                                             Pts
    1 Muhammad , Dalilah               USA      53.77          8
    2 Russell , Janieve                JAM      53.78          7
    3 Watson , Sage                    CAN      55.23          6
    4 Nel , Wenda                      RSA      55.63          5
    5 Linkiewicz , Joanna              POL      55.84          4
    6 Nugent , Leah                    JAM      56.54          3
    7 Xiao , Xia                       CHN      58.48          2
    8 Moline , Georganne               USA      59.51          1
      Petersen , Sara Slott            DEN        DNS
Field Events
Women's triple jump: Caterine Ibarguen's mastery continues
Ibarguen may be 34 years old now, but she remains a force to be reckoned with in the triple jump as she got out to a world-leading 14.80m on her final attempt to win her 29th career Diamond League meet. Only one female athlete has ever won more: Croatia's Sandra Perkovic in the discus (39).
Triple Jump - Women 
                                                             Pts    Wind
    1 Ibargüen , Caterine              COL      14.80          8    +0.1
    2 Ricketts , Shanieka              JAM      14.55          7     0.0
    3 Williams , Kimberly              JAM      14.35          6     0.0
    4 Diallo , Rouguy                  FRA      14.21          5    -0.3
    5 Knyazyeva-Minenko , Hanna        ISR      14.19          4    +0.6
    6 Prokopenko , Viktoriya           ANA      13.93          3    -0.1
    7 Dzindzaletaité , Dovilé          LTU      13.73          2    +0.1
    8 Jagaciak , Anna                  POL      13.67          1    -0.2
    9 Wang , Wupin                     CHN      13.18               -0.6
   10 Li , Yanmei                      CHN      13.01               +0.3
Women's high jump: Maria Lasitskene extends her winning streak to 39 competitions
Lasitskene, the world indoor and outdoor champion, is approaching two years unbeaten as she has not suffered a defeat since the Russian champs on June 23, 2016. Tonight was a fairly ho-hum performance as she cleared the winning bar of 1.97m on her first attempt before missing all three tries at 2.00m.
On her win streak, Lasitskene said, "I do not count how many victories, I leave that for the journalists," so we'll do it for her: you're at 39, Maria.
High Jump - Women 
                                                             Pts
    1 Lasitskene , Mariya              ANA       1.97          8
    2 Demireva , Mirela                BUL       1.94          7
    3 Jungfleisch , Marie-Laurence     GER       1.88          6
    4 Okuneva , Oksana                 UKR       1.85          5
    4 Spencer , Levern                 LCA       1.85          5
    6 Treasure , Alyxandria            CAN       1.85          3
    6 Wang , Yang                      CHN       1.85          3
    8 Tabashnyk , Kateryna             UKR       1.85          1
    9 McPherson , Inika                USA       1.80           
   10 Kinsey , Erika                   SWE       1.80
Women's shot put: Lijiao Gong thrills crowd with world leader
Gong, the world champ from China, won here for the fourth time (also 2011, 2015, and 2017) by throwing 19.99m on her second attempt. She put together a great series (19.87 in round 3, 19.85 in round 6) to win by well over a meter (Commonwealth champ Danniel Thomas-Dodd was second with 18.70).
Shot Put - Women 
                                                             Pts
    1 Gong , Lijiao                    CHN      19.99          8
    2 Thomas-Dodd , Danniel            JAM      18.70          7
    3 Saunders , Raven                 USA      18.63          6
    4 Leantsiuk , Yuliya               BLR      18.42          5
    5 Guba , Paulina                   POL      18.25          4
    6 Márton , Anita                   HUN      18.16          3
    7 Gao , Yang                       CHN      18.12          2
    8 Adams , Valerie                  NZL      18.01          1
    9 Boekelman , Melissa              NED      17.11           
   10 Guo , Tianqian                   CHN      17.05           
   11 Hill , Daniella                  USA      16.57
Women's javelin: Huihui Lyu makes it a Chinese sweep in the throws
Last year's World Champs bronze medalist Huihui Lyu made it two-for-two for China in the throws as she set a meet record of 66.85 in the javelin to go with Gong's win in the shot put.
Javelin Throw - Women 
                                                             Pts
    1 Lyu , Huihui                     CHN      66.85          8
    2 Witek , Marcelina                POL      64.49          7
    3 Tugsuz , Eda                     TUR      63.20          6
    4 Khaladovich , Tatsiana           BLR      62.15          5
    5 Gleadle , Elizabeth              CAN      61.53          4
    6 Viljoen , Sunette                RSA      60.79          3
    7 Molitor , Katharina              GER      59.38          2
    8 Roberts , Kelsey-Lee             AUS      57.47          1
    9 Ratej , Martina                  SLO      56.46           
   10 Liu , Shiying                    CHN      54.60
Men's pole vault: Renaud Lavillenie wins as Sam Kendricks only clears one bar
American Sam Kendricks put together a season for the ages in 2017 as he went undefeated en route to claiming the world title in London. But it took Kendricks five meets to get his first victory of 2018, and though he vaulted well in his last three competitions (silver at World Indoors, wins at the Drake Relays street vault and traditional vault), he was off his game today as he could only clear 5.46m before missing all three attempts at 5.61, finishing in 9th place.
Instead, it was World Indoor champ Renaud Lavillenie of France who cleared 5.81 to win his record 33rd Diamond League title — 11 more than the next-closest man (triple jumper Christian Taylor).
Afterward Kendricks said, "I don't often make too many mistakes, but today I did. I just got on the wrong choice of pole at the wrong height. I then had the privilege to then watch a great competition between Renaud (Lavillenie) and Piotr. Today was just not my day."
Pole Vault - Men 
                                                             Pts
    1 Lavillenie , Renaud              FRA       5.81          8
    2 Lisek , Piotr                    POL       5.81          7
    3 Xue , Changrui                   CHN       5.71          6
    4 Marschall , Kurtis               AUS       5.71          5
    5 Barber , Shawnacy                CAN       5.61          4
    5 Yao , Jie                        CHN       5.61          4
    7 Holzdeppe , Raphael              GER       5.61          2
    8 Huang , Bokai                    CHN       5.61          1
    9 Kendricks , Sam                  USA       5.46           
   10 Vloon , Menno                    NED       5.46           
   11 Wojciechowski , Pawel            POL       5.31           
      Chapelle , Axel                  FRA        DNS           

Men's long jump: Luvo Manyonga pulls it out on his final attempt
Entering the final round, world champ Luvo Manyonga of South Africa and China's Yuhao Shi had both jumped 8.43 meters, but Shi held the lead thanks to a superior second-best mark. Manyonga came up clutch, getting out to a world-leading 8.56 on his final attempt in the rain. Shi tried to answer, but injured his ankle on the attempt, fouling and leaving him howling in agony in the pit. It was difficult to watch, and Shi eventually had to be stretchered out of the competition area.
Hopefully the 19-year-old Shi makes a quick recovery as his 12-centimeter PR of 8.43 was very impressive today.
Long Jump - Men 
                                                             Pts    Wind
    1 Manyonga , Luvo                  RSA       8.56          8    +0.2
    2 Shi , Yuhao                      CHN       8.43          7    +0.7
    3 Frayne , Henry                   AUS       8.15          6    +1.5
    4 Henderson , Jeff                 USA       8.11          5    +0.9
    5 Huang , Changzhou                CHN       8.03          4    -0.5
    6 Gao , Xinglong                   CHN       8.00          3    +0.5
    7 Forbes , Damar                   JAM       7.99          2    +1.1
    8 Hartfield , Michael              USA       7.88          1    +0.8
    9 Gotch , Jarvis                   USA       5.74               +0.2
Talk about today's action on our world famous fan forum / messageboard:
Watch 3 minutes of video highlights: