Men's 3000: Army Strong – Paul Chelimo Repeats As Shadrack Kicphirchir Outkicks Ryan Hill
by LetsRun.com
February 17, 2018
ALBUQUERQUE, N.M. — What a difference two years makes.
Two years ago at the US indoor champs, the US Army's Paul Chelimo first made a name for himself as an American runner when he made his first USA national team by finishing second in Portland ahead of guys such as Galen Rupp, Bernard Lagat, and Evan Jager. He was then an afterthought at Worlds where his teammate Ryan Hill won the silver medal.
Article continues below player
Like our coverage from Albuquerque?
Now Chelimo is the class of US long-distance track running and he showed it in Albuquerque, as he controlled the race at the bell, then blasted a 26.04 final lap to win another US title, and head off to the World Championships in two weeks time as the possible favorite. Behind Chelimo, his US Army training partner Shadrack Kipchirchir kicked past Hill to secure the final spot for the US at the Worlds. Hill will not get the chance to win another indoor medal at Worlds as he finished third. Chelimo and Kipchirchri's training partners, Emmanuel Bor (US Army) and Kirubel Erassa (American Distance Project) took fourth and fifth meaning that four of the top five finishers were all born at altitude either in Kenya or Ethiopia.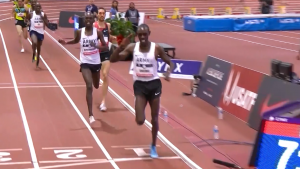 The Race
Tyler Day of NAU fell on the first lap, and Chelimo got caught up in the fall as they were last and second to last 200m into the race. Chelimo decided it was time to not mess around in the back and ran a quick 30.24 200m to get into the lead at 400m.Then there was team tactics as he and Kipchirchir traded the lead. Chelimo took back the lead at the 1000 and after he slowed the pace to a 34.07 at 1200m and no one passed him, he then increased the pace to a quick 29.84 the next lap to open things up. Kipchirchir then retook the lead at the 1600, but quit pushing the pace and a series of laps at 33 seconds or slower let the lead pack bunch up again so that eight guys were in contention with 800m to go. Chelimo was content to run in the pack until he seized the lead with 400m to go. He would never give it up. At the bell, Chelimo led and there was some jostling going on behind him as eight guys still thought they had a shot (at the bell, seven guys were within .31 of the lead and 8 were within .70). Chelimo blasted down the backstretch and never was challenged the final 200m. Garrett Heath and Erassa had been third and fourth at the bell with Hill and Kipchirchir in 4th and 5th having some work to do. Both Hill and Kipchirchir moved up on the backstretch. Coming around the final turn, Kipchirchir moved in front of Hill into second, to which Hill responded by throwing out an arm and pushing Kipchirchir. Hill tried in vain to pass him but it was the US Army going 1-2 to go to the Worlds.
QT: Paul Chelimo reminded us of Mo Farah, plans to run 1500 final on Sunday
The track and field world is looking for a successor to Mo Farah on the track an it may very well be Paul Chelimo. Chelimo controlled the race the final 400m much like Farah. Chelimo got the lead and made sure never to give it up. The penultimate lap was not that fast (30.92) but Chelimo had more than enough to hold off anyone saving for a huge kick on the final lap.
Chelimo said, "I was trying to test my shape today and see where I am. It's good. I want to focus on more strength this year to help me at the end of the season." He said his goal this year is to work on his tactics and he showed great tactics today. The goal now is to focus on the speed and be ready for Worlds. "Definitely I have more speed now and I'm happy about it. I'm done with strength now," he said. Up first before the Worlds however is the 1500 final on Sunday.
QT: Kipchirchir overcomes his bad tactics, Hill does not
At the bell, Hill and Kipchirchir had some work to do being in 4th and 5th (.16 and .18 behind Chelimo). Passing a bunch of guys indoors over the final 200m is not easy, but Kipchirchir and Hill were both able to move up the final lap with Kipchirchir having more than Hill. They overcame it for the most part, but if Hill had been in better position, it may have negated Kipchirchir's superior kick and allowed him to make the team. At the World level, trying to pass a bunch of guys the final 200m isn't a good idea.
There definitely was a lot of contact between Hill and Kipchirchir coming off the last turn but are happy there were no DQs as it didn't impact the outcome. See for yourself:
More 3k DQ drama for a #USATFindoors in ABQ? https://t.co/Qc991p2qLq pic.twitter.com/lKbp16vtN0

— LetsRun.com (@letsrundotcom) February 18, 2018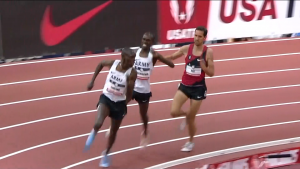 Ryan Hill Makes Light of DQ Fracas 4 Years Ago, Says of Today "I'm just quite happy that fitness-wise I'm right there with those guys"
Ryan Hill didn't make the Worlds team but he was happy with his race. He said Kipchirchir just was a little too good today, "He got in prime positioning on me with like 150 to go and just beat me, beat me to the line. I'm just quite happy that fitness-wise I'm right there with those guys."
When asked about the bumping on the final lap and whether he'd file a protest, Hill made light of the incident four years ago in Albuquerque when Andrew Bumbalough was DQ'd in a case of mistaken identity with Hill. "I wouldn't [file a protest]. Jerry [Schumacher] might. You guys want another fight in the back? We'll keep it civil this time. I might be DQ'd for all I know. Or maybe Bumbi is DQ'd," Hill said.
MB: More 3k DQ drama at USAs in ABQ? Should someone be DQd for this?
Other action: Shelby Houlihan wins the men's 3k, Sam Kendricks is beaten, Jarrion Lawson jumps 8.38, Christian Coleman preps for WR attempt

We've recapped the women's 3k final in a separate article here: Women's 3000: Shelby Houlihan Earns Convincing Win as Katie Mackey Makes Her First Worlds Team
The 800 prelims also got their own article: Big Drama in Men's 800 Prelims: Clayton Murphy Goes Home Early, Women's Favorites All Advance
We briefly recap the non mid-d and distance action for you below.
Sam Kendricks did one thing consistently last year- win. He was undefeated on the year indoors and out (only one indoor competition). This year, Kendricks, has yet to win in 3 competitions and suffered a loss to a fellow American on Saturday as Scott Houston went over 19 feet for the first time, vaulting (5.83 19'1.5") for the win.
In the long jump, worlds silver medallist Jarrion Lawson jumped 8.38 to get the second best mark in the world this year, Daniella Hill won the shot (18.10), Erik Kynard won the high jump (2.30) but didn't get the standard, Jeremy Taiwo edged Wolf Mahler in the heptathlon (5935), and on Friday Erica Bougard gave the American record in the pentathlon a scare (4760 for her, record 4805).
Here are some recaps of all the action :
IAAF: World Silver Medalist Jarrion Lawson Impresses In The LJ With 8.38m To Defeat World Indoor Champ Marquis Dendy
AP: Erik Kynard Wins A Record 5th Straight US Indoor High Jump Title But Doesn't Get Standard
Reuters: Scott Houston Gets Upset Pole Vault Victory Over World Champ Sam Kendricks Houston cleared a PB of 5.83m to Kendricks' 5.78m.
USATF : Jeremy Taiwo Wins Heptathlon; Christian Coleman Leads 60m Heats With 6.46
Talk about 2018 USATF Indoors on our fan forum / messageboard: