Big Drama in Men's 800 Prelims: Clayton Murphy Goes Home Early, Women's Favorites All Advance
by LetsRun.com
February 17, 2018
ALBUQUERQUE, N.M. — The big story in the men's 800 was that reigning USA 1000m champion and Olympic 800 bronze medalist Clayton Murphy will be watching tomorrow's final from the stands as he was eliminated in today's qualifying round. Murphy finished .05 behind Drew Windle, who has been in fine form this winter becoming the third-fastest American ever indoors at 800 thanks to his 1:45.53 seasonal best, in a thrilling battle to the line in heat 1. Because the early pace was very slow (Windle led through 400 in 55.74) and there was only one automatic qualifier per heat, only Windle wound up advancing in 1:49.20 to Murphy's 1:49.25.
Here's a GIF of the finish:
Wow. Was @Clayton_Murph just sent home in the first round of the men's 800? Drew Windle won the heat. https://t.co/lO4mKyFGgs pic.twitter.com/m67Fgee5H4

— LetsRun.com (@letsrundotcom) February 17, 2018
Article continues below player
The format of the heats was a hot topic in Albuquerque before a single gun was fired. In years past, USATF had run four heats in the first round of the 800 with the heat winner and the next two fastest times advancing. This time, USATF went with three heats and three time qualifiers. And with four big names — Windle, Murphy, 2016 World Indoor bronze medalist Erik Sowinski and 2017 USA outdoor 800 champ Donavan Brazier — and only three auto spots, it was a given that two of the big four would be drawn in the same heat and if both were going to make the final, one would have to do so on time.
However, running in heat 1 when there were no times to chase, both Windle and Murphy decided to roll the dice and trust their kick. In the end, it was Windle who prevailed — in part because he got to the lead early and was able to run the entire race from the inside of lane 1. That was an unconventional strategy from Windle, who usually prefers to come from behind.
Favorites Brazier and Sowinski won heats 2 and 3, respectively, setting up a thrilling final tomorrow. At least one of Brazier, Windle, and Sowinski will miss out on the World Championship team, though Sowinski has an additional hurdle to clear as he still needs the IAAF standard of 1:46.50.
In the women's heats, things went exactly according to form as the six fastest women in the field on the year – everyone who had broken 2:03 in 2018 – all made tomorrow's six-person field.
Quick Take: Choosing to run 3 heats instead of 4 was a hot pre-race topic, but it made for some dramatic racing
Windle admitted that after he saw the heat draw, his first thought was, "What the hell, USATF? Why not do four heats of six with automatic winners and then two time [qualifiers]?"
But the bigger "problem" is simple: there's a lot of American talent in the men's 800 right now. Had USATF gone with four heats, Murphy would have actually ended up in Sowinski's heat, so the issue of having two of the big four in the same heat would have still existed and then there would have only been two, not three, time qualifiers. When there are only six lanes in the final, some good guys are going to be eliminated.
In terms of qualifying heats for mid-d and distance races, we at LetsRun.com believe the following.
In general, we'd like to see as few heats run as possible (so we like the fact there were just 3 heats).




In general, we like to see as few time qualifiers as possible (We'd have been tempted to just take the top 2 in each heat but it's tough when there are zero time qualifiers but we think that's what we would have done. In general, having a lot of time qualifiers (particularly in 1500s) – in this case 50% of the final – based on time is absurd. Mid-d races rarely are rarely time trials so place, not time should be the emphasis.

Reminder: There's no perfect answer.



The one good thing that came out of it was that the 800 heats became must-watch for track fans, particularly heat 1 with Windle and Murphy, which did not disappoint. More excitement and more races that matter are both good things.
Quick Take: Please don't view his last two USA championships as a referendum on Clayton Murphy's career
Murphy's last two appearances at USAs have not gone the way he wanted. Outdoors in 2017, he tried to make both the 800 and 1500 teams but after four races in three days, his body gave out. He finished dead last in the 1500 final and though he qualified for the 800 final, he wound up scratching with hamstring problems. And today, he wound up in the same heat as a guy who ran 1:45.53 two weeks ago — #3 all-time by an American. Murphy is very fit right now; he just happened to race another guy who is in monster shape.
Murphy is still outrageously talented and is still only 22 years old. He'll be fine.
The one thing you can question is his tactics — with only one auto spot on the line, Murphy, who has run 1:46.61 this year, may have been better served by pushing the pace. But Windle used the same strategy; had the (very close) outcome of today's race been flipped, no one would be criticizing Murphy. In addition, Murphy and coach Alberto Salazar may have figured that if Murphy couldn't beat Windle today, there's no reason to be upset too as he'd be unlikely to make the team tomorrow and the NOP always dreams big – they want to medal, not simply make teams. At some point, Murphy was going to have to beat someone good to make this team; he just had to face that test earlier than most.
Unfortunately, we did not get a chance to talk to Murphy as he declined to speak with the media after the race.
Quick Take: Sowinski is well aware that he needs the standard. Sowinski: "The medals I want, you can't get [one] without the standard. So we'll see if Donavan wants to take it out. If not, I've got nothing to lose."
Sowinski has won at the last three USATF championships to take place on this track — the 800 in 2013 and 2014 and the 600 last year — but he knows that winning tomorrow won't do him much good if he can't run faster than 1:46.50 to hit the World Championship standard. He also knows that Drew Windle has a big kick, so with that in mind, Sowinski said that if Brazier doesn't take it out hard tomorrow, he will.
"The medals I want, you can't get [one] without the standard," Sowinski said. "So we'll see if Donavan wants to take it out. If not, I've got nothing to lose."
Sowinski headed to Europe two weeks ago to chase the standard, and though twice ran 1:46, he did not break 1:46.50. Sowinski said he believed he would have hit the standard if he had stayed stateside and run the fast 800 at Millrose, but he doesn't think all the travel affected him that much — last year he ran seven 800s in a 16-day span, and the last one of them was 1:45.12.
Results and quick heat recaps appear below.
Men's Heat 1
26.73 at 200. Windle led.
55.74 at 400 for Windle. Murphy on his shoulder. (When we saw this slow split, we immediately thought to ourselves, 'There may not be time qualifiers from this one.).
600 – 1:23.69. Murphy still there.
Wow, Windle over Murphy! Murphy pulled up on his shoulder but never gave up the lead. Windle wins by going wire to wire.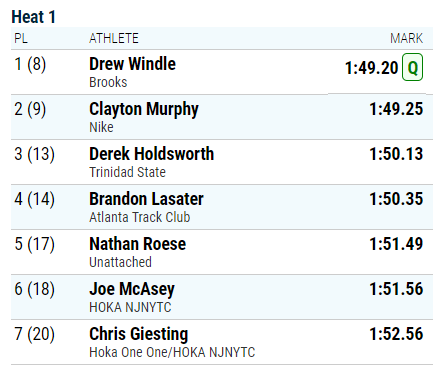 Men's Heat 2
Cas Loxsom took things out really hard so hard that he tied up on third lap and dropped out before 600.
24.74 Loxsom has gapped field with Brazier 5 meters back.
400 – Loxsom – 51.43 with Brazier close behind.
On back stretch of third lap, both Russell Dinkins and Brazier went by Loxsom
At 600 (1:19:76), Dinkins led but Donavan Brazier passed him right before 700 and went on to win the heat comfortably.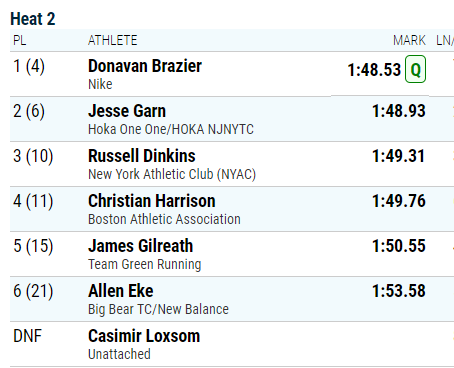 Men's Heat 3
25.66 for Sowinski.
52.3 at 400. Leo Manzano was next to last – way gapped by the field.
Prince takes lead before 600. Sowinski follows him. Top 3 are clear. All three should make it.Sowinski comes back and gets the win. Murphy is eliminated!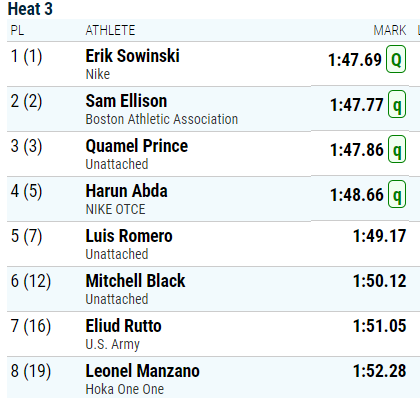 Women's Heat 1 – Ajee Wilson took the lead as expected, hitting 200 in 28.14 and 400 in 59.94. At 400, the top 3 of Wilson, Hanna Green and 2016 Olympian Chrishuna Williams were well clear of everyone else. Much slower third lap 1:32.07 and Green and  Wilson start to pull away. Wilson wins easily.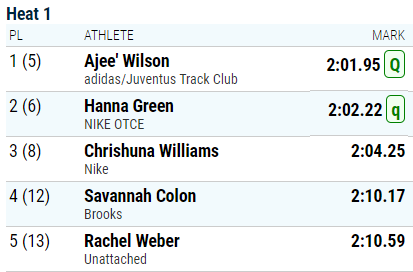 Women's Heat 2 – 27.39 1st 200 for Raevyn Rogers. She kept the hot pace going. At 400 she was already starting to gap the field and for good reason as her split was 57.42. 1:28.03 for Rogers at 600. On the last lap, she never let up even though she had a massive lead and ended up breaking 2:00!! Will that waste of energy cost her in the final?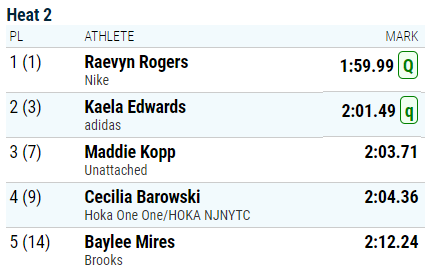 Women's Heat 3 – Charlene Lipsey led for the first 3 laps hitting 200 in 28.03, 400 in 58.36 and 600 in 1:29.78. She Ce'Aira Brown were clear of everyone else in the field just 400 in. Coming off the last turn, Brown passed Lipsey and got the win but both would move on.
Talk about the race on the messageboard: