The Week That Was In Running – September 18 – September 24, 2017
****
Wilson Kipsang Drops Out
One of the bigger stories in Berlin was the fact that both Wilson Kipsang and Kenenisa Bekele dropped out after hitting 30k. On Tuesday, we published a story about Bekele — LRC Jos Hermens: Kenenisa Bekele Must Become More "Professional" If He Is To Realize Marathon Potential — and suggest you read it for an update on Bekele. Now we turn to Kipsang.
We reached out to Kipsang's manager Arien Verkade to get more info on his DNF. Our quick email exchange with Verkade appears below.
LRC: Why did Wilson drop out? When did he start having problems?
Verkade: He felt very cold and could not run properly anymore. Probably because of rain. Problems started at 25km.
LRC: Did he have any stomach problems? Did he throw up? I've heard a few people say they thought he threw up but I could not actually see it on the race video.
Verkade: Not really stomach, he throw up, but his stomach was not the problem. The whole body very cold when he stopped.
LRC: Why did he drop out right at 30 kilometers? Did he have a bonus in his contract to make it 30k?
Verkade: No bonus.
LRC: Do you know when Wilson will race his next marathon? Is it possible that he would try to run another marathon this fall?
Verkade: Maybe he will, but we did not yet decided [sic] this. We will wait a few days and make decisions next week probably.
MB: So are we gonna talk about Kipsang's drop or what???
*****
Adola's Debut Is The Fastest Non-Aided Debut Ever. That's The Good News — History Says He'll Get Slower As Time Goes On

On the international broadcast of Berlin, the announcers said that Guye Adola's 2:03:46 had to be the best debut ever. That's true if we are talking record-eligible courses. Before Sunday, the fastest marathon debut on a record-eligible belonged to Dennis Kimetto, who ran 2:04:16 in Berlin in 2012. However, Moses Mosop ran 2:03:06 in his debut on the wind-aided point-to-point Boston course in 2011.
Take a look at the following chart we made listing the fastest 10 debut marathoners in history with stats initially compiled by Ken Nakamura.
| | | | | | | |
| --- | --- | --- | --- | --- | --- | --- |
| Rank | Time | Name | Listed Age | Race | 2nd Marathon  | PB |
| 1. | 2:03:06* | Moses Mosop | 25 | 2011 Boston | 2:05:37 | 2:03:06 (debut) |
| 2. | 2:03:46 | Guye Adola | 26 | 2017 Berlin | ??? | 2:03:46 (debut) |
| 3. | 2:04:16 | Dennis Kimetto | 28 | 2012 Berlin | 2:06:50 | 2:02:57 |
| 4. | 2:04:23 | Ayele Abshero | 21 | 2012 Dubai | DNF | 2:04:23 (debut) |
| 5. | 2:04:32 | Tsegaye Mekonnen Asefa | 18 | 2014 Dubai | 2:08:06 | 2:04:32 (debut) |
| 6. | 2:04:45 | Lelisa Desisa | 23 | 2013 Dubai | 2:10:22 | 2:04:45 (debut) |
| 7. | 2:04:53 | Bernard Koech | 25 | 2013 Dubai | DNF | 2:04:53 (debut) |
| 8. | 2:05:04 | Kenenisa Bekele | 31 | 2014 Paris | 2:05:51 | 2:03:03 |
| 9. | 2:05:27 | Tilahun Regassa | 22 | 2012 Chicago | 2:05:38 | 2:05:27 (debut) |
| 10. | 2:05:30 | Eliud Kipchoge | 28 | 2013 Hamburg | 2:04:05 | 2:03:05 |
| 11. | 2:05:50 | Evans Rutto | 25 | 2003 Chicago | 2:06:19 | 2:05:50 (debut) |
What does the chart show?
It shows that the old adage that it takes experience to run a good marathon is incorrect.
It shows that Adola should be very nervous. Looking at the 10 men in history besides Adola who have debuted in the marathon in under 2:06, only three of them ever ran faster than what they did in their debut. And only one of those 10 men ran faster in marathon #2 than marathon #1.
****
Proof That The Athlete Biological Passport Is Working?
Speaking of Ken Nakamura, he sends out a lot of great stats before every major marathon. This one also caught our eye.
2012 was a banner year for the marathon in terms of the ridiculous depth of fast times. What also happened in 2012? Well that also was the first year that the IAAF suspended someone for a biological passport violation. So the IAAF started busting people using the ABP and the very next year the number of fast times decreased. That's exactly what is supposed to happen.
*****
Stat of the Week I
1 – number of men that have held the marathon world record, lost it, and regained it.
Ethiopia's Abebe Bikila set world records when he won Olympic gold in both 1960 (2:15:17) and 1964 (2:12:11). In between, Bikila's world record was lowered three times by three different athletes.
Four other men have broken their own marathon world record: Jim Peters (Chiswick Polytechnic Marathon '52-'53-'54, Turku '53), Derek Clayton (Fukuoka '67, Antwerp '69), Khalid Khannouchi (Chicago '99, London '02) and Haile Gebrselassie (Berlin '07 & '08).
MB: Did Abebe Bikila already hold the WR in 1964 when he won his 2nd Olympic gold? 
****
Stat of the Week II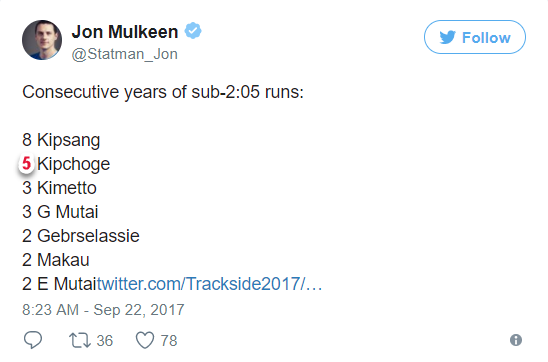 ****
Stat of the Week III
9 – number of seconds that LetsRun.com coaching/stats guru John Kellogg was off in his Berlin Marathon prediction as he said the race would be won by Kipchoge in 2:03:25.
Mr. Kellogg, possibly the lone human to see the possibility of a 2:03 in Boston in 2011, clearly didn't let the Nike Breaking2 event get in the way of analyzing what would happen in Berlin on Sunday. Just as he did in 2011, he thought the finishing time would be much different than most people – the only difference is this time he was predicting the times would be much slower, not faster than expected.
More: 2011: Official John Kellogg Is a Genius Thread (He Predicted The 2:03 on Boston)
*John Kellogg's 2017 Berlin Prediction
****
Rita Jeptoo Is Either a Fool or a Liar
Disgraced marathoner Rita Jeptoo testified in court last week that her coach Claudio Berardelli and her personal doctor never gave her EPO. That has been widely reported, but what hasn't been given headlines across the globe is that she also stated she has no idea how EPO got into her system. "How they were infused into my body I do not know. None of these three accused persons administered the drugs," said Jeptoo according to The Nation.
So Jeptoo is basically doing what tons of criminal defendants in the US do — refusing to snitch. Berardelli and her doctor very well may have had nothing to do with her doping (the CAS ruling said they didn't know). However, as long as Jeptoo refuses to name names, then we're not going to give credence to her testimony clearing people.
Since she says she doesn't know how the EPO got into her system, then by definition, she wouldn't know who gave her EPO. It could have been Berardelli. It could have been her doctor. It could have been Santa Claus.
"They didn't do it" is basically what she's saying. "Ok, then who did?" is our reply.
We weren't the only ones less than thrilled by her testimony. Check out this photo from The Nation.
 More: Jeptoo: Berardelli did not give me EPO
*MB: Did disgraced marathoner Rita Jeptoo try to stop officials from testing her 'B' sample?
*****
Quotes of the Week (that weren't quote of the day)
#1 Kipchoge pulled himself off the canvas and won the fight
"Then the unthinkable happened. With five miles to go and the official world record of 2hr 2min 57sec still in his grasp, the greatest marathon runner in history began to wobble. A gap of a metre to Adola became five, then 20. The world-record attempt was gone, and so – it seemed – was an unbeaten record stretching back three years. It was the athletics' equivalent of a celebrated heavyweight champion being dumped on his pants in the 10th round by an unheralded no-hoper.
"But that was merely the first act of the drama. Over the next two miles Kipchoge slowly clawed himself back, only for Adola to blast off again. The Kenyan smiled, although it looked suspiciously like a grimace, and stubbornly went again. Finally, in the 25th of the 26 miles he drew alongside his rival before scooting clear to win in 2:03.32."
–Sean Ingle writing in The Guardian about Berlin.
#2 Of course the higher-ups in Russia knew what was going on
"If anyone believes I could have done all of this without the Sports Minister's knowledge and support, they know nothing of Russia.
"Let me be clear: Mr. Mutko knew about, and was critical to the success of, Russia's doping programme.
"The very fact that Russia is pursuing criminal charges against me – and only me – for misusing my position tells one everything they need to know: This is a witch hunt, and I am the witch."
–Grigory Rodchenkov writing in the New York Times about his days as the head of Moscow's Antidoping Center when doping was rampant.
More: Russia's Olympic Cheating, Unpunished
#3 Not everyone thinks Mo Farah is unbeatable
"If Mo Farah was there tomorrow, he would not win. He wouldn't. He would demand a lot of money to come, and he would be a huge crowd puller…but he wouldn't win. First, he is not hungry enough, and second, he cannot run fast enough."
-the race director of the Copenhagen Half Marathon talking on a podcast before the race this year, according to a translation from LetsRun visitor "shohohe". His prediction seemed pretty good as the race, which we talked about last week, was won in 58:40 by Bahrain's Abraham Cheroben.
MB: Copenhagen Half (58:40 race) organizer: "Mo Farah would demand a lot of money, but he could not win this race." Is Farah overpaid on the roads?
****
Tweet of the Week I
Berlin was billed as an epic clash between many of the marathon's biggest heavyweights. It also was a clash of coaches. We're glad they had fun with it.
One day ???? pic.twitter.com/yULsFyOhY3

— Gemedu Dedefo (@gemedudedefo) September 24, 2017
That's Ethiopia's Gemedu Dedefo on the left — coach of many top Ethiopians including Guye Adola — and Kenya's Patrick Sang — who coaches Eliud Kipchoge and many others — on the right.
****
Tweet of the Week II
The following excerpt from the Berlin Marathon international race broadcast made getting up at 3 a.m. on a Sunday to work totally worth it for the LetsRun staff.
It's official. After 17 years as a startup, we have arrived. https://t.co/gxVDCnwAoS pic.twitter.com/klxzJy86po

— LetsRun.com (@letsrundotcom) September 24, 2017
****
Recommended Reads
To see our favorite reads from other weeks, go here.
****
Quotes Of The Day And Last Week's Home Pages
To see the actual quotes of the day from last week or last week's home page or any home page, go to our archive page.
---
Advertisement
The 1:59:40 GOAT shirts are here