Geoffrey Kirui Outduels Galen Rupp Over Final 5 Miles To Win 2017 Boston Marathon
by LetsRun.com
April 17, 2017
BOSTON – The 2017 Boston Marathon men's race came down to a battle between two sub-27 minute 10,000 runners both running their third career marathon — 24-year-old Geoffrey Kirui of Kenya and 30-year-old Galen Rupp of the United States. In the end, Kirui proved to be too good as he pulled away on the 23rd mile and never looked back and won in 2:09:37 as Rupp had to settle for second and a new personal best of 2:09:58.
Kirui was a deserving champion as after he and Rupp were alone atop Heartbreak Hill at mile 21 in a fairly pedestrian 1:44:54 (2:10:58 pace), Kirui really pushed the pace on the remaining downhill miles, eventually pulling away on mile 23 and holding on for victory. Rupp was very familiar with the two guys who finished behind him as Rupp's sometimes training partner Suguru Osako of Japan was 3rd (2:10:28) in his debut and Rupp's teammate at the University of Oregon, Shadrack Biwott, was 4th (2:12:08). Then the finishers were Wilson Chebet of Kenya in 5th (2:12:35) and then 40-year-old Abdi Abdirahman in 6th (2:12:45) as Americans Augustus Maiyo (7th, 2:13:16), Luke Puskedra (9th, 2:14:26), and Jared Ward (10th, 2:15:28) were also in the top 10, giving the Americans six top-10 finishers — the most ever in the professional era.
The Race
The half marathon was reached in 1:04:35 and 11 guys were still in the lead pack as they headed into the Newton Hills after 25km. From 25k to 35k, the course has no net elevation gain, but it has a lot of uphill and downhill that culminates with Heartbreak Hill at mile 21.
As they crested Heartbreak Hill and hit the 21-mile mark (1:44:54 – 5:01 mile), Rupp and Kirui were all alone as the rest of the field was struggling on the somewhat warm day (high 60s at the start, low 70s at the finish). It was a bit surprising that more men weren't still contending for the win as they were only on basically 2:11 flat pace and the women ran fairly fast today (three at 2:23:00 or better). Osako was the closest competitor to the leading duo at this point, 12 seconds back at 35km.
Article continues below player.
The race for the laurel wreath was on and it was a two-man affair.
Mile 22 was 4:39 and the leading duo were still side by side, but Kirui pulled away on mile 23 (4:46) and never looked back as he ran mile 24 in a reported 4:27 (mile 25 was 4:49) to make sure that Rupp didn't have any dreams of coming back on him for the win.
Kirui would actually slow from 40k to the finish, but at that point the race was over as Rupp did not have a lot left either.
5k splits for leader: 15:24, 15:03, 15:16, 15:32, 15:44, 16:02, 15:18, 14:34, (15:22 pace 40k to finish)
Kirui Is Able to Celebrate
Kirui, who ran 2:07:23 (3rd Rotterdam) and 2:06:27 (7th Amsterdam) in his first two marathons last year and also is the 2nd fastest junior in history at 10,000 thanks to the 26:55.73 he ran at age 18 in 2011, had enough of a cushion that he was able to celebrate his first career marathon victory on the way home coming down Boylston Street.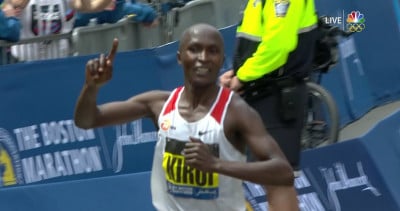 "When I see my colleague was a little back of me, I tried to push a little bit. A guy from America [was there with me] and I saw he was a strong guy [so I pushed] – it was not easy [to break him]," said Kirui on the NBCSN broadcast after the race. "I tried many times on the track, but I see my future is the marathon."
Rupp was very pleased with his second-place showing.
"I just didn't have an answer for him. He ran an incredible race — just give him credit. He was able to close really strong. I was really happy with the race I ran though. I wasn't sure I was even going to be able to start two weeks ago," said Rupp on NBCSN.
"It was like an experience I've never had before… It (the Boston Marathon) definitely lived up to it and exceeded expectations…. [It was] a great day for Alberto and the team and the Nike Oregon Project… This is the most prestigious marathon in the world," said Rupp on the local CBS broadcast, referring to the fact that two other Nike Oregon project team members finished in the top 3 today as in addition to Osako's third in the men's race (2:10:28), Jordan Hasay was third in the women's race in her marathon debuts (2:23:00).
Analysis and results below.
Top 15 Results. (A link to unofficial splits are here – these are not the exact same as what was said in media room).
Place
Bib
Name
Official Time
State
Country
Ctz
1
11
Kirui, Geoffrey
2:09:37
 
KEN
 
2
17
Rupp, Galen
2:09:58
OR
USA
 
3
23
Osako, Suguru
2:10:28
 
JPN
 
4
21
Biwott, Shadrack
2:12:08
CA
USA
 
5
9
Chebet, Wilson
2:12:35
 
KEN
 
6
15
Abdirahman, Abdi
2:12:45
AZ
USA
 
7
63
Maiyo, Augustus K.
2:13:16
CO
USA
 
8
7
Sefir, Dino
2:14:26
 
ETH
 
9
18
Puskedra, Luke
2:14:45
OR
USA
 
10
20
Ward, Jared
2:15:28
UT
USA
 
11
22
Quigley, Sean
2:15:34
MA
USA
 
12
6
Tsegay, Yemane
2:16:47
 
ETH
 
13
14
Keflezighi, Meb
2:17:00
CA
USA
 
14
16
Nyasango, Cutbert
2:17:40
 
ZIM
 
15
10
Korir, Wesley
2:18:14
 
KEN
Quick Take #1: Geoffrey Kirui's coach Renato Canova believes he can be much, much better in the marathon
Kirui has run 2:07, 2:06 and now 2:09 to win Boston but Kirui's coach Renato Canova believes the 24-year-old still has work to do before he can truly be considered a marathoner.
"Honestly the preparation for this guy that is really very much talented, maybe maximum 70% the preparation of a real marathon runner," Canova said echoing his comments before the race that Kirui was "big talent, small training."
Kirui ran 2:06 in Amsterdam last year running 70-80 miles per week in singles. They added a little more to his plate for this buildup, but Kirui's location in Keringet limits the kind of workouts he can run. Keringet is situated at around 8,900 feet of altitude, and most of the terrain there is very hilly. While it's good for building strength, it's not ideal for marathon training as there is nowhere to do a fast long run.
Kirui did come down to Iten for three marathon-specific workouts. One of them was a 40-kilometer hard effort with two-time World Champ and Chicago champ Abel Kirui. Geoffrey ran 2:07:30 for the workout, which was one of the four fastest times anyone has run on that course (2:14:29 marathon pace at altitude), but he was dropped by Abel with two kilometers to go and Geoffrey ultimately finished 24 seconds behind. While most coaches would be overjoyed with the time, the finish to that workout demonstrated to Canova that Geoffrey could still have issues at the end of the marathon.
Indeed, Canova noted that Kirui did begin to struggle at the very end of the marathon, but by that point it was academic as he had gained an insurmountable lead.
Ideally, Canova would like Kirui to relocate to Iten, where the training environment is better and he can keep a closer eye on his pupil, but it may be difficult to persuade Kirui, who enjoys life in Keringet.
One more thing Kirui still has to learn about the marathon: the names of his competitors. During the post-race press conference, Kirui mentioned "this guy" next to me (meaning Rupp), and then asked, "Whose name is who?"
Rupp looked bemused as someone from the crowd finally replied, "Galen."
MB: Geoffrey Kirui had no idea who Galen Rupp was – he just asked him what his name was in the press conference
Canova wasn't the only one a little surprised by Kirui's victory given his less than ideal training. Kirui wasn't even listed on the Boston Marathon media guide's list of Top 10 contenders. That's why a major like Boston invites so many elites. Put enough 2:05 and 2:06 guys in a race and chances are good that at least one of them is going to pop a big one.
QT #2: The Kenyan mini-drought in Boston is over
Kirui's win today also snapped a four-year losing streak for Kenya in Boston as they hadn't won the men's title since 2012 when Wesley Korir won. That 0-for-4 streak was by far the longest since a Kenyan man first won in Boston 29 years ago in 1988. The longest streak before today was just two years as after Ibrahim Hussein won his first Boston title in 1988 he (and no other Kenyan) didn't win again until 1991 and 1992. In the 30 editions of Boston that have been since 1988, a Kenyan man has won 21 times (70%).
QT #3: Galen Rupp's outstanding marathon career continues
Galen Rupp has run three marathons in his life and all three have gone exceptionally well. He won his debut at the Olympic Trials last year, was third in the Olympics in August and finished second today in Boston. He's also managed a PR each time out: he ran 2:11:13 in LA, 2:10:05 in Rio and 2:09:58 today, which was the fastest time by an American since Meb's 2:08:37 here three years ago.
It may not be accurate to call Rupp better at the marathon than he was at the 10,000 — after all, he earned a silver medal on the track and three more top-five finishes at Worlds/Olympics — but he's been very, very good over 26.2 miles.
As for today's race, Rupp wanted to win but was very happy to finish second and had high praise for the fans.
"I had an incredible time out there," Rupp said. "I had heard so many great things about this race and it exceeded any expectations that I had. The crowd was phenomenal the whole way. It was just a fun race."
Rupp said his foot never bothered him during the race, and that he was feeling good on the Newton Hills. But he simply could not match Kirui's torrid pace on the downhills in Brookline and Boston and accepted that he was second-best today.
Rupp will run one more season on the track this summer, where he'll go for a ninth straight USATF 10,000 title, before moving to the marathon full-time.
QT #4: A Good Day For The Americans
As mentioned above, six Americans finished in the top 10 this year – the most by top 10 finishes for Team USA in 32 years. In 1985, eight Americans finished in the top 10.

# of Top 10s by Americans In Boston
2017 – 6
2016 – 1
2015 – 2
2014 – 3
2013-  3
2012 – 1
2011 – 1
2010 – 3
2009 – 1
2008 – 1
2007 – 1
2006 – 5
2005 – 2
2004 – 0
2003 – 0
2002 – 0
2001 – 1
2000 – 0
1999 – 0
1998 – 0
1997 – 0
1996 – 1
1995 – 0
1994 – 1
1993 – 2
1992 – 0
1991 – 0
1990 – 0
1989 – 1
1988 – 0
1987 – 2
1986 – 4
1985 – 8
Of course, it was much easier to get in the top 10 in 1985 as it was very slow that year as 2:14:05 won and 2:25:23 got you 10th. And no, it wasn't hot in 1985. The high was just 69 degrees and winner Geoff Smith went out in a blazing 62:51. He was still able to win despite walking in the 19th mile.
So why were the times so slow that year? Well because that was the last year the race didn't offer prize money and most of the top pros boycotted the race to force Boston to offer prize money.
MB: Historians, can anyone tell us why the 1985 Boston Marathon was so slow?
When Rupp crossed the line in second today, it also meant that the US had a top-three finisher in both the men's and women's races for just the second time since the start of the professional era (1986). It also happened in 2009 when Ryan Hall and Kara Goucher were both third.
QT #5: Suguru Osako has found his event
Like NOP teammate Jordan Hasay, Osako entered 2017 as a man without an event. Despite holding the Japanese national 5,000-meter record at 13:08, he could not develop the kick necessary to compete for medals on the track.
"We just felt like something was amiss, that he couldn't really click," said NOP coach Pete Julian, who directs Osako's training (though he communicates closely with Salazar). "And certainly those championship races which we train for at the Oregon Project, you've gotta be able to close in under 53 seconds. And through all of the speed and everything we've done, we couldn't jump that bridge. So we had to try moving him up."
The plan for Osako was to run the Marugame Half Marathon on February 5 and then a spring track season, but Osako ran so well there (61:13) that Julian and Salazar decided to give Boston a shot. Even though Osako's buildup was abbreviated (he didn't start serious marathon training until after the half marathon), he took to the event well and surpassed Julian's expectations, who thought he could finish in the top eight on a great day.
Osako was in Boulder and did not train with Rupp for most of this buildup as they weren't able to sync their training schedules due to Rupp's injury, but the plan moving forward is for them to train together more often.
5 Fastest Japanese Men At The Boston Marathon (Via Brett Larner)
2:09:27 – Toshihiko Seko, 1st, 1981

2:10:13 – Toshihiko Seko, 2nd, 1979

2:10:28 – Suguru Osako, 3rd, 2017

2:11:02 – Hiromi Taniguchi, 4th, 1993

2:11:32 – Kenjiro Jitsui, 6th, 2006
QT #6: Unsponsored Shadrack Biwott takes 4th in Boston after finishing 5th in New York
Shadrack Biwott isn't a guy who is normally talked about as one of America's top marathoners, but his past three marathons proved he belongs in the conversation. He was 7th at the Olympic Trials in Los Angeles, then 5th in New York last fall and 4th today in Boston.
Biwott knew he was fit and said his goal today was to finish in the top five, something he knew was attainable once he was able to hang with the lead pack past the halfway point.
Amazingly, Biwott doesn't have a shoe sponsor. He said that Asics told him they were going to renew him in December 2016, but that fell through. He competed in their gear today, but his only sponsor was MarathonGuide.com, which has worked with him since he graduated from Oregon in 2009.
"It was disappointing for them to say, 'Yeah we're going to renew you,' and then me running around and then at the end they decided not to," Biwott said.
Biwott hopes that today's result will convince a shoe company to take a chance on him. He turned 32 years old in February, but believes that he is just getting started as a marathoner.
He was also a fan of LRC's April Fool's page this year. He told us that he knew the guy who portrayed "David Kutania" in real life and was impressed we got Eliud Kipchoge to play along with the joke.
QT #7: 40-Year-Old Abdi Abdirahman Finishes 6th
As they headed up Heartbreak Hill, there was 40-year-old four-time US Olympian Abdi Abdirahman leading the Boston Marathon. It was an impressive sight. Abdi paid the price a little the final 10k, but he has resurrected his career with his 3rd place finish in New York last year and his 6th place here. We were more impressed with this one because he stayed with the leaders longer.
With this one he is officially a master and picked up an extra $10,000 for winning the master's divison.
Meb rightfully got a lot of media attention with his final competitive Boston, but it was nice to see Abdi get out of Meb's shadow a little for once.
QT #7: Meb Keflezighi Really Enjoyed His Last Boston Marathon As An Elite
In his final competitive effort at the Boston Marathon, Meb Keflezighi ran with the leaders for about 10 miles before fading to 13th in 2:17:00. Despite the subpar showing, he had a great time out on the course.
"To be at the historic (Boston Marathon) one last time is a privilege and honor. I went for it early on but it was pretty warm and my training wasn't the greatest," said Keflezighi on the NBCSN broadcast after the race. "The crowd was phenomenal, similar to 2014 when I won it. It was a thrill of a lifetime once again. I enjoyed every bit of it."
When asked what makes Boston so special, Keflezighi nailed his response. "This race is the Olympics for the average person – you have to qualify for it."
More: Women's Recap:  Edna Kiplagat Wins Boston and Possibly $500,000 as Jordan Hasay's Debut is a Huge Success, Desi 4th
Talk about the race on our fan forum:
Mile by Mile Splits
Mile 1: 4:52
Mile 2: 5:01 (9:53) Sefir starts pushing a little after 2 miles and strings out a little but still a lot of guys there.
Mile 3: 4:59 (14:53)
5K: 15:23 25 men in lead group
Mile 4: 4:46 (19:40)
Mile 5: 4:58 (24:38) Mutai the one doing the pushing
Mile 6: 4:47 (29:25) Lead pack is splitting in two, with Rupp and Meb in lead group with Ward and Puskedra dropping back.
10K: 30:26 (15:03)
Mile 7: 4:47 (34:13)
Mile 8: 4:55 (39:08) Emmanuel Mutai still leading
Mile 9: 4:58 (44:07)
15K: 45:43 (15:17)
Mile 10: 5:04 (49:11) Puskedra, Ward and others have caught back up to top men
Mile 11: 5:02 (54:14) Lemi to the front after 11 miles and the front groupis separating again. Rupp only American up there. Meb, Ward and Puskedra all dropped and kind of together. Now during mile 13 Abdi is moving back to front along with some of the other men.
Mile 12: 4:45 (59:03) Abdi now into lead in scream tunnel
20K: 1:01:15 (15:32)
Mile 13: 4:58 (1:04:01)
Half: 1:04:35. 12 guys in lead pack.
Mile 14: 4:51 (1:08:54)
Mile 15: 5:19 (1:14:14) Rupp, Abdi and Augustus Maiyo all up there along with Africans.
25K: 1:16:59 (15:43) 11 men in lead pack
Mile 16: 4:53 (1:19:07)
Mile 17: 5:16 (1:24:24) Still 10 guys in that lead pack Rupp into lead as they make turn past newton firehouse. Biwott, Maiyo, Rupp and Abdi all still up there. Stringing out a little behind rupp though.
Mile 18: 5:11 (1:29:36) Rupp, Kirui, Cheber, Kiwara and Lemi now getting a slight gap. Osako and Abdi trying to hold on. They catch them during mile 19. Eight guys up front. It's Kirui, Kiwara, rupp, abdi, osako, maiyo and hayle. Biwott just behind trying to hold on as a ninth runner.
30K: 1:33:01 (16:02)
Mile 19: 5:11 (1:34:48). Rupp and Kirui leading up front,  then Chebet abdi and Osako just behind. Kitwarw a little behind that.
Abdi ditches the sunglasses. Instead of throwing them away, he runs to a military guy. Then Kirui says something to him and abdi responds with a smile.
Mile 20: 5:04 (1:39:52). Kirui, Rupp and Abdi pushing and breaking away up Heartbreak Hill. Gap to Osako is about 20 meters.
Rupp does sign of the cross upon cresting heartbreak hill.
Mile 21: 5:01 (1:44:54) Rupp and Kirui have broken away, they have a comfortable lead.
35K: 1:48:19 (15:18). Rupp running right on Kirui's shoulder
Mile 22: 4:39 (1:49:33) That's through BC as they came off Newton Hills.
Kirui attacking during mile 23 and opening a gap on Rupp
Mile 23: 4:46. (1:54:21) Rupp well back.
Mile 24: 4:27 (1:58:48)
40K: 2:02:53 (14:34) Kirui all alone
Mile 25: 4:49 (2:03:47)
---
1 million unique monthly visitors can't be wrong- Follow LetsRun.com on Facebook and find out why LetsRun.com is the leader for Olympic running news.