Doping Scandal Comes to LRC $200,016 Running Warehouse World Indoors Prediction Contest
by LetsRun.com
March 31, 2016
The successful World Indoor Track and Field Championships in Portland, Oregon are in the books and it's time to present to you the real champions, the winners of the $200,016 LRC Running Warehouse Prediction Contest.
The overall winner is 17-year-old Jackson Brill who attends Boise High School in Boise, ID. Jackson's a standout runner who takes advantage of the local trail system in Boise to run in the "beautiful hills and mountains that surround the city." Jackson is applying to be on the US Junior Mountain Running Team this summer at the World Champs in Bulgaria and will go to CU Boulder, Middlebury, or Dartmouth next year.
Article continues below player
Jackson's story sounds like a great one, until the shadow of doping casts itself over his result. As Jackson himself wrote, "I generally check Letsrun on a daily basis and read all the articles and threads that interest me, but that hasn't helped with prediction contests in the past. For example, I think I was around 700th place out of 900 in the USA/NCAA prediction contest last week. I recognize that this dramatic improvement is highly suspicious, and I welcome drug testing to keep the Letsrun prediction contests clean. :)"
We applaud Jackson for volunteering for drug testing after the fact, but as all hard-core LRCers know after the fact drug testing is useless. As leaders in the anti-doping fight we apologize for not yet having implemented random drug testing of all our contestants. We are hypocrites.
For winning the contest, Jackson won the Brooks shoe of his choice and selected the Brooks Pure Grit 4.
Julius White aka "The Business" finished second in our contest. Julius lives in Naperville, Illinois, and was a runner for legendary coach Al Carius at North Central College. Julius chose the Brooks Ravenna 7's as his shoe of choice.
We had a two-way tie for third and being the generous people we are decided not to break it giving both people the Brooks shoes of their choice.
Becoming a Father and Tying for 3rd on the Same Day
When we contacted Patrick Moore to tell him he was third in the contest he wrote back. "I'll remember this day forever!" Not because of the contest however, but because he became a father as his wife delivered their first child, son Cameron, earlier in the day. Congrats to Patrick. Don't forget to make time to go running in your new Brooks Cascadia 11s.
(And Patrick is already seeing the benefits of fatherhood. Thanks to Cameron, Patrick was up early and able to watch the World Half Marathon Champs in their entirety on the West Coast Saturday morning. Without Cameron's fandom, no doubt Patrick would have slept in).
Our other third place finisher was Jeffrey Duncan who ran for the legendary Tom Donnelly at Haverford College. Jeffrey is also roommates with Charlie Marquardt who he thinks will soon be the second sub-4 DIII miler (Charlie's run 4:02).
Duncan's screenname in the contest was Tinmanrunner in honor of "Tinman", coach Tom Schartz ,who is coach of high school star Drew Hunter.
Tinman is getting a lot of attention this year as a great coach, but Jeffrey discovered him in high school. Jeffrey writes:
The story on the username is certainly interesting (I think) – I'll start from "the top" and I'll get to the Tinman connection… My uncle, Andrew Duncan, was the guy who really got me into running. My Uncle Drew was a decent but not great DIII runner for Hamilton College in the early 80s and was on, what is to my knowledge, the last Hamilton team to win the NESCAC title in XC ('83?) as the 5th man. He ran something like 4:03 for the 1500, 2:00 for the 800 and 52 or so for the 400 (his 5000 PR, was north of 16 minutes). He did this off of 20 – 30 miles per week with the motto "the best day of running is a day of rest". He continued to run on the roads post-collegiately and plateaued somewhere in the 16:40 road 5km range with a 2:49 marathon PR from Chicago. Pretty good but not great and at 37, seemingly not getting any faster. Then he found this dude, Tinman, on the internet who had advertised coaching services. My Uncle got in touch and they quickly developed a coaching relationship. Anyways, the short of it is, my uncle upped his volume (currently 80 or so in singles while working as a US assistant attorney which takes 60+ hours a week) and at 47 ran sub 2:30 in the marathon, has won numerous indoor US 3000m masters titles as well qualified for several US masters exhibition races at the trials. In fact, He just ran 4:13for the 1500m to qualify for the olympic trials exhibition race this summer.* (note: he might need to run a little bit faster to get in the field for sure).
Jeffrey's uncle encouraged him to run and he went from running 11:50 for 3200 in his first race to 9:36 by the time he got out of high school under Tinman's guidance. Jeffrey wrote, "There is no doubt in my mind that Tinman is probably the single greatest factor why I run today and why I've been able to improve so much. I believe that without Tinman I probably would've run 11 minutes or so for the 3200 in high school."
Jeffrey selected the Brooks Launch 3.
Thanks to everyone who played and for Running Warehouse for sponsoring the contest. There now is a special Brooks Beast page on Running Warehouse where you can buy all the latest gear. Click on the image below to see it.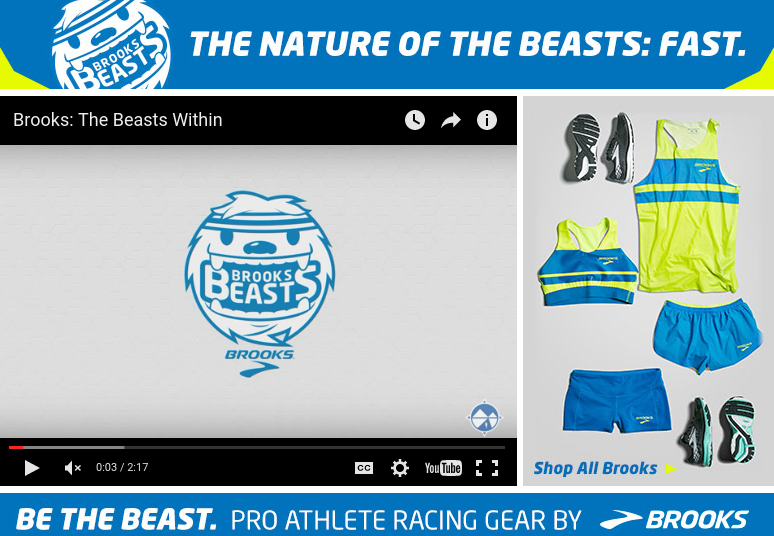 Top 30 below (Click to see their picks). If you played and want to check your scores, click here.