The 5 Most Unbelievable (Negative) Stories From The 2015 Track Season (So Far)
by LetsRun.com
August 7, 2015
Before we get into our in-depth World Championship previews, we thought it would be a good idea and take a step back and think big picture about what has surprised us so far this year. Yesterday, we gave you our five biggest positive surprises on the year – The 5 Most Unbelievable (Positive) Stories From The 2015 Track Season (So Far). Below, we give you five negative surprises. We were looking for things that if we told you they would happen at the beginning of the year, you would have said to us, "No way. That's crazy."
While the BBC/ProPublica's investigation into the Nike Oregon Project/Alberto Salazar and the ARD/Sunday Times investigation into the IAAF's blood values database were undoubtedly both surprising and important, we decided to keep any and all of the depressing drug talk off the list.
Article continues below player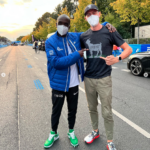 Kipchoge loves the 1:59:40 Shirt Get Yours Today
What a legend!
1) People With Testes Are Allowed To Compete in Women's Competition Without Hormonal Treatment
The above headline is shocking but true. Thanks to the Court of Arbitration for Sport's recent decision in the Dutee Chand case, people with testes (internal) are now free to compete without any treatment. A stunning development.
2) Mary Cain has broken 4:11 once and has a seasonal best of 4:09.08
Back on January 1, 2015, Mary Cain was the golden girl of US distance running. Even as recently as March, she was being profiled in the New York Times, where her coach Alberto Salazar said he was "very confident" she could someday run 3:55 and possibly 3:52. Five months later, she's broken 4:11 just once and has a seasonal best of 4:09.08. With a PR in 2015 seemingly out of the realm of possibility, it seems extremely likely that Cain will pass the 1,000-day mark since her last 1500 pb (May 17, 2013; 1,000 days will be February 10, 2016) as one must also remember she didn't PR at 1500 in 2014 either. She also lost her high school/U.S. junior 1500 record when Alexa Efraimson ran 4:03.39 at the Pre Classic in May.
Cain fans should be concerned but not despondent. 2015 was her first year away from home and in college. 1,000+ days without a PB, particularly at Cain's age, may not be what she and/or Salazar envisioned but plenty of runners have gone much longer without PRs. Up until last year, Shannon Rowbury's PR was 4:00.33 from 2008. She didn't break that PR for 2,179 days but now is the American record holder at 3:56.29. Plus it needs to be remembered that Cain, not Efraimson, was the lone teenager to make the US 1,500 final.
3) Duane Solomon Fails To Make Beijing World Championship Team
If we'd predicted this in May, it wouldn't have been that unbelievable as Solomon was struggling with injuries but if we'd predicted it on January 1, you would have been shocked. Solomon came into 2015 as the winner of the last two US outdoor titles. He'd run at least 1:43.88 in three straight years. Yet he's not going to Worlds as he picked an inopportune time to go for a big one – USAs.
4) The World #1 and #2 at 400 – The Only Two Women In The World Under 50 (at the time) – Fail To Make US Team at 400
The US championships were a nightmare for Sanya Richards-Ross and Francena McCorory. McCorory went into USAs in amazing form as she'd won DL races in Doha, Rome and New York, putting up a world leader in NY. She left USAs with a 4th-place showing, her individual World hopes clinging to the hope that Allyson Felix would opt out of the 400 for the 200 (she would not; Felix is running just the 400 at Worlds). Richards-Ross went into USAs as the world #2 thanks to her 49.95 in Jamaica in May and came into USAs after finishing 2nd in Pre and Doha. At USAs, she didn't even make the final.
5) The USOC Announces Boston As Its Candidate for the 2024 Olympics — And Then Drops the Bid Six Months Later
When the year started, Boston was one of four U.S. cities bidding for the USOC nomination for the 2024 Olympics, and when the news broke on January 8 that Boston would be the candidate, it came as quite a surprise. And though the bid's lack of public support was an issue right from the start, the USOC seemed committed to Boston until last month, when it reversed course and dropped the bid before the September 15 deadline to officially submit the bid to the IOC.
[gravityform action="

polls

" id="241″ mode="

poll

" cookie="1 month" show_results_link="false" display_results="true" percentages="true" counts="false" ajax="true"]
Honorable Mention
These are just other negative surprises – not nearly as significant as those above. Did we miss any? Post them on our forum: MB: Truth Is Indeed Stranger Than Fiction – The 5 Most Unbelievable Stories in Track and Field (So Far) in 2015.