Ryan Hill Wins It As Galen Rupp Almost Misses Out On Making U.S. Team At 5,000
June 25, 2015 to June 28, 2015
By LetsRun.com June 28, 2015 EUGENE, Ore. — Whether it was the weight of the allegations against him and his coach or the 10,000 meters of racing in his legs from three nights earlier, something in Galen Rupp broke midway down the homestretch on the final lap of Sunday morning's men's 5,000 final at the […]
Join Our Supporters Club To Keep Reading
Sign up today to get 25% off and a free t-shirt.
By LetsRun.com
June 28, 2015

EUGENE, Ore. — Whether it was the weight of the allegations against him and his coach or the 10,000 meters of racing in his legs from three nights earlier, something in Galen Rupp broke midway down the homestretch on the final lap of Sunday morning's men's 5,000 final at the 2015 USATF Outdoor Championships. For the first time since September 2013, Rupp lost to an American in an outdoor race, and not just one — both Ryan Hill and Ben True earned their first wins over the Olympic silver medalist (Hill had been 0-8; True had been 0-12 on the track, though he did beat him in cross country as a junior in high school).
Rupp has been the center of attention the entire week in Eugene, but it's Hill who deserves the headlines after using a 3:59.11 final 1600 (1:53.35 final 800!) to streak to his first U.S. outdoor title in 13:50.69. He had time to fling his arms out in celebration as he crossed the line ahead of True in second in 13:51.09. Rupp had no such luxury as he had to fight tooth and nail for the final 100 meters just to make it onto the team, holding off Garrett Heath by just .07 of a second to nab the final spot to Beijing in 13:51.54.
Article continues below player
Recap, results, analysis and interviews below.
The Race
The pace was slow for the first 3200 (9:18.4) and there was still a huge group of athletes in the race. At that point, Jim Spisak went to the front and dropped a 65.90 lap (3000 to 3400), the fastest of the race to that point. Then, with three laps to go, Rupp took the lead and began his long drive to the finish. A 61.96 third-to-last lap whittled the pack to seven: Rupp, Hill, Lopez Lomong, True, Bernard Lagat and David Torrence. Surprisingly NCAA indoor 5000 and 3000 champ Eric Jenkins was no longer contending. Rupp wound it down even more on the penultimate lap with a 58.76. At the bell, Hill and Torrence were right with him (there was a slight gap to Lomong, True, Lagat and Heat) but it looked as if we were in store for a repeat of Thursday's 10,000 final.
But the slow early pace meant that several big kickers were still in the race and as they tore down the backstretch, Rupp struggled to create separation. Torrence made a bid for the lead and drew level with Rupp with 200 to go; midway around the final turn, only Lagat had been dropped and the three spots to Beijing were still very much up for grabs.
Rupp led off the turn on the inside, but the top five were still tightly bunched as Torrence, Heath, Hill and True flanked Rupp to his right. Hill began to build up a head of steam and in the final 50, he blew by Rupp to take the lead, followed by True on his outside. They would end up 1-2. Heath, too was gaining rapidly on Rupp. Was Rupp going to miss out on the team entirely?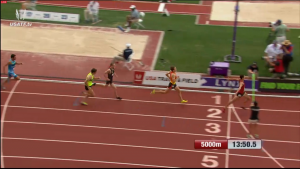 No. Heath just didn't have enough to catch a laboring Rupp at the end and would have to settle for fourth, an agonizing seven hundredths of a second away from his first U.S. team.
Results (lap-by-lap splits)
Place
Name
Affiliation
Time
Heat (Pl)
1
Ryan Hill
Nike / Bowerman
13:50.69
1 (1)
2
Benjamin True
Saucony
13:51.09
1 (2)
3
Galen Rupp
Nike / Nike Or P
13:51.54
1 (3)
4
Garrett Heath
Brooks
13:51.61
1 (4)
5
David Torrence
Hoka One One
13:52.24
1 (5)
6
Lopez Lomong
Nike / Bowerman
13:53.64
1 (6)
7
Eric Jenkins
NIKE
13:56.16
1 (7)
8
Jeff See
Furman Elite
13:56.27
1 (8)
9
Riley Masters
Brooks
13:58.23
1 (9)
10
Bernard Lagat
NIKE
13:59.48
1 (10)
11
Paul Chelimo
U.S. Army
13:59.64
1 (11)
12
Reed Connor
N J N Y T C
14:00.36
1 (12)
13
Andrew Springer
N J N Y T C
14:02.58
1 (13)
14
Jim Spisak
Unattached
14:06.38
1 (14)
15
Diego Estrada
ASICS
14:07.51
1 (15)
16
Jonathan Peterson
Team USA Mn
14:08.78
1 (16)
17
Jacob Edwards
Brooks
14:14.82
1 (17)
18
Benjamin Bruce
Hoka / NnAz El
14:15.71
1 (18)
19
Erik Olson
Stanford
14:17.46
1 (19)
20
Thomas Awad
Penn
14:50.58
1 (20)
Quick Take #1: Galen Rupp is beatable domestically
With Bernard Lagat 40 years old and Rupp consistently running with the best in the world in the 5,000 last year, it seemed as if Rupp was poised to dominate the 5,000 domestically through at least the 2016 Olympics. Both Hill and True have reached another level in 2015, so perhaps it wasn't a surprise to see them right with Rupp with 50 to go. But to see them blow by him — and for Rupp to barely beat out Heath for the final spot — demonstrated a vulnerability we've rarely seen from Rupp over the past few years.
Rupp was under significant pressure this week and was doubling back from a hot 10,000 (granted, so was True), but he still ran well, closing his final 1600 in 4:00.33 and his final 800 in 1:54.30. He simply got beat by some fantastic performances from Hill and True. Rupp will have to get used to the pressure, though, as Kara Goucher's comments this morning suggested that the Alberto Salazar/NOP saga is far from over.
In his post-race interview, Rupp was asked about whether he'd be prepared to provide testimony under oath as part of a USADA investigation.
"We'll see," Rupp said. "We'll cross that bridge when we get there, I guess."
Quick Take #2: Ryan Hill's terrific year continues
Hill surprised everyone by making the team two years ago, and though making the team today wasn't a surprise, taking down Galen Rupp — and everyone else — to win the race was.
Quick Take #3: Ben True: "The focus all year has been on the 5k. The 10k, I do not like."
True said he felt tired for much of the race with the 10k in his legs from Thursday and he had a tough time getting into position. Indeed, True actually closed faster than Hill for the last lap (54.50 to 54.59), but Hill was always well-positioned to strike near the front while True had to overcome a deficit of several meters on the backstretch. True was in only in 5th with 100 to go and had to take a step sideways out to lane 3 to get around Hill on the homestretch.
He also said that if he can get the IAAF standard of 13:23.00 (that should be no problem; his PR is 13:02), he'll scratch the 10k at Worlds, which would put Shadrack Kipchirchir on the team in his place.
True has long desired to beat Rupp, who to this point had owned him on the track, and said that while it was nice to beat him, it didn't come under ideal circumstances as he always wants to be first across the line.
True said the biggest difference between 2013 (when was 4th at USAs in the 5k and 10k) and 2015 (when he was 2nd in both) is that he now has the confidence to run with, and beat, anyone in the world and with that in mind, "it would be nice to get a medal" at Worlds.
Quick Take #4: Garrett Heath said it was tough to reconcile a great race with missing out on the team
Heath was happy with how he executed and was thinking he could finish in the top three the whole time he was running down the homestretch. In the end, though, he just didn't have enough to get by Rupp.
"There was room, I just didn't have one more step. I could feel Galen coming back a little bit but my legs were pretty jello at that point too. I'm sure I'll be rethinking it a lot in my head the next couple days."
Quick Take #5: Bernard Lagat broke down after saying he wanted to make the team for his kids
This will be the first year with an Olympics/World Championships without Lagat since 2005 and he said it is a strange feeling. Lagat then mentioned how he looked at his kids and how they came to see him and then Lagat began to cry, overcome by the emotion of the moment (start at 3:10 mark).
Lagat also revealed that he had been dealing with sickness since after the Pre Classic and hadn't had a good week of training since last week.
We definitely recommend you watch Lagat's interview below.
Discuss this race on our messageboard: Holy ***!! Ryan MF HIll takes down Rupp.
Some screenshots from the NBC Broadcast appear below. Click for a larger image.