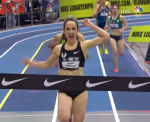 Full day 2 distance recap from Race Results Weekly.
Rowbury won the US mile title over a fast closing Katie Mackey to stay undefeatead vs US competition in 2015. Rowbury will go for the 2 mile double tomorrow.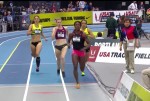 Reaction from Montano, Efraimson, Wilson, and Lipsey after they all advanced to their finals.
Interviews with Ryan Hill, Shannon Rowbury, Chris Derrick, Evan Jager, Ben Blankenship, Cas Loxsom, Brycen Spratling,  Ryan Martin, Erik Sowinski, Alysia Montano, Katie Mackey, Ajee Wilson, Jordan Hasay, Morgan Uceny, Thomas Scott, Robby Andrews, Harun Abda, Alexa Efraimson, Charlene Lipsey and more.
Women's action includes Ajee Wilson versus Alysia Montano (in just her second race post-pregnancy) in the 600; Treniere Moser in the 1000 (which also features 18-year-old high school senior Alexa Efraimson); and Shannon Rowbury and Jordan Hasay, who will each attempt the mile/2-mile double.
There are lots of fantastic mid-d races - two American record holders will clash in the men's 600; the BTC trio of Chris Derrick, Ryan Hill and Evan Jager square off with Ben Blankenship in the 2-mile. The mile features USATF outdoor champions Matthew Centrowitz, Leo Manzano and Lopez Lomong and well as rising stars Blankenship and Pat Casey.
*MB: 2015 Men's USA Indoor meet is loaded - Who you got?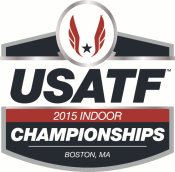 Boston, MA
February 27, 2015 to March 1, 2015
*Event Website *Race Videos

Photo Gallery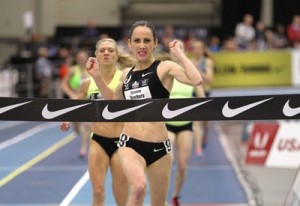 Outside Letsrun
Reavis writes about the meet and the great excitement that can come from races without pacers.
Payne won with 4.55m as Jenn Suhr no heighted after pulling out with an injury.
Lauren Wallace on winning the 1000: "It's unreal, it hasn't set in yet. The coolest part was running through the tape. I've never been able to do that before. The tape was really, really cool."
Non-distance highlights: Michelle Carter's world lead in the SP (19.45m), Tianna Bartoletta (7.08) and Marvin Bracy (6.55) in the 60m, collegiate Demi Payne in the PV (4.55m) as Jenn Suhr was a no-height.
Non-distance highlights: Jeremy Taiwo broke the MR in the heptathlon winning with 6273 points. Manteo Mitchell and Natasha Hasting won the 300, Sam Kendricks the PV, Will Claye (LJ), Christian Cantwell (SP).
Alysia Montano: "I could not wait for this environment to do something when I am not holding an eight-pound baby in the process."
"But this still is a national championship. It's taking place before March Madness, before the baseball season, before the hockey playoffs, during the dog days of the NBA season. Nothing so decisively drives home the sport's lack of national relevance like the near invisibility of a national championship in what should be a dead period on the sports calendar."
Plus quotes from Treniere Moser, Sharon Day-Monroe, Natasha Hastings, and Mary Saxer.
On The Boards
Navigate
Race Results
Analysis
Event Recaps
Event Previews
In The Past
Related Events