A Confident Shannon Rowbury Wins 2015 USATF Indoor Mile Title to Stay Undefeated vs US Competition in 2015
By LetsRun.com
February 28, 2015
BOSTON — All year long, Shannon Rowbury has been a cut above the women's competition on the American indoor track circuit, and she continued her dominance on Saturday by claiming her second indoor national title at the 2015 USATF Indoor Championships. Rowbury now owns four national titles on the track ('08 indoor 3k, '08 outdoor 1500, '09 outdoor 1500, '15 indoor mile) and will look to add to a fifth in tomorrow's 2-mile.
Article continues below player
The Race (video here)
This one went out very conservatively as 2010 champion and 2011 world #1 Morgan Uceny led through 809 meters in a pedestrian 2:26.87 with former Georgetown runner Rachel Schneider nearby. It took another lap for the racing to really get going as Rowbury went to the front with three laps to go and began to press. When she took over, the fastest lap to that point had been just 34.48 and Rowbury dropped that by almost three seconds with a 31.67 to take her to 1209 meters. At that point, all seven women in the field remained tightly bunched, but a 30.88 penultimate lap splintered a field as Rowbury led Nike Oregon Project teammate Jordan Hasay, Uceny, Schneider and Brooks' Katie Mackey.
At the bell, Rowbury began to ratchet it up even more and opened up a gap on the field. It looked as if she might turn this one into a laugher, but Mackey was game for the chase and wouldn't make it easy for her. As Rowbury swung wide on the final turn, drifting out to lane three, it became clear that it would be too little, too late for Mackey, as even though she ran a 30.29 final lap (the fastest of anyone in the race), Rowbury's gap from the previous lap was too large to overcome.
Rowbury punched her fist into the air and was the US champion in 4:34.40 as Mackey had the best final lap for second, .43 behind Rowbury and Rachel Schneider finally picked up scalp of Jordan Hasay in third (Schneider has been second to Jordan at the 2010 USATF Outdoor Jr 1500). Morgan Uceny who had been 3rd with 100m to go faded to lasty.
Both Rowbury (61.33-second final 400) and Mackey (61.49) demonstrated nice closing speed for the end of February; Mackey's close was particularly impressive considering she had been focusing on 8k cross country training until February 7 and felt like she was on the "pain train" during her first speed workout a few weeks ago.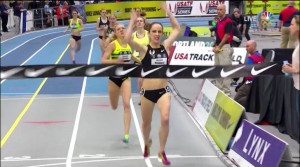 A confident Rowbury told Lewis Johnson of NBCSN afer the race that she had been under the weather, dealing with congestion.  She said, "I think if I had been at 100%, I maybe would have seen how fast I could run today, maybe taken one last shot at the (American) record. I think it would have been tough no matter what (even) being healthy to run an American record by myself.  I was surprised the girls didn't want to let me go with 600 to go, good for them for fighting but I knew I could do it for three laps, and I didn't think they could."
Results, quick takes, and post-race interviews below: *Race video here
| Place | Name | | Affiliation | Time |
| --- | --- | --- | --- | --- |
| 1 | Shannon Rowbury | | Nike / Nike Or P | 4:34.40 |
| 2 | Katherine Mackey | | Brooks | 4:34.83 |
| 3 | Rachel Schneider | | Unattached | 4:35.85 |
| 4 | Jordan Hasay | | Nike / Nike Or P | 4:36.48 |
| 5 | Heather Wilson | | N J N Y TC | 4:37.66 |
| 6 | Dana Mecke | | Unattached | 4:37.68 |
| 7 | Morgan Uceny | | adidas | 4:38.13 |
| | Amanda Mergaert | | Brooks | DNS |
| | Nicole Tully | | Hoka N Y A C | DNS |
| | Stephanie Charnigo | | N J N Y TC | DNS |
Quick Take #1: Everything went according to plan for Shannon Rowbury
Rowbury expected the race to go out slow and her plan was to attack during the second half of the race. Sure enough, the field passed 809 in 2:26 and Rowbury employed that exact strategy, moving to the front just before 600 to go and pushing from there to claim her second U.S. title indoors.
Though Mackey tried in vain to closer her down over the final lap, Rowbury said that she knew she had the race won with 200 meters to go since she was feeling good and felt like she could have responded to any move.
"I think if someone else had come, I could have found another gear," Rowbury said.
She said that coming back for tomorrow's 2-mile should be a little easier since the mile essentially turned into a 600-meter race, though she added that she was only thinking about the mile during the race, so preserving energy for the 2-mile never entered her mind.
Though she still has one race to go indoors, Rowbury said that she was very happy with her 2015 season as a whole as she accomplished all her pre-season goals. With that said, Rowbury did add that she felt she was fit enough to get the American indoor mile record (Rowbury ran 4:22.66 on a flat track; Mary Slaney's AR is 4:20.5) but the stars did not align for her.
Quick Take #2: Katie Mackey was pleased with today's performance considering she trained like a cross country runner for most of 2015
Mackey said she did a lot of base work to prepare for USA XC on February 7 (she wound up 21st) and that she felt like she was on the pain train during her first indoor workout. Today was the exact opposite as she felt strong and smooth during the race, which leaves her excited for the outdoor season to come. Mackey added that she likes having faster women like Rowbury in her races as the presence of top athletes really gets her motivated to compete and brings out the best in her.
Looking ahead, Mackey is planning on the next few weeks serving as a mini base phase before she opens up with a 5k and then perhaps a 1500 at Oxy. As for which event she'll run at USA outdoors, Mackey hasn't decided yet and said that because her training for both is pretty similar, she doesn't have to make that decision for a while yet.
QT #3: Morgan Uceny Not Pleased 'Absolute dog**** ':
Mordan Uceny was disappointed after this one.
The 2011 World #1 was up front throughout this race but faded to 7th and last on the last lap.
Afterwards, a member of the media said something like "Not too bad" to Uceny and she replied, "Absolute dog**** if that's what you mean by not so bad."
Uceny said that in general she wasn't happy with this race or her indoor season.  Yes, she broke 4:30 but to be honest, when she was at her best, she was capable of potentially breaking 4:20.
Uceny said that in trying to avoid injury she's done different training than in the past, playing it safe to stay healthy.The good news is she is 100% healthy and heading for a training stint in CA pretty soon.
QT #4: Rachel Schneider Finally Beats Jordan Hasay
Schneider has often been in Hasay's shaddow. Way back at the 2010 USATF junior nationals Hasay was 1st, Schneider second. Hasay then went on to star at Oregon and win NCAA titles while Schneider went to Georgetown and was a good runner but not a star. Hasay then signed with the Nike Oregon Project while Schneider runs unattached. Nonetheless, it was Schneider getting third today one spot ahead of Hasay.
Jordan Hasay: 
Jordan Hasay joked it would be nice if the milers would ever agree to race her at 10,000:
All USATF Indoor Videos