Ryan Hill Runs 25.77 Last 200 To Win His First National Title, Captures Men's 2-Mile in 8:26.72
by LetsRun.com
February 28, 2015
BOSTON — Coming into the men's 2-mile at the 2015 USATF Indoor Championships today, an event that one might say the fans had waited for 84 years for (the last 2-mile was held in 1931 and won in 9:07), the LetsRun.com faithful were split as to who would take this one home: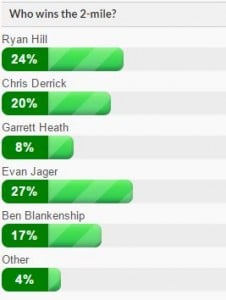 When it was over, there was a clear winner. Ryan Hill used a scintillating 25.77 last lap to win his first U.S. title going away. Hill, who won in 8:26.72, had time to look over his shoulder to make sure no one was coming on late, despite this being a four-person race at the bell.
"[This] is like my first legitimate one (national title). I won in club cross and won a junior Olympic one, but this is the first one that feels right," said Hill after the race.
"[It feels] fantastic. I put a lot of hard work in with my teammates, some of the guys I was somehow able to beat today. I think we all wanted it bad — from the Bowerman Track Club — but I was able to pull it out today."
Ben Blankenship ended up second in 8:27.31, Evan Jager third in 8:27.44 and Garrett Heath fourth in 8:27.99. Those four had been separated by just .69 at the bell.
Article continues below player.
Even though this easily was his highest finish at a U.S. nationals (Blankenship's highest finish before today was 4th at last year's indoor 3000), Blankenship was upset that he didn't get the win.
"I'm disappointed, just really disappointed — just the way it worked out. I probably didn't play my cards the best but that's what happens," said Blankenship.
When asked exactly what he was disappointed in, tactics or the finishing place, Blankenship responded, "Just not finishing well. I just came off running 3:35 (for 1500 last week) so I should be able to close better….It just kind of sucks."
Chris Derrick, who led this race for nearly six laps in the middle, taking the lead on the backstretch just after 1200 meters, ended up fifth in 8:32.51. German Fernandez, who led the first six laps, ended up eighth in 8:37.15. The race was tactical pretty much from the start as the opening mile was 4:17.4.
Quick takes and results appear below.
*Race video here *Photo Gallery Here
| | | | |
| --- | --- | --- | --- |
| Place | Name | Affiliation | Time |
| 1 | Ryan Hill | Nike/Bowerman TC | 08:26.72 |
| 2 | Benjamin Blankenship | Nike / OTC Elite | 08:27.31 |
| 3 | Evan Jager | Nike/Bowerman TC | 08:27.44 |
| 4 | Garrett Heath | Brooks | 08:27.99 |
| 5 | Chris Derrick | Nike/Bowerman TC | 08:32.51 |
| 6 | Dan Lowry | Boston A A | 08:34.20 |
| 7 | John Happe | Speed Factory | 08:36.91 |
| 8 | German Fernandez | Nike/Bowerman TC | 08:37.15 |
| 9 | Chris Moen | ZAP Fitness | 08:42.95 |
| 10 | Taylor Gilland | Unattached | 08:45.43 |
| 11 | Ethan Shaw | Boston A A | 08:46.16 |
| 12 | Isaac Presson | Furman Elite | 08:55.19 |
| 13 | Julian Saad | Boston A A | 08:55.39 |
Quick Thought #1: Hill looked awesome at the end of this one.

Before this race, the LRC audience was very much divided as a number of guys seemed evenly matched on paper, but when this one was over, it seemed to us if they ran it 10 times, Hill would win nine of them.
When we told Hill he'd closed in 25.8, he sounded a little surprised it was that fast and said that coach Jerry Schumacher would be very pleased to hear he closed in 25.77.
"Jerry will be very pleased with that. He's kind of obsessed with about how hard we can close a championship race. He'll be extremely happy with that," said Hill.
Hill said that he ran exactly the type of race he wanted and said that it was "kind of ideally how every race would go" for him. He said he wanted to take the lead "at the last possible moment."
"Today I was ultra-sensitive of letting anyone taking the lead hard, because in the past I've made the mistake of just letting them just go away and [then] my kick at the end isn't enough to win," said Hill. "I followed everyone even if it meant running in lane two a little bit as I was like I want to be on the leader with a lap to go and fortunately that is how I kind of won the race."
Editor's note: If you are a German Fernandez fan, you should listen to the end of Hill's interview as he talks about how Fernandez performs in practice with the club.
Quick Thought #2: It was every man for himself for the Bowerman Track Club — Coach Schumacher didn't want team tactics being employed, he wanted his athletes to treat this as a true championship
Hill, Jager and Chris Derrick all said after the race there were not team tactics involved today.
"Kind of the theme for our team coming in was Jerry said, 'I'm not telling you what to do in this one. I just want to put you in this situation and see how you handle it,'" said Hill. "Jerry didn't say a word about exact strategy today. It was pretty fun to do it that way."
Quick Thought #3: Evan Jager was not pleased with his third-place performance
Jager said that his aim this indoor season has been to figure out ways to win races but at this point he has not succeeded. He knows he's capable of a fast 2-mile right now, but in terms of a strategy to win a championship 2-mile, like today's, he's not quite there.
It's a skill that will be important for Jager moving forward. He's gotten better every year in the steeplechase and at this year's World Championships in Beijing, he will be a legitimate medal threat. Jager has never won a Diamond League meet (granted, he has raced only five in his career) — and when someone has a year like Jairus Birech did in 2014, that is a difficult feat. Right now, Jager is hoping to be top-three in every steeple he races this year, but it would be nice if he could figure out how to win some top-notch races along the way.
Jager said that his coach Schmacher gave each of his athletes separate instructions. So when Fernandez went to the front early, and Derrick in the middle of the race, those were their own decisions and not part of some larger team strategy. Jager's take on Schmacher's advice was slightly different than Hill's take, but they are not mutually exclusive.
Finally, Jager provided the answer to the question everyone has been asking (okay, not everyone, but perhaps a few LRC messageboarders): why did he switch to wearing his hair in a bun in 2015?
The answer is simple: Jager's famous flowing locks were getting too long for his headband to corral and he was forced to switch to the bun to keep them out of his face. Expect a haircut and return to the headband in time for the outdoor season.
Quick Thought #4: Chris Derrick didn't feel good today but got out of it what Coach Schumacher wanted — he got used to the "sting" of going our hard.
Derrick said after this one that he didn't feel good at all.
"[That] felt terrible. This year we've really stayed off the track, just trying to keep myself healthy, to get ready for cross, to get ready for outdoor. The last few days, just doing strides and stuff, I was like, 'Ok, it (the speed) is still there a little bit.' My plan was to maybe try to fartlek to tire guys out before the kick,"said Derrick. "[But] when I went to the front, I just felt awful. I felt like I was running pretty hard and it was like a 64."
Despite not having the day he wanted, Derrick still got something out of this race. He said he ran this race as Coach Schumacher wanted him to get used the "sting" one feels when they go out hard, which is something he'll likely have to do at World Cross Country next month in Guiyang, China.
As for his goals for 2015 World XC, (he was 10th at World XC in 2013), Derrick said the goal is the same as it was his freshman year at Stanford: "just get in the lead pack and stay there as long as I can."
 Quick Thought #5: While Blankenship was disappointed not to win, the good news is he gets a second chance in the mile tomorrow
Blankenship said he's definitely racing again tomorrow. And he had the second best kick today.