Entertaining/Interesting Reads
More Action From Last Weekend
NYC News
US Elites In The News
CGI News Gets Attention In The NY Times
1,500 News
Post Kipsang World Record News
Day After: Kipsang Does 25-Minute Run, Limps Into Press Conference, Says His Next Marathon Is In April He is sponsored by adidas so is there any chance it's Boston? We highly doubt it. Kipsang says he was inspired by Paul Tergat's WR in Berlin 10 years ago as he's like "family" to him as they are from the same area.
*Idiot Who Finished Ahead Of Kipsang Is Charged With "Trespassing"
*Kipsang Is Finalist For IAAF AOY Award We say Bondarenko.

Recommended Read: Renato Canova Analyzes The 2013 Berlin Marathon - Says W. Kipsang Is "Most Consistent Marathon Runner All Time" - Says Kipchoge Might Get WR Next Year He also lavishes praise on both for being two of the most professional and serious in Kenya. *Discuss

You Asked For It? You Get It: MB: Renato Canova tells you what he thinks W. Kipsang could run for a mile

*Science Of Sport: Is The Sub-2-Hour Marathon Imminent? Don't Hold Your Breath
MB: Paul Tergat agrees with LetsRun - Sub-2 marathon is impossible
MB: Want Proof of Mo Farah's Doping? He's reportedly "plotting" a sub-2 hour marathon

*Kipsang's WR This Year Was Track's First Of Year - Meaning The Streak Of At Least One WR Per Year Since 1907 Continues
*Eurosport On Kipsang's WR: One of sport's greatest ever achievements, yet few people even noticed We disagree it was one of sport's greatest achievements. Get back to us when someone breaks 2:03:00.
*Boston's Column: Memo To The World, A Man Ran 2:03:02 In Boston In 2011
*How Long Could You Run With Wilson Kipsang?
Not Everyone Enjoyed A Successful 2013
Stupidity In Britain
NCAA XC News
Non-Twin Cities Weekend Results: Haile G Wins In Scotland
Non-NCAA XC News: MileSplit Weekend XC Coverage: Fast Times At Great American XC
*Former 5k WR Holder Zola Budd Wins Open Race In 17:47
More Marathon News: When Will Another Woman Run 2:15?
International Stuff: Want To Win A Free Trip To Monaco?
ING TCS New York City Marathon
Administrative News
At Last, A Rival To Nike's Training Groups?
News From Outside The US
2013 BMW Berlin Marathon Photo Gallery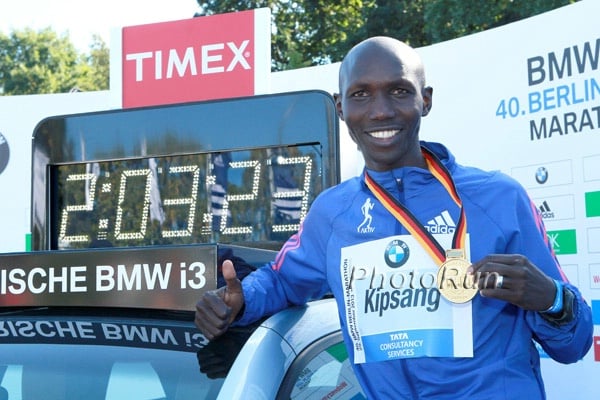 #1 Read On LRC On Friday: Guest Column From A Pro
LRC David Torrence Responds To John Bingham: The Blaming Of The Elites Has To Stop John Bingham recently wrote that the first pro to show "even a LITTLE interest in the rest of the pack will become a hero overnight." 3:52 miler David Torrence saw that and was spurred to share his story as he's been showing a ton of interest in the back of the pack and is far from a well-recognized hero. *Discuss

What Does The Penguin Say To This? Pros Inspiring The Youth At The 5th Avenue Mile Presented By Nissan


(5th Avenue Photo Gallery Updated)
Mo Farah News
VCB / Doping News
Athletes In Trouble
Industry News
Week That Was
Race Admin News
Government Shutdown
"ba">t;