This Weekend And Next Couple Weeks
Introducing SPIRE Institute Track And Field Academy (Sponsored)

Coach Charlie Powell Talks About SPIRE Institute's New Track And Field Academy SPIRE Institute in Ohio, the athletic complex with unparalleled indoor and outdoor track facilities, has launched a first-of-a-kind high school and post-grad (PG) Track and Field Academy. Charlie Powell, the coach of multiple All-Americans and NCAA Champions at the University of Pennsylvania, has joined SPIRE as its first Director of Track and Field. Coach Powell talks about the unique opportunity that drew him to SPIRE, the amazing facilities and resources for track athletes at SPIRE, and what the draw is for SPIRE for passionate track and field athletes wanting to compete at the next level. Click here to read the interview with Charlie.
Interesting Olympic News
Upcoming Distance Action
Olympic News
Looking Ahead At The Spring/Summer Racing Season
Unusual Olympic News
Other Olympic News
Top Pro News

Great Distance Matchups In Doha Next Month As Kenenisa Bekele Returns To The Track The Diamond League resumes on May 11th and Kenenisa Bekele will be running the 3,000m. Vivian Cheruiyot, Genzebe Dibaba, Pamela Jelimo and Abubaker Kaki all also are slated to compete in the run-up to London.

On The Boards: Bekele Running in Doha
Yesterday's Big News
17-Year-Old High Schooler Cayla Hatton Runs 33:17 10,000m Olympic Trials "B" Qualifier The prodigy only started running full-time this year. Now she's putting up a time that would make her 5th in the NCAAs last year. Truly ridiculous. The time is so fast some were wondering if it was a lap short, but this video proves it's legit and shows she ran every lap (16:30-16:46).
*A Q&A With HS Prodigy Cayla Hatton Two years ago, she was in awe of Kara Goucher and asking for her autograph. Now she'll be racing against people like her at USAs in the 10k.
Super-Fast Road Races In The US *Elite Results
Carslbad 5,000: Dejen Gebremeskel Repeats At Carlsbad 5,000 In 13:11 Gebremeskel let the Olympic 5,000 medallist Eliud Kipchoge do all of the work in the wind before kicking home to a 2nd straight win in 13:11. Alistair Cragg (pictured left) set a new European road record of 13:26 as Ryan Gregson ran 13:39. Anthony Famiglietti struggled with a 14:21. Kevin Castille, who ran 14:01 this winter, won the Masters race easily in 14:57.

Tirunesh Dibaba Remains Undefeated On Year With An Easy 15:01 Win Dibaba: "I'm happy about the race but I didn't run a fast time because of the wind. ... I'm going to be ready for the Olympics."

DC: Allan Kiprono Sets Course Record (45:15) As Julliah Tinega Repeats At 40th Credit Union Cherry Blossom Run
More Sprint News
Recommended Read: Lengthy Edwin Moses Profile "My story is not one of someone who was born to be a champion. I stayed in the sport longer than some who were better than me at 15, 16, 18 or even 20. And I put more into it."
Distance Articles Worth Considering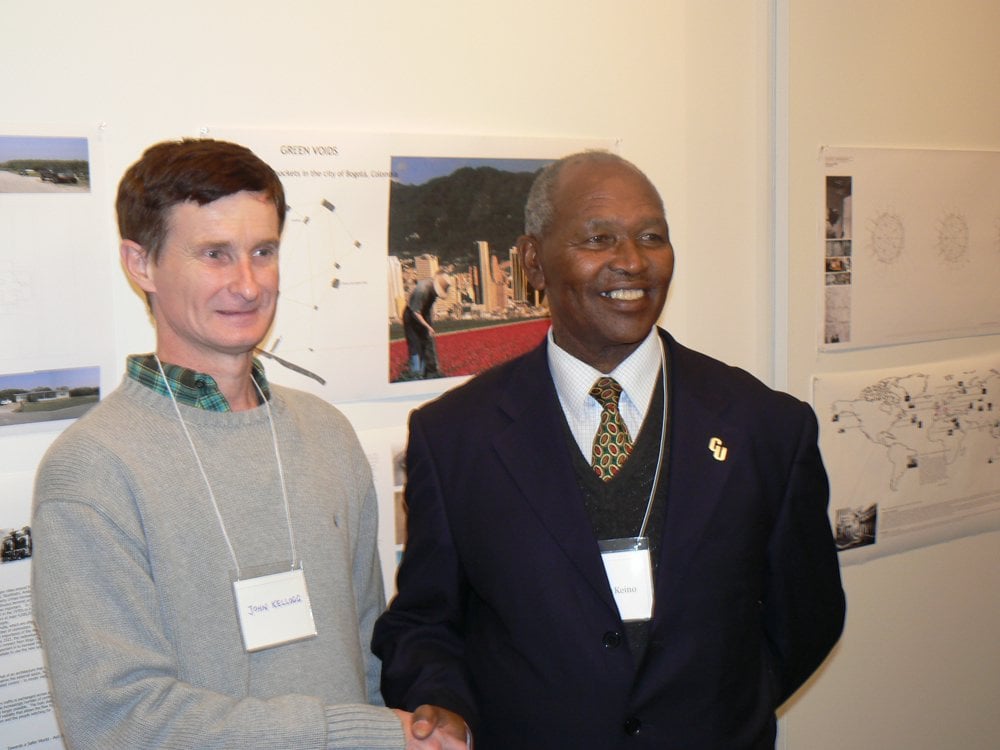 After Running 10k & 5k With Gallstones, Kip Keino Was Told He Might Die If He Ran 1,500 But He Did It Anyway And Crushed Jim Ryun
*MB: Did Kip Keino Really Run The 10k and 5k Before Crushing Jim Ryun in 1,500 at 1968 Olympics?

*Are Harvard-Westlake's Amy Weissenbach (2:02) And Cami Chapus (4:40) The Best High School Duo In History?

Khannouchi's Retirement
LRC Carey Pinkowski Reflects On Khalid Khannouchi's Career: "He Was The Absolute Best I've Ever Seen" The Chicago marathon director talks about the man who made his name in the Windy City. Plus quotes from London Marathon director Dave Bedford and a tweet from Ryan Hall.

LRC Marathon Legend Khalid Khannouchi Officially Retires Khalid Khannouchi, one of the greatest marathoners of all time, has told LRC that he is officially retiring from competitive running. Khalid helped revolutionize the sport of marathon running, setting two world record in the span of three years, including his final one at the "Greatest Marathon Ever Run" - the 2002 London Marathon matchup that featured Khannouchi, Paul Tergat and Haile Gebrselassie.
Shalane Flanagan Wins Lisbon Half, Tadese Three-Peats Updated with IAAF story The American got the big upset win (just as we predicted) and Zersenay Tadese got the win but not the world record (just as we predicted - a broken clock is accurate twice a day). Flanagan ran 68:51 for the win.
OTB: Flanagan wins Lisbon. Lock for Olympic gold?
*Will there be an official Lisbon half-marathon thread?
*Letsrun...seriously your picking Shalane Flanagan to win the 2012 Lisbon Half Marathon?
*Full Photo Gallery
*LRC Lisbon Half Marathon Preview
LRC Men's 3,000m Final Lives Up To The Hype World 5,000m champion Mo Farah squared off with two-time world indoor champion Bernard Lagat and 2012 World leaders Augustine Choge and Edwin Soi of Kenya. Once again, Bernard Lagat was too good. They were all in contention on the final lap. There was some contact, two guys running on the infield, a DQ and a resintatement, but none of that stopped Bernard Lagat from showing he's the best 3,000m runner in the world.


LRC 800s: Pamela Jelimo Is Back As USA's Erica Moore Gets Bronze, 18-Year-Old* Mohamed Aman Gets Gold The last time Pamela Jelimo was any good, Erica Moore wasn't an 800m runner. They both left World Indoors pleased, as Moore made her first sub-2:00 clocking count with a bronze medal. In the men's race, 18-year-old* favorite Mohamed Aman got gold. On The Boards: Erica Moore 800m at Worlds

LRC Hellen Obiri Stuns Four-Time World Champ Defar link fixed Obiri Closes In 4:06.6 For Gold Get used to the name Hellen Obiri. Last year, she ran internationally for the first time and won the Kenyan 1,500m championships. This year, in the fourth 3,000m of her life, she came from behind to stop Meseret Defar from getting her 5th world title.

IAAF Final Day Recap: Brittney Reese Is Incredible, Aries Meritt Upsets Liu Xiang, Will Claye Wins Brittney Reese had her back to the wall in the long jump, so what did she do? Unleash a jump that made her #3 all-time to win.
Ryan Hall Movie
LRC Ryan Hall Feature Film In The Works A full length film on Ryan Hall's quest for glory in London 2012 is in the works. Learn more about the film "41 Days," watch a trailer, and learn how you can help support the film and get some Ryan Hall memorabilia. Image below.
On The Boards: Ryan Hall's Big News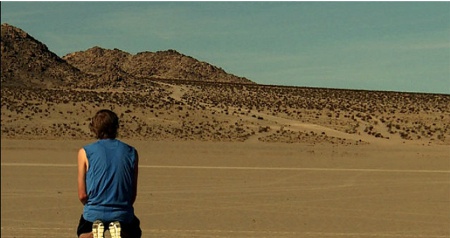 Other US News
12-Year Old Sprinter Goes Sub-13 Seconds In The 100 However, the way true age works for most African countries, he's probably closer to 5 or 19 years old.
Kenyan Stuff
US News Updates
Some Inspiring Quotes But Not Quite Quote Of The Day
Jason Hartmann Looks Back At Trials And Ahead To Boston Marathon "There are a lot of great athletes who didn't make the Olympic team ... That's kind of life, and stuff. But it wasn't from a lack of trying, it wasn't from a lack of focus, it wasn't from a lack of diet, it wasn't from a lack of sleep."
Looking At Caballo Blanco's (Micah True's) Legacy "When you're a young 20-something in college, you're excited about changing the world. You see all these ways to do it and eventually you kind of grow out of it. But he (Micah True) did it and he showed you don't have to be some super person to do it.'' - Nick Coury on Micah True.
NYRR Announces $2,012 Olympic Trials Training Grants "In the economic sense, I am fortunate to have a full-time job. In the athletic sense, I am unfortunate to have a full-time job." - Olympic Trials qualifier Michael Cassidy.
Shoe Biz News
Half Marathon Madness

Ethiopia's Next Star? In Cold And Windy Conditions, Virtually Unknown Ethiopian Atsedu Tsegay Runs 4th-Fastest (58:47) Half Marathon Ever The 20-year-old's claim to fame before today was a 6th place at the World Junior 5,000 and a course record at last October's Marseille and Cassis road race. Joyce Chepkirui, the African XC champ, broke the women's course record in Prague. *RRW Recap

Prague Berlin: Geoffrey Mutai's Training Partner Dennis Koech Stuns Half Marathon World Champion Wilson Kiprop 5 Kenyans broke 60 flat as Koech (59:14) edged Kiprop (59:15) on a day which 5 Kenyans broke 60 and 3 Kenyan women led by last year's Rotterdam champ, Philes Ongori (68:25), broke 69. Koech's coach thinks he can get the WR.
Distance News
Sad News: Body of Boulder ultrarunner Micah True found in New Mexico after 4-day search True, aka Caballo Blanco, became a celebrity of sorts after the book "Born to Run." His body was found Saturday after he disappeared on a run.
*Friends recall Boulder ultrarunner Micah True as passionate, playful "When he was out on the trail running, it was like someone just rang the school bell and said, 'Recess.' It was utter playfulness."
*You can pay your respects here.

Meet Chuck Engle - The Marathon Junkie - Who Just Broke The World Record For Most Marathon Victories We like how his motto is "run more" and how he knows where he truly stands in the running world. "I'm a mediocre runner at best. There's at least 4,000 marathon times that have been better than me this year - in the world." *MarathonJunkie.com Website
Random Articles On A Monday
Recommended Read: A Great Article Profiling The 2012 Notre Dame Men's NCAA Championship DMR Team Hard to believe it's only the 3rd NCAA title in Notre Dame history.

36,652 Runners At Record-Setting Cooper River Bridge 10km Run Forced To Wait 1 Hour To Start & Race Director Says Delay Was "Not That Much Of A Delay" Solomon Deksisa (29:37) and Janet Cherobon-Bawcom (33:01) got the wins in America's 3rd-largest 10k.

Former Butler Runner Tommy Davies Is 1st Person To Cross Finish Line At London Olympic Stadium As He Wins 5 Mile Race That Finished In Stadium

*Princess Beatrice Competed As Well (Pics) Beatrice seems to run a lot, as she lost 20 pounds training for last year's London marathon In an effort that silenced critics who ripped her for being a bit heavy in this bikini shot.
More Distance News
Friday's Big Sprint News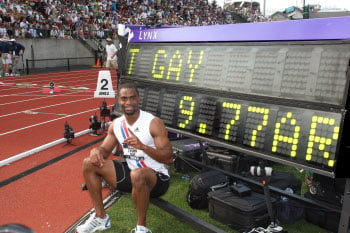 Reuters: Tyson Gay Holds Open Workout For Media & Says He'll Only Do 100m This Year *ESPN.com *AFP

*AP Article That Is More Upbeat & Says He's Nearing Full Recovery Given his surgery, Gay doesn't feel he hasn't done enough work to handle the 200m. His coach says that the Trials might actually be his first race of the year: "You'd prefer to have a couple of races before the trials. But at the end of the day, if his first race is at the Olympic trials, then he'll be ready to run.''

More Sprint News: Slate Asks: Might Justin Gatlin (And Other Drug Cheats) Be Benefitting From Doping They Did Years Ago? Answer: Yes
We All Have Our Own Story Of How We Became A Runner, But Few Can Say It Was Because They Were Arrested
Recommended Read: Former CEO Of BETonSPORTS.com Went To Jail To Become A Runner At 50 years old, David Carruthers used his time in prison/house arrest to go from being 192 lbs. and overweight to running a 3:07 marathon and sub 5-min. mile.
Olympic And Distance News
LA Times Take A Look at Altitude Training At Mammoth Lakes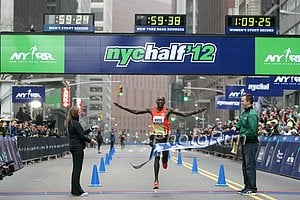 LRC Recap: Peter Kirui & Firehiwot Dado Prevail After Head-To-Head Battles From the start, both the men's and women's races turned into one-on-one battles but with different results. In the men's race, Peter Kirui did all the work as Deriba Merga tried to hang on, but in the end, Kirui was rewarded with a victory in the 2nd fastest time ever (59:35) as no American men finished in the top 10. Kim Smith led most of the women's race, but Firehiwot Dado pulled ahead late and won in a new CR (68:35) as Kara Goucher was 3rd.
*MB: NYC Half 2012 race coverage thread and updates.
*MB:Today was Ritz's worst finish Since....
*MB:Did Kim Smith get pawned? (sic)
*MB: Todd Williams is really good at broadcasting
*Nice WSJ Recap
*Davila Loved The Weather: "If you can't run fast on a day like today, you might as well go bowling."
*IAAF Recap
*Goucher: "I had a lot more fun this year."

LRC 3,000s: Chris Derrick Pushes Lawi Lalang To The Line, Emily Infeld Wins Her First Title (link fixed) Friday night, Chris Derrick won accolades for coming within 1.7 seconds of beating Lawi Lalang. Derrick did even better on Saturday night, coming within .17 seconds. In the end, Derrick's efforts weren't enough, as Lalang completed the double. In the women's 3,000m, Emily Infeld won a four-person sprint around the final bend over (among others) Jordan Hasay. Hasay's Ducks were so good they would have won the team title if she had stayed in Oregon.
Flanagan Over Davila, Goucher Gets Third As Top 4 All Break Old OTrials Record Flanagan (2:25:38) pulled away from Davila (2:25:55) and Goucher was third in 2:26:06. Amy Hastings broke the old Trials record at 2:27:17 but didn't make the team. Deena Kastor was 6th in 2:30:40.
LRC Men's Marathon Trials Analysis And Reaction The 2012 Trials race was a classic. We throw some love to the top 3, ponder Ritz's future in the marathon, tell you who had the best debut, and tell you who that guy you never heard of was. Plus we talk about Meb's 74-year-old badass dad and look at the fortune of some old timers who didn't make the team, Josh Cox and Dan Browne, in addition to the ones who did (Meb and Abdi).

Race Recap: Meb Keflezighi Captures 2012 Olympic Trials Marathon Title
Speaking Of Running Movies, Endurance Now On DVD!
Week In Review
LRC WTW: America's Newest Female Running Prodigy, Galen Rupp's Medal Chances, A Kenyan Gets 7 Years Older In 2.5 Months, Bekele's World Records And The World's Winningest Marathoner Who Is Not A Big Fan Of The World We span the globe so you don't have to. Can Atsedu Tsegay knock Galen Rupp off the medal stand at 10,000m? How does someone get 7 years older in 2 months? Plus info on America's latest distance prodigy and the World's winningest marathoner seems to not be a big fan of the World. Much more, including a great profile on Edwin Moses.
News From Kenya
*Even The Best Have Heroes: Asbel Kiprop Wants To Be Like His "Hero" Hicham El Guerrouj "Every medal I win gets me motivated to better my hero ... He is unbelievable; he won two gold medals at the 2004 Olympics. I'm looking forward to start running the double at the 2013 World Championships; I will be doing both 800m and 1500m." Also interesting that he says a YouTube interview with Silas Kiplagat helped him win at Worlds.
*Ever Wonder What The Competition Is Like At A Kenyan College Meet? Apparently not that fast; Rodgers Gesabwa won the 10k in 29:09.
Did You Miss 4/1/12 On LetsRun.com? Relive It Here
Video: Khalid Khannouchi To Run 2012 Virgin London Marathon A television report out of London confirms Khannouchi is in for 2012. Sunday's April Fool's Homepage.
High Schooler Marvin Bracy Runs 10.06 At Texas Relays
The Week In Review
LRC The Week That Was In Running: March 19-25, 2012 Last week, South Africa's 800 stars opened up at their specialty with resounding victories and we tell you what their wins mean (which means our incessant update on Nick Symmonds' medal chances), we do the same for Shalane Flanagan's impressive win in Lisbon, plus free coaching advice from Lauren Fleshman (do as I do) and Chris Solinsky (don't do as I do), and quotes from Mo Farah, a happy Nick Willis, an angry Ron Hill and a happy Olympic janitor. Plus Wallace Spearmon and LetsRun.com impress the brass at USATF.
Spice Up Your Day With This Steeple Fail (Turn Up Volume) *MB Thread
Lisbon Photos
Three Nice Deals On Running Shoes
1) Nike Free 2+ $59.98 For men - 1 color only at this price. Other colors and women $79.99-$99.99.
2) Adidas Leap $49.98
3) Brooks Adrenaline 11 $59.98
Little LRC gets a commission with your purchase.
Spend 10 Minutes To Get To Know The World's Best(?) Marathoner Patrick Makau (Also Has Footage Of Him Training In Kenya)
LetsRun.com Track Talk Live From Kenya: On Demand In The Player Below (Or Download It Here)
Photo Gallery: Rupp Makes History (Interview Below Or Here)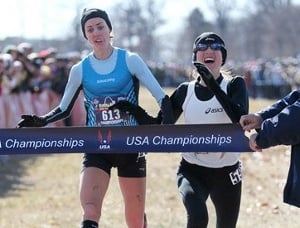 Training Corner (More In The Training Forum)