*Boards: Lananna is being selfish having Hasay run mile, 3k, DMR Duck haters might be in for a rough weekend, as Oregon looks ready to find a way to win the men's and women's titles in Fayetteville. Freshman Jordan Hasay and senior Nicole Blood will have triple duty to try to win a championship for the Ducks.
*Boards: NCAA men's mile championship discussion 2010

*Men's Mile: Riley Masters Gets Spot In Field After 2nd Sub-4 Of Season All the sub-4 men ended up in the field (6 of the 22 sub-4 guys chose not to declare for the mile).
*LetsRun.com Riley Masters Interview: How To Go From 4:06 To 3:59 In 1 Race
LetsRun.com The Week That Was This week we dish out Weekly training advice from coach Jama Aden and our Stat of the Week from Down Under, praise Doug Logan, and give a Thumbs Down to athletes skipping Worlds, especially Qatari Saif Saaeed Shaheen. Plus we set the over/under on US mid-d/distance medals in Doha and have updates on Alan Webb and Serena Burla.
2 Articles From Brett Hoover At HepsTrack
*Kyle Merber's 3:58 Makes Him 17th Heptagonals Runner Sub-4 Every school in the heptagonals (including former members Army and Navy) have had a sub-4 miler on their team at some point.

*Former Harvard Triple Jump Heps Champ Is Competing For Haiti In Doha The true amateur spirit: Samyr Laine, a law student at Georgetown, says he's not in the sport for the money but to pursue excellence.
Young Guns - HS Tracksters Section
Nike Releases Full Information On New Nike Track Nationals To Be Held In Hayward In July Read about how a high school team can qualify for this national high school team track and field championhip ...

17-Year-Old Marathoner Inspired By Billy Mills Oliver Bear Don't Walk is 17 and ran 2:37 in his first try at the marathon. He says: "My goal is to keep running long enough to get to the Olympic Trials in the marathon and hopefully the Olympics." We wish him luck.
Random But Kind Of Cool
Marathoner Going For Sub-3 Clocking In 5th Decade 53-year-old Gary Allen ran a sub-3 in the '70s, '80s, '90s, '00s and is going for the '10s.
US Running News
USATF CEO Doug Logan On The Deficiencies He Has Noted In Track Events - Live And On TV We are glad to see Logan is working on improving the way track is presented as a live event and on television.

Webb A Hit At Olympia Running Store The bigger news to distance fans is how Webb is recovering from Achilles surgery.
*Message Boards: Webb running 3-4 miles per day

Linda Somers-Smith Runs 57 Minutes For 10 Miles At Age 48 To Break American Record

Brief Chat With Paige Higgins - Running LA On March 21 Higgins is training with Training Talk III guests Greg McMillan and Brett Gotcher in Flagstaff.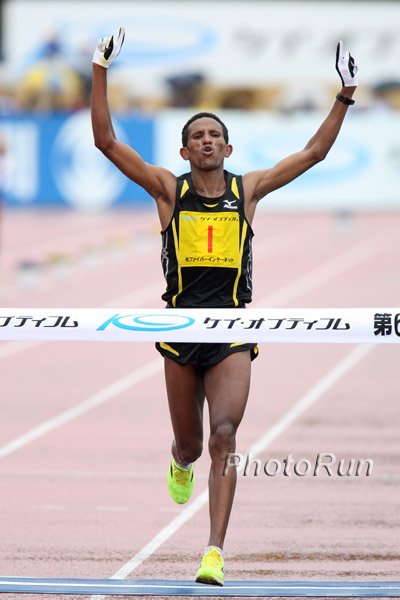 LRC Photos From 65th Lake Biwa Marathon
*Recap: Yemane Tsegay Wins Rainy Marathon As Japanese Again Impress

6-Time Olympian Maria Mutola Is Now Scoring Goals As Soccer Striker

Bett and Felix Take Almond Blossom XC Titles This was the last IAAF XC permit meet.
Uh-Oh: Russian Government Wants More Medals
"A victory has plentiful fathers, and a defeat is always an orphan." Prime Minister Vladimir Putin is very unhappy that Team Russia only scored 11th on the team medal charts in Vancouver despite tens of millions of dollars in government funding. The next winter Olympics will be in Sochi, Russia, so Putin and the gov't are going to do everything they can to restore former glory.
Revenge Of The Nerds II
Former Ivy Leaguers Lead USA To NACAC Wins Max King (Cornell alum) led the men to a 1-4 sweep with the help of Michael Spence (Princeton), Bobby Mack (NC State) and Tom Kloos (Columbia). The senior women were led by race winner Delilah Dicrescenzo (Columbia).
Revenge Of The Nerds I
Kyle Merber Becomes Second Sub-Four Indoors In Ivy League The deluge of Americans breaking 4 continues in 2010, as Columbia's Kyle Merber became the 2nd Ivy Leaguer ever to run sub-4 indoors with the win and all-time Ivy indoor best in 3:58.52, while LetsRun favorite, Maine's Riley Masters, went sub-4 again.

More NCAA Results:
*Notre Dame's Alex Wilson Invite Full Results
*IC4A Final Results
*UW Last Chance Meet Results U. of Minnesota's Ben Blankenship auto-qualified for NCAAs with a 3:57 win in the men's mile. Galen Rupp was 3rd in the mile in 3:58.79 and then an hour and a half later won the 800 in 1:50.64.
*2 Of Todd Harbour's Baylor Bears Run 1:48-low
*AJ Nation Auto Qualifies In Mile AND Beats Rupp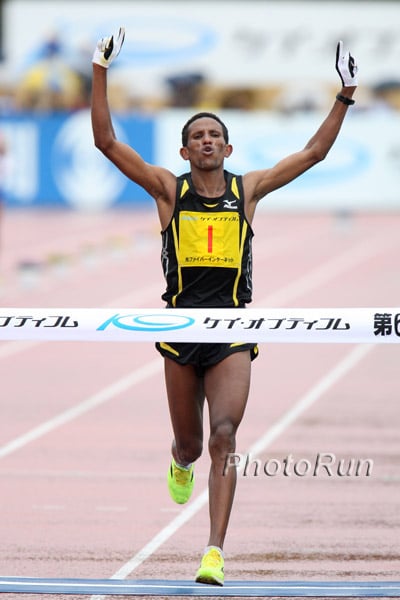 Yemane Tsegay Wins Rainy Lake Biwa Marathon In 2:09:34 After the pack crossed halfway in 64:07, Ethiopian Yemane Tsegay broke away, running 2:54 kms and building a 1-minute lead by 30k before he began to slow considerably in the later stages.
*Video Highlights
*IAAF Recap w/ Top 10 Results Hendrick Ramaala finished out of the top 10.

Wilson Kiprop and Atsede Bayisa Win Paris Half Marathon

Bekele Among Big Stars Competing In Prefontaine Classic This July
Before We Forget - Tokyo Marathon Photos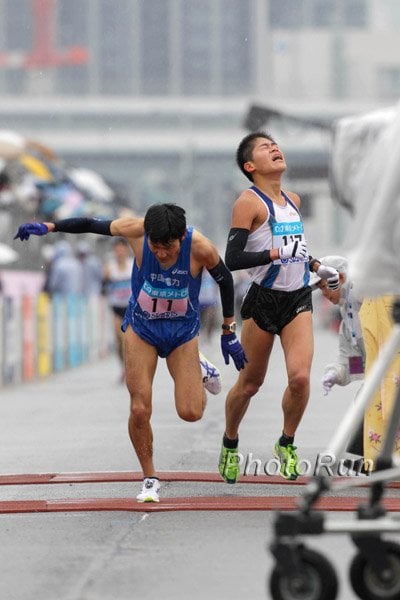 *New LRC Content Photos From Bad Weather Tokyo Intl Marathon Despite terrible conditions, the toughest marathoners on the planet (that would be the Japanese) had 6 under 2:13:16. Thanks to PhotoRun.net for the photos.

*Japan Running News' Excellent Race Recap And Results

*LRC Robert Johnson Talks Tokyo Marathon In LRC Week That Was Only 7 Americans ran 2:13:16 or better in 2009. 6 Japanese marathoners did it in tsumani conditions in Japan this weekend.
30 Years Ago, Craig Virgin Won The USA's 1st World XC Title 30 years later, he is still the only American senior male World Cross-Country champion (he repeated in 1981). Read all about Virgin and his great feat in an absolute must-read by Randy Sharer.
Almost There: Celebrating 10 Years Of LetsRun Perfection
Khalid Khannouchi - Not Done Yet
Khalid Khannouchi Is Attempting Another Comeback Former world record-holding American Khalid Khannouchi is in Mexico with his wife and orthotics trying to hold his body together for another run at greatness. It's so cool that Paul Tergat, Haile Gebrselassie and Khannouchi are still going for it despite being almost 40 years old.

Michael Johnson on Usain Bolt - "If it were me, I would move to the 400 now." Is he crazy? The 100 is where the money's at. Maybe Michael Johnson is playing mind games in hope that his record doesn't get broken.
*Update: Jamaica vs. US Sprint Clash Not Being Discussed

Mehdi Baala Of France Receives His 2008 Olympic 1,500m Bronze Medal Baala doesn't really fit in the same category as Khannouchi or Bolt, but everyone's a king for a day.
Marion Jones And Former Arkansas Coach Nolan Richardson Talk About Her WNBA Tryout With Tulsa Shock Marion Jones might have found the perfect fit in National Collegiate Basketball Hall of Fame coach Nolan Richardson, who is known for the up-and-down, play of the final four Razorbacks of the 90s.
*Richardson's Interesting Wikipedia Entry
News From Kenya
Recommended Read: Inspiring Piece On France's Bouabdellah Tahri He'll run the 3,000 at the Doha Indoor Championships.
*Video Of Boubdellah Tahri Training In Kenya
*Tahri YouTube Interview In English Thanks go to two LetsRun readers for the links.
Tahri holds 2 European records (steeplechase and indoor 5,000) and he's virtually unknown to most track fans. He finally got a World Championships medal in 2009 in the steeple but he had to run 8:01 just to get bronze by the narrowest of margins in 8:01.
LRC Training Talk #5 With John Cook John Cook, the coach of many of the US's top mid-d pros, including World Championships bronze medallist Shannon Rowbury, was our featured guest on Thursday and Cook was his entertaining self throughout. No topic was off limits as we talked about his evolution as a coach, the role of drills and mileage, how not to get stress fractures, how big of a problem drugs are in the sport, and even the departure of Shalane Flanagan and Erin Donohue from his training group. Along the way, Cook also talked about many of the biggest names in the sport, including Abdi Bile, Galen Rupp, Alan Webb, Leo Manzano, Alberto Salazar, Dan Pfaff, Peter Coe and others. Listen to the 75-minute podcast on the left or ...



Breaking News: Letsrun.com Has Learned How To Use iTunes There was champagne flowing in LRC headquarters this afternoon as we listened to Rojo interview John Cook on iTunes and our iPod.
*LetsRun.com Training Talk Main Page Find all the Training Talks here.
World News
Remembered For Great Contribution To The Sport
Long-Time West Coast Running Contributor Doug Speck Dies Of Melanoma
Alan Webb's House On The Market In Reston
LRC Ed Torres Hangs Them Up Foot Locker XC, CU's 1st NCAA XC national title, and 3 US teams to his name.
Popular Threads Tuesday On LetsRun
Better Than Advertised: Video Of Usain Bolt's 43.58 Relay Split (Anchor Leg)
Usain Bolt On The 400m
"The 400 I don't want to do, but I think I'll do it in the future because my coach can be very convincing. And he'll find some argument for me to do it." Usain, how about this argument: you'll be the first man under 43. Watch MJ's 400m WR.
80-Year-Old Coaching Legend Joe Newton Talks (More Here)
Help Your Dreams Become Reality: LRC Training Talk - Listen To Our First Episodes
Recommended Reads - You Can Buy The Books Online
One for the Mind: Running Within
One for the Soul: Best Efforts
More Great Deals