LetsRun.com: The Week That Was In Running: March 8 - March 14, 2010
By LetsRun.com
March 15, 2010
To read last week's LRC Week That Was, click Here.
To read any 2010 LRC Week That Was, click Here.
Last week (particularly last Friday and Saturday) was an amazing one for track and field fans, as you had World Indoors and NCAAs taking place on the same days. We won't recap the meets here for you (you can see a bunch of links to coverage at the very bottom of this article in a table) but will try to point out some interesting tidbits for you.
NCAAs - Ashton Eaton Impresses

At NCAAs, the biggest story coming from the meet was obviously Ashton Eaton's world record of 6499 in the heptathlon. The guy is an animal and better than most college track teams all by himself. Last year's high school record holder, Curtis Beach, set a new 1,000-meter record in the men's heptathlon (2:27.88). So congrats on that. Now we know there are some who see his 12th place overall showing and think Beach should give up on the multi and become a middle-distance runner. History will tell if they are right, but we'll point out that Beach's PR this winter (5579) is better than Ashton Eaton's from his freshman year (5370).
Other than Eaton, what stood out for us obviously was UVA freshman Robby Andrews taking down Olympian Andrew Wheating in the men's 800. Their duel was great to watch, as was the Angela Bizzarri - Lisa Koll clash at 3k.
Men's Milers Fail To Impress


Seeing true frosh Mac Fleet get 2nd in the mile was impressive, although we must rip on the men's mile a bit. 22 milers broke 4:00 this year (and everyone of them who wanted to run the mile ultimately got in as six didn't declare), but the vast majority of them clearly did it in time trial affairs, as no one came even close to touching New Mexico's Lee Emanuel in the NCAA finals. After a 2:03 opening 809m, Emanuel ran a 57.4 3rd 400 and opened up a 2-plus second lead and basically zero people tried to respond to the move. Come on guys. All of you had to run sub-60 per 440y to get into the meet; can't one of you at least stay close on the 3rd quarter with a national title on the line?
Of the entire 10-person final besides Emmanuel, only Ohio State's Jeff See (59.19) ran a sub-59.5 on the third 400. He and Montana State's Patrick Casey and Oregon's AJ Acosta were the only guys in the field within 3 seconds of Emmanuel at 1,200.
But by now we all know who did well, how about who didn't do as well as expected?

We decided to take a look at the automatic qualifiers for NCAAs in the mid-d and distance events, and see who didn't score or finish in the top 8 or 10. In the men's 800, three auto qualifiers didn't make the final in Baylor's James Gibreath (#9 seed), as well as freshmen Casimir Loxsom of Penn State (#8 seed) and Elijah Greer of Oregon (#3 seed).In the women's 800, seven of the 8 autos made the final with only Missouri's Shannon Leinert (#4 seed) not advancing. In the men's mile, the auto guys did pretty well, as six of the eight advanced, with Minnesota's Ben Blankenship (#3 seed) and Columbia's Kyle Merber (#6 seed) being the only casualties out of that group. In the women's mile, the top seeds dominated things, as the top 4 places all came from the top 5 seeds, with Villanova's Nicole Schappert being the exception (#4 seed didn't make the final).
In the 3k for men, Cal's Michael Coe was the only auto guy (ignoring Lee Emanuel, who doubled back) to not finish in the top 10, as he was 13th, completing a subpar weekend for him, as he went from 1st to 4th on the anchor of the DMR as well. The women's 3k was bound to have some auto qualifiers not finish in the top 10, as there were 11 autos in the field. Those not making the top 10 included Nova's Bogdana Mimic (#4 seed was 12th), Western Kentucky's Janet Jesang (#9 seed was 13th) and Oregon's Jordan Hasay (10th seed didn't finish doubling back from the mile).
In the 5k, 4th seed Ryan Collins of UVA was 11th in the men's race. In the women's race, #2 seed Nicole Blood fell and didn't finish. Other autos finishing out of the top 10 included Stony Brook's Holly Van Dalen (4th seed was 14th), Cal's Deborah Maier (8th seed was a DNF), Florida's Rebecca Lowe (9th seed was 13th), Oregon's Mattie Bridgmon (10th seed was 15th), W. Virginia's Clara Grandt (#12 seed was 11th), Western Kentucky's Janet Jesang (13th seed was 12th).
World Champs - Tamgho Gets World Record

From Worlds? The most impressive thing obviously from our end with an eye towards the mid-d and distances were the two American medals. Bernard Lagat was utterly brilliant in the men's 3k and Alysia Johnson was a huge pleasant surprise in the women's 800 and they both deserve two Thumbs Up. It was a thing of beauty to watch Lagat dominate a race like he did (if you haven't watched the race, you can find the video here).
But overall, the most impressive single thing may have been 20-year-old Teddy Tamgho's world record jump of 58 feet, 8 3/4 inches in the triple jump (video here). What people may not realize is that Tamgho's WR came on his 6th jump and heading into that round, he was only in 2nd to Cuba's Yoandris Betanzos.
The men's 60 hurdles was also a very high-quality affair, as American Terrence Trammell set a new American record of 7.36. That was the good news for Trammell. The bad news? He lost to Cuba's Dayron Robles, who ran a championship record 7.34. Liu Xiang fans (meaning all of China) might want to be a little concerned, as Liu only managed a 7.65 in Doha, which placed him 7th - well off his 7.42 PR. Xiang and his coach said, coming into the meet, that he wasn't in very good shape but felt like he should go to represent his country. For that we give him a lot of credit, as most former champions refuse to go to a big meet when they know they will likely lose.
What else was newsworthy that you may not have noticed? Well, Valerie Vili lost in the shot put for the first time since September of 2007, as Nadzeya Ostapchuk took home the gold.
Stat Of The Week #1
So on the men's side of things, who had the performance of the week according to the IAAF scoring tables? Was it Ashton Eaton's world record, Dayron Robles' championship record or Teddy Tamgho's world record? And the winner is ... Well, it's a tie. Eaton's 6499 is good for 1258 points as is Robles' 7.34. Tamgho's world record is good for only 1254.
Performance Of The Week

Kalkidan Gezahegne's Amazing Semifinal
The previous stat aside, the performance of the week from last week for us wasn't Ashton Eaton's world record or Teddy Tamgho's world record.
It very well may have been something you haven't even heard about. Hands down the performance of last week came from 18-year-old Ethiopian Kalkidan Gezahegne, who proved she is a star (just as we predicted, we might add) by winning the women's 1,500 at Worlds. But her win at Worlds wasn't her most impressive feat of the weekend. In the first round, Gezahegne was tripped 2:07 into the race and yet she somehow got up and won her heat in 4:08. How anyone can get knocked down in the middle of a 1,500 and get up and win their heat at a global championship is beyond us. Truly remarkable. Despite the fall, she ran her last 800 in 2:11.

You can watch the fall and the last 2:01 at the video on the left.
Chris Brown Wins 400 Gold ... Or Does He?
When it comes to major championships, Chris Brown of the Bahamas is normally snake bitten. Outdoors at the 2005 Worlds, 2006 Commonwealths, 2007 Worlds, and 2008 Olympics, he finished 4th in the 400. In 2009, he was 5th at outdoor Worlds. If anyone deserved a gold just for perseverance, it is Mr. Brown, so it was great to see him take home the gold at World Indoors.
Of course, we don't want to rain on his party too much, but the guy is amazingly good at being 4th- or 5th-best at every major championship. And guess what? He really was only 4th or 5th best this weekend, as his winning time of 45.96 would have tied him for 4th fastest on the weekend, as three guys ran faster at NCAAs. Yes, that's right, D1 NCAAs are so good that Chris Brown wouldn't have even been top 3 at NCAAs with his time at Worlds

Actually, the winning time at NCAAs in both the men's and women's 400 would have easily taken home the gold at Worlds. At NCAAs, Georgia sophomore Torrin Lawrence ran 45.23 to win the men's and Hampton's Francena McCorory ran an American record 50.54, which easily would have crushed Debbie Dunn's 51.04 in Doha.




Performance Of The Week #2

It would be hard to top Gezahegne, but one person may have done it last week. It's certainly debatable.

If this wasn't the top performance from last week, it certainly was 2nd. The second most impressive performance last week came from us. Yes, ladies and gentleman, there is a reason why you spend hours each week (or day) on LetsRun.com - because we understand the sport better than everyone else.
We must take some time to say we absolutely nailed our NCAA men's predictions. Most of the credit goes to Employee #1, Emory Mort, as he correctly picked 1st and 2nd in order in the men's 400, men's 3k, men's 5k and men's DMR. In the men's mile, he was almost as good, as he correctly picked the winner (as well as the only guy that would try to go with him). And in the men's 800, he was even better, as he correctly picked the top 3 in order, including Robby Andrews' shock win but we thought his pick was too outrageous and Letsrun.com co-founders Rojo and Wejo made him change it. He didn't do as well on the women's side, but he did pick the top-4 in the women's DMR... in the wrong order.
Email Of The Week
This section this week is going to be a bit controversial we're sure, but hey - our job isn't to be PC and popular, it's to provide hard-hitting analysis. We received an email from a guy in California this week who wishes to remain anonymous. In this email, he wondered why so much hoopla was made about Caster Semenya having hermaphroditic characteristics but not other female sports stars. The emailer thought many top female athletes in other sports/events looked or sounded equally hermaphroditic but nothing was said about it and he used two top female athletes that have been in the news recently. He cited Baylor basketball player Brittney Griner and 2010 world indoor shot champion Nadzeya Ostapchuk as prime examples.
The emailer was black and did think racism played a part in the Semenya case but didn't really want to talk about racism for he wrote, "Discussions on racism are tired. They most often boil down to our exchange: it's racist, it isn't. Now, I didn't find Letrun's coverage of Semenya racist, for what it's worth."
His biggest complaint was about sexism. Females that look/sound like males are tolerated in certain sports/events but not others in his mind. Here's the excerpt from his email that we thought was certainly thought-provoking:
Though, the "ism" I was driving at it is this: it seems acceptable for throwers to look hermaphroditic, but not runners. But, this hypothesis is too challenged, for there are any number of other runners who look hermaphroditic -- Ana Guevara, Jarmila Kratochvilova, Maria Mutola. On hoopsters, you'll find plenty, not just Griner, who look hermaphroditic. And more in other sports, softball, water polo, soccer, lacrosse, etc.

So, the interesting, newsworthy story is why was just Semenya covered when there are so many other hermaphroditic women athletes out there?
It's certainly a good question. We definitely think there is a double standard but also think that in team sports, it's not as big of an issue, as one athlete doesn't win or lose all by themselves. Any ideas? Email them to us.
Email Of The Week #2/Interesting Website Of The Week
The email pretty much is self-explanatory.
Dear LRC,
First of all, thank you for LRC. I visit daily and enjoy reading your stories.

Today I chuckled a bit when I read your Day 3 coverage of Doha, where you pat yourself on the back for having caught on the talent of Kalkidan Gezahegne last month before Boston Indoors. Reason for my chuckle is my own blog entry, telling "the world" to take note of her, 6 months before LRC did. Of course, the blog gets 1/1,000,000 of your visitors but it is a labor of love for an expatriate Ethiopian living in USA and crazy about sport of running. As an Ethiopian, once in a while I get the inside track on Ethiopian athletics :)

You can read the particular blog entry about Kalkidan Gezahegne at http://www.roocha.net/2009/08/team-ethiopia-in-berlin-day-7.html and the blog itself is at http://www.roocha.net/

By the way, ROOCHA = "running" in Ethiopia's official language, Amharic.

Thanks and looking forward to tomorrow's LRC, everyday.

Abiy Zewde
(AKA Roocha on Roocha.net)
1. Charlotte Browning, SR Florida (GBR), 4:35.66
2. Katie Follett, SR Washington, 4:36.39
3. Pilar McShine, SR Florida State (TRI), 4:37.20
4. Jordan Hasay, FR Oregon, 4:38.29
5. Mihaela Susa, JR Oklahoma State (ROM), 4:38.97
6. Anne Kesselring, FR Oregon (GER), 4:40.39
7. Caroline Karunde, JR Texas Tech (KEN), 4:40.64 PB
8. Keri Bland, JR West Virginia, 4:42.79
9. Dina Nosenko, SO Wake Forest (UKR), 4:43.73
10. Heidi Gregson, SO Iona (AUS), 4:55.76
Stat Of The Week #2
Did you know that 7 of the 10 finalists in the women's mile at NCAAs were foreign? It's certainly an interesting stat as, historically, there have been way more foreigners on the men's side than the women's.
But this year, the foreign breakdown on the men's and women's side was fairly even for the top 10 if one ignores the women's mile. The breakdown was as follows:
Men: 800 - 2 of top 8, Mile - 2 of top 10, 3k - 4 of top 10 (2 Canadians 9th and 10th), 5k - 3 of top 10.
Women: 800 - 1 of top 8, Mile - 7 of top 10, 3k - 2 of top 10, 4k - 4 of top 10.
D2 Nationals: Nothing More Than An Intra-Squad Scrimmage For Adams State
The NCAA D2 nationals were also held last weekend and yet again people may complain the meet didn't receive the coverage on LetsRun.com that it deserved. Well, this year, the reason why it didn't get top billing on LetsRun.com is because the meet turned into an Adams State time trial on the men's side. Their intra-squad scrimmages are apparently way more competitive than most meets, as the Grizzlies went 1-5 in the D2 men's mile and took 6 out of the top 7 in the men's 5k. 65 points in 2 events and the meet is essentially over. For Adams St. it was their first indoor track national title, breaking a long string of titles for St. Augustine's and Abilene Christian. It's a good thing for the other teams that at the D2 level that there is no 3k indoors in DII. Interestingly, the meet was held in Albquerque (5000 feet altitude) and Adams St. trains at altitude. In women's action, Lincoln (Mo.) took home the title.
The D3 meet also was last weekend. Congrats to North Central for taking home the men's title and for Wartburg for winning the women's.
And since everyone seemingly gets offended if we don't mention every single national meet that took place, we should also point out that there were two high school national meets. The better distance action was at the NIN meet in Boston, where Fayetteville-Manlius' Alex Hatz ran the fastest indoor mile in high school-only competition in history (4:05.50). The rumor is that a sub-four attempt is in the making for outdoors.
And we mentioned Hatz for a reason - it has to do with our coverage of the D2 meet and particularly D3 meet. If a high schooler could win a college nationals, then it doesn't deserve nearly the same type of coverage as the D1 meet. Emily Lipari's 4:42 was also pretty darn fast in the girls race at NIN. Before getting too much hate mail we should say we know that D2 mile champs Jessica Pixler and Aaron Braun ran the championship meet at altitude and are both capable of much faster than 4:46 and 4:07 miles.
More: *D2 Results *LRC Thread On D2 Meet *NCAA D3 Men *NCAA D3 Women *NIN Results *NSIC Results *HSer Alex Hatz "Becoming Absolute Running Machine" *Alex Hatz Breaks Alan Webb's Meet Record At NIN Mile
Example 1 Million of A Baseball Owner Not Paying Any Attention Or Caring About Drug Abuse In Sports

Thumbs Down to the Honda Los Angeles Marathon and it's owner Frank McCourt. We received an email from an outraged agent this week, who wrote us the following:

Just to let you know, the LA Marathon will not conduct drug testing this year nor did they last year ... Which in my opinion, it a bit crazy ... I don't know if they don't want to spend the $ or perhaps Frank Mc Court doesn't want any more drug-related stories after last year's Manny Ramirez incident.
We followed up this tip by contacting the LA marathon to see if it's true that they aren't drug testing in 2010. And yes, it's true. And all we can say is it's shameful and it shows two things. 1) Frank McCourt - the owner of the marathon and also the owner of the LA Dodgers - doesn't care about illegal performance-enhancing drugs in sport. 2) The LA Marathon doesn't really care about elites or view them as an important part of the marathon's success. If the elite, pro race was viewed as integral part of the marathon, it's clear they would have drug testing. And the LA Marathon's response to us basically said as much, as their email read in part, "The focus for this year has been the re-invention of the race along a new course and the accommodation of a capacity field of 25,000, with only a compact roster of elites. As the race, and the elite field, expand, drug-testing of the elites will be added."
And guess what. The LA Marathon just sold out. We sure hope they use some of that revenue next year to drug test elites. If they don't, we'll stage some sort of boycott/protest.
A Stagnant 800 Meters
Last week, we mentioned how the Australian national record in the 800 is 41 years old. Well, LetsRun.com visitor Justin Rinaldi wrote us a great email that said that's not that unusual. The 800 really hasn't advanced very much over the years as shown by the following:
The USA's will be 25 years old this year, Great Britain's 29, Germany's 32, Belgium's 34, Yugoslavia's 36 and Italy's 37 (all 1:44.07 or quicker). The 800m hasn't improved that much over the last 40 years!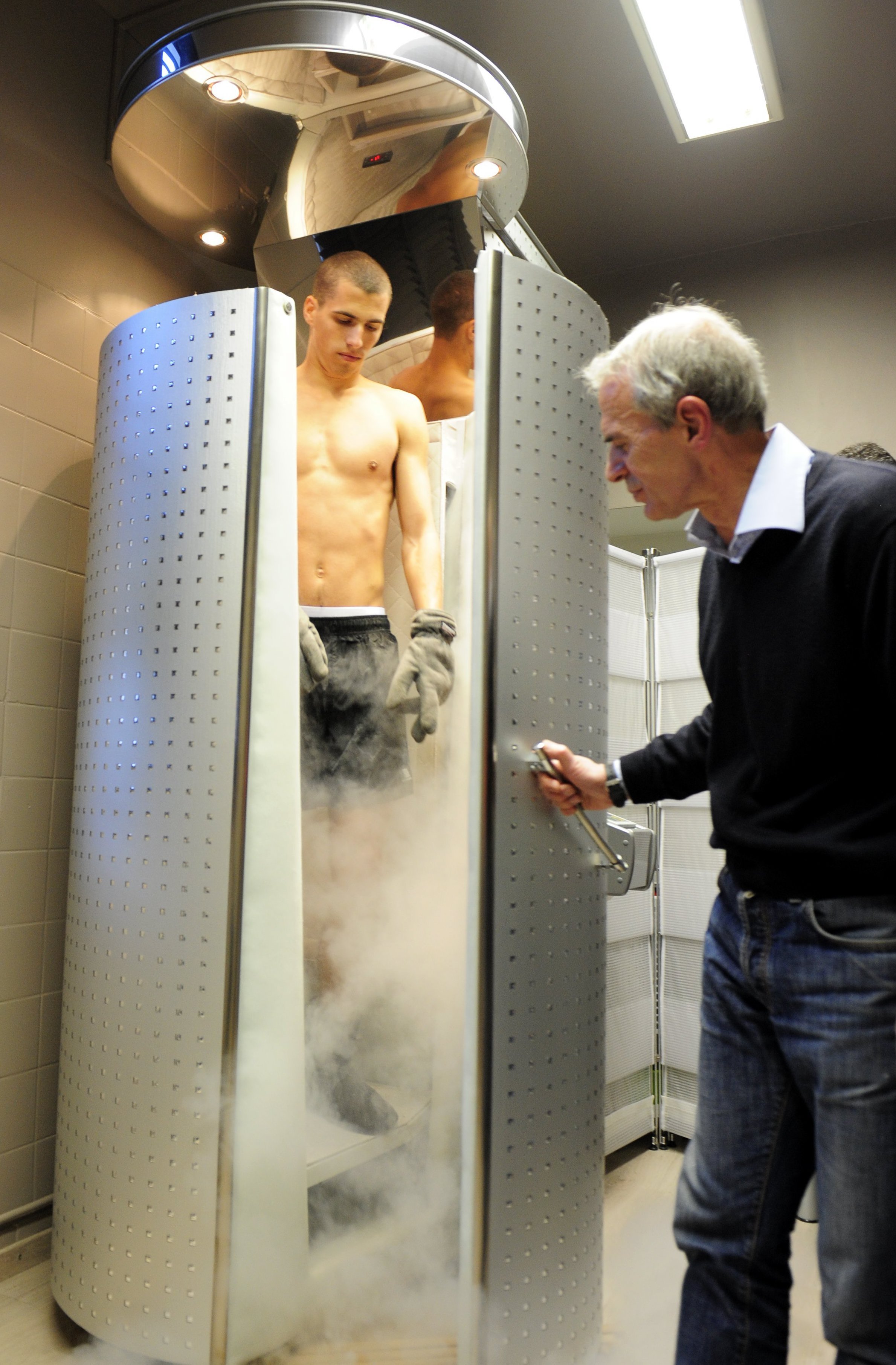 Cryotherapy
What In The Hell???
Nothing like getting ready for World Indoors the old fashioned way - uh we mean the modern 2010 way. The picture on the right was sent to us from Belgium and shows how the Belgium 4 x 400 team got ready to compete in Doha. Nothing like some old fashioned Cryotherapy.
Cryotherapy is cold therapy and we mean really cold - the emailer thought it was "-135C (-211F if I'm correct)." With temperatures that cold, apparently the athletes only take it for "about 2min, wearing gloves and shoes."
We guess it works, as Belgium, led by two (former?) Florida State sprinters Kevin and Jonathan Borlee, finished 2nd in the men's 4 x 400.
Alberto Salazar - get your hands on one of those immediately.
Feeling Charitable?
Click here to learn about fiftytwo4mom.org and a runner that is doing 52 races across the US trying to raise awareness and money for funding into research on Optic Nerve Disorders.
Remembering The Last Week With The Quotes Of The Day - Day-By-Day:
Monday:
Sunday: 6499
- New men's heptathlon world record set in Doha Fayetteville.
Saturday: "Bryan who?"
- University of Oregon multi coach Harry Marra after Ashton Eaton's Day 1 heptathlon performance at NCAA Indoors.
Friday: "People are starting to realize that Angela is pretty good, that she's one of the better distance runners that's come around for quite a while ... But once again, I think people will remember her for that quiet little girl that ran really fast and had a monster kick."
- Angela Bizzarri's coach Jeremy Rasmussen in an article about the multiple-time NCAA champion. Bizzarri will run the 3,000 this weekend at the NCAA Indoor Championships.
Thursday: "I have more faith in the sport and I have more faith in myself. I respect myself more. I am not lying to myself."
- British sprinter Dwain Chambers, who has returned to the sport after admitting to cheating. Now that Ivory Williams has tested positive for marijuana at the US championships, Chambers will be the #1 seed for a World Championships medal in Doha.
Wednesday: "I'm always a true believer that whatever is there for you, you will get. No panic whatsoever. If something is there for me, it's going to wait for me. That's why I'm motivated now and trying to work harder, put in more energy and more focus, more sacrifice and more dedication, and I'm hoping for the best."
- A profound quote from Khalid Khannouchi, still chasing the dream at age 39.
Tuesday: "Whether it's sports, business or love, timing is everything. I timed that last lap-and-a-half better than what anybody else did. Part of it was instinct and part of it was practice."
- American Craig Virgin talking about the kick that earned him America's first World Cross-Country title 30 years ago from today. Virgin is the only American to have ever won a World Cross title. He repeated in 1981.
Last Week's Homepages
*Mon (March 8) *Sun (March 7) *Sat (March 6) *Fri (March 5) *Thu (March 4) *Wed (March 3) *Tue (March 2)
---
Runner's World &
Running Times



Combined Only $22
a Year
Save $87

---

Running & Track and Field Posters
---


More Nice Offers: Nike Lunar Glide Savings Super popular shoe from Nike featuring Flywire and Lunar Foam

*Nike Air Max Moto Sale $69.99 for this shoe from our partner.
---