The Week That Was In Running - November 9 - December 5, 2010: Fukuoka, Working Hard For A Living, Cal International And NXN
To read last week's LRC Week That Was, click Here.
To read any 2010 LRC Week That Was, click Here.
By LetsRun.com
December 7, 2010
Thoughts About 2010 Fukuoka
Unless you are a fan of high school action, last week was another modest one in terms of actual races. The biggest pro race of the year came from Japan, where the 65th Fukuoka marathon was held. The results in some ways were the same as they have been for the last four years - a Beijing Olympic marathon medallist won. In 2007, Samuel Wanjiru won in Fukuoka in his marathon debut and then went on to marathon gold the next year. In 2008 and 2009, Olympic bronze medallist Tsegeye Kebede was the victor. This year, Kebede elected to not defend his crown as he went for the $500,000 world marathon jackpot in Chicago, where he was the runner-up to Wanjiru. The left the door open for Beijing silver medallist Jaouad Gharib to win in Fukuoka, which is what he did quite comfortably in 2:08:24 - his first win in a marathon since the 2005 World Champs.
In the somewhat warm conditions (a report we saw said the temps approached 20 Celsius, which is 68 Fahrenheit, which is pretty warm considering there was no cloud cover), no Japanese man ran faster than 2:10:54 and the Japanese are a bit up in arms that after 8 sub-2:10s in 2008, it looks like for the second straight year only one Japanese runner has broken 2:10.
The Japanese shouldn't be too upset; they still are way ahead of the US in terms of marathon depth.
# Of Marathons At 2:12:00 Or Better In 2010
USA - 5
Japan - 9

# Of Marathons At 2:12:00 Or Better In 2009
USA - 3
Japan - 5
It's also worth noting that in Fukuoka, there were a few interesting names farther down in the results, as pointed out by Japan Running News' Brett Larner.
First of all, there is a reason why Japan has more marathoning depth than the US - in Japan, even guys in wigs can run 2:19. For the 2nd time, Nobuaki Takata has run a 2:19 marathon while wearing a wig. To understand what type of wig we are talking about, please read this piece on him from 2009: Man In Wig Speaks.
Additionally, 2010 100km world champion Shinji Nakadai ran 2:29:44 at Fukuoka.

Age group ace, Yoshihisa Hosaka, the 60+ world record holder, ran 2:45:16 at age 62. In February of 2009, he ran 2:36:30 at age 60. At age 50, he ran 2:32:27.
A Really, Really Tough Way To Make $77,000 A Year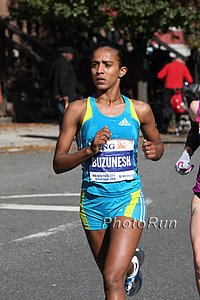 Quick, how much money do you make? We ask because we were going to ask if you'd like to trade with someone who made $77,000 this year. But since we just remembered that when we were five, our parents told us never to hit a girl or to ask someone how much money they make, we ask that you kindly scratch that first question.
Let us start again. Would like you to be a professional runner and make $77,000 in a year?
Likely, you said yes. Well, when we tell you what it might take to make $77,000 unless you are a big star or an American with an endorsement contract, you might change your answer.
Let us introduce you to the amazing Buzunesh Deba. The 22-year-old Ethiopian was in the news last week because she ran her third marathon in 64 days last week at the Cal International Marathon. Not only was it her third in 64 days, but it also was her 5th in 2010. The result?

The same as it almost always is for Deba - a win and a fairly good time - this time 2:32:13.
Below are the five marathon results for Deba in 2010.
February 21st - National Marathon to Fight Breast Cancer - 1st in 2:33:08 CR - $10,000
June 19th - Grandma's Marathon - 1st in 2:31:35 - $12,000
October 3rd - Medtronic Twin Cities Marathon - 1st in 2:27:24 PR - $25,000
November 7th - ING New York City Marathon - 10th in 2:29:55 - $7,000
December 6th - California International Marathon - 1st in 2:32:13 - $10,000
That's certainly a very tough way to make $64,000. Now, $64,000 probably goes a long way in Ethiopia, but Deba actually lives in New York City where the proximity to races is certainly offset in large part by the high cost of living. $64,000 doesn't go all that far in New York and thus Deba didn't just race five marathons in 2010. In addition to her five marathons, we've found 11 other races for Deba in 2010 - nine of which she won. The 11 races produced an additional $13,000 in prize money for Deba.
January 17th - Naples Daily News Half-Marathon - 1st in 1:12:50 - $2,000
April 11th - Run as One TGL Classic Presented by JPMorgan Chase (4 miler) - 1st in 21:30 - $1,000
April 25 - Kaiser Permanente Pike's Peek 10-K - 1st in $32:52 - $1,000
May 2nd- Blue Cross Broad Street Run 10 Mile - 1st in 55:13 - $1,500
May 8th - Newport 10,000 - 1st in 33:39 - $1,250
May 15th - Healthy Kidney 10-K - 1st in 33:09 - $1,000
June 12th - NYRR New York Mini 10-K - 9th in 32:37 - $750
June 27th - Straton Faxon Fairfield Half-Marathon (30th) - 1st in 75:43 - $2,000
July 16th - Subaru Buffalo 4-Mile Chase - 1st in 20:53 - $1,000
August 21st - Parkersburg News and Sentinel Half-Marathon - DNF after running off course (She was in the hunt for 2nd, which would have netted her $2,000)
August 29th - Chris Thater Memorial 5-K - 1st in 15:52 - $1,500
If only she'd found a way to run 1:16 faster at the 2010 ING New York City marathon. Then she would have been the runner-up and earned at least $70,000 for a single race.
More: Defending Champ, Grandma's Marathon Champ And NYC 10th Placer Buzunesh Deba Hoping To Win And Pick Up $10,000
More From The Cal International Marathon:
13 US Women Qualify For Trials At A Single Race/Dylan Wykes "Steals" The Men's Race In 2:12

The Cal International Marathon was also newsworthy for another reason - a slew of American women ran trying to make the 2012 Olympic Trials. In the end, the following thirteen dipped under the 2:46:00 standard. That's really good considering only three of them got paid for their efforts. Our apologies for forgetting about the CIM program that paid every "A" qualifier "$1000 and every "B" qualifier $500. We praised the program in March when we heard about it and then forgot about it.
Congratulations ladies!!!
At New York, which served as the US champs this year, 16 women got under 2:46.00
Olympic Marathon Qualifiers From 2010 Cal International Marathon
2. Erin Moeller, 33, Mt. Vernon, IA 2:37:33 5,000
4. Brett Ely, 31, Natick, MA 2:40:46 PR 1,000
5. Kelly Calway, 26, Manitou Springs, CO 2:42:19 DB 500
6. Jenna Boren, 33, St. Paul, MN 2:43:34
7. Heather MacFalls, 32, Menlo Park, CA 2:43:43 PR
8. Cheryl Smith, 30, Laguna Beach, CA 2:43:55
9. Sopagna Eap, 29, Beaverton, OR 2:43:59
10. Katherine Lindell, 28, San Francisco, CA 2:44:09 PR
11. Amanda Rice, 26, Portland, OR 2:44:12 PR
12. Melisa Christian, 34, Dallas, TX 2:45:26
13. Johanna Ottosson, 34, NZL 2:45:32 PR
14. Julie Lossos, 29, St. Louis, MO 2:45:45 PR
15. Gretchen Hurlbutt, 32, Boise, ID 2:45:52 DB
On the men's side at CIM, former 7:58 man for Providence, Dylan Wykes of Canada, ran a stellar 2:12:39 to get the win. Think he was pumped? Click on this link to see an amazing photo of Wykes expressing pure joy.
We've got to give props to Wykes for going for it and also to John Schumacher of the Sacramento Bee for writing a great post-marathon story. Normally a race recap is largely a waste of time, but after reading Schumacher's story, we felt like we were at the race. Of course, he did have some great material to work with.
Wykes won by ignoring his coach's advice to be patient and hammering out from the front to try to catch the other competitors off guard. Wykes got a 300-yard lead early and held onto it - but barely, as it was down to 75 at the end of the race. His aggressiveness resulted in a PR by 2:37.
Wykes certainly deserves Quote Of The Week Honors (That Wasn't Quote Of The Day):
NXN: Favorites Largely Win (As They Almost Always Do In Running)
The story of the day from the 2010 Nike Cross Nationals was that the two biggest names and favorites got the job done. 2009 Foot Locker champ Lukas Verzbicas added the Nike win to his resume and the Fayetteville-Manlius girls team got their 5th straight title in impressive style, as they scored a record low of 27 points (sadly, the second story of the day also seems to be that Foot Locker is apparently slowly on its way out).
But the fact that the favorites by-and-large did well at NXN shouldn't surprise you. There is a reason why in all sports people/teams are favorites - because they are the best. But one of the things that in our minds the average person doesn't realize about running is how much better the top people/teams are normally than everyone else. Time and time again, it certainly seems to us like running results want to end up like a classic bell curve.
When people are looking for reasons why running isn't more popular, one of the reasons may be that the favorite is so much better than everyone else and much of the drama of the event is lost. 1st is certainly way farther away from 5th in almost every race than 5th is from 10th and 10th from 15th.
Don't believe us? Well, take a look at the results from the NXN races as well as the NCAA D1 and D2 cross-country nationals.
The stats don't lie.
NXN Boys (Pre-Race Pick/Actual Finish)
#1 Lukas Verzbicas IL - 1st
#2 Craig Lutz TX - 3rd
#3 Jim Rosa NJ - 78th
#4 Ammar Moussa CA - 4th
#5 Edward Cheserek NJ - 2nd
#6 Tony Smorgiewicz SD - 9th
#7 Jack Driggs IL - 18th
#8 Ryan Urie CA - 7th
#9 Lane Werley CA - 6th
#10 Sam Pons CA - 21st

Gap Between Places
1-5: 20.6 seconds
6-10: 6.2seconds
11-15: 3.3 seconds

NCAA D1 Men (Pre-Race Pick/Actual Finish)
#1 Sam Chelanga - 1st
#2 Chris Derrick - 5th
#3 David McNeill - 123rd
#4 German Fernandez - 8th
#5 Colby Lowe - 9th
#6 Elliott Heath - 42nd
#7 Luke Puskedra - 3rd
#8 Girma Mecheso - 7th
#9 Dorian Ulrey - 11th
#10 Trevor Dunbar - 25th

Gap Between Places
1-5: 22.5 seconds
6-10: 16.1 seconds
11-15: 7.4 seconds

NCAA D2 Men (Pre-Race Pick/Actual Finish)
#1 Michael Crouch - 1st
#2 Daniel Kirwa - 42nd
#3 Amos Sang - 9th
#4 Luke Cragg - 11th
#5 Meschak Koyiaki - 2nd
#6 Marko Cheseto - 25th
#7 Glarius Rop - 23rd
#8 Ben Zywicki - 22nd
#9 Ryan McNiff - 6th
#10 Sean Brown - 19th

Gap Between Places
1-5: 17.6 seconds
6-10: 9.9 seconds
11-15: 2.0 seconds

NXN Girls (Pre-Race Pick/Actual Finish)
#1 Allie Woodward WI - 14th
#2 Jillian Fanning NY - 6th
#3 Rachel Johnson TX - 1st
#4 Haley Pierce DE - 5th
#5 Katie Knight WA - 8th
#6 Amy-Eloise Neale WA - 3rd
#7 Kayla Beattie IL - 12th
#8 Kelsey Margey NY - 20th
#9 Christie Rutledge NY - 2nd
#10 Samantha Nightingale MO - 19th

Gap Between Places
1-5: 31.8seconds
6-10: 2.5 seconds
11-15: 10.4 seconds

NCAA D1 Women (Pre-Race Pick/Actual Finish)
#1 Jordan Hasay - 3rd
#2 Sheila Reid - 1st
#3 Kendra Schaaf - 11th
#4 Lucy Van Dalen - 6th
#5 Emily Infeld - 2nd
#6 Risper Kimaiyo - 4th
#7 Laura Hoer - 21st
#8 Amanda Marino - 10th
#9 Allie McLaughlin - Didn't run
#10 Pasca Cheruiyot - 17th

Gap Between Places
1-5: 10.7 seconds
6-10: 6.9 seconds
11-15: 2.3 seconds

NCAA D2 Women (Pre-Race Pick/Actual Finish)
#1 Neely Spence - 1st
#2 Kristen McGlynn - 6th
#3 Sarah Porter - 2nd
#4 Alexis Skarda - 8th
#5 Christina Muir - 11th
#6 Katherine McCarthy - 4th
#7 Morgan Place - 5th
#8 Anaia Belledant - 65th
#9 Lauren Kleppin - 3rd
#10 Ruth Keino 7th

Gap Between Places
1-5: 32.7 seconds
6-10: 19.5 seconds
11-15: 7.6 seconds
(Stats For Above Chart Come From the LetsRun.com Prediction Contests, As Well As The Dyestat Girls Picks And Boys Picks For NXN)
Looking at the stats all together, it's pretty remarkable. Someone that was a top-five favorite didn't finish in the top 10 on only seven occasions. So 23/30 of the top 5 picks finished in the top 10. That's 76.67%. But two of the misses were people who finished 11th, so the stat almost was almost 83.33%.
There is a reason for this. In a race, first is normally way better than fifth and fifth way better than 10th but to a much lesser degree.
When people wonder why track and field isn't more popular as a more mainstream sport, one of the things that hardly ever gets mentioned is the fact that in running, favorites normally come through in major fashion. Contrast that to say one of America's most popular races - the Kentucky Derby - where a favorite has only won three times in 31 races dating to 1980. In the Derby, the 15th pre-race pick might win, whereas in running that just isn't going to happen unless you go back in time to the days of Billy Mills.
Of the six nationals listed above, the ultimate individual winner was picked no lower than third heading into the race and the pre-race #1 won four of the six races.
Overall, looking at the picks picked to be in the top 10, 54 of the 60 finished in the top 25 of their respective races. That's 90%.
Speaking of going with the favorites, during our NCAA Prediction Contest for the Division 1 meet, right before the contest started, we entered all of the favorites of the LetsRun.com faithful to see how they'd do in the contest. This is basically the same as picking all of the top seeds in an NCAA tournament pool for basketball. The results? Pretty darn good. If you click here (in classic letsrun.com fashion we had a typo in our login name entering "faithu" instead of faithful for LetsRun.com faithful), you can see that the collective inelligence of the LRC nation is way better than most people's individual intelligence, as the LRC nation's picks finished 182nd out of 838. And in terms of individuals, the results were even better, as going with the favorites would result in you finishing 134th out of 838.
NXN Dreams Do Become Reality (If Nike Says So)
Our favorite story out of NXN is that of girl's individual runner-up Christie Rutledge, who went from being on her team's JV last year, to being second at NXN this year. A truly amazing transformation. Granted she's on the powerhouse Fayetteville-Manlius team, so being on the JV is no small accomplishment, but Rutledge was the 6th girl on the JV last year at a meet when the varsity ran 9. So she was the 15th girl on the team, running 24:25 for 5k. Now she's running 17:30 for 5k. Truly incredible.
Ther is an interesting message board thread on Rutledge here. What explains Rutledge's transformation and the F-M girls' amazing success? EPO. No joke, some message board posters have implied the FM teams must be doping. That is crazy talk (we don't doubt some high schoolers dope individually, but systematic EPO doping at the high school level - no way).
What we think it shows is that success breeds success (and that we all can accomplish a lot more than we think possible). Telling a 24-minute 5k runner she can get second in the country is crazy talk. Telling a 24-minute 5k runner that if she lives the lifestyle and puts in the work, she can be as good as her teammates is perfectly reasonable. And at F-M, once you do that, you may have a shot at being #2 at NXN. This message board post sums it up well:
So there you have it - extremely hard work, good coaching, and perhaps most importantly the belief they can be the best is the key to F-M's success. (to read our listen to our Training Talk podcast with F-M coach Bill Aris, click here).
It reminds us of the time Wejo was in Kenya and he met a Kenyan male who had just started running and ran 2:08 for 800m. Wejo was shocked when the guy told him he wanted to get a scholarship to the United States or run professionally. How could a 2:08 guy think he could run professionally? It's not as crazy a proposition if a lot of people you know are doing it and you think if you put in the work you can be as good as they are.
Finally, let us turn to NXN girls winner Rachel Johnson. Not only does she have a great last name, but she's from the Dallas area where the Brojos grew up. Rachel had way more success early on than Rutledge but not as much as she wanted, and her sophomore year she was struggling in the sport. She stuck with it and went on to great things according to this nice Dallas Morning News profile from earlier in the year.
So surely when Rachel won NXN, she must have received a big story in the Dallas Morning News, which is regarded by many as having the best sports section in the United States.
Nope. She didn't even get an article. She got a one sentence mention. Last year's NXN champ Craig Lutz is also from the Dallas area, so it's not like NXN is totally unknown. He got two sentences (they had to say he won last year, which took up an extra sentence).
We've always been huge fans of the Foot Locker National Championship. It's pure, simple, easy to understand, and has a 30-year history. A high school team championship disguised as a club championship is confusing, hard to market and to be honest, outside of the schools involved, very few people care which "club" wins. Nike has realized this so it has aggressively recruited the top individuals the last few years as well and has done a good job at getting more of the top individuals.
No doubt NXN is incredible for the kids who get a free trip, meet some of the Nike stars of the sport, and get a bunch of free gear. But people need to realize that first and foremost it's meant to be great for Nike. There's nothing wrong with that. The Nike PR people directed us to this page http://magicbulletmedia.com/MNR/NikeCrossNationals2010/ for everything NXN. When we checked it out after the race, we could only laugh as it said:
What? This is supposed to be an athletic competition not some corporate announcement. We hope Manlius XC and Arcadia XC won the national titles whether Nike announced it or not. And what about the individual winners? They were not "announced" by Nike and get less attention on the Nike NXN page than the Nike elite athletes representing each team. Word to the Nike PR people - maybe when it's less about Nike and more about the competition, the journalists of the world will catch on that this is a serious athletic event.
On an aside, one question we've always had is what happens when people start gaming the system and creating all-star clubs that destroy the competition. Five pretty good individuals may not have a shot at qualifying individually but a good shot as a team. This thread claims this is against the rules. If that's the case, then lets drop the "club" competition pretense. These are high school teams competing for a national championship.
Another Recommended Read: Meet The Amazing Edward Cheserek The orphan showed up in the US in June with no luggage, just the clothes on his back. *2nd Great Article On Cheserek
From The LRC Archives: Training Talk With F-M Coach Bill Aris He's clearly doing something right with 5 straight girls championships and now 2 boys runner-ups.
More: *Live NXN Thread *Girls Results *Boys Results
Boys: Lukas V. Wins Edward Cheserek, a Kenyan kid now living in NJ, was 2nd (more on his NXN race here). Defending Champ Craig Lutz of Texas was third. Lukas will defend his Foot Locker title next weekend. Arcadia (CA) won the team title. The F-M Boys were second.
*Jim Rosa's High School XC Career Ends In Disappointment As He Was Just 78th Well, he should take solace that Chris Solinsky was 73rd at NCAAs in 2006. The article makes it sound like brother Joe Rosa is nowhere close to coming back.
*Recommended Read: Meet The Amazing Edward Cheserek The orphan showed up in the US in June with no luggage, just the clothes on his back. *2nd Great Article On Cheserek
On The Boards: Lukas who? Japanese high school kid runs 28:23 10k!!!!

Girls: Rachel Johnson Of Texas Wins It Johnson was only 3rd in her Foot Locker Regional last weekend, but has a good excuse, as girls in Texas only run 2 miles in XC. Next week she'll be back at the Foot Locker Nationals. The F-M Girls won their 5th in a row in a runaway.
*Fayetteville-Manlius Girls Win 5th Straight With Record Low Score Of 27 & Scary Thing Is They Might Be Even Better Next Year They only have one senior in their lineup. *Local Coaches Praise Powerhouse F-M Girls Program
From The LRC Archives: Training Talk With F-M Coach Bill Aris He's clearly doing something right with 5 straight girls championships and now 2 boys runner-ups.
Foot Locker West Regionals: The Field Is Now Set For Next Week's Nationals
---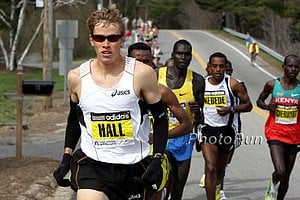 Other Happenings Of Note
LRC Ryan Hall To Run 2010 Boston Marathon It will be his first marathon without a coach.
*Message Board Thread
*LetsRun.com Poster Jaguar1 (Camille Herron) Wins White Rock Marathon In 2:42:32:30
---
Recommended Reads
*Meet The Amazing Edward Cheserek The orphan showed up in the US in June with no luggage, just the clothes on his back.
*2nd Great Article On Cheserek
*From The LRC Archives: Training Talk With F-M Coach Bill Aris
*Amazing Marathon Stats National records for countries, top 10 marathon times at the majors & much more. Plus lots of Fukuoka stats.
*Sports Economics: Daegu, Korea To Spend $190 Million On World Championships
---
Quotes Of The Day From Last Week
Monday: "She's a Cinderella story of monumental proportions. She worked, she stayed healthy, she put in the time, she improved, and bang, it all paid off."

- Fayetteville-Manlius coach Bill Aris talking about NXN individual runner-up Christie Rutledge, who went from 7th on the JV to 2nd in the country in just over a year. Like Rutledge, the F-M boys and girls teams also had storybook seasons, as the girls won a 5th straight national title with a record low 27 points on Saturday while the boys, who didn't even win the New York state meet, pulled a total shocker and finished 2nd at NXN.
---
Sunday: "He ran over steep mountains. He ran through a tropical rain forest. He ran across the rocky, muddy trails. He ran and ran and ran, stopping only to rest or take a quick drink from a river. Eleven hours and some 60 miles later, he finally arrived at his family's mud hut in Kenya."

- Excerpt from a great article on Edward Cheserek, who is a Kenyan now living in New Jersey and was a surprise 2nd at NXN. Cheserek really showed up at the Newark airport with the clothes on his back and an empty backpack. Cheserek: "It's like a dream come true."
---
Saturday: "You might run faster than me, but you won't train harder."

- Words of wisdom from the great Percy Cerutty. The inspiring quote comes from an article on Josephat Menjo but is appropriate, as Cerutty is someone we know who is used to inspire the Fayetteville-Manlius high school program, and the F-M girls are going for a record 5th-straight national title on Saturday.
---
Friday: "All I knew was that I had to cross the line."

- Holland Reynolds, who crawled across the finish line to give her team and coach, Jim Tracy, who has Lou Gehrig's disease, another state title. Her efforts got a huge story in the NY Times. Message board thread here.
---
Thursday: "I wasn't sure how recruit-able he'd be to Oregon. They look at 4:10 as just another guy on the team."

- Robb Munro, coach of New York HS phenom Chad Noelle (who has verbally committed to Oregon).
Don't know Noelle? Don't feel bad. He just won the Foot Locker Northeast race in just the third race of his cross-country career.
---
Wednesday: "Towards the end of last season, I saw something in Coach Hart I probably hadn't seen in four years. He just found a new spark and he's getting excited. For a while he was getting tired with traveling (the circuit) and didn't know if he wanted to travel as much anymore. Towards the end of last season, something hit him ... and it was like the early '90s with Michael (Johnson). So this season is going to be exciting for both of us."

- Jeremy Wariner talking in Monaco about his 2010 season and his upcoming 2011 season. Wariner has put his coaching change and knee surgery behind him and is ready for 2011 (and a possible world record attempt indoors).

Coming This Week: A lot of you loved yesterday's homepage video from 1974. We asked you all for some old-time classics and there seems to be some agreement for what should be next.
---
Tuesday: We Remember When World Records Were Set Without Rabbits


- It was a very slow news day and we couldn't find a good quote of the day, so we thought we'd show you Filbert Bayi's world record run in the 1,500 from the 1974 Commonwealth Games. What other races are worth watching on youtube? Email us your suggestions.
---
Last Week's Homepages
*Mon (Dec. 6) *Sun (Dec. 5) *Sat (Dec. 4) *Fri (Dec. 3) *Thu (Dec. 2) *Wed (Dec. 1) *Tue (Nov. 30)
---
Runner's World &
Running Times



Combined Only $22
a Year
Save $87

---

Running & Track and Field Posters
---

Great Offer: Nike Lunar Glide Sale Multiple colors of this shoe available.

*Nike Air Max Moto 7 Get 2 Pairs for a Crazy $112
---