Breaking News
Doug Logan Out At USATF Logan who less than two years ago was a unanimous pick to be USATF CEO by the search committee was canned by the USATF board on Monday. We're shocked he was fired especially considering USATF may owe him a $1 milliion severance. It'll be interesting to see why the board fired Logan. Logan's biggest problem besides the dysfunctional organization that is USATF, may have been promising too much. We thought the whole "Project 30" report was a waste of time about a non-existent problem. Nonetheless we gave Logan props for letting the Olympic Trials go to the highest bidder and want to see what the board says on this one. If you'd like to comment on Logan's firing on or off the record, email us or post in our forums in the threads below:

On the boards: USA Track & Field dumps CEO Logan
*Farewell Doug Logan, we hardly knew ya...
Lukas V Update
Foot Locker Champ Lukas Verzbicas Goes From 42nd To 4th On 5k Run Leg At World Triathlon Junior Champs
DecaNation Meet *Results
NCAA XC
Penn State: Penn State XC: Georgetown Women Win, Princeton Men Edge Georgetown
*Men's Penn State Results (Donn Cabral Wins)
*Women's Penn State Spiked Shoe Results

Former NCAA Mile Champ Sean Jefferson, Now A Pro Triathlete, Wins Indiana XC Meet We had no idea he had "gone to the dark side" last year.

It was a slow XC weekend, but the USTFCCCA website has more results.
Saturday Was A Really Slow News Day And We Are Trying To Find A Few Links That Might Interest You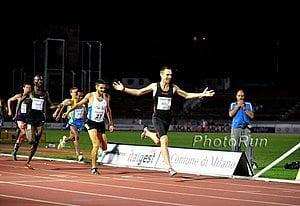 Nick Willis Runs 3:35.17 To Win As Alan Webb Runs 3:36.21 To Finish 5th! Fans of Alan Webb are starting to get excited as his comeback is officially on, as he ran just .35 slower than he did in 2008 when he flamed out in the Olympic year.
Want A Rematch? You've Got It!!! Lagat, Manzano, Webb And Willis To Clash On September 26th At Continental Airlines Fifth Avenue Mile In a day and age when people say there aren't any rivalries or races worth watching, this one looks like a real dandy.

Caster Semenya Runs 1:58.16 - The Fastest Time Of Her Comeback

*IAAF Recap Unheralded 20-year-old Ethiopian Almirew Yenew (a 13:16 and 7:46 guy) of Ethiopia crushed the field in the 3k, running 7:28.82. Asbel Kiprop basically quit over the final laps for the second race in a row.

*Milan Photos
News From Kenya & The Commonwealth
Sponsored Post
CLIF SHOT® ROKS™: Protein Bites For Recovery We at letsrun.com have always personally loved Clif Bars and the Clif Bar story. It's a company, independent to this day, started by a dude who on a 175-mile bike ride said, "I can make something better" and he did. Clif Bar's CLIF SHOT® line is all about delivery great-tasting, scientifically-backed, all-natural and organic sports nutrition to performance athletes. CLIF SHOT® BLOKS™, CLIF SHOT® Energy Gel and the newest CLIF SHOT ROKS provide athletes with the essential nutrition for their training and racing needs. Read more about this all-natural recovery product and a little more about the incredible Clif Bar Story (the founder started shaking when he was about to sell his company for $120 million and instead kept it private).
The Week That Was/Truth Stranger Than Fiction
LRC Week In Review Mark Twain once said that truth is stranger than fiction and last week, in terms of Chris Lukezic and Caster Semenya, that certainly proved to be the case. In terms of men's and women's 1,500s, the truth of the world's best two milers getting clobbered at the Continental Cup may seem to be stranger than fiction but we tell you why in reality, upsets should be expected as they are the name of the game in tactical 1,500s. All of that plus talk of Arthur Lydiard, Peter Snell, Bernard Lagat, Sean Quigley, Justin Gatlin and gene doping.

Usain Bolt's Book Gets Rave Review For Its Marital Advice
ING NYC News
Top Americans Antonio Vega, Tim Nelson, Blake Russell + Canadian Simon Bairu To Take Part In 2010 ING New York City Marathon Nelson is a 27:31 guy (faster than Alan Culpepper's PR) making his debut. American marathoning has come a long way when that doesn't get much notice. The women are competing for a $150,000 US only prize pool with no Deena Kastor.
Good Read: Nice Brief Chat With "Little Meb" (Simon Bairu)
Distance Tidbits
Not A Surprise
South African Olympic Committee's Report Accuses Athletics President Leonard Chuene Of "Gross Misconduct" In Caster Semenya Affair
*South African Committee Snubs South African Parliament
Sean Quigley And Magdalena Lewy Boulet Win US Titles At Stratton Faxon New Haven 20k Sean Quigley got his first US title and $8,000 in his first race over 15k as he triumphed over Mo Trafeh. Olympian Magdalena Lewy Boulet won the women's title over unheralded Stephanie Rothstein.
*More Coverage
*On The Boards: Deep field at New Haven 20k on Monday. Predictions?

Off The Road: Team USA Men Finish 2nd At World Mountain Running Champs

Off The Beaten Path: Michael Wardian Comes Up 52 Seconds Short Of $15,000 At Kauai Marathon

Previous: Rock N Roll Virginia Beach:
Songoka (KEN) And Ogi (JPN) Win Coolest Rock N Roll Va Beach In History Cool temps in the mid-60s were a gift to runners. 2009 Philly champ and Employee #1 vanquisher John Crews was the top American male in 9th (66:23) as he prepares for Baltimore in October.

More: *Linet Masai Wins Hyde Park 5k In 15:06 With Twell At 15:32, Pavey 15:53
Just [Don't] Do It
USAIN BOLT THREATENS TO PULL A JORDAN AND BECOME PRO SOCCER PLAYER
*Telegraph: Usain Bolt Wants To Play Pro Soccer After 4 More Years Of Running
*Bolt's Book Is Out: Excerpt - Bolt: "If there were medals for partying I'd have won them all."

Another Quality Photo: Arkansas Top 5 Cross Line Hand-In-Hand: One-Page Recap Of Opening Weekend NCAA XC Results USTFCCCA put together this page which allows you to see what Oregon, Stanford, Washington, Arkansas and others were up to in this weekend's opening glorified practices races.
A Look Back/Forward
Marathon News
"Niggles" And Successful Year Cause Mo Farah To Pull Out Of Commonwealth Games The concept of getting slaughtered by Kenyans probably didn't help things either.
NCAA XC Is Here
LRC 2010 NCAA Cross-Country Pre-Season Polls: Stanford And Villanova On Top It should be a great year on the XC fields across America, as a lot of teams on both the men's and women's teams think they can contend in Terre Haute. On the men's side, Stanford, Oklahoma State, Oregon and NAU all have a ton of guys back. Villanova is a stronger #1 on the women's side, but the UW Huskies will want to have something to say about that along with LRC fan #2 Oregon.
*Stanford XC Hoping To Return To Top paloaltoonline.com
*Wisconsin Looking For Its 15th Straight Year In Top 10 At NCAA XCs madison.com
*USTFCCCA Pre-Season Coaches Polls Released Stanford and Villanova #1, as in the LRC polls.
50 Years Ago - The Sport Was Changed Forever - Lydiard's Boys Won Double Gold For Tiny New Zealand
Drug News
Former University Of Iowa NCAA Standout Racheal Marchand Tests Positive For EPO Marchand was fifth at the NCAA XC champs in 2008 and quit her job this past year to train full-time for the 2012 Olympics for Puerto Rico. We and everyone else are bit late on this story, but this message board thread is all over it.
*Racheal Marchand Wins XC Race, Refuses To Talk To Reporter, Her Mom Blasts Reporter In Comments Section
*Flashback: Racheal Marchand Quits Her Job As A Drug Rep To Train Full Time For 2012 Games
On The Boards: Former NCAA standout EPO busted

Jamaican Editorial On Drugs Says Don't Go The Way Of USA "One recalls that not so long ago, Jamaicans would scoff at the achievements of American athletes within the context of their pervasive use of performance-enhancing drugs. While this has indeed been verified over time, we have to safeguard against a similar tarnishing of our yet favourable international sporting image, in the face of these mounting drug-related incidents."
News Travels Slow From Down Under
Sprint/Field News
Marathon/Half Marathon News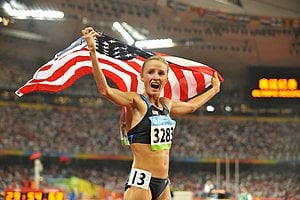 This Weekend In Philly Meseret Defar To Make Her Half Marathon Debut Versus Shalane Flanagan Great matchups on the men's and women's side. We're glad to see the Rock N Roll Series wants to stay in the competitive running sphere. Defar raced infrequently in Europe this summer but won the 3k at the Continental Cup last weekend. Doubtful she's been doing much half training, but she has run 14:12 for 5k.
*defar VS flanagan....who ya got?

This Weekend In Philly Ryan Hall Vs. Gebre Gebremariam Vs. Abderrahim Goumri Gebremariam, the 2009 World XC champ, has been tearing up the roads in 2010, winning everything in sight. Hall, however, has the best half PR of the group.
Brendan Foster Reflects About The Great Run's 30 Years Of Greatness Haile G will make his great run in the 30th year. The race is the world's largest half marathon and Europe's most popular race.
Sprint News
Rock N Roll Marathon People - Please Read This
One Of New Zealand's Most Popular Road Races Only Costs Just $15
It also only has 400 people and is 66km long but we like it.
Desiree Davila Talks About Her Preparations For Chicago She's running Chicago instead of NY, which also is the US champs, and could give her a $40,000 payday (Shalane Flanagan, however, is running NY).

Athens Marathon Celebrating Its 2,500th Anniversary This Year
Bolt/Powell Gossip/News
Drug News
IAAF To Reject Slap-On-Wrist Punishment For Shelly-Ann Fraser They're reportedly recommending a 6-month suspension. Considering she hasn't competed this summer, we don't see the difference.
Mottram On The Comeback Trail
One We Missed From The Weekend: Craig Mottram Beats Sub-28 Guy Chris Thompson In Britain In Road 10k Mottram, however, is not on the Australian Commonwealth team despite the fact he's rounding into form at the perfect time.
Recommended Read Meet Joe & Jim Rosa The twins from New Jersey are two of the best high schoolers in the country. Brad Hudson thinks Joe Rosa's Holmdel course record equates to the 13:30s for 5,000 as a junior in HS.
Looking Ahead To The Fall Marathons
Doug Logan's Fate Still Not Decided
Doug Logan Tells Reuters His Job Security Will Be "Sole Topic" Of This Week's Board Meeting
*King Carl Backs Doug Logan "I love Doug Logan. He's the best thing they ever could've done for the sport. But the reality is, when you have a dysfunctional organization, you can see the difficulty people can have turning it around. If the volunteers would get out of the way, let Doug do his thing, let his vision push forward, it would happen. But we have a dysfunctional organization and it's hard to get anything done." - Carl Lewis. We thought Logan's fate was supposed to be determined by mid-August but the USATF meeting this weekend in Vegas should determine his future.
Random/Interesting Links
Rudisha With Some Bold Words
Female Sprint News
A Look At Some Foreign Stars
Triple Gold Medallist Swimmer Loses Jaguar Endorsement Deal For Twitting Homophobic Slur
From Across The Pond
Day2 LRC Distance Recap: Incredible Lagat Wins 5k/3k Double As Rudisha Dominates
Discussion: *Lagat GOLD in 3k
*Who also has never heard of Ecuadoran Bayron Piedra?
*NANCY LANGAT IS A CHEATER
Bernard Lagat, 6 years older than the next-oldest competitor in the field and doubling back after a 51-second closing lap on Saturday, again benefitted from incredibly slow pacing as he doubled his weekly earnings to $60k to highlight day 2 from Croatia. Other big winners included a super-excited Blanka Vlašić and a bored unchallenged David Rudisha. Big losers included the Americas, who fell in the team standings to Europe and Nancy Langat, who seemed to attempt a take down of the leader as she fell with 10m to go in the women's 1,500.
More Day 2: *Blanka Vlašić Thrilled With Meet Record Performance In Front Of Family And Hometown Crowd IAAF article
*Lagat, Rudisha And Vlašić Win Big And Team Europe Wins The Team Battle In Croatia IAAF recap

Day 1 Recap Of Continental Cup: Lagat Wins, Kiprop Fizzles Bernard Lagat and Asbel Kiprop both showed us from different extremes why the Continental Cup should be on every athlete's schedule because it gives them an experience they rarely get - championship running without rabbits. Lagat is a master without rabbits and he blasted a 51-second last lap to win the 5,000m title. Kiprop, after leading the first 2 laps, got boxed in with 400m to go and then basically quit the last 200m. He may have the Olympic gold but was only 4th at Worlds (a half-second mistake kills you in a tactical race). American Leo Manzano was boxed in as well, but kept fighting and finished 3rd. In the women's 3k, Meseret Defar blasted a 58.38 final lap for the win and Shannon Rowbury went sub-60 for 3rd. In other action, Jeremy Wariner ran fast again (44.22), Christophe Lemaitre won the 100m and Christian Cantwell the shot with Dwight Phillips in the long jump.
*Brief LRC Recap Of Men's 1,500m: Kiprop Fizzles, Manzano Finishes 3rd
*51-Second Last Lap Brings Lagat $30,000 And Continental 5k Title
*1,500m Event Report
*Brit David Greene Goes Sub-48 To Shock Bershawn Jackson In 400m Hurdles
*Christophe Lemaitre Wins Continental 100m, Mark Lewis Francis 3rd
Nick Willis 1:46.89, Alan Webb 1:48.34, Andrew Ellerton 1:46.77 In Italy The comebacks of the stud milers continue.
Recommended Read Legends Sing Praise Of Roy Griak - Minnesota's XC Coach Of 33 Years This story is full of great anecdotes and is a must-read for any coach in the sport.
12:54/59:37 Guy Dejene Berhanu Died By Suicide Berhanu was liked by many in the sport. *LRC Mboard Talk
Last Lap (Or Full Race) Of Lagat's 3k American Record (It's Super-Impressive)
Yet We're Considered To Be Sexist
ESPN Rise (Where Dyestat Went) Girls' Edition Homepage Features Tips For Clear Skin Girls, forget about running faster. Just put on some makeup.
More On The Boards
Willis 3:35, Webb 3:36
Recent Photo Gallery: Milan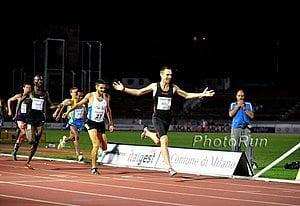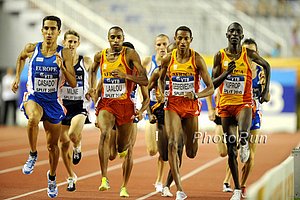 Of Possible Interest On The Boards
Congrats To One Of The Good Guys
Pete Julian Named Washington State XC Coach Julian was one of the guys who helped bring the US XC Champs to Boulder.
NCAA XC Glorified Practice Season Underway (More Results Here)
Tyson Gay 9.92 Over Nesta Carter (His Last 20m Is Sick)
Justin Gatlin 10.09 (More Here)
Great Deals

Rudisha's 1:41.01!!!!!
Webb's 3:41 Win In Antwerp (More Here)
Rudisha Over Kaki In Brussels
Random Distance News/Profiles
*A Look At The "Little Killer" Course In Connecticut
*Molly Huddle Interview
*Arkansas' Shawn Forrest Living The Dream
*Athens Marathon Celebrating 2,500th Anniversary Of Battle Of Athens
Final Lap Of Men's 5k: Solinsky 12:55.53!!! More Coverage Here
Great Deals