Friday's Action
2010 IAAF Atletismo Madrid Track Meet Results Chaunte Lowe won the high jump (there is no high jump at Pre) and Christin Wurth-Thomas ran the 800.
Peachtree Is July 4th
NCAA XC Nationals Would Be Run On 2km Loop At Course Where High School Champs Are Held Scroll down for this info.
Week In Review
LRC The Week That Was In Running: 2010 USATF Nationals We go behind the results and give you our insight. We praise Galen Rupp, Lauren Fleshman and Molly Huddle, warn Chris Solinsky, talk about the men's 1,500m and in the process compare Matt Tegenkamp to Kenenisa Bekele and do much more, including telling you why Vin loves AJ and give some junior runners props (including one who beat Robby Andrews). We even discuss cross-country running in June.
Reims Results (French Site)
Summary From Athletics Weekly Mahiedine Mekhissi-Benabbad sets 2,000 steeple world best (5:10.68), world TJ champion Phillips Idowu is runner-up for 2nd meet in a row; Dayron Robles dominates hurdles in 13.09.
Africa News
Bureaucratic Woes Continue; Senior Africa Athletics Championship In Jeopardy
More National Champs From The Weekend
Kenyan Champs: Recap - Pamela Jelimo Drops Out, Janeth Jepkosgei Runs 1:58.95, Rudisha, Kiprop Win Spots for the African Champs and Commonwealth Games were on the line.
Recommended Read: Famed Coach Renato Canova's Post On Kenyan Champs With Commentary On Distance Races
*Results: Distance *Full Results

Italian Champs: Day One Summary Andrew Howe's 8.16 LJ and Antonietta Di Martino's 2.01 HJ were the top marks.

Jamaican Champs: Asafa Powell (19.97) And Shelly-Ann Fraser Win 200m At Jamaican Champs As good as the Jamaicans are in the high school ranks, they don't have a lot of depth at the pro ranks.

Trinidad & Tobago: Richard Thompson Wins 100 And 200 At Trinidad & Tobago Champs

Bahamas: Texas A&M's Demetrius Pinder Upsets World Indoor Champ Chris Brown At Bahama's Champs
Western States 100 Miler
From 15 Minutes Behind With 22 Miles To Go, Geoff Roes Rallies To Win And Set New Course Record By 29 Minutes!!! Roes is a monster who is undefeated in 100 mile races for his life. Tracy Garneau won the women's race. *Full Results *WS Website
*N.Y. Woman Becomes First Amputee To Finish Western States 100 Race
LRC MB: *2010 Western States Thread *Koerner / Krupicka throwdown at Western States this weekend *Geoff Roes eats frozen pizza before bed. Does nutrition REALLY matter?

More Ultra News
2-Time Olympic Marathon Medalist Wainaina Wins Lake Saroma 100km Ultra In Kenyan National Record Time
Repeat Comrades Champ Stephen Muzhingi Considers Move From ZIM To RSA Citizenship
4-Time Jamaican Olympian Raymond Stewart Becomes 3rd Coach To Be Banned for Life For Doping Athletes Don't tell us there aren't drugs in all countries. *Article From Jamaica Observer
*Stewart Bewildered By Ban: "I am just looking in my email to see what's going on."
Znamenskiy Memorial Recap And Results Amine Laalou runs 1:43 for 800 and Shaheen returns to the steeple with an 8:16 runner-up finish in the Znamensky Memorial. Mariya Savinova of Russia ran a world-leading 1:58.11 to win the 800.
Nick Symmonds On Why He Was 3-Peating At USATFs: "Everyone has their own motivation and goals. For me, it's championship running. That's the reason I do this whole sport. So, I don't care if the best in the U.S. show up or the worst in the U.S. show up. Whoever is here I'll race and I want that title."
High Jumper Chaunte Howard Raises Bar On Career A good read from veteran track journalist Philip Hersh of LA Times.
Another Shock From USAs Friday: After easing up at the line in the first round and almost missing the semifinal, long-time USA force Hazel Clark missed the 800m final. 32-year-old Clark won USA outdoors in '09, '08, '06 and '05 and was top 3 in '07 and '04. Full Results Here
Non-USA News
Rebekah Noble, Oregon's Fleeting Star, Quietly Leaves Program She Once Set On Fire Ken Goe of The Oregonian catches up with the junior phenom who got injured and burned out after a 100% pursuit of the Olympics.
*Boards: Future of Rebekah Noble

No Surprises On 1st Day Of Kenyan Trials For African Championships All the favorites like Asbel Kiprop advanced.

USATF CEO Doug Logan Talks About Giving More Funding To Young Runners He wants to bring the model that he and the MLS used to help build the current men's US soccer squad.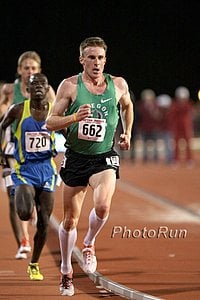 Recommended Read: Tim Layden Of Sports Illustrated Profiles Heavyweight Inspiration Chris Solinsky Schumacher calls Solinsky's recent 5,000 "the dumbest 12:56 in history," Bairu says Solinsky could have gone 26:40 at Stanford, and everyone chimes in on how Solinsky is the biggest and most durable distance runner they've ever seen.

Boards Are Loving It: Alberto Compares Solinsky's Intensity To Lance Armstrong's

Interesting: Only 16 Men Faster Than Solinsky Over 5 And 10,000m Doug Binder and our friends at TrackFocus.com in Eugene looked at all-time 5,000/10,000m PRs and found only 16 guys who ran faster than Chris Solinsky's 26:59 and 12:56 in their careers (and at least one of them got banned for drugs).
Chicago Marathon Announces Davila, Lewy-Boulet, DeReuck As Top Americans Back in April, Chicago 1-upped New York on the men's side with Ryan Hall, but NY returned the favor, as Shalane Flanagan trumps the Chicago women.
LRC The Week That Was Last week was a light one in terms of new action, so we take a look back at NCAAs, talk about the Great White Hope at 100 meters, praise some high school 800 phenoms, including one bound for 'Nova, before dissing high school running in general, talk about "mechanical doping" and then offer a $50,000 challenge to Anna Pierce.

Random News
iResults: New App Lets You Get Your iTime Instantaneously From Finish Line Volunteers Or iFamily iResults: They wait 30 minutes for you to finish the 5k ... you get your results immediately.

Bolt's Backwards 100? Wild Irishman elephant polo world champ Colin Carroll is trying to pull off the first edition of the Paddy Games and got in the news by saying he's talked to Usain Bolt about setting a Retro 100m WR.

Not Cheesy At All: Bret Michaels Headlines Entertainment At Rock 'n' Roll Vegas 'Thon
Anna Pierce Has Big Goals For 2010: Sub-3:57 And Sub-1:56 Her days as a steepler may be over for the most part, as she's finding "my speed is getting better the more I train my strength side, which is weird."
Sprint News
The 50th Anniversary Of The Mt. Washington Road Race
Shadrack Kosgei Wins 3rd Steamboat Classic 4-Miler (17:36)
Absolute Must Read: Tyson Gay Tired Of Being In Usain Bolt's Shadow The Independent sent a writer from the UK to Florida to do a feature on Gay and it's a must-read in our minds. Learn what Gay has to say about Bolt, fatherhood and visiting his coach in jail. Plus coach Lance Brauman is unapologetic about what sent him to prison as he helped 30 Olympic athletes in the process.
*Usain Bolt Reaffirms That He's Not Running Commonwealth Games
22-Year-Old Ethiopian Wins Women's Marathon In 2:31 As 3-Time Champ In American Mary Akor Struggles To 4th Akor collapsed at the finish line. Next Up For Akor? Surgery On Friday To Remove Tumors
Philemon Kemboi Win Men's Marathon Kemboi, who has a 2:10:58 PR, picked up $10,900 in his US debut for running a time that is slower than Paula Radcliffe's world record for women as he won in 2:15:44. The race was run into a headwind or crosswind throughout.
Kenyans Sweep Garry Bjorklund Half Marathon The race served as a comeback for Fernando Cabada, who talked big before the race before finishing fifth in 1:05:55. The course record is 1:04:19 and the winning time was 1:04:24.
2008 World Jr. 10k Champ Josephat Bett Wins Race In Kenya
The article makes a big deal of how he's moving up to the senior ranks. We don't think a 12:57 guy will have too many problems.
Good Reads For HS, College Kids Looking For Perspective
Pre Classic Saturday *Live Television NBC 4:30-6pm Eastern On Saturday *Start Lists
*Results Here Or Here *Eugene RG Coverage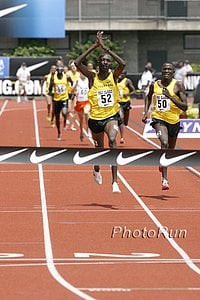 LRC 2010 Pre Classic Preview The meet is a great one as usual with a big emphasis on the distance races. A stacked Bowerman mile (anyone remember Asbel Kiprop's unbelievable performance last year?), a world record attempt in the 1,000m, a possible sub-13:00 by an American in the 5k, Anna Pierce putting her undefeated streak at 800m on the line, not to mention Tirunesh Dibaba and a slew of Americans in the 5k, Tyson Gay returning to action in the 200 and Debbie Dunn versus Allyson Felix at 400 are the highlights. We break down the action.

LRC Viewers' Predictions Who are you all picking in our prediction contest?

LRC Archives: Prefontaine 2009: Jenny Barringer's 3:59.90 shocker, Maggie Vessey's surprise win, and Asbel Kiprop celebration the final 100m of the mile were highlights. Read recaps and see videos of all the races.

$20,010 LetsRun.com Pre Prediction Contest We want you to have a little fun watching Saturday's meet and hopefully know a little something about the competitors. Get your picks in by 4pm Eastern Saturday. We have most of the main events in the contest including some sprint and field events but do not have the women's 5k (Dibaba, Amy Begley, Fleshman) since the event website did not have the 5k start lists on it (we finally found one with the 5k on the Diamond League site, but it was too late to include it in the contest).

Andrew Wheating To Introduce Himself To World At Pre Classic

David Oliver Eyes WR The American has the world leader and #7 all-time with his 12.93 victory at USAs but feels that with his improved start, 12.85 is within reach.

Sanya Richards-Ross Out Of Pre Meet ... And maybe out for the season with freak injuries.

Evan Jager Is Most Likely Done For The Year Coach: "If you're going to hurt your foot, this isn't a bad year for it."

Pre Classic Has Stellar Throwing Fields But WR Hammer Person Is Out

Matt Tegenkamp Unsure Of Where He Stands Entering Pre 5k: "In all honesty, I think I'm going to be in over my head a little bit this weekend. There are a lot of unknowns for me."

Prefontaine Classic Set To Become Integral Facet Of Diamond League According to meet director Tom Jordan, "The Diamond League has the potential to bring a coherence to the sport as a whole, and for the Pre meet to be invited to be a part of it, is recognition that we are, in fact, one of the best meets in the world."

More On Kaki's 1k Record Attempt: Kaki's Coach Ibrahim Aden Seems Confident

Big US Stars Headline Pre Classic 41 gold medallists slated to compete; Tyson Gay still on 200m start list.

Berlin WC Bronze Medallist Carmelita Jeter Eager For Latest Faceoff With Gold Medallist Shelly-Ann Fraser

Kaki Going For World 1,000m Record This Weekend At Pre Nick Symmonds will be in the race and Khadevis Robinson is the rabbit.

7 Of The World's Top Ten Milers Are Running The Mile At Prefontaine The meet is stacked as usual. We'll have a preview later this week.

Capacity Crowd Expected And Many Await 5,000-Meter Fireworks With Chris Solinsky All we can say is he'd better put on a show for the ages or run USAs next time.

Provisional Entry Lists For Prefontaine Diamond League Meet
Tabloid News
Jana Pittman Rawlinson May Or May Not Switch Her Allegiance To The UK Rawlinson was the World Champ for Australia at 400m hurdles in 2007. No one is certain what is going on and Rawlinson does not have a track record for consistency. She got married to UK hurdler Chris Rawlinson, then got divorced, then remarried him and perhaps even more famously got a boob job, then got it undone so the extra weight wouldn't slow her down.
Editorial: Under any flag, Jana equals drama
Post-USA News
Aviva European Trials & UK Championships *Results
LRC Sunday: Alysia Johnson Is Back, Nick Symmonds Dominates, Lomong Repeats Over Manzano And More Before David Oliver ended the meet with a spectacular 12.93 in the hurdles, there were 5 distance finals on Sunday and they did not disappoint. Alysia Johnson, who got an unheralded bronze at World indoors, captured the 800m crown, Lopez Lomong edged Leo Manzano again, Nick Symmonds dominated, Lisa Aguilera got back on top, and Dan Huling showed he's the top steepler in the US.

More: Jenn S(uhr) Shows She's Back In The Pole Vault She had American record attempts in the PV.
*Only 7,437 Attend Champs On Sunday The 4-day total of 31,000 was reportedly close to the 4-day total in Eugene 32,048. If that's the case, maybe a bunch of the fans counted are junior athletes and parents. The crowd was actually bigger (9,024) on Saturday than Sunday, despite the US soccer match going at the same time.
*Hometown Hero Lolo Jones Wins 100m Hurdles
*Wallace Spearmon's 19.77 Shows His Return from Knee Surgery Is Going Well
*Consuella Moore Caps Comeback With 200m Win
*Oregonian Recap: Nick Symmonds 3-Peats

On The Boards: David Oliver runs 12.93 and not one thread about it?
*Worst 1500 final ever


LRC Saturday: Anna Pierce Kicks Past Erin Donohue To Win 1,500m, Jeremy Wariner And Sanya Richards Don't Win 400s, Chaunte Lowe Breaks American Record In High Jump The highlight in the distance races was the women's 1,500m final, which featured sub-4 1,500m runners Anna Pierce and Christin Wurth, plus World Championships bronze medallist Shannon Rowbury. Until the final 30m, however, it looked like the unwanted Erin Donohue (she left coach John Cook last year because he said she couldn't be a sub-4 1,500m runner) would get the win. In the end, though, Pierce timed her pick perfectly and Donohue had to settle for 2nd but with the scalps of Rowbury and Wurth. In the 400s, favorites Jeremy Wariner pulled up lame and Sanya Richards did not start the women's final, but they both may have had their hands full regardless. Unheralded Greg Nixon picked the perfect time for a huge 400m PR (a world-leading 44.61). Debbie Dunn became the first women in the world under 50 seconds this year (49.64). Bershawn Jackson had a world leader in the 400m hurdles, as did Hyleas Fountain in the heptathlon, but the biggest accomplishment of the day was Chaunte Lowe breaking her own American record in the high jump.

*Chaunte Lowe's American Record Jump

Friday:
Lauren Fleshman Upsets Jenny Barringer
It was a stunning comeback from injury for Fleshman, as she surprised just about everyone and nearly all of you (.2% of you picked her to win in our prediction contest). Walter Dix won the 100m into the wind (10.04) and Allyson Felix won the women's 100m.
*LRC Friday Recap
*USATF Junior Meet Friday Recap
*LRC Friday Photos Cas Loxsom tops Robby Andrews and more ...

Eugene-based Lauren Fleshman completed her comeback by winning her first US title since 2006 after barely competing thus far in 2010 on the track. In the men's 5,000, it was another predictable win after the dull 10ks, this time for Bernard Lagat by less than a second over 10,000m specialist Tim Nelson (they both ran 13:54).

*Video: Barringer Talks Barringer says she's trying to peak much later and be versatile at different events.

ESPN Cuts Away From Men's 5,000 To Show No-Hitter ... *Boards: Don't blame ESPN, blame USATF

Looking Ahead To Saturday: LRC Day 3 Preview Saturday is a very weak one in terms of mid-d and distance action as there is only one race at the senior level. Thankfully, that race - the women's 1,500 final - is a dandy. It takes place at 3:26 pm EST.

Thursday

LRC: Galen Rupp Reigns Supreme, Amy Begley Over Hometown Hero Lisa Koll
Galen Rupp waited until late to win over Ed Moran, and 2009 USA #1 Amy Begley sprinted away from 2010 NCAA star and Iowa hometown hero Lisa Koll. Most of the favorites advanced in the distance event prelims (but Khadevis Robinson did not start) and the big winner of the day was Emily Sisson over Jordan Hasay in the jr. 3,000. Plus Trevor Dunbar took control of the men's jr. 5,000 from way out.

*RRW Recap Of 10ks: In Tactical Races, Rupp And Begley Repeat As USATF 10k Champs
*USATF: Day 2 Recap Of The Junior Meet With Photos

USATFs On The Boards: Jordan Hasay lost to Emily Sisson
*Can Rupp even count that as a tempo run?
*Hey OTC, Sit + Kick = Cheap, Boring
*What happened to Scott Bauhs?

More Thursday Action
*Sanya Richards-Ross (51.91) Smooth In Comeback
*RSpace: Video Of Sisson/Hasay Duel
*Flanagan - Killing Time Before Marathon - Makes 1,500 Final