2009 Bowerman Mile Recap - Prefontaine Classic
Asbel Kiprop Pulls A Wyner *Bowerman Mile Photos *Kiprop Celebration Photos
Emory Mort
June 7, 2009
Though he sat in second place 100m to go in Sunday's crown jewel event, Kenya's Asbel Kiprop knew he had it won. And he let everyone know it.
Before even passing countryman Haron Keitany, a 3:30.90 1,500m runner who also was Track and Field News' 2008 1500m runner of the year, Kiprop started to celebrate. Preparing to launch into the finishing straight, Kiprop calmly crossed himself. Then, as he passed, he did it again. (Video of the Race is below in the article)
Then came another with 50m to go.
And finally, as the line approached, he gave one last Christian gesture before a playful Steve Ovett-like wave to the frenzied crowd, a couple over-headed claps, a glance over to the Hayward faithful, and finally a beautifully executed Dikembe Mutombo-style finger wag that Kiprop has made his own since the Olympic semi-final.
All comfortably executed while flying home in a 26-second 200m.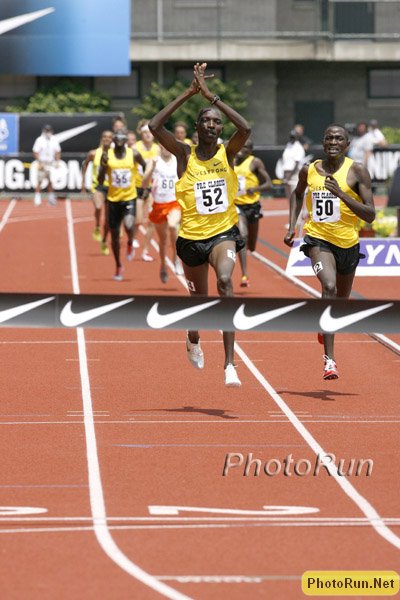 3:48.48 was the time for Asbel on a windy day in Eugene. But this was no 1,500m, this was the Bowerman Mile, and behind Kiprop was a trail of 13 men who would break 4:00 on the day, but none of them had the class of the impossibly long-legged Kenyan.
NBC color commentator Lewis Johnson was not impressed with the antics of Kiprop, but then again his co-worker Ato Boldon didn't enjoy Usain Bolt's mid-race celebration in Beijing either. But to most fans, Kiprop enjoying the finish was a fitting treat for those who packed the stands in Hayward and those who watched on television.
Whether Kiprop was thanking the crowd (as Johnson hoped) or making sure his opponents took note of his ease, the message came across the same: "I'm the world's best miler, and I'm going to enjoy this win in style." (For the record: Kiprop was thanking the crowd about as much as Usain Bolt was thanking them at the end of his Olympic 100m win)
Kiprop had reason to celebrate. In Beijing, he was denied a rightful similar celebration of his utter dominance of the rest of the world by the drug cheat Rashid Ramzi. People seem to forget that Kiprop was 1.05 seconds ahead of Kiwi Nick Willis. Had it not been for Ramzi, Kiprop would have 'pulled a Bolt' in Beijing and demolished the rest of the world in the premier distance event on the planet. Instead, hardly anyone had noticed.
Kiprop made sure everyone noticed this time out. On a day where super-fast distance times were hard to come by due to wind, he calmly endured a 1:52 opening 800m, looking comfortable and completely on his stride. By the finish, he had just missed the Hayward Field, Pre Classic and American all-comers record of 3:48.28 run by Daniel Komen of Kenya in 2007. His kick was superb, as were his tactics. But best of all was his finishing celebration. He came upon a day where he knew he could not be stopped, and he appeared to enjoy every step, especially the final few dozen. Some may say his celebrating slowed him down. Judging by his closing speed, that is a scary thought.
Drug cheat Rashid Ramzi is a classic villain. Kiprop, the bad boy who was kicked out of Kip Keino's camp earlier this year for hosting women, is a classic entertainer. He is, plain and simple, fun to watch.
Like Usain Bolt, his height and gait make him an anomaly. But while Kiprop's and Bolt's body-types make them different, their performances (and I mean performances in every sense of the word) make them stars. In a field with 15 African men wearing identical yellow jerseys, it's still easy to find Mr. Kiprop loping along. Similar to Bolt, before the all legs Kiprop emerged, mid-distance runners weren't supposed to be as tall and gangly. They are both sensationally exciting athletic freaks of nature.
Going forward, if the finger-wagging Kiprop can stay out of trouble and stick close enough to the straight and narrow, then in 2 months he may add some World Championships hardware to the Olympic gold he soon rightfully gains from Ramzi.
Video of the 2009 Bowerman Mile

Americans Outclassed
Behind Kiprop and Keitany (who were near the front without a hint of struggle on their faces), 3:34 1500m runner Leo Manzano and the rest of the top American milers would finish well beaten. The biggest American hope coming into the race, Manzano appeared over-labored throughout, never finding comfort in the huge field of runners, running much of the first 800m in lane 2 before finishing last amongst the Yanks in a disappointing 3:58.68.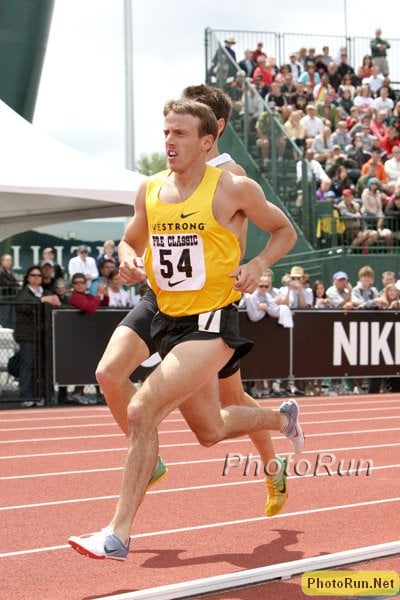 The biggest American hope of the last decade Alan Webb wasn't a whole lot better. For much of the race, the 3:53 high school miler and 2007's world's fastest miler was running at the back of the pack with long-haired Evan Jager and Will Leer. Webb never appeared to contemplate matching the pace, though he did run a seasonal best 3:55.99 to cross the line almost 8 seconds (or 70 yards) after Kiprop. Webb is a good two levels below Kiprop and Keitany. Those two will almost certainly be contending for medals in Berlin. Webb will have to run superbly to even earn a trip to this year's World Championships, let alone think about making the final.
The big bright spot for the Americans was 20-year old Jager who ran a big pr of 3:54.35 to finish 7th. Jager has now seen his mile time improve from 3:41.24 in the 1,500 last year to 3:54.35 for the full mile this year. That's moving in the right direction. In sixth, Lopez Lomong ran a half-second pb of 3:53.47 - which it should be noted is still .04 slower than Alan Webb's HS pr.
Event 21  Men 1 Mile Run Bowerman
================================================================
       World: W 3:43.13  1999        Hicham El Guerrouj, Morocco
    American: A 3:46.91  2007        Alan Webb                  
     Hayward: H 3:48.28  2007        Daniel K. Komen, Kenya     
 Prefontaine: P 3:48.28  2007        Daniel K. Komen, Kenya     
   All-Comer: @ 3:48.28  6/10/2007   Daniel K. Komen, Kenya     
    Name                    Year Team                    Finals 
================================================================
Finals                                                          
  1 Asbel Kiprop                 Kenya                  3:48.50 
  2 Haron Keitany                Kenya                  3:48.78 
  3 Nate Brannen                 Canada                 3:52.63 
  4 Belal Mansoor                Bahrain                3:53.05 
  5 Nicholas Kemboi              Kenya                  3:53.43 
  6 Lopez Lomong                 USA                    3:53.47 
  7 Evan Jager                   USA                    3:54.35 
  8 Shedrack Korir               Kenya                  3:54.77 
  9 Henock Legesse               Ethiopia               3:54.81 
 10 Alan Webb                    USA                    3:55.99 
 11 Peter van der Westhuisen     South Africa           3:56.26 
 12 Will Leer                    USA                    3:56.63 
 13 Leonel Manzano               USA                    3:58.68 
 14 Josephat Kithii              Kenya                  4:01.09 
 -- Moise Joseph                 Haiti                      DNF 
 -- Jackson Kivuna               Kenya                      DNF