2010 Prefontaine Classic Preview
By LetsRun.com
July 2, 2010
*Start Lists
*Schedule
Diamond League Track and Field is coming to Eugene for the first time on Saturday as the 2010 Pre Classic takes place. Once again, Pre is going to be a fantastic meet. LetsRun.com fans will be most interested in a world record attempt in the men's 1k, the quest for the first sub-13:00 by an American on American soil and a stellar men's mile and women's 800 fields. Plus, Tyson Gay returns to action and much, more more. Below we preview the mid-d and distance events for you.

Catch the action on NBC from 4:30 - 6:00 pm EST on Saturday. Sadly, the 1,000 world record attempt is taking place prior to NBC starting its telecast (4:09 pm EST), but we're sure they'll show it and the 1,000m is on the international broadcast. So for all of you UK viewers, or people with access to the BBC iplayer, you can see the 1,000m live.

Pre-Classic Schedule (Updated 7/1/10). All times being shown are Eastern. We converted them to Eastern times.
2:00 Hammer Throw (W)*
3:03 Interview Program
3:10 National Anthem
3:14 Discus Throw (M)
3:16 Triple Jump (W) West Outer Runway
3:18 International Mile (M)
3:30 Pole Vault (W) East Outer Runway
3:38 5,000 Meters (W)*
4:03 400 Hurdles (W) [Live International TV but NBC coverage starts at 4:30]
4:09 1,000 Meters (M)*
4:16 Shot Put (M) West Ring
4:19 Steeplechase (W)
4:31 Javelin Throw (W)
4:35 800 Meters (W)
4:43 Long Jump (M) West Outer Runway
4:46 110 Hurdles (M)
4:56 100 Meters (W)
5:02 5,000 Meters (M)
5:27 200 Meters (M)
5:35 400 Meters (W)
5:46 Bowerman Mile



4:09 pm - 1,000 METERS (MEN) - Will The World And/Or American Records Fall?
The world record in the 1k is 2:11.96 and is held by 2000 Olympic 1,500 champ Noah Ngeny. We tell you that because 21-year-old Abubaker Kaki says he's going after the world record and his coach seems confident that he will give it a good go.

There is reason for that confidence, as Kaki is a stud. The 21-year-old has already run an 800 PR this year of 1:42.23. At the age of 19, he ran 2:13.93 for 1,000. However, the world record is by no stretch of the imagination a sure thing. Pacing is critical. Basically, one needs to go out and run a 1:44 800 and then keep on going. When Ngeny got the record, his 800 split was 1:44.62 and he still found a way to close in 27.34.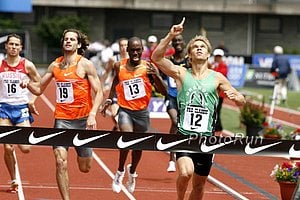 The battle for 2nd in the race should be interesting. If Kaki ties up, he very easily could be beaten by the top three challengers in Alfred Yego, Nick Symmonds and Boaz Lalang are all international studs and either US or Kenyan Olympians and they've all run between 1:45.02 and 1:45.14 this year.

Lalang is the least accomplished of the three and he made the 2008 Olympic team for Kenya. That is impressive, but if Kaki is on, Lalang has no chance, as his 800 PR is just 1:44.68. Lalang did run a 3:52 mile this spring in the Dream Mile in Bislett, so he should hold up well in the final 200.

Nick Symmonds seems to be in great form as he crushed the field at USAs last week and he always runs well in Eugene (he won the Pre Classic 800 last year). Rick Wohlhuter should be nervous, as his American record of 2:13.9h in the 1,000 very well might fall. If Symmonds passes the line under 2:14.04, the record is his because of the hand-time/FAT conversion. He needs to be at 800 in 1:47.0 or better to have a chance.

Aflred Yego is a total stud. He has won Olympic bronze and World Championships silver the last two years (and the World Champ in 2007). That being said, he - like Symmonds - will have no chance if Kaki is on his game. Don't believe us? Well, realize that Yego was crushed by Kaki's main rival in David Rudisha (Rudisha actually beat Kaki when Kaki ran 1:42.23 earlier this year) last week at the Kenyan Trials, as he lost by 1.27 seconds.

LRC Prediction: 1) Kaki 2) Symmonds 3) Yego 4) Lalang

Meet Record - 2:14.54, Joaquim Cruz (Brazil) 1984

The Field (listed in order of 2010 accomplishments) -
Abubaker Kaki (Sudan) (1:42.23 / 1:42.23) - Two-time world indoor champ ran 2:13.93 for 1,000 at the age of 19. Now 21, he wants the world record and certainly given his early season 1:42.23, he might get it.
Nick Symmonds (USA) (1:45.05 / 1:43.83) - Defending Pre champ & 3-time US Champ has run 2:17.10 for 1,000.
Boaz Lalang (Kenya) (1:45.02 / 1:44.68) - The 21-year-old former Rend Lake JUCO star is overshadowed in Kenya by Rudisha and Yego but he paid his own way to World Indoors and was rewarded with the silver. Has run 2:19.91 for 1k and 3:35.80 for 1,500.
Alfred Yego (Kenya) (1:45.14 / 1:42.67) - Big in championship meets, as he's won Olympic bronze and World Championships silver the last two years. No 1ks to his name, but he's run 3:33 for 1,500.
Duane Solomon (USA) (1:45.23 / 1:45.23) - People seem to forget that the 2010 USA runner-up made the 2007 World Championships team after only finishing 7th at USAs. He's in the best form of his life as he's already set a new PR this year. We see no 1ks to his name, but he did run a 4:03 mile earlier this year.
Jacob Hernandez (USA) (1:47.34 / 1:45.31) - Comes into the meet after a best-ever showing at USAs (3rd). He's never run a 1,000 in his life and only one mile (4:04), so hopefully he closes his eyes and hangs on.
Tyler Mulder (USA) (1:46.44 / 1:46.44) - The 2008 NCAA indoor champ was fourth at USAs last week.
Ryan Brown (USA) (1:47.50 / 1:46.17) - Both in terms of seasonal best and personal best, Brown seems completely overmatched in this field. Comes into the meet after finishing last in the USA final.

Matt Scherer (USA) - Pace
Khadevis Robinson (USA) - Pace
5:46 pm BOWERMAN MILE (MEN) - Can The Olympic Champ Kiprop Repeat & How Will The Americans And Andrew Wheating Stack Up?
*Recap Of Last Year's Bowerman Mile
The Bowerman mile will be a real treat for the fans as the field is full of quality. So much so that double 800/1,500 champ Andrew Wheating is in the field and he's by far the least accomplished athlete in the race.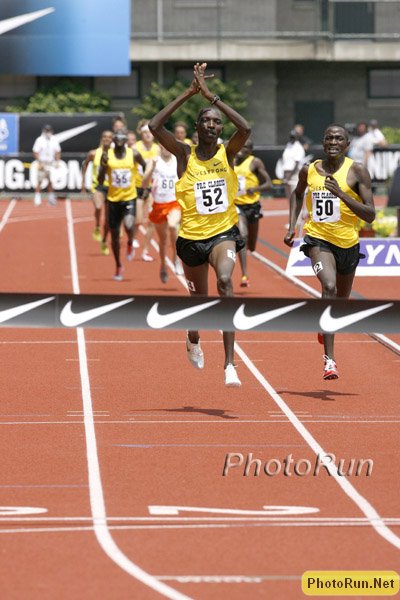 The field is led by 2008 Olympic champ Asbel Kiprop. The lanky Kenyan has already won the Dream Mile this year and he won the Pre Classic mile last year (see the photo on the left or click here). The only thing that normally defeats Kiprop is Kiprop himself, as he's known for putting himself too far back in races at times. As a result, the mile seems to suit Kiprop a bit better than 1,500, as there is more time to make up for poor tactics. Kiprop is undefeated in outdoor miles for his life (two for two) and you'd be a fool to think that streak won't continue.

The top challengers to Kiprop are Haron Keitany, who was the runner-up to Kiprop last year at Pre, as well as 2010 Dream Mile runner-up Gebremedhin Mekonnen and Nicholas Kemboi, who was the 1,500 winner in New York a few weeks ago.

We haven't mentioned Bernard Lagat yet and that's because we feel his best days at 1,500 are past him. We say that and yet he was the 1,500 bronze medalist at Worlds last year. The race for top American honors in this race will be fascinating in our book as the field includes the rest of the 2008 US Olympic team at 1,500 in Lopez Lomong and Leo Manzano plus Wheating. Lomong and Wheating have mile PRs in the 3:53 range which seems slow to us, considering Alan Webb ran that in high school. Surely one of them will beat that at the Pre Classic. Manzano totally bombed at Pre last year when he ran 3:58.

As for Wheating, it's hard to say what he'll do. We are HUGE fans of his ability and - using the logic of "Is he better than Alan Webb was in HS" - think he's capable of 3:50 or 3:51 for a full mile. Our fear is that he and perhaps Manzano will simply put themselves too far back. Wheating absolutely needs to get out in the middle of the pack and try to keep contact with field. Get in the middle as we know he'll fade on that 3rd lap. Then kick.

LRC Prediction: Kiprop for the win. As for the Americans, man is it hard to predict. We think we guess we think the old man Lagat has at least one more good one in him - Lagat 1st. But quite honestly, we hope Wheating gets it going in the University of Oregon uniform.

Meet Record - 3:48.28, Daniel Kipchirchir Komen (Kenya) 2007

The Field (listed in order of 2010 accomplishments) -
Asbel Kiprop (Kenya) (3:49.56y / 3:31.20 (3:48.50y)) - Kiprop is the reigning Olympic 1,500m champion and the defending champ in the Bowerman Mile (with 2009's fastest time), which he won while celebrating nearly the entire homestretch. He was also 4th in the 1,500m at the last two World Championships. Most recently, he won the Dream Mile at Oslo's Bislett Games in June.
Gebremedhin Mekonnen (Ethiopia) (3:49.83y / 3:49.83y) - A finalist in the last two World Indoor 1,500s, including a 4th place in Doha this March, Mekonnen was 2nd to Asbel Kiprop in the Dream Mile a month ago.
Haron Keitany (Kenya) (3:37.87 / 3:30.20 (3:48.78y)) - Runner-up to Asbel Kiprop in last year's Bowerman Mile, Keitany has a 1,500m bronze medal from this year's World Indoors in his trophy case.
Nicholas Kemboi (Kenya) (3:33.29 / 3:33.29) - A Kenyan Olympian in 2008, Kemboi opened up 2010 with a PR 1,500m win in NYC.
Daniel Komen (Kenya) (3:33.08 / 3:29.02) - The 2007 winner of the Bowerman Mile in a meet record time (3:48.28), Komen has run the fastest 1,500m and mile times of any of the entrants in the last 4 years. He also has two silver medals at World Indoors to his credit.
Bernard Lagat (USA) (3:34.36 / 3:26.34 (3:47.28y)) - The six-time global championship medalist at 1,500m (including gold at the 2007 Worlds) also ranks 2nd all-time on the stopwatch at 1,500m and set the American record at 5,000m with 12:54.12 in Oslo on June 4th. Lagat has by far acquired the most international honors of any currently active middle-distance runner.
Amine Laalou (Morocco) (3:34.26 / 3:31.56) - Laalou is a 3-time finalist in the 800m at global championships and has reached the finals twice in the 1,500m. He made both finals in Berlin last year and came in 5th in the 1,500m at World Indoors this March.
Lopez Lomong (USA) (3:35.77 / 3:32.94) - The flag bearer for the USA in the Beijing Olympics and a finalist at last year's World Championships, Lomong most recently won this year's US title in his specialty with a big last lap off a dawdling early pace.
Leonel Manzano (USA) (3:33.92 / 3:33.33) - A World Championships finalist in Berlin last year and known as a strong kicker at the national level, Manzano is coming off a 2nd place to Lopez Lomong at USAs.
Andrew Wheating (USA) (3:37.52 / 3:37.52) - The 2008 Olympian at 800m and recent double NCAA champion (800/1,500) will take his first shot at a world class mile field. Hard to believe he's the least accomplished guy in the field.
Youssef Kamel (Bahrain) (No 2010 Mark / 3:31.56) - The son of former 800m world champion Billy Konchellah, Kamel has successfully moved up from the two-lapper (where he has a 1:42.79 PR) to become last year's world champion at 1,500m. He took the 800m bronze at Worlds as well.
Mohammed Moustaoui (Morocco) (No 2010 Mark / 3:32.06 (3:50.08y)) - On the Moroccan Olympic team in 2008, Moustaoui has a best global championship finish of 6th in the 1,500m at last year's Worlds.

Lachlan Renshaw (Australia) - Pace
Gideon Gathimba (Kenya) - Pace


5:02 PM - 5,000 METERS (MEN) - Will An American Break 13:00 For The First Time On American Soil?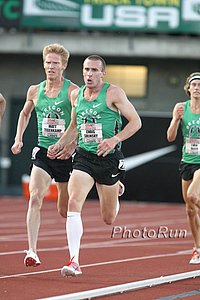 This race is being billed as the search for the first sub-13:00 by an American on American soil as both Matt Tegenkamp (12:58 PR) and Chris Solinsky (12:56 PR) are in the field. If you think that is a foregone conclusion, you'd be wrong. We say that because the weather forecast for 2 pm Pacific time on Saturday calls for 69-degree temps and a 10 mph wind out of the North. That's pretty good weather, but it's a tiny bit warm (the sky will be totally sunny), a tiny bit windy and the North is the part of Hayward field where there aren't any stands.

We give you info on the top entrants below but will say this: For some unknown reason, we think this race isn't going to live up the hype.

LRC Prediction: No Americans under 13:00. Solinsky has been unreal in 2010, but it wouldn't shock us if Tegenkamp was the top American.

Meet Record - 13:07.83, Luke Kipkosgei (Kenya) 1998

The Field -
Eliud Kipchoge (Kenya) (12:51.21 / 12:46.53) - The 2010 world leader owns 4 global championship medals in the 5,000, including gold from the 2003 Worlds and silver from the last Olympics. He is the 4th-fastest performer in history. He ran 12:51.21 to win in Doha but since then has not run under 13:09.
Imane Merga (Ethiopia) (12:53.81 / 12:53.81) - Relatively new to the elite track ranks, Merga took the measure of Tariku Bekele and Bernard Lagat's American record with a victory at the Bislett Games that puts him 3rd on the yearly list.
Tariku Bekele (Ethiopia) (12:53.97 / 12:52.45) - The 2008 world indoor 3,000m champion has run under 13:00 four out of the last six years and has been a strong presence in most of the global championships since 2005.
Chris Solinsky (USA) (12:56.66 / 12:56.66) - After warp-jumping to a new level in 2010 with a historic, world-leading 26:59.60 American record in the 10,000, followed by a world class PR by over 15 seconds in the 5,000, the former Foot Locker champ and Wisconsin Badger seems ready to mix it up with the very best in the world.
Matthew Kisorio (Kenya) (12:57.83 / 12:57.83) - 6th in the 2009 World Cross-Country in one of his first international races in the senior ranks.
Bekana Daba (Ethiopia) (12:58.51 / 12:58.51) - Set PR this year in the ultra-deep Bislett race.
Leonard Komon (Kenya) (12:59.15 / 12:58.24) - A 26:57 10,000m runner, Komon has had his greatest success in cross-country, with finishes of 2nd, 4th and 4th in the last 3 World XC Championships (and 2nd and 4th in the junior race prior to that).
Sammy Mutahi (Kenya) (13:00.12 / 13:00.12) - Coming off a bronze medal performance in the 3,000m at World Indoors.
Abera Kuma (Ethiopia) (13:07.83 / 13:07.83) - Still 19 years old, Kuma finished 17th in the senior race at this year's World Cross-Country.
Daniel Salel (Kenya) (13:08.23 / 13:08.23) - Another 19-year-old, Salel is a newcomer to the elite senior ranks, but won the 3,000m at the 2007 World Youth Championships.
Hosea Macharingyang (Kenya) (13:14.58 / 13:09.85) - So far better as a cross-country runner, with finishes of 5th, 11th and 9th in the last 3 World Championships.
Collis Birmingham (Australia) (13:15.92 / 13:14.53) - Better known as a 10,000m specialist (27:29 PR).
Josphat Bett (Kenya) (No 2010 Mark / 12:57.43) - Less than a month too old to remain in the junior ranks in 2010, Bett was the world junior 10,000m champion in 2008.
Matt Tegenkamp (USA) (No 2010 Mark / 12:58.56) - One of a new breed of sub-13:00 Americans, Tegenkamp has represented the USA in the last 3 outdoor global championships, with a best showing of 4th in the mad sprint finish at the 2007 Worlds.
Dejene Gebremeskel (Ethiopia) (No 2010 Mark / 13:03.13) - Bronze medalist in the 2008 World Junior Champs.
Alistair Cragg (Ireland) (No 2010 Mark / 13:07.10) - A multi-time Olympian and WC competitor for Ireland, the former Arkansas star has a 4th-place finish in the 2006 World Indoor 3,000m to his credit.
Juan Luis Barrios (Mexico) (No 2010 Mark / 13:11.37) - A 3-time member of Mexican Olympic or Worlds teams from 1,500m through 10,000m, Barrios has a best finish of 7th in the 2008 Olympic 5,000m.

Aron Rono (Kenya) - Pace

4:32 Pm - 800 METERS (WOMEN) - Will Top Americans Pierce, Vessey And Johnson Contend For The Win?
The women's 800 is absolutely loaded. Leading the way are the Beijing Olympic champ and runner-up in Pamela Jelimo and Janeth Jepkosgei. We probably shouldn't mention Jelimo as "leading the way," as she's actually been running poorly of late (she ran 2:10 at the Kenyan Trials last week and dropped out of the final).

Jepkosgei has been the most consistent performer in the 800 the last two years, as she was the runner-up in both 2008 and 2009 in the global championships. However, she's certainly good at finishing 2nd. She's #4 on the 2010 world list with a 1:58.85 but she was only 2nd in that race in Rome.

The world leader, Mariya Savinova of Russia, is in this race and we guess she's the favorite, as she's run 1:58.11. Jamaica's Kenia Sinclair (1:59.62) is #3 on the world list and can't be discounted either, but we will discount her when we make our predictions.

We really like the top three Americans in this race and think they possibly could steal victory in this race as Maggie Vessey did last year. Vessey is back this year and certainly could kick for victory again, particularly if the early pace is too fast as Vessey's last 200 is very good. However, the top Americans in our minds are Anna Pierce and Alysia Johnson. Johnson won world bronze indoors this year and dominated USAs last week. With all apologies to Anna Pierce, we think Johnson is the top American 800 runner and we'll find out on Saturday if that's the case.

Pierce won't go down without a fight, but we just think the 800 is a bit short for her. Hard for us to say that as she was undefeated in the 800 last year, won the World Athletic Final in the event and she did run 1:58.80 as well and get 2 Golden League wins. She also was ranked #2 in the world in the event.

Look for NCAA champ Phoebe Wright to break 2:00 for the first time in this race.

One interesting sub-plot in this race is how will the top 1,500 runners peform, as the race includes Olympic 1,500 champ Nancy Lagat (1:59.17 800 PR), 2007 and 2009 world champ Maryam Jamal (1:57.80 PR) and 2009 bronze medalist Shannon Rowbury (2:00.94 PR).''

LRC Prediction: Vessey got the shock win last year, why can't Johnson get it this year?

Meet Record - 1:57.57, Maria Mutola (Mozambique) 1997

The Field -
Mariya Savinova (Russia) (1:58.11 / 1:58.10) - The world indoor champion leads the world outdoors on time as well.
Kenia Sinclair (Jamaica) (1:58.62 / 1:57.88) - A veteran of 5 global championships, Sinclair owns a silver medal from the 2006 World Indoors.
Janeth Jepkosgei (Kenya) (1:58.85 / 1:56.04) - The 2007 world champion also has silver medals from the 2008 Olympics and the 2009 Worlds and recently won the Kenyan Trials.
Alysia Johnson (USA) (1:59.43 / 1:59.29) - The bronze medalist at World Indoors is coming off victory at the US Championships and has a good chance to win, but will very likely need a PR against others in the field with significantly faster personal bests.
Maggie Vessey (USA) (2:00.09 / 1:57.84) - Last year's US find was 2nd at USAs this year behind Alysia Johnson.
Phoebe Wright (USA) (2:00.47 / 2:00.40) - After a dominating victory at NCAAs and a solid 3rd at USAs, the recent Tennessee grad gets a shot at the world level.
Pamela Jelimo (Kenya) (2:01.52 / 1:54.01) - The 2008 Olympic champion owns the 3rd-fastest time in history but hasn't come close to that form since the Olympic year.
Shannon Rowbury (USA) (2:02.02 / 2:00.94) - Last year's 1,500m bronze medalist (and 2008 Olympic finalist) drops down in distance.
Nancy Langat (Kenya) (2:10.71 / 1:59.17) - Beijing's Olympic 1,500m champion makes a rare foray into the 2-lapper. She is the 2010 world leader in the 1,500.
Anna Pierce (USA) (No 2010 Mark / 1:58.80) - Arguably better at the 1,500m and almost as good at the steeple, Pierce actually ranked 2nd in the world in the 800m, her "second" event, after an undefeated 2009. Watch out for a strong come-from-behind effort in the final straight.
Maryam Jamal (Bahrain) (No 2010 Mark / 1:57.80) - Jamal is the reigning world champion in the 1,500m and has been extremely consistent in that event since 2005. Off to a slow start this season with only a 4:09 10th-place finish in Doha.

Karen Shinkins (Ireland) - Pace
Vessey's Win In 2009:



STEEPLECHASE (WOMEN): World Champ Dominguez In The Field

Meet Record - New Event In 2010

The Field -
Marta Dominguez (Spain) (9:17.07 / 9:07.32) - A former star at the flat 3,000m, Dominguez found the steeple in 2008 and wound up as the 2009 world champion and the 3rd-fastest performer of all time in the event.
Yuliya Zarudneva (Russia) (9:23.00 / 9:08.39) - The silver medalist in last year's Worlds has the 5th-fastest PR in history.
Milcah Chemos (Kenya) (9:11.71 / 9:08.57) - The 2010 world leader's presence gives the field all three of the medalists from Berlin last year.
Sofia Assefa (Ethiopia) (9:23.45 / 9:19.91) - 2008 Olympian and a finalist at Worlds.
Lisa Aguilera (USA) (9:41.62 / 9:28.75) - Former American record holder is back at the top of the US heap with a victory at Nationals.
Bridget Franek (USA) (9:38.86 / 9:36.74) - World Championships team member easily won NCAAs, then had a subpar USAs (5th) and looks to rebound.
Barbara Parker (Great Britain) (9:37.77 / 9:37.08) - Has won twice this year with sub-9:40 times.
Korene Hinds (Jamaica) (9:41.83 / 9:28.86) - A former 4th-placer at Worlds (2005), but needs to step it up to get back to that level as performances continue to improve in the event.
Nicole Bush (USA) (9:49.05 / 9:39.38) - Former Michigan State multi-time All-American was the runner-up at USA Nationals.
Shayla Houlihan (USA) (10:02.17 / 10:02.17) - 6th at USAs.
Kara June (USA) (10:05.40 / 9:49.56) - 7th at USAs.

Mardrea Hyman (Jamaica) - Pace
Women's 5,000m: Great (Hidden) Field
The women's 5,000m field for some reason is not listed on the meet website, but we just found it posted Friday evening on the Diamond League site. We apologize for not having the time to break down the field, but it features world record holder and 11 time world champion Tirunesh Dibaba. If Dibaba can get healthy in 2010, look out (she did win in NY in a slow 15:11). Also American record holder and Olympic 10k bronze medalist Shalane Flanagan is in the field, as is recent US champ Lauren Fleshman, plus recent US 10k Champ Amy Yoder Begley, World Champs finalist Jen Rhines, NCAA stud Sally Kipyego and last year's bronze medalist at 10k, Wude Ayalew of Ethiopia.
Fortunately there is a little IAAF Preview on Dibaba and Pre here. Hard to believe she is only 24. Yes, she has 11 world titles and is reportedly only 24.
LRC Predictions: 1) Dibaba 2) Flanagan 3) Kipyego 3) Amy Begley 4) Fleshman


SPRINTS AND FIELD EVENTS
Entrants for the sprints and field events below.
You actually might learn more by looking at our guide for our Pre Prediction Contest.

200 METERS (MEN)
Tyson Gay is back from injury. The question is how he will do. He faces formidable opponents in Walter Dix, Shawn Crawford and possibly Xavier Carter.

Meet Record - 20.14, Wallace Spearmon (USA) 2008

The Field -
Tyson Gay (USA)
Shawn Crawford (USA)
Walter Dix (USA)
Jaysuma Ndure (Norway)
Churandy Martina (Netherlands Antilles)
Richard Thompson (Trinidad)
Ryan Bailey

110 HURDLES (MEN)
Hard to believe, but David Oliver is the class of the field and it includes 2009 World Champ Ryan Brathwaite.

Meet Record - 13.06, Liu Xiang (China) 2005

The Field -
David Oliver (USA)
Terrence Trammell (USA)
Ryan Brathwaite (Barbados)
Artur Noga (Poland)
Jason Richardson (USA)
David Payne (USA)
Ronnie Ash (USA)
Ryan Wilson (USA)


VISA SHOT PUT (MEN)

Meet Record - 22.19m, Kevin Toth (USA) 2002

The Field -
Christian Cantwell (USA)
Tomasz Majewski (Poland)
Reese Hoffa (USA)
Adam Nelson (USA)
Dan Taylor (USA)
Ryan Whiting (USA)
Cory Martin (USA)
Dylan Armstrong (Canada)


DISCUS THROW (MEN)

Meet Record - 71.32m, Ben Plucknett (USA) 1983

The Field -
Piotr Malachowski (Poland)
Gerd Kanter (Estonia)
Virgilijus Alekna (Lithuania)
Zoltan Kovago (Hungary)
Casey Malone
Ian Waltz
Jarred Rome
Jason Young


VISA 100 METERS (WOMEN)

Meet Record - 10.94, Torri Edwards (USA) 2008

The Field -
Carmelita Jeter (USA)
Shelly-Ann Fraser (Jamaica)
Sherone Simpson (Jamaica)
Veronica Campbell Brown (Jam)
LaShauntea Moore (USA)
Blessing Okagbare (Nigeria)
Chandra Sturrup (USA)
Tahesia Harrigan (IVB)


400 HURDLES (WOMEN)

Meet Record - 54.14, Melaine Walker (Jamaica) 2007

The Field -
Lashinda Demus (USA)
Kaliese Spencer (Jamaica)
Josanne Lucas (Trinidad)
Sheena Tosta (USA)
Anastasiya Rabchenyuk (Ukraine)
Nicole Leach (USA)
Ebony Collins (USA)
Fawn Dorr (USA)


POLE VAULT (WOMEN)

Meet Record - 4.72m, Stacy Dragila (USA) 2002

The Field -
Jenn Suhr (USA)
Fabiana Murer (Brazil)
Anna Rogowska (Poland)
Chelsea Johnson (USA)
Lacy Janson (USA)
Yulia Golubchikova (Russia)
Aleksandra Kiryashova (Russia)
Monika Pyrek (Poland)*


HAMMER THROW (WOMEN)

Meet Record - 73.93m, Betty Heidler (Germany) 2008

The Field -
Anita Wlodarczyk (Poland)
Betty Heidler (Germany)
Tatyana Lysenko (Russia)
Jessica Cosby
Amber Campbell
Sultana Frizell (Canada)
Britney Henry


JAVELIN THROW (WOMEN)

Meet Record - 65.20m, Barbora Špotáková (Czech Republic) 2007

The Field -
Barbora Špotáková (Czech Republic)
Mariya Abakumova (Russia)
Rachel Yurkovich
Kara Patterson
Martina Ratej (Slovakia)
Madara Palameika (Latvia)
Alicia DeShasier
More: $20,010 LetsRun.com Pre Prediction Contest

2009 Coverage: LRC Bowerman Mile: Asbel Kiprop Is The Best Miler On The Planet & He Lets Everyone Know It The soon to be Olympic Champ Asbel Kiprop didn't get to enjoy hs 'win' in Beijing but he certainly did on Sunday as he mowed down the field in 3:48.48 and was so brilliant that he started to celebrate before he even had the lead - over 100 meters out!!!
LRC Pre W1,500: A Race for the Ages - JENNY BARRINGER GOES SUB-4:00 The CU Buff's sensational year just got infinitely better as she stunned the field (and the crowd), becoming the 2nd clean American to break 4:00, and nearly got the win as a ton of American women ran really fast.
LRC Pre Track Event Recaps Lots of great action, including a STUNNING win by American Maggie Vessey in the women's 800. Other big wins went to Nick Symmonds in a stacked men's 800, as well as Michael Rodgers in the 100 in a world-leading 9.94. Plus Bernard Lagat in the men's 3k.
LRC Pre Field Event Recaps *Pre Photos The action in the field produced some amazing results, especially from American Dwight Phillips, who became the =5th-farthest jumper in history with an 8.74 jump into a headwind. Phillips won the Olympics in 2004 but didn't make the US team last year. Read our recaps of all the events that took place in the field as NBC showed you almost nothing.
More Pre News: Barringer: *Lengthy Post-Race Article With Quotes From Barringer (She Said She Thought She Could Run 4:04)
*CU Buffs Story On Barringer (CU Assistant Heather Burroughs Says They Thought She Could Run 4:02 Or 4:03)
Men's 800: Nick Symmonds Wins Prefontaine 800 Again, Beating 2 Olympic Medallists Oregonian
Men's Long Jump: Dwight Philips Jumps 28 feet, 8 1/4 (8,74) To Beat Saladino (Best Jump In World In 15 Years)
Men's 300: LaShawn Merritt Defeats XMan In Pre 300
More: *LA Times Editorial On Pre "This is track as it should be."
*Mary Slaney Says Watching Last Year's Olympic Trials Was Difficult
*Prefontaine Classic Quotes