Bolt Running Penn!


*Ticket Info

*Boards: Bolt to run Penn

*USATF Announces Great News

*Penn Relays Director Dave Johnson Welcomes Bolt's Return
Mo Trafeh Gets A Sponsor After 2 Big Races Trafeh has become a big name in American distance running after winning the US 15k championships in Jacksonville by a minute and then running 61:40 in the NYC Half.
Sad Loss In The Running Community
2010 Rotterdam Marathon Follows 2009 Where Kwambai And Kibet Ran 2:04:27
LetsRun.com Previews The 2010 Fortis Rotterdam Marathon Our top 9 picks from the men's field include the 3rd-fastest man in marathoning history, the 2009 Boston runner-up, the 2009 Berlin runner-up, the 2009 4th-place finisher in Fukuoka, the 2010 RAK Half Marathon champion, the 2010 City-Pier-City Half Marathon champion, the 2009 World Half Marathon silver medal winner, an undefeated young marathoner and a man who ran 5 marathons and 5 half marathons in 2009.
*New: Link To HD Video Interview With Debut Marathoner Bernard Kipyego

*Look For Debut Marathon World Record To Go Down In Rotterdam Sunday Evans Rutto ran 2:05:50 in his first try at the marathon when he won Chicago. Can Bernard Kipyego or Jonathan Maiyo beat that mark?
From NYRR Homepage: Central Park Reservoir Track To Be Dedicated To Alberto Arroyo The official public dedication of the track around the Central Park reservoir will take place on Monday, April 12, at 6:30 p.m. Alberto Arroyo will be honored at his familiar place at the pump house on the south end of the reservoir.
Ben Johnson And Marion Jones Earn Spots In Time's Top 10 Disgraced Athletes Fans looking for more press for track and field always feel better when lists of scandals come out. More interesting to us was the fact that the Time editor considers Tiger Woods' transgressions to be worse than O.J. Simpson's.
*Nike's New Tiger Commercial This commercial might be the most disturbingly profound thing we've seen in pop culture in years.

Tiger Threads From LetsRun Boards:
*Nike has hit an all time low with its new Tiger Woods commercial
*Tiger's bodyguard confronts spectator at Masters practice tournament - thought she was one of his mistresses
Russia Putin's Olympic Committe In Turmoil - Olympic News
LRC The Week That Was In Running
This week, we give props to Joseph Ebuya, pay homage to the man who invented running in Central Park, talk about how ridiculously stacked the SEC is, are inspired by the minds of two champions (Usain Bolt and Bernard Lagat), worry about Asbel Kiprop and talk about the women's 800 stars of 2008 (Pamela Jelimo) and 2009 (Caster Semenya).
Semenya And Lawyers Fail To Hurry IAAF, Set Return Date On June 24 This puts the pressure on the IAAF to actually deliver a verdict in June as promised.
*Previous Gender Cases Have Taken No More Than 6 Months - Legal Teams Make Process Impossibly Tricky
Washington Post Runs Story On Cherry Blossom Race Organizer Showing How Money Works At Big Races This Sunday's Cherry Blossom 10-miler in D.C. will take in $1.1 million in revenue with $42,000 going to prize money.
Keeping Up With The Ndikus
Results From Italy And South Africa
Kiprop Struggles Continue - Hammered In Nakuru
Nixon Chepsaina Beats Asbel Kiprop By 10 Seconds In Nakuru 1,500 A muddy track didn't stop Nixon Chepsaina from running 3:39 while Olympic Champion Asbel Kiprop was 4th in 3:49. From the stats available, 2008 Olympic Champion Kiprop has not won a race this year in at least half a dozen tries.
Maine And Montana State - 1,500m Powerhouses
LetsRun.com And Maine Favorite Riley Masters And Coach Lech Talk About His Training For Sub-4 Read about Masters' secret workout (a 4-minute mile in 5 minutes) that led him to 5th in the NCAA mile. The author is a LetsRun fan and a senior at Maine.

Montana State Freshman Pat Casey Finished 3rd At NCAAs And Now Redshirts Outdoors
Virgin London Marathon News
Rupp Opens At Cal, And Other Race News
Windy City Steals Big Apple's Thunder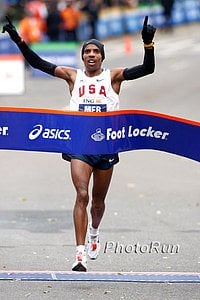 ING New York City Announces Meb And Deena
Defending champion Meb Keflezighi, 34, and Deena Kastor, 37, will be the core of New York's field 7 months from now.

*Boards: Meb and Kastor running NY
Interviews With The Mammoth Duo:
*Keflezighi To Defend New York Title First comes Boston in 11 days.
*Deena To Run New York This Fall She'll have to deal with Liliya Shobukhova in London first.
Chicago Wins 2010 Race To Announce American Elite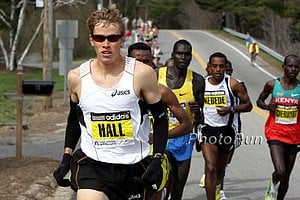 Ryan Hall Commits To Chicago Marathon 2 Weeks Before Boston
Ryan Hall and Bank of America Chicago Marathon race director Carey Pinkowski announced today that Hall will go for a fast time on 10.10.10 in Chicago this fall.

*Boards: Hall to run Chicago The next question appears to be: Meb or Geb or both for New York?
*Hall Eyes Khannouchi's US Mark In Chicago
Caster Semenya - Winning In The Court Of Public Opinion?
Semenya's Lawyers Say Tests Prove She Can Compete, IAAF Are Delaying Semenya's lawyers are going on the public relations offensive... perhaps their case isn't a slam dunk like they say?

*AP Article Frames The Huge Caster Semenya Case As our poll showed, most people think she's too manly to be running in female races. We think that Semenya has 10 times as much character as the average person, but if she's allowed to compete as a female, they might as well just have the males and females all in the same race.
Stephanie Twell Ran A 71 Minute Half Marathon This Past Weekend
Good News In The Sport
Tyson Gay Visits Lexington School To Inspire Kids To Walk At Least 40 Minutes A Day

Kenya's Vice President Pays Tribute To Paul Tergat And His Example To Youth We certainly know what a great ambassador Tergat is, as he met Wejo in Kenya in 2007 for a Fanta in Nairobi. (Wejo's Kenya Photos)

Angela Bizzarri Named AAU Sullivan Award Finalist 2 out of the 6 finalists are distance runners, proving that everyone should try to be like us.
LRC On This Day 4 Years Ago: Salazar and Lananna work well together with Rupp, Shaheen says Bekele is a liar and a trickster, LRC predicts Boston will get the 2008 men's Olympic Marathon trials, and Rotterdam Marathon hopes for a 2:06 (they got two 2:04:27s in 2009).
Non-Running-Related
It's All Over - Cornell Basketball Coach Steve Donahue Leaves For B.C. We knew this day was coming.
Australia's Stowell Gift - Controversy Fuels Famous Handicapped Sprint Event
"Johnny Drama" Accused Of Sandbagging As He Wins $40k At Australia's Richest "Gift" $15,000 are going to his parents to pay for hip operations and $5,000 are going to race organizers who think Burbidge may have flopped in earlier races to help his handicap.
*Burbidge's "Entourage" Thrilled With His Win
*Burbidge Absorbs Largest Fine In 129-Year History Of Stawell Gift