LetsRun.com: The Week That Was In Running: February 22 - February 28, 2010
By LetsRun.com
March 1, 2010
To read last week's LRC Week That Was, click Here.
To read any 2010 LRC Week That Was, click Here.
****
This week we hand out praise to underdog US female runners, heavily-favored US male runners, Usain Bolt, Ryan Gregson, Martin Lel, Kim Smith and Japanese marathoners while we give a Thumbs Down to Kenya. Along the way, we wonder why we can't purchase a Mercedes for less than a quarter and then we actually give out praise to the Boston marathon and wonder if they are finally narrowing the gap with London.
Last Week's Homepages
*Mon (March 1) *Sun (Feb. 28) *Sat (Feb. 27) *Fri (Feb. 26) *Thu (Feb. 25) *Wed (Feb. 24) *Tue (Feb. 23)
Good Week/Bad Week
In a week that featured plenty of distance races at all of the big NCAA conference meets (save the Big East) and USA indoors, we'll start our weekly recap with professional sprint action.

Let it be officially known that it's now officially just a matter of when, not if.

A matter of when Usain Bolt sets the 400-meter world record.

The greatest short sprinter in history soon will be the greatest 400 meter runner in history - mark our words. We're writing this prediction on February 28, 2010 and when Bolt breaks the record, all we'll say is "We told you so."

We are so confident because Bolt ran a ridiculous 43.58 split over the weekend. A 43.58 in February. With no outdoor Worlds in 2010, Bolt should go for times. He should first find a machine to rabbit him to a sub-19.00 200 time and then he should go break the 400 world record. We wish there was a betting line on when Bolt breaks the 400 WR. The over/under in our minds might be the year 2010. More:

Bolt 400m! 43.58 Relay Split In February

But Bolt wasn't the only phenom impressing at 400 meters last week. Kenya's 800 phenom, 21-year-old David Rudisha, who set the African record of 1:42.01 last September, impressed with a 45.5 - pretty impressive stuff for an 800 man. More: David Rudisha 45.5 400m. Making The 400/800 Man Stylish Again
But the law of averages state that not everyone can have a great week. Those with disappointing weeks included the US distance star of the present, Dathan Ritzenhein, who pulled out of the World's Best 10k and World Cross-Country due to a nagging foot injury, as well as the (hopefully) US distance star of the future in German Fernandez, who stepped out off the track in the middle of the Big 12 mile with his own foot injury.
In our minds, Kenya also had a bad week because it was revealed very subtly in an article that the reason they only are sending 7 to World Indoors is because they only have the money (or are given the money from the IAAF or some sponsor) to send 6 for free. American-based Kenyan Boaz Lalang will pay his own way. Maybe LRC should sponsor a Kenyan?
More: Kenya Only Sending 7 To World Indoors Only one woman on the squad. Thankfully, she's quite good - 2009 world 5k champ Vivian Cheruiyot. This article explains why Kenya is only sending 7 and it's because there is only money to pay for 6 to go.
A Thumbs Up is certainly needed for former ING NYC Marathon champ Hendrick Ramaala for announcing that he intends to run for the presidency of the Athletics South Africa to replace the disgraced Leonard Chuene. Ramaala, who holds a law degree, is viewed by everyone as one of the class acts of the road/marathon circuit.
Chuene, on the other hand, continues to generate more negative news even though he no longer in office. If being largely responsible for the whole Caster Semenya debacle wasn't enough to ruin someone's reputation, then buying a Mercedes Benz for 12.8 cents certainly has to put one over the top. Prison would be a good place for Chuene in our book, but it may be hard to put this guy behind bars as computer files were deleted and documents shredded.
It contrast to Chuene, it was a good week for 19-year-old Aussie Ryan Gregson. The LRC visitor certainly is proving to be the real deal as he knocked 2 seconds off his PR to win the Sydney Classic in 3:35.42. Even more impressive than the time and the win in our book was the fact that he blitzed his last 400 in 53. Tactical speed is something that is hard to develop, so it's good to see that he has it.

Ryan Gregson's 3:35.42




More: LRC Mboard thread On Ritz LRC Mboard Thread on German Fernandez *Aussie Phenom Continues Romp: Ryan Gregson Wins Sydney 1,500 In PR 3:35.42 *Recap Of Entire Sydney Classic - Hooker, Vili And Samuels Impress In Field Events
****
Inaugural Mardi Gras Half Marathon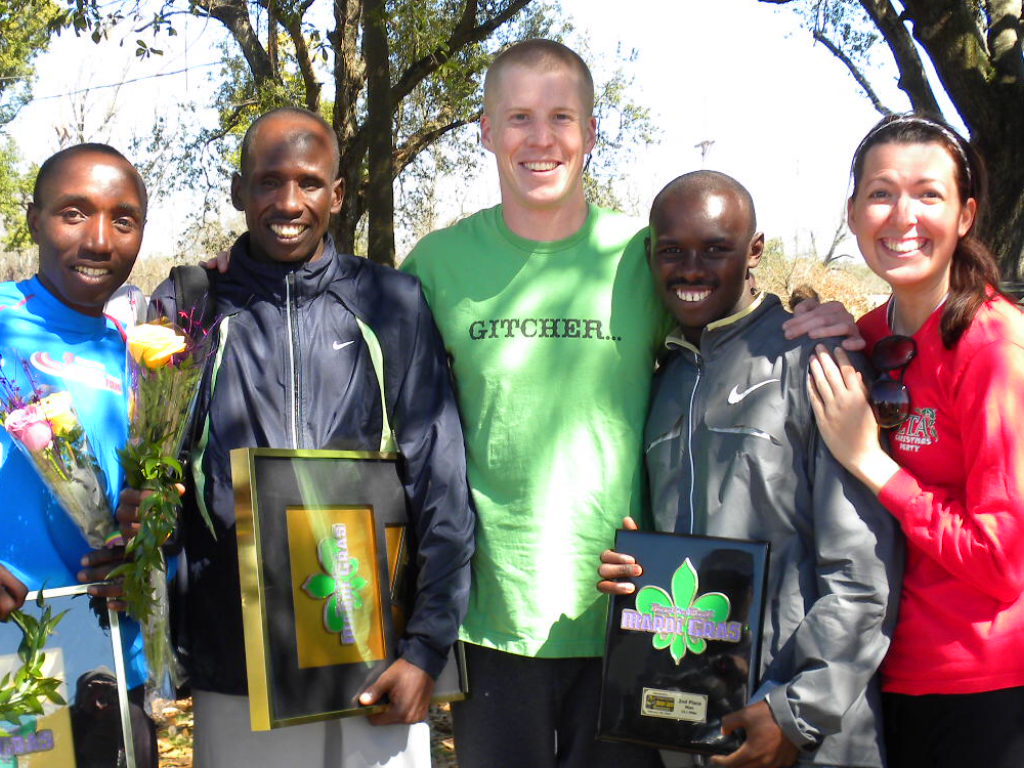 LRC Visitor Don And His Girlfriend
Camille At The Mardi Gras Marathon
Also having a good week was Martin Lel. Lel is the man many have forgotten about as he was totally snake-bitten in 2009. He was forced to pull out of both the 2009 Flora London Marathon as well as the 2009 ING NYC Marathon with an injury the week of each race even though he had a sub-1 hour half marathon win to his credit leading up to both of them.

In LetsRun.com's book, if Sammy Wanjiru isn't the greatest marathoner on the planet, then Martin Lel most likely is the best. LetsRun.com remembers that Lel was the last guy to defeat Wanjiru in a marathon (2008 London when he ran 2:05:15 to Wanjiru's 2:05:24). Plus he's won London four times and New York twice. Well, Lel defeated Wanjiru last weekend in New Orleans at the Mardi Gras Half Marathon, as he ran 61:07 to Wanjiru's 61:33. Barring injury, Lel and Wanjiru will square off again next month in London and that race will be must-see television in our book.

Also having a great day on the men's side in New Orleans was former Oregon Duck Shadrack Biwott, who surprised with a third-place 61:40 showing.

The women's action was even hotter than the men's, as Berhane Adere (67:52) and Kim Smith (67:55) ran faster than anyone ever had before on American soil. A definite Thumbs Up is in store for them as well as for the people at Elite Racing for attracting such a good field for a first-year race.
More: *Martin Lel, Berhane Adere Win Rock 'n' Roll Mardi Gras Half-Marathon *Lel (61:07) Returns To Defeat Sub-Par Wanjiru, Adere (67:52) Wins Close Race Over Kim Smith (67:55) *On The Boards: Shadrack Kiptoo Biwott Fantastic Run
****
2010 USA Indoors
Going into the 2010 USA indoor meet, American 800-meter man Nick Symmonds thought he was in great shape, as he told David Monti in a pre-race interview, "I feel pretty good ... My last three months of training have gone perfectly without a hitch." Well, we want to give Symmonds a big Thumbs Up for backing up the big talk with a win in the men's 800, as he ran 1:48.10 to Duane Solomon's 1:48.41.