Revenge Of The Nerds II
Former Ivy Leaguers Lead USA To NACAC Wins Max King (Cornell alum) led the men to a 1-4 sweep with the help of Michael Spence (Princeton), Bobby Mack (NC State) and Tom Kloos (Columbia). The senior women were led by race winner Delilah Dicrescenzo (Columbia).
Revenge Of The Nerds I
Kyle Merber Becomes Second Sub-Four Indoors In Ivy League The deluge of Americans breaking 4 continues in 2010, as Columbia's Kyle Merber became the 2nd Ivy Leaguer ever to run sub-4 indoors with the win and all-time Ivy indoor best in 3:58.52, while LetsRun favorite, Maine's Riley Masters, went sub-4 again.

More NCAA Results:
*Notre Dame's Alex Wilson Invite Full Results
*IC4A Final Results
*UW Last Chance Meet Results U. of Minnesota's Ben Blankenship auto-qualified for NCAAs with a 3:57 win in the men's mile. Galen Rupp was 3rd in the mile in 3:58.79 and then an hour and a half later won the 800 in 1:50.64.
*2 Of Todd Harbour's Baylor Bears Run 1:48-low
*AJ Nation Auto Qualifies In Mile AND Beats Rupp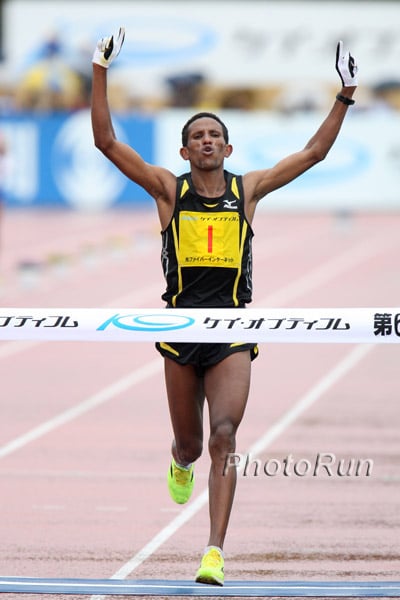 Yemane Tsegay Wins Rainy Lake Biwa Marathon In 2:09:34 After the pack crossed halfway in 64:07, Ethiopian Yemane Tsegay broke away, running 2:54 km's and building a 1-minute lead by 30k before he began to slow considerably in the later stages.
*Video Highlights
*IAAF Recap w/ Top 10 Results Hendrick Ramaala finished out of the top 10.

Wilson Kiprop and Atsede Bayisa Win Paris Half Marathon

Bekele Among Big Stars Competing In Prefontaine Classic This July
Before We Forget - Tokyo Marathon Photos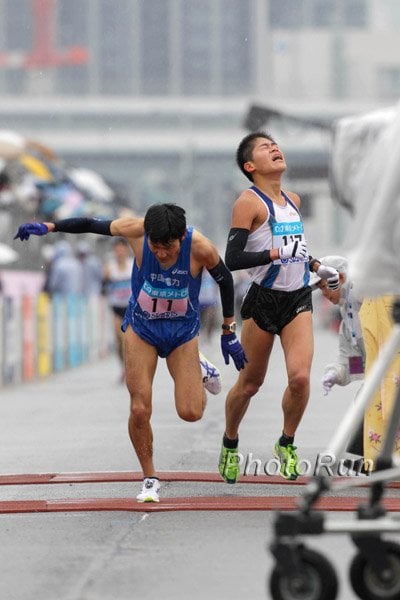 *New LRC Content Photos From Bad Weather Tokyo Intl Marathon Despite terrible conditions, the toughest marathoners on the planet (that would be the Japanese) had 6 under 2:13:16. Thanks to PhotoRun.net for the photos.

*Japan Running News' Excellent Race Recap And Results

*LRC Robert Johnson Talks Tokyo Marathon In LRC Week That Was Only 7 Americans ran 2:13:16 or better in 2009. 6 Japanese marathoners did it in tsumani conditions in Japan this weekend.
News From Kenya And Ethiopia - Bekele Scratches
Melbourne Track Classic *Results
Kiprop Versus Willis Fizzles, Rudisha Drops 1:43.15 The highlight of the meet was supposed to be an Asbel Kiprop and Nick Willis 1,500m rematch. But Kiprop got clipped up and Australian Jeff Riseley was the winner in a more tactical 3:42.70 as Willis was third. David Rudisha, who ran 1:42.01 last year to end the season, got his 2010 800 season off with a bang in an Australian all-comers record of 1:43.15, as LetsRun viewer favorite Ryan Gregson was 2nd in a distant 1:46.
More: *Inside Athletics Recap *IAAF Recap *Results
Team USA Announcements
Team USA Announced For World Indoors Starting March 12 The US will send over 50 athletes to Doha, likely the world's largest team.
US mid-d and distance runners going to Doha: Anna Pierce and Alysia Johnson (800), Erin Donohue and Sarah Bowman (1,500), Sara Hall and Desiree Davila (3,000), Galen Rupp and Bernard Lagat (3,000), Will Leer and Garrett Heath (1,500), Nick Symmonds and Duane Solomon (800).
LRC Comment: A First? Desiree Davila, a Hansons-Brooks runner, is representing the US on the track. She ran for the US marathon team at the Berlin Worlds and ran great to get 11th.
Houston Get
$

The Trials

LRC Exclusive Houston Marathon Trials Analysis: Follow The "Support" We talked to Ed Torres, one of the two athlete representatives on the USATF committee that awarded both the men's and women's 2012 Olympic Marathon Trials to Houston. We wanted to find out the factors that led to Houston being awarded both of the Trials.

Opinion Divided: US Marathoners And Coaches Respond To "Houston x 2" Announcement Most of the runners don't seem to care too much who won and support Houston getting the Trials. Adam Goucher brings up a good point that the top athletes like Ryan Hall likely will give up a fall payday and a spring day to run the Trials, whereas in the past they would only give up one big payday. Plus a guy like Hall or Ritz might make more in appearance fees at a one marathon than they would from winning the Trials.

*LRC The Inside Story: How Houston Beat Out New York For The Right To Host The 2012 US Olympic Marathon Trials Nine years ago, this once-proud race which had hosted the 1992 Olympic Marathon Trials and had Bill Rodgers as a former champion dropped prize money and seemed to be on its way to exiting the national stage. Now Houston is on top of the US running world. Read how it happened and get some more details on the 2012 Trials.
Seriously? World Record Talk - Bekele Back From Injury
Recommended Read: Inspiring Piece On France's Bouabdellah Tahri
This guy holds 2 European records (steeplechase and indoor 5,000) and he's virtually unknown to most track fans. Tahri finally got a World Championships medal in 2009 in the steeple but he had to run 8:01 just to get bronze by the narrowest of margins. Tahri has been around for a long time - find out what he thinks made him a medal winner.
World News
Remembered For Great Contribution To The Sport
Long-Time West Coast Running Contributor Doug Speck Dies Of Melanoma
Alan Webb's House On The Market In Reston
LRC Ed Torres Hangs Them Up Foot Locker XC, CU's 1st NCAA XC national title, and 3 US teams to his name.
LRC Training Talk #5 With John Cook John Cook, the coach of many of the US's top mid-d pros, including World Championships bronze medallist Shannon Rowbury, was our featured guest on Thursday and Cook was his entertaining self throughout. No topic was off limits as we talked about his evolution as a coach, the role of drills and mileage, how not to get stress fractures, how big of a problem drugs are in the sport, and even the departure of Shalane Flanagan and Erin Donohue from his training group. Along the way, Cook also talked about many of the biggest names in the sport, including Abdi Bile, Galen Rupp, Alan Webb, Leo Manzano, Alberto Salazar, Dan Pfaff, Peter Coe and others. Listen to the 75-minute podcast on the left or ...



Breaking News: Letsrun.com Has Learned How To Use iTunes There was champagne flowing in LRC headquarters this afternoon as we listened to Rojo interview John Cook on iTunes and our iPod.
*LetsRun.com Training Talk Main Page Find all the Training Talks here.
Trackwire Stories
Darwin Award Candidate: British Hurdler Caught Taking Clenbuterol If you're dumb enough in this day and age to take a steroid performance-enhaning drug like clenbuterol while being a citizen of a country that actually tests for drugs (aka not Russia), a 2-year suspension really should just be a lifetime ban.

Average Runners Offered Opportunity To Pay Money For Elite Treatment At NYC Half It's like upgrading to first class in an airplane except the money goes to fund NYRR's Youth Programs. Bids are up to $1,000

LRC Favorite Ezekiel Kemboi Will Retire From Steeple This Fall and Go For The Marathon He says he's going for the steeple world record first. Bravo if he gets it because Shaheen's 7:53.63 is no joke.
*Reminded Us Of This: LetsRun.com Video of Kemboi After Winning Gold In Berlin Kemboi was the guy who shaved the Nike symbol on his head.

Preview Of Paris Half Marathon
News And Notes
Spanning The Globe's Running News
(KEN) Kenyans Upset That Women And Men Are Living And Training Together In Sports Hostel It's fine that they don't have electricity or running water, but it's not good that women were discovered living and training with men.


(JPN) Japan Running News Gives Us Great Interviews From 12 Time Zones Away - Interview With Arata Fujiwara At His Favorite Bar A good follow-up to The Week That Was, where we give Japanese marathoners a big Thumbs Up.

(GBR) Squabbles Over What To Do With London's $750 Million Olympic Track Stadium Continue Mo Money Mo Problems, baby. Reminded us of this: Athlete Recommends All Olympics Be Held In Switzerland To Cut Down Corruption And Wasted Billion$$

(KEN/ETH) Extended Profile On Kenyan Women Who Turned The Tables On Ethiopians Defar And Dibaba In 2009 A GREAT read on Vivian Cheruiyot and Linet Masai. Look for Cheruiyot to race Meseret Defar in Doha at 3,000m and Masai will go for the World XC title as a big favorite. Masai (above, winning a world title) looks like the perfect runner.

(AUS) Thursday In Melbourne: Willis vs. Kiprop In 1,500; Rudisha vs. Gregson In 800

(RSA) South Africans Vote In "Lying Chuene" Supporters To Track Governing Positions

(AUS) 800m Training Article - Quotes From Australia's Best Half Milers This article has some mid-d training advice. If you have more mid-d training questions, email us and listen to Training Talk V with top US coach John Cook on Thursday.
LRC The Week That Was In Running Feb 22-28, 2010 - This week we hand out praise to underdog US female runners, heavily-favored US male runners, Usain Bolt, Ryan Gregson, Martin Lel, Kim Smith and Japanese marathoners while we give a Thumbs Down to Kenya.

Along the way, we wonder why we can't purchase a Mercedes for less than a quarter and then we actually give out praise to the Boston marathon and wonder if they are finally narrowing the gap with London.
Popular Threads The Last Week On LetsRun
Kyle Merber's Sub-Four (Larger Video Here
)
Better Than Advertised: Video Of Usain Bolt's 43.58 Relay Split (Anchor Leg)
Usain Bolt On The 400m
"The 400 I don't want to do, but I think I'll do it in the future because my coach can be very convincing. And he'll find some argument for me to do it." Usain, how about this argument: you'll be the first man under 43. Watch MJ's 400m WR.
80-Year-Old Coaching Legend Joe Newton Talks (More Here)
Help Your Dreams Become Reality: LRC Training Talk - Listen To Our First Episodes
Recommended Reads - You Can Buy The Books Online
One for the Mind: Running Within
One for the Soul: Best Efforts
More Great Deals