The Inside Story: How Houston Beat Out New York Out For The Right To Host The 2012 US Olympic Marathon Trials
Marathon Director, Steven Karpas: "We want to treat the athletes like rock stars."
By LetsRun.com
March 1, 2010
At a press conference in Houston on Monday, USATF CEO Doug Logan announced that Houston would host both the men's and women's Olympic Marathon Trials in 2012. Houston beat out bids from the royalty of American marathoning, Boston (women) and New York (men).
It is the first time one city will host both Trials races at the same time. The Trials will take place on January 14th, 2012, the day before the Chevron Houston Marathon.
In talking with Houston Marathon Managing Director Steven Karpas, Houston from the get-go decided that it wanted to host both Trials races. Karpas said the Houston committee decided that the economies of scale were such that it made sense to bid on both Trials if they were going to bid on one. Police coverage, course preparation, media relations, and many other functions have very little increased costs with two races versus one. (The Houston Chronicle is reporting that Houston bid $1.4 million to host one Trials race, and $1.7 to host both).
Karpas said, "2012 is our 40th anniversary and we wanted to do something big. What's bigger than holding both Trials events the same day?"
Houston The Unanimous Choice
In the end, Karpas said the bidding came down to Houston and New York, and Houston was the unanimous choice by the USATF Committee to host both Trials. Karpas acknowledged that hosting the Trials is very expensive, but he did not feel the Houston bid was financially superior to New York's. He believed USATF felt the opportunity and buzz from hosting the Trials in one city was what pushed the Houston bid over the top. USATF CEO Doug Logan praised Houston's "aggressive" bid.
Karpas was on cloud nine and said, "Our (race) committee is ecstatic about this. Our city is beyond ecstatic. Our running community, everyone is so behind us hosting the best marathon runners. 2012 can't come soon enough for us." He noted that the mayor of Houston Anise Parker was at the USATF announcement and many city officials were going to be at the celebratory party tonight.
Karpas was full of praise for the New York and Boston Marathons and what they have done to keep marathoning in the national consciousness. He understood how people might question giving the Trials to Houston over New York or Boston.
He said, "I certainly understand when you don't have New York or Boston (winning) ... you sort of scratch your head but look at our track record ... it is easy to see why (Houston prevailed)."
He added, "When you turn down New York, you'd better be sure you're right for a number of reasons."
Houston Back From The Brink
For Houston, winning the Trials cements its resurgence at the upper echelons of American marathoning. According to Karpas, Houston was the first marathon to pay above-the-table prize money. From 1981, when Bill Rodgers won the race in 2:12:20, until 1996, the winning time was always between 2:10 and 2:12. In 1992, Houston hosted the women's Olympic Marathon Trials. Even in 2000, the winning time was still 2:11:28. Then in 2001, Houston decided to discontinue prize money.
The winning times plummeted and Houston disappeared from the national consciousness the next 3 years.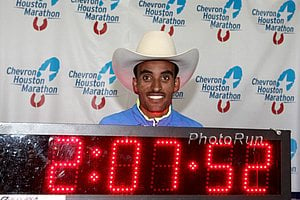 Between finishing 4th at the Olympics and winning Boston,
Deriba Merga set a Texas Record in Houston.
In 2004, Houston reintroduced prize money. In 2005, it hosted the US Half Marathon Championships for men for the first time with the Aramco Half Marathon. In 2006, Chevron came on as the new title sponsor of the full marathon. Houston has seen some stellar performances since 2005, as it has re-emerged in the national consciousness, including Ryan Hall's stunning 59:43 American record in 2007, soon-to-be Boston Champ Deriba Merga's 2:07:52 course record last year, this year's course record 2:07:37 run by Teshome Gelana in a race where 6 men broke 2:10, plus Teyba Erkesso with two women's course records (and state records, which are important in Texas) the last two years, including this year's 2:23:53. Houston was also the place of Shalane Flanagan's half marathon debut this year and where Meb Keflezighi made his comeback last year on his way to winning the NYC Marathon.
We at LetsRun.com were pleased that Karpas was quick to recognize the benefits a top-notch professional field brings to his marathon and its sponsors. He said, "The elite program is important to our sport. It adds an element of excitement to our event ... Has the elite marathon helped put Houston on the map? For sure." He said the pros get you "more impressions in the media." Karpas cited last year's pre-race press conference as an example. At that press conference, Deriba Merga stated he wanted to run 2:05 and that in turn garnered some national attention (and two straight LetsRun.com quotes of the day).
Karpas added that race directors should not tread lightly in trying to attract professional runners. He said, "Having said that, it (having top notch professional runners) is a very expensive place to play in. As a race director you have to be aware of this ... If at the end of the day, you don't have sponsorship money, you're not going to be able to do it." He said the last thing you want is not to have the full budget to bring in a competitive field and have one runner way out in front. He estimated Houston's marathon budget for elites was about 40% of Chicago or Boston, but he was very pleased with the results.
Sidebar: Of Course, We At LetsRun.com Take Credit For Houston Getting The Trials
Karpas mentioned an email exchange he had with LetsRun.com's Weldon Johnson after Houston discontinued prize money. Wejo only vaguely remembers the email exchange, but Karpas wrote LetsRun.com on an unrelated matter in (we think) 2001, and Wejo wrote back saying the race would suffer in stature and that the professional runners helped create exposure and also inspire others. Karpas brought up the email on Monday and said Wejo's comments stuck with him in the back of his head. So now LetsRun.com claims the Trials in Houston and Meb's win in NY as being LetsRun.com products.
Although there are "track geeks" at heart (who see the benefits of the professional athletes) who are heavily involved with the Chevron Houston Marathon, Karpas said the race always needs to keep its focus on putting on a quality event for the masses. In the three years it did not have prize money, the race - thanks to its sponsorship with Hewlett Packard - was able to implement some new technology that improved its product. The race was able to "reinvent" itself and come back stronger when Chevron came on board as sponsor in 2004. The marathon, which only had 6,000 people then, now has 22,000 runners in all its races according to Karpas. Interestingly, like a lot of "marathons" today, most of the Houston runners are not in the marathon. The marathon gets all the attention, but there were only 8,507 marathon entrants this year. Looking at the Houston website, we see 26,387 (not 22,000) entrants this year, with roughly half in the half marathon (13,332) and the rest in the 5k and marathon.
Fortunately for running fans, Houston's decision to get back into the professional athlete game has paid big dividends for the race and let it bid successfully for the Olympic Marathon Trials. Karpas said of the Houston bid, "We're doing this for the betterment of our sport as were New York and Boston."
USA marathoning on the men's side is at an all-time competitive high, and it seems that perhaps the Olympic Trials bidding process is as well if Houston could trump New York. Hopefully that pays dividends for the athletes and the sport.
Trials Details From Steve Karpas: "We want to treat the athletes like rock stars with travel expense and hotels."
*Date: January 14, 2012 - The day before the Chevron Houston Marathon.
*Prize Money: $250,000 each race.
*Rectangular criterium style course has not been finalized, but it will allow spectators to go back and forth and see runners go in 2 directions. The course likely will be in the outskirts of downtown.
*National television (the details have not been decided and the national television may not be live, but national TV was a basic requirement of the bid).
*The women's race will start first with the men afterwards so they finish in close proximity to one another. Our hope at LetsRun.com is that they are staggered so the women's race finishes about 30 minutes before the men's. Most major marathons try and put them much closer together and thus the women's race is finishing right when the men's race is in its critical stages. An engineering type also should figure out the ideal starting time logistics for spectators so is it possible that spectators can go back and forth and catch both races.