It's Rio, Baby!
*Chicago KO'd - Mayor Daley Says "Go On With Your Lives"

*Inspired By Rio, Haiti Makes Bid For 2216 Olympics The Onion (satire)

*Average August Temperatures In Rio - Not Too Bad! 70s and a bit humid.

*Photos Of Reactions Around The Globe Some great photos here.

*Snub For Pres. Obama? The busy Pres. spent all of five hours in Copenhagen.
"Spanning The Globe"
Paula Making News
Bernard Lagat Decides To Train Specifically For 3,000 And 5,000 Meter Races To Challenge Bekele Lagat, a great championship racer, is convinced he can be the best at 5,000m if he trains specifically for it. No more doubling at major championships, he says.
*Good LRC Message Board Thread: No way Lagat will beat Bekele
Beijing 2008 - London 2012 - XXXXX 2016 - The Decision Comes Friday
*Watch The Announcement Online At 10am Eastern
*Lord Coe On What China Taught London About Hosting Olympics
*Michael Phelps and Bryan Clay Endorse Chicago 2016 Over O'Hare Airport PA System While Callers Blast Tax Burden On TV News Shows We traveled on Thursday and sat in the O'Hare airport listening to passionate callers railing against the Obamas and possibly having to pay for the Olympics while Clay and Phelps ran commercial spots rooting for Chicago.
*Detailed Info On Bid Cities This page is amazingly informative. Of course, after tomorrow, nobody will care about three of the cities, as the decision will be over.
*Website Ranks Potential 2016 Marathon Courses
*They Play, We Pay! Protestors Vent In Chicago
Latest Distance Running Interviews
Jon Rankin Will Run Internationally For Cayman Islands Running at the major global championships just became a whole lot easier for Rankin!
Nice Article On Dan Steele Who Left Oregon To Become Head Track Man At UNI
Sad News: Northern California Boy Dies After Cross-Country Race In Very Hot Weather It seems like he laid on the ground for a few minutes before bystanders noticed he was in really bad condition. Temperatures were well over 100 degrees on the day.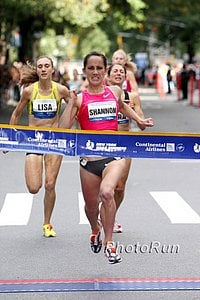 LRC The Week That Was What a week yet again. The off-the-track headlines dominated as we learned that running can make you smarter, Usain Bolt was or was not offered $100 million, Leonard Chuene continued to embarrass South Africa and another running-related book started to gather positive press. In terms of action, the Canadian soil marathon record fell and the milers blazed in NYC.
Edwin Soi Wins Scicli 10k Over Micah Kogo A rare tactical road race, as the course is run on 1km loops with a 300m hill run over cobblestones. On Sunday, the course was wet, meaning the opening kilometers were passed in around 3:00!

He's A Komon! Leonard Komon 27:10 Road 10k In Utrecht That's fast!

Cow Harbor 10k Race Results - Mo Trafeh And Katie McGregor Win US Only $$$ Jason Lehmkuhle was second on the men's side behind Trafeh, who made up for his narrow loss to Brett Gotcher at the New Haven 20k by picking up $3,000 in Northport, NY.
Zersenay Tadese Set To Run Birmingham World Half Marathon And Defend His Title Tadese is a 3-time winner of the event and you may recall pushed Kenenisa Bekele very hard in the Berlin 10,000m race on the track, where both men ran under 27:00.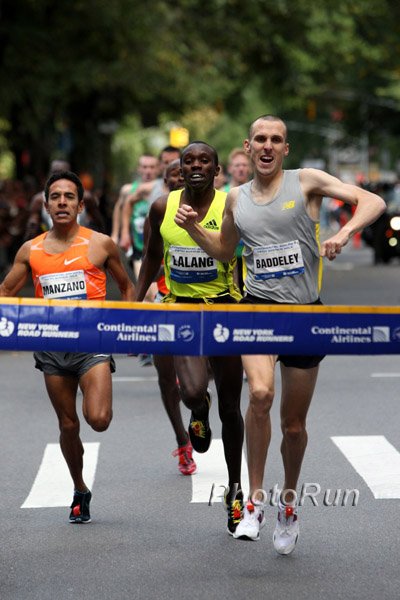 UPSET SPECIAL! Andy Baddeley Surprises (!) And Shannon Rowbury Caps Great 2009 At 5th Avenue Mile updated Baddeley, who was injured earlier this year, won in 3:52 despite only 2.5% of LetsRun voters picking him for the win. Overwhelming favorite Bernard Lagat got 65% of the vote but came in fourth in the Big Apple behind Leo Manzano and Boaz Lalang. Shannon Rowbury (4:24) continued her excellent season on the track with a big win over Lisa Dobriskey and Sara Hall, who had a photo finish for second. *LRC PHOTOS
*5th Avenue Mile Results 15 men break 4:00!
*NYRR Coverage Page
*LRC: MBoards: 5th Avenue Mile
Ridiculous
*South African Track Head Chuene Gets Unanimous Vote Of Confidence And Will Stay In Job Chuene wants to know what he did wrong and says he lied about knowing about sex tests to protect Semenya. Complete BS. How does lying about the tests protect her in any way? It only protects his ass. He also has accused the whole affair of being the work of racists and for good measure said IAAF officials told Semenya to fake an injury. Someone should look into that claim, but this guy already has been shown to be a liar.
More: Is Financial Mismanagement At Athletics South Africa The Real Problem?
*#1 Oregon Men Beaten At Home By Alabama & BYU, Only 2 Points Ahead Of Portland Alabama won the meet with three Kenyans in the top 8 while a message board poster points out Portland #3 man, freshman Trevor Dunbar, finished in front of Luke Puskedra. We've said all along that Oklahoma St should be ranked #1 this season and this definitely proves it.
*#2 Oregon Women Fall To Villanova, Who Put 5 In Top 8 Jordan Hasay finished 6th in a PR in her first race in the Oregon kit. That's right, 2-time Foot Locker champ Hasay ran a PR and still was only 6th, showing how much tougher college running is. She would have been the 4th runner for Villanova.


*Paul Short Women: Shippensburg's Soph. Neely Spence Takes Individual Crown
*Paul Short Men: Indiana U, Firing On All Cylinders, Takes Down Nationally Ranked Iona And NC State

*Notre Dame Results Washington flew east and stole both titles in fields chock full of ranked teams. On the women's side, the defending champs went 1-4 with a gap of 8 seconds and easily bested NCAA #6 Princeton. On the men's side, the rankings were thrown aside in a more even battle, as #22 UW took down #11 Tulsa and #15 Providence. New Mexico's Jacob Kirwa took the title by 1 second over ASU's Brandon Bethke.

Luke Puskedra The #1 Returner For #1 Ranked Ducks In "Life Without Galen Rupp" Oregon will have their first tough test of the year at Dellinger Saturday Friday.

*LRC Links To 5 Major NCAA Cross-Country Meets Happening This Friday And Saturday The NCAA cross-country season goes into full gear this weekend with at least five big meets where almost all of the nation's top teams will be competing. Bill Dellinger in Oregon, Paul Short in Lehigh, Cowboy Jamboree in Stillwater, adidas Wisconsin Invite in Madison and the Notre Dame Invitational in South Bend. Check out who is going where and get links to coverage and results.

*Medtronic Twin Cities Marathon To Host US 10-Mile Champs Too
*Twin Cities US Championships 10-Miler Entries (Men's Only Race) Favorites include Brett Gotcher, Abdi Abdirahman and Mo Trafeh, plus Anthony Famiglietti and the expected return of Josh Rohatinsky and Max King to the roads. A relatively big men's elite field should make for an interesting race.

*Meb K Headlines Rock n Roll San Jose Half This Sunday Meb will face Luke Humphrey, Bolota Asmerom and Josh Cox. Magdalena Lewy Boulet is the clear favorite on the women's side.
Saucony Named Official Sponsor Of Foot Locker CC Championships Thanks to Saucony for supporting a great meet that may die out thanks to Nike CC Nationals.
Interview With Amy Yoder-Begley, Who Will Represent The US At The World Half Marathon Champs
Jamie Donaldson Named USATF Athlete Of The Week For Breaking 200km Record Donaldson ran 200km in barely over 21 hours.
Honest Coach: Coach Mike Whittlesley Says He's Pumped To Coach At Kansas Partly Because It's Easier To Recuit Than At UNC
The ING New York City Women's Field Is Officially Interesting
It's Official: Mary Wittenberg Announces Paula Radcliffe Will Run ING NYC The men's field is loaded, but the women's field was just plain dull until 3-time champ Paula Radcliffe was announced.
*Yuri Kano And Mary Wittenberg Discuss Japanese Star's New York City Marathon Plans Kano: "When I think of Radcliffe I remember watching her at last year's New York. She looked like someone from another world ... I don't know how she can do that. It was amazing. To run like that ... every moment of her life must be dedicated to the marathon."

*Full ING NYC Elite Fields Men's side is insane, women's lacking star power. Thank goodness for Paula.
*Wow: Meb K And Asmerom Join Hall, Sell, Torres, Lehmkuhle As US Elites Entered In NYC Marathon US men will get to stack up against intl. super-studs Martin Lel, Marilson Gomes Dos Santos, Hendrick Ramaala, Jaouad Gharib, Patrick Makau, Paul Tergat and James Kwambai.
*NYRR American Elite Preview

Bank Of America Chicago Marathon Is October 11 - Elite Fields 11 days until Sam Wanjiru runs his first big race in America against a very good African field. Deena Kastor and Irina Mikitenko match their sub-2:20 PRs on the fast course.
Shocker Headlines
News From The Reggae Island
Dathan Ritzenhein Reportedly Runs Faster Than US Record For 10 Miles In A Workout
*Message board thread on his run.
Sammy Kitwara, The Man Who Fears No Runner, Will Get The Chance To Be Crowned World Champion In Birmingham Half Marathon
LRC: Check Out ALL The Photos From The 5th Avenue Mile PhotoRun.net caught photos of many of the world's top milers, who ran in one of New York's most interesting running events.
LRC Philly Distance Run Photos We are glad to see some nice photos after watching the race over the internet via the Ryan Hall-cam.
LRC Special American High School Student Travels To Addis And Trains With The Ethiopians - Entry #4 - RAB Rugby In this journal entry, Neb goes with the training group for a crazy game with no rules that can sort of be called "rugby."
Former Dartmouth HEPS XC Champ Jarrod Shoemaker Wins World Duathlon Title
Caster Semenya / Leonard Chuene Saga
Bribe$, Mascots, Robots, World Political Leaders, Public Opinion All Being Taken Into Account In Final Hours Of 2016 Olympic Decision
*Video Preview Of Competing Cities For 2016 The "winner" between Rio, Madrid, Tokyo and Chicago will be announced by the IOC on Friday.
*Fox TV Ordered NOT To Run Program Where Chicagoans Voice Anti-Olympic Opinions
*Update! Obama Headed To Copenhagen With Mrs. Obama To Stump For Chicago Turns out the first man and lady will board Air Force One and make the trip to Denmark to show the IOC how much the US wants the Olympics.
*Picture, left: Giant transformer "Gundam" built for some crazy reason to help support Tokyo's bid.
Usain Bolt In New York
*Bolt Cheers On Yanks As They Sweep Sox And Lock Up AL East
*Bolt's Visit In Brooklyn's Walt Whitman College Only Fills Theater Halfway
*Some Jamaicans Don't Feel Bolt Deserves "Order Of Jamaica" Honor This writer defends Bolt's hard work and contributions.
*What Is The Second-Fastest Land Animal Behind The Cheetah? It's Not Usain Bolt
Celebration In Rio As They Won The 2016 Olympics
Women's And Men's 5th Avenue Mile Finishes
LRC Interview With Wisconsin Coach Mick Byrne Wondering if Wisco can contend? Get all your info on the #4 LRC-ranked team in the NCAA straight from the boss. Graduating Stuart Eagon, Matt Withrow and Christian Wagner, Wisconsin looks for some help from the best freshmen and redshirt freshmen in the country and a couple of All-American veterans. Byrne talks about his team, "the best cross-country course in the country" (NOT in Terre Haute, but Madison) and his fundamental training advice. Enjoy.
LRC Season Preview: Young Badgers Earn #4 LRC Ranking
adidas YouTube Video Of Haile Gebrselassie - The Emperor Talks About The Importance Of Coaching
New Running Calendar For Kids Here
*Updated* Latest Photo Albums From PhotoRun.net
Recent LRC Recommended Reads
*LRC: The Week That Was Last week was quite a week, as Ryan Hall got ready for New York, the #1 and #2 marathoners in history squared off in Berlin and some sprinters ran really fast in Shanghai. We break it all down for you and tell you why Ryan Hall most certainly is NOT the favorite for NYC and tell you how 9.69 is not as fast as 9.71.
*LRC: Ryan Hall Looking Good For New York
*Recommended Read: Candid And Unbelievably Interesting Interview With Brad Hudson
*Berlin: Gallant Geb Goes For It But Bonks Beyond 35k!
Recommended Reads - You Can Buy The Books Online
One for the Mind: Running Within
One for the Soul: Best Efforts
More Great Deals