The Week That Was September 14 - Sept 20, 2009
September 21, 2009

By LetsRun.com
To read last week's LRC Week That Was, click Here.
To read any 2009 LRC Week That Was, click Here.
Last week was quite a week, as Ryan Hall fot ready for New York, the #1 and #2 marathoners in history squared off in Berlin and some sprinters ran really fast in Shanghai.
Last Week's Homepages
*Mon (Sept. 21) *Sun (Sept. 20) *Sat (Sept. 19) *Fri (Sept. 18) *Thu (Sept. 17) *Wed (Sept. 16) *Tue (Sept. 15)
Let's Start Off Angry
Where to begin our Week That Was? How about with some outrage.
The Week that Was is always finished up at LetsRun.com headquarters on Monday and this Monday we are angry. Angry at competitor.com and universalsports.com for blowing it yesterday with their coverage of the Philadelphia Distance Run and Berlin Marathon. So a Thumbs Down to competitor.com and universalsports.com.
Yesterday, we got up at 2:50 a.m. to watch the Berlin marathon live on Universal at 3 a.m. One small problem. It didn't come on at 3:00. At 3:00, it said to check back at 3:05 and then 3:10 and then 3:30. Finally, around 3:45 a.m., the race came on but the broadcast had zero commentating and it wasn't being broadcast live - it was probably 45 minutes to an hour behind what was going on. No thanks.
Instead we followed the race on the Berlin marathon site as they had a blog and there was a ton of people talking about it on the LRC message board. Around 5:30 a.m., we went to bed for 2 hours before waking up to watch Ryan Hall's run in the Philadelphia Distance Classic. Yet again, we were disappointed. Nowhere near to the same extent as by the universalsports.com disaster, but that had gotten us cranky.
So we were in a bad mood and it started to be lifted by Ryan Hall throwing down a 4:27 13th mile to take the lead. Only seconds from victory, what happens. Competitor.com cuts to some useless commercial that they'd already shown probably 5 times in during the broadcast.
To their credit, Competitor.com quickly issued an apology and said that cutting to a commercial was a technical mistake and the race's finish is now available on their website. We still haven't seen an apology from universalsports.com, but you can watch the race or race highlights at the following link. That video link has some great audio from the best in the business - Toni Reavis.
There also is some good news involving universalsports.com, as their television channel is now available in the US on Directv channel #604. So now we can watch replays of Berlin or London on our 50 inch plasma. That deserves a big-time Thumbs Up, as watching the replay with Reavis was worth the wait.
---
Half Marathons In Philly & Great Britain
We at Letsrun.com gave a lot of attention last week to the Philadelphia Distance Run for one reason and one reason only - Ryan Hall was running. The good news was that Ryan Hall remained undefeated for his life in the half marathon and won in 61:52. To us, that means he's coming along nicely and will be in good shape come November for the New York City Marathon. You can read our analysis of what this means for Hall and NYC here: LRC: Ryan Hall Looking Good For New York, but if you don't have time to read it, let us share our final two paragraphs with you.

"After his 62:35 clocking on a warm day in New York, Hall told LetsRun.com, 'Even if I don't run any faster (in Philadelphia on September 20th), I'll be confident going into the marathon.'
Well, Hall clearly ran faster today in Philadelphia. And while the odds certainly aren't in his favor for a win in New York (in this day and age of global marathoning, the odds of winning have to be less than 50% for almost every runner), Ryan Hall certainly should be in the mix."
In the mix? Yes. A favorite. Nowhere close. The favorite for New York will be the forgotten man - Martin Lel.
Martin Lel is one of the all-time greatest marathoners in history - a three-time winner of the most competitive marathon on the planet, London, and a two-time winner in New York. He's been seemingly forgotten in 2009, as he didn't run a spring marathon, having to pull out of London at the last minute with an injury.
However, Lel is back and back in a big way. On Sunday, he ran in a much more competitive half marathon than Hall ran - the Great North Run in Britain - and he won it going away in a new PR of 59:32.
People need to remember that Hall is amazingly good, but when he and Lel are both at their best, Lel is simply better. Lel has a 2:05:15 PR, achieved in 2008 in London, when he was the last man on the planet to beat the great Sammy Wanjiru in the marathon. Hall's PR was also achieved in that race, as he was 5th in 2:06:17.
Thoughts of that race - 2008 London - send chills up our spine. That's certainly a trip worth taking down memory lane. What a race. You can read the LRC recap of 2008 London here, but remember that's the race when Hall motored up to the rabbits and asked them to pick it up - in a race that went through the half in 62:13 was won in 2:05:15. Unreal.
And we loved the respect Lel gave Hall afterwards as he told LRC the following about Hall:

"The guy is very strong for sure. I was just running ... and all of a sudden he came to the front and he talked with the pace maker, 'The Pace is too slow try to push.' So I said to myself, 'Am I not running (fast enough) or what?' because we were going the right speed and the guy (Hall) was comfortable. I asked myself many questions and (realized) "Now I need to be prepared (for whatever happens the rest of the race) ... That is why (later when Ryan fell off) I looked back to see if my friend (Ryan) was still there (close to us)."
Hopefully, New York 2009 is equally as exciting.
At the Great North run, it is worth noting that American Olympian Jorge Torres made his half marathon debut. It was a pretty successful one, as he ran a 62:42. We'll finally see how that translates to 26.2 this fall.
Looking at the women, it was all sevens for Catherine Ndereba, as she was the winner in Philly for the 7th time (69:43), 7 years after her last Philly win. At the Great North Run, Portugal's Jessica Augusto won in 69:08.
More: LRC: Ryan Hall Looking Good For New York *Photo Of Ryan Hall Crossing The Finish Line *Ryan Hall Wins His 1st And Catherine Ndereba Her 7th Philadelphia Distance Run *Ndereba Sibs Almost Pull Off Double Win *Mboard Thread On Race
Martin Lel And Portugal's Jessica Augusto Take Great North Run Titles *Boards: Great North Run Thread *Great North Run Results - J Torres 62:42
---
Tegenkamp & Yoder Begley Win US 5k Titles
Hall wasn't the only American to win a road race last week. In Providence, Rhode Island, the CVS Downtown 5k was basically guaranteed to have an American winner as the race once again served as the US 5k road champs. Congrats to recent sub-13:00 man Matt Tegenkamp for getting the win along with Amy Yoder Begley.
Tegnekamp will race again next weekend in a stacked 5th Avenue mile, where he'll race Bernard Lagat and Leonel Manzano and others. The women's race is worth seeing as well, as there will be a great UK vs. USA showdown with Hannah England and Lisa Dobriskey facing off with Christin Wurth-Thomas and Shannon Rowbury.
It's great to see the lightly-raced Tegenkamp run some races. But how cool would it been had he just hopped in the half marathon and tested his sub-13:00 fitness against Hall in the midst of his marathon training? That's a fantasy matchup for the ages and it also might reveal to Teg if he should ever consider the longer distances.
*Matt Tegenkamp And Amy Yoder-Begley Win US Road 5k Crowns In Providence *LRC MBoards: US 5k Champs - Providence, RI *Women Now Make Up 55% Of Providence Field, Run For Variety Of Reasons *Fam Praises Teg's Tactics As Oregon Track Club Put Green Jerseys On Top Of Podium
---
Sprinters Run Really Fast In Shanghai (Thanks To Track & Wind)
With all of the big-time distance road action last week, many may have not realized there was one big-time track meet in Shanghai with some big-time sprint action.
Thumbs Up to Tyson Gay for equalling Usain Bolt's 9.69 time from Beijing. If Gay is 100% healthy in 2010, he can at least challenge Bolt, as Bolt can't run 9.69 every week ... or can he?
And how about Carmelita Jeter? She moves ahead of disgraced sprinter Marion Jones to #2 on the all time list with the 4th-fastest 100 ever in women's history, thanks to her 10.64 win. Jeter certainly proved that her 10.67 the week before at the WAF (World Athletics Final) wasn't a fluke. Now she trails only three Flo-Jo times.
If Jeter continues to not test positive, she may end up being the #1 female star in the sport in 2010.
Wind Reading Reveals Jeter & Gay Have Actually Run Better Performances Before
It's worth noting that if one actually factors in the wind that neither Jeter or Gay actually ran better than they had before.
Jeter's 10.67 at the WAF was a superior performance to her 10.64 in Shanghai. In Shanghai, Jeter was helped by a 1.2 meters-per-second wind, while at the WAF she ran into a -.1 headwind. Her WAF time is equivalent to a 10.66 in no wind, whereas her 10.64 is equivalent to a 10.71 with no wind.
With Gay, his 9.69 was helped by the maximum allowable wind of 2.0 meters per second. A 9.69 with a 2.0 tail wind is equal to a 9.80 with zero wind. His 9.71 in Berlin came with a 1.2 wind and thus equates to a 9.76 in no wind.
More: *Website For Altitude/Wind Conversions
Liu Returns In Hurdles

Lost in the mix of all of the fast 100 meter sprinting was the remarkable return of Liu Xiang in the 110 hurdles. In his first race in 13 months, Liu delighted the home crowd and shocked himself by running a ridiculous 13.15 to end up 2nd behind World Championships silver medallist Terrence Trammel, who also ran 13.15.
Liu, who had clocked 13.70 seconds running into the wind in a practice session a week prior, was obviously very happy with his run as shown by his post-race comments: "I had not expected to run so fast. It's just beyond my imagination," said the former Olympic champion and WR holder.
Liu's return to track is important to the health of track and field, as he's very, very popular in China and there is a lot of money in China, as exhibited by the big names in Shanghai, where Liu was the headliner.
So a big-time Thumbs Up to Liu, who had Achilles surgery last December. LetsRun.com co-founder Robert Johnson also had Achilles surgery last December and he can barely jog 3 miles at 9 minute pace and somehow Liu is running world class times again.
More: *Liu Xiang Returns In 110 Hurdles
Before we move away from Shangai, we wanted to to give out one more thumbs up. Lastly, a big Thumbs Up to the track itself in Shanghai. It must be very fast. Certainly the favorable wind conditions didn't hurt (but that all should be part of a well-designed track) but 4 PRs and 2 SBs in the men's 100 and 2 SBs and 1 PR in the women's 100. The Chinese certainly know how to design fast tracks.
Konchellah/Kamel Loses Yet Again
In Shanghai, there was some mid-d running. Nothing earth shattering worth reporting, but we thought it was worth noting that 1,500 meter champ Youssef Saad Kamel (formerly known Gregory Konchellah) raced yet again and lost yet again. He's certianly suffering from post-Worlds fatigue.
In Berlin, Kamel was almost unbeatable, as he won the 1,500 and came back and got 3rd in the 800. Since Worlds, he's raced 5 times and lost 5 times.
More: *Shanghai Results
---
Free Training Tip
In the Week That Was, we often like giving you free training advice. So let us make you a better runner once again for nada.
Looking for some general strength exercises? Former CU coach Jay Johnson has put some excellent drills up online on the Running Times site: Video: General Strength Exercises
---
Caster Semenya Story Comes To A Conclusion - "She was sacrificed for a medal, simple as that."

The Caster Semenya story continued to generate international headlines last week, but in our minds, it came to a conclusion as it was revealed that the head of Athletics South Africa Leonard Chuene knew as early as January there were questions about Semenya's gender, that gender tests were conducted on her prior to Berlin and that he was advised by Dr. Harold Adams to withdraw her prior to Worlds. But Chuene refused and, as a result, Semenya has seen her inter-sexed condition be revealed by the media.
One South African athlete summed up the situation perfectly by telling South Africa's The Times, "She was sacrificed for a medal, simple as that."
The story just gets more and more interesting. Rather than it being a racist inquiry by a bunch of bigoted Westerners as Chuene has long claimed, the Semenya story in reality is yet another example of national governing body/personal incompetence. And the victim sadly is a teenager.
Chuene was a man who, according to the London Times, knew that "Semenya had internal testes and produced abnormal amounts of testosterone for a woman" and yet he let her race, but afterwards claimed that he's been lying about it all for the following reason: "Tell me someone who has not lied to protect a child. My only crime committed was to take a decision that she must run, and she won."
That, our friends, is Our Most Ridiculous/Disgraceful Quote Of The Week.
Shame on Mr. Chuene. Please do us all a favor and resign immediately.
More: *Chuene "treated Caster as pawn." *Caster Semenya Is Real Victim As Cover-Up And Lies Mire Nation In Scandal *Seb Coe Worried That Semenya Could "Rewrite The Sport Overnight" *Ridiculous: South Africa Files Complaint With United Nations Over Semenya Affair *Athletics South Africa (ASA) To Have To Answer To National Assembly *Carl Lewis Chimes In & Blasts ASA For Not Protecting Semenya *Reasonable Assertion: IOC Head Jacques Rogge Says IAAF Simply Ran Out Of Time Semenya's big breakthrough and world-leading 1:56 came only a couple of weeks before Berlin. *Photo Of Semenya Back To Training *No Surprise: Email Records Show South African Administrators Are Lying About Knowledge Of Pre-Worlds Tests We'll have more on the latest dirty secrets from the Caster Semenya saga on Monday. *ASA General Manager Again Denies Knowing About Any Pre-Berlin Tests Of Semenya
---
Berlin Marathon: Haile G Almost Does it Again
The Fall world marathon major season got underway last Sunday (although we guess it was technically still summer) with the Berlin Marathon. No need to recap the race in its entirety here, but we do want to provide some nuggets of wisdom.
A Thumbs Up to Haile G for going for it and being on world record pace through 35k. When the world record is 2:03:59, everything has to be pefect. The wether in Berlin was a little hot and the early pace might have been as well. Geb's 1st 5k was 14:30, whereas WR pace is 14:41.5 per 5k, or 29:22 10k pace.
Geb's 1st three 10ks were run all faster than that - 29:15, 29:19 and then 29:10. That's 30k in 1:27:44, which itself is a new world record. The race reports online from Berlin indicated that the pacer stepped back at 30k so Haile could get his 27th world record, but we've watched it in slow motion and those guys went side-by-side over the 30k mark.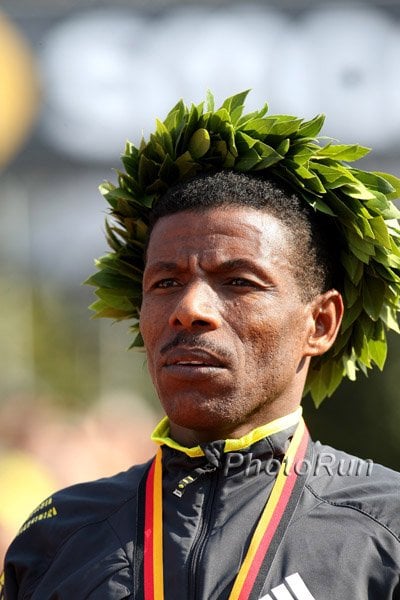 Haile G.
Regardless, finding a pacer that can run a 30k world record is no easy task, and Sammy Kosgei deserves props for going 32.25 km with Haile G. According to the McMillan calculator, a 1:27:44 30k is by itself equal to a 2:06:22 marathon.
So basicaly to rabbit Geb, you have to get a Ryan Hall type in top shape and tell him to go all out for 30k. Unreal.
The problem with the record attempt in 2009 was that - unlike in 2008, when Geb was actually had a race on his hands and was being pushed by James Kwambai very late into the race - Geb had no one near him in Berlin after the rabbit dropped out, as the 2nd-fastest marathoner in history, Duncan Kibet, wasn't up to the task in Berlin and was a DNF. So Geb was left to run the final 10k all alone and he quickly began to struggle after 35km.
Regardless, a 2:06:08 isn't too shabby and it was great to see Geb go for it on television in the US.
Kibet Already Has One World Record
Kibet's performance in Berlin was certainly disappointing as, rather than get a PR or WR, he got a DNF. But Kibet can take solace in the fact that he already has a share of a world record as described by Pat Butcher: "... but it's the sort that usually only exercises statisticians and the editors of the Guinness Book of Records. With his brother Luke's 2.10.57 from Seoul 2003, and his own 2.04.27 from Rotterdam 2009, they hold the fastest siblings' time in the world, 4.15.24, just five seconds ahead of the Kimaiyo brothers, Eric and Boaz."
More: Blog Post on Dunan Kibet's World Record by Pat Butcher *Gallant Geb Goes For It But Bonks Beyond 35k! *LRC: Beautiful Race Photos From PhotoRun *The Great Haile Gebrselassie's Final Words From Berlin *Video: Post-Race Chat With The Most Happy Competitor Ever *IAAF Recap With More Haile Quotes *Science Of Sport Coverage Here
---
Drug News
WADA Is Upset With High Number Of Russian Positives The Russians cheat in a ton of sports - running, biathlon and XC skiing.
---
Recommended Reads From Last Week
---
Other News We Didn't Talk About
Fall Marathons Starting To Shape Up
New York: 6 Former Champions, Including Marilson Gomes dos Santos & Martin Lel, To Run In 40th ING NYC Marathon The marathon will offer a record and world's marathon best $800,000 in prize money. Ramaala, Tergat, Prokopcuka, Petrova are the other former champs. *Irishman Martin Fagan To Make NYC Debut
Chicago: Irina Mikitenko Announced For Chicago
Commentary: Jim Hage Offers Tidbits On Berlin, Chicago & New York
Pedro's Cup - Poland *Results *Wurth-Thomas Over Dobriskey, Symmonds Victorious In 800, Asafa Powell 9.82!!! The track season is winding down. Also a new British record in the women's PV by Kate Dennison (4.60m). Tyson Gay won the 200 easily. Next week, he'll face Powell in the 100 in Korea.
Bolt: Reuters: Bolt Given Jamaica's 4th-Highest Honor & A Highway Will Be Named After Him *Jamaican Prime Minister: "His endearing personality, charisma and passion for his country make him a superb ambassador of Jamaica."
*Interesting Read: Editorial: Celebrating The Usain Bolt In All Of Us The paper says Jamaicans needs to celebrate all Jamaicans who achieve greatness, including Sanya Richards.
*Jamaica To Have 3 Days Of Celebrations For Track Stars In October
---
Remembering The Last Week With The Quotes of the Day - Day-By-Day:
Monday: "Any race, any race ... ANY RACE. I am not afraid of anyone."
- Sammy Kitwara after his 58:58 course record in the Rotterdam Half Marathon. He pushed the pace and his aggression led the deepest and fastest half marathon in history (7 men between 58:58 and 59:32). In the post-race interview, Kitwara rattles off a number of strong statements, including his passion for capturing the half marathon world record, defeating Kenenisa Bekele on the track, and winning the World Half Marathon if Kenya will allow him to go (they held him out of the Berlin 10,000m as punishment for running too many races).

Sunday: "I'm very glad that I'm starting to build an unbeatable record in this event."
- Kenyan 20-year-old David Rudisha, who followed his 1:42.01 800m in Rieti with a dominating meet record win worth $30,000 against the world's top 800m runners at the World Athletics Final on Saturday.
Saturday: "Usain Bolt brought 60,000 people to the stadium in Berlin, I'll bring a million to the streets."
- The Emperor Haile Gebrselassie on the annual million-man event that has become "His Marathon" thanks to the rare feat of two world records in consecutive autumn outings. In 2009, he'll have his best competition yet in Duncan Kibet (like the rhyme?). LetsRun.com co-founder Rojo thinks Geb's too old for another record. Employee #1 thinks we'll see a new world record ... weather permitting.

Friday: "There are many parts of fall that I enjoy, but the best part of fall is the feeling of being weeks away from top form."
- Ryan Hall, writing a couple of days before Sunday's Philly Distance Classic Half Marathon, where he'll face NCAA cross-country champions Simon Bairu and Josh Rohatinsky (we got an email saying Bairu is out). Hall is gearing up for his final hard preparations for what should be an amazing ING NYC Marathon in November. You can watch the Philly race after the Berlin Marathon on Sunday at 7:45am on competitor.com.

Thursday: "(My brother Shadrack Biwott) called me and asked me about my training. I told him that everything was good and that my body felt good and that I expected to perform well. Then he was like, 'That's good, because people are looking at you as the man who is going to challenge for the world record in Berlin.'"
- Duncan Kibet, the 2nd-fastest marathoner in history, talking in an interview where he reveals he's in the best shape of his life for Sunday's Berlin Marathon. Despite his amazing shape, Kibet downplayed his aspirations and said he's not looking for the WR but rather just a PR, but we're not sure what to believe about Kibet, as he's a showman who claims to have run a minimum of 25 miles every day from May until Sept 11th.

Wednesday: "When German talks, German talks about the team. He never, ever talks about, 'Oh, I want to win this race or I want to win that.'"
- Oklahoma State head coach Dave Smith talking about NCAA 1,500m champion German Fernandez in our season preview interview. Fernandez is a big reason we rank Oklahoma State as the #1 men's team in the country heading into the 2009 NCAA cross-country season.

Tuesday: "I'll tell you straight up based on what he has done in terms of his speed, endurance, the ability to run the 300m even in training at low 31 seconds by himself after a hard days work etc. ... It's clear indication that if he's really fresh, he'll go under 19 seconds, there's no doubt about that."
- Jamaican sprint coaching legend Glen Mills on one of his more popular and talented pupils.