The Week That Was September 21-27. 2009
September 28, 2009

By LetsRun.com
To read last week's LRC Week That Was, click Here.
To read any 2009 LRC Week That Was, click Here.
Last Week's Homepages
*Mon (Sept. 28) *Sun (Sept. 27) *Sat (Sept. 26) *Fri (Sept. 25) *Thu (Sept. 24) *Wed (Sept. 23) *Tue (Sept. 22)
What a week yet again. The off-the-track headlines dominated as we learned that running can make you smarter, Usain Bolt was or was not offered $100 million, Leonard Chuene continued to embarrass South Africa and another running-related book started to gather positive press. In terms of action, the Canadian soil marathon record fell and the milers blazed in NYC.
5th Avenue Mile - Upset On Men's Side And Surprise 3rd Placer On Women's Side
Men's Results
1 Andy Baddeley, GBR, 3:51.87
2 Boaz Lalang, KEN, 3:52.07
3 Leonel Manzano, USA, 3:52.24
4 Bernard Lagat, USA, 3:52.74
5 Haron Lagat, USA, 3:53.86
6 Collis Birmingham, GBR, 3:53.98
7 Matt Tegenkamp, USA, 3:54.20
8 Chris Solinsky, USA, 3:54.51
9 Daniel Huling, USA, 3:55.06
10 David Torrence, USA, 3:56.14
At the Continental Airlines 5th Avenue mile, we got proof that the favorites don't always win, as Bernard Lagat, the pick of 55.5% of LRC visitor's in our pre-race poll, was only 4th in New York. The winner was Britain's Andy Baddeley (2nd favorite at 16.8%) in 3:51.87 to Kenyan 800 Olympian Boaz Lalang in 3:52.07 to Leo Manzano's 3:52.24 (3rd favorite at 10.7%).
Sub-13:00 man Matt Tegenkamp ran pretty well (3:54.20), but his 7th-place showing indicates perfectly why he's way better suited for the 5k than the 1,500/mile.
Women's Results
1 Shannon Rowbury, USA, 4:23.30
2 Lisa Dobriskey, GBR, 4:23.94
3 Sara Hall, USA, 4:23.94
4 Christin Wurth-Thomas, USA, 4:23.96
5 Hannah England, GBR, 4:25.49
6 Erin Donohue, USA, 4:27.05
7 Mestawot Tadesse, ETH, 4:27.73
8 Amy Mortimer, USA, 4:29.62
9 Barbara Parker, GBR, 4:35.23
10 Sara Vaughn, USA, 4:37.18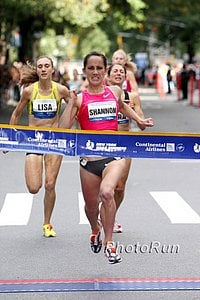 On the women's side, World Championships bronze medallist Shannon Rowbury (4:23.30) got the better of Worlds silver medallist Lisa Dobriskey (4:23.94) in an extremely tight women's race where 2nd through 4th were separated by only .02. The surprise of the weekend was the 4:23.94 3rd-place showing by Sara Hall, Ryan Hall's wife. Sara edged sub-4:00 1,500 meter runner Christin Wurth-Thomas (4:23.96) for 3rd.
Very impressive and worthy of a Thumbs Up for Hall, who has up until this point been kind of a journeyman as a pro - stuck somewhere between the 1,500 (4:08.55 PR) and 5,000 (15:20.88 PR). 5th avenue is certainly a downhill course, but to run a time that is way better than your PR equivalent is impressive.
More: UPSET SPECIAL! Andy Baddeley Surprises (!) And Shannon Rowbury Caps Great 2009 At 5th Avenue Mile *LRC PHOTOS *5th Avenue Mile Results *NYRR Coverage Page *LRC:MBoards: 5th Avenue Mile
And The Big News Of The Week ...
Undoubtedly, it had to be that the Canadian soil record for the marathon was bettered by the top 3 finishers at the Scotiabank Toronto Waterfront Marathon (okay, the fact that we are calling it the big news of the week is a joke, but it is noteworthy). Canadians saw their first 2:08 marathon ever as defending champion Kenneth Mungara of Kenya ran 2:08:32, almost a full minute off John Kelai's previous Canadian best of 2:09:30. Ethiopians Chala Lemi and Gashaw Melese Afsaw also broke the old record by running 2:08:49 and 2:09:23. Ethiopia's Amane Gobena won the women's race in 28:28:31 as 1984 Olympic marathon champ Joan Benoit Samuelson was 2nd in her age group in the half marathon.

More on Samuelson and other weekend road action here. More: *Kenya's Kenneth Mungara Wins Toronto In CR 2:08 And Amane Gobena Wins Women's In 2:28 *Top 3 Men's Finishers Beat Canadian Record In Cool, Rainy Toronto
Ryan Hall's Quest To Win New York Just Got A Lot Harder
In last week's The Week That Was, we reported that Ryan Hall's preps for NYC were going well and he should be in the hunt come November. However, we also said his odds of winning were less than 50% and we received some uninformed criticism for saying that. Well, confirmation of his odds being less than 50% came this week when some of the international stars for 2009 were announced. NYC has added amongst others the third-fastest man in history in 2:04:27 man James Kwambai, as well as half marathon ace Patrick Makau. Remember, Makau is the guy whose much-anticipated debut in Rotterdam last April was viewed as a disappointment when he only ran 2:06:14. Hall's PR? 2:16:17.
Plus, Makau has a history of running well in NYC, as he won the Healthy Kidney 10k in 2008 and was runner up in it this year as well as at the 2008 NYC half.
Speaking of Hall, he and Sara deserve a Thumbs Up for forming the Hall STEPS Foundation and announcing that 100% of the prize money that he earns in the NYC marathon and that she earned in the 5th Avenue Mile ($2,500) will go to the foundation.
NYC: World Champ Jaouad Gharib, World's 3rd-Fastest (James Kwambai) And Half Marathon Star Patrick Makau Added To NY Field
Free Training Advice/The 1990s Summarized In 3 Sentences
Last week there was a great interview with Brad Hudson - former coach of Dathan Ritzenhein - on roadsmillslaps.com that is a definite must-read.
We agree very much with his take on training and particularly loved how he explained why the US sucked so bad in the 1990s at distance running:
"I think in the 1990s we were looking for a shortcut or something. I think for sure a lot of athletes are running a lot more now. I think we were doing the quality in the 1990s, but not doing as much. I was running a ton, but people thought I was weird for running 115-120 miles a week as a marathoner. Itís really not that much."
There are no shortcuts and Hudson knows the key to getting better is simple - run more. Our Free Training Advice Of The Week comes from Mr. Hudson:
"I think a lot of people are focused on speed and plyometrics. But the quickest way for U.S. athletes to get good is that they have to run a lot. They have to run aerobically at high intensity and have quite a lot of accumulated mileage. That is the only way we are going to catch up to the Africans, because they are so far ahead of us. So itís got to be large volume, but not just that; it has to be long, hard stuff that raises threshold ....
For 18 months, Dathan did no speed work--zero--other than some drills and strides. He couldnít do it because of a calf problem. I thought he was in 27:25 shape before the marathon--maybe even better. And thatís with zero speed. I think speed is so overrated. Yeah you need it at the end, yeah you got to sharpen up. I watch all these people periodize and they are so far behind on their aerobics that it never works, because they donít have a base to bring it in."
********
Deena Kastor Speaks & We Listen: The "Sacrifices" Choices We Make To Fulfill Our Goals & Dreams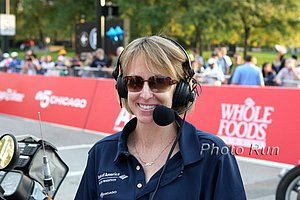 Since we just mentioned former 2:13 marathoner Brad Hudson, we might as well talk about another former 2:13 marathoner who is now a coach, Terrence Mahon, coach of Mammoth Track Club. The Running Times' Scott Douglas wrote a great piece on the sacrifices the members of the group make to be the best, What Price Perfection? Inside the Mammoth Track Club. Those that think that the lifestyle of a pro distance runner is glamorous had better read this. Mandatory 8:30 am run, 6 days a week in the gym, a cycle of runs and naps certainly isn't easy.

But we loved American marathon record holder Deena Kastor's take on all of the "sacrifices" those in the group are making. Her quote clearly show why she has flourished as a pro:
"We don't make sacrifices. If we truly love this sport and we have these goals and dreams in the sport, the classroom, or in life, they're not sacrifices. They're choices that we make to fulfill these goals and dreams."
German Fernandez Was A Star When He Worked At Applebee's; Maybe Denny's Will Work Out For Jon Rankin
And speaking of making "sacrifices" to pursue your goals and dreams. How about Jon Rankin? After failing to make the Olympics in 2008, Rankin's Nike contract became a thing of the past and now he is making ends meet by waiting tables at Denny's.
Where there is a will, there is a way. Major kudos for Rankin for continuing to pursue the dream.
Rankin: "(Having to wait tables at Denny's to make end's meet is) a great challenge for my career. I'm working almost full time but training harder than ever. It's a totally new lifestyle that I'm not used to living. I know a majority of good runners around the world have to go through the same process. It's just a litmus test that says 'Hey, how bad to you really want it?' That's a question that I have answered assuredly yes, and I need to make it work."
*Jon Rankin Working Nearly Full Time At Denny's To Fund Quest For 2012 Games
********

An Honorable Run Is Making Waves
All summer long, we were surprised to learn that the book Born To Run was on the NYTimes best seller list. Well, another running book is out and getting good reviews. Could it soon be up there on the NY Times list? We'll see.
An Honorable Run, by former Colorado runner Matt McCue, talks about the effect that coaches can have on athlete's lives. Ask yourself, "What coach has changed your life?" If you have an answer to that, this book will appeal to you. In this case, the book talks about the roles McCue's high school coach and college coach (Mark Wetmore) had in shaping his life.
We haven't had time to read it, but the book is getting good press. Sports Illustrated listed the book under the heading "What Smart Sports Fans Should Do This Week" and called it a "moving meditation on the coach-athlete relationship."
If you live in Illinois, Texas, Colorado, or California, be on the lookout for McCue's October book tour.
More: *An Honorable Run Website
Running Can Make You Smarter
Since one of the co-founders of LetsRun.com is a coach at Cornell, LRC is very aware of the fact that there are lots of smart distance runners out there. We always just assumed that the same work ethic that made one good at running makes one good at school.

That may be true, but last week it came out that running can actually make you smarter. Don't believe us? Then you definitely need to read the NY Times article: Phys Ed: What Sort of Exercise Can Make You Smarter? Chauying J. Jen, a professor of physiology at National Cheng Kung University in Taiwan, did a study where he had mice to run on treadmills. Those that were forced to work out the hardest became the smartest. It's really a fascinating study and definitely worth a read. If you don't have time to read it, we'll use a quote from Dr. Jen to summarize it: "It would be fair to say that any form of regular (aerobic) exercise should be able to maintain or even increase our brain functions."
And the beauty of the study is that the exercise has to be aerobic - so weight lifting doesn't count.
********
The $100 Million Offer To Usain Bolt - It Never Happened (Or Shouldn't Have)
Last week it came out that supposedly a Chinese company was willing to offer Usain Bolt $100 million. Small problem, Bolt is under contract with Puma through 2010 and it's part of his contract that he can't even talk to other apparel companies until the deal is over and if he does get another then Puma has the right of first refusal. As a result, the next day, his agent Ricky Simms issued a big apology for the actions of the Chinese marketing firm that was representing Bolt.
*Bolt Offered $100 Million *Bolt's Camp Apologizes
********
Looking Ahead To Next Weekend:
Looking for something to do on Saturday? Head to West Virginia for Freedom's Run. The first-year event, billed as an event for health and heritage, has garnered a ton of publicity and is likely to be the largest running event in WV in year 1. It features a marathon, half, 10k and 5k. The goal of the organizers is "to form a new model of community health based around running and outdoor activity." More info at: http://www.freedomsrun.org.
Recommended Reads From Last Week
Caster Semenya
We're tired of writing about the whole affair but decided to give you some more links on the story in case you want to stay up to date on it.
To us, the whole Caster Semenya story came to an end the week before last, when it came out that the head of ASA Leonard Chuene basically sacrificed Semenya in order to get a medal but Chuene somehow got a vote of confidence this week.

South African Track Head Chuene Gets Unanimous Vote Of Confidence And Will Stay In Job Chuene wants to know what he did wrong and says he lied about knowing about sex tests to protect Semenya. Complete BS. How does lying about the tests protect her in any way? It only protects his ass. He also has accused the whole affair of being the work of racists and for good measure said IAAF officials told Semenya to fake an injury. Someone should look into that claim, but this guy already has been shown to be a liar.
More: Is Financial Mismanagement At Athletics South Africa The Real Problem?
*SA Today Editorial On Semenya
*Chuene Asks Where Did He Go Wrong? Everywhere.
*Science Of Sport Updates From South Africa As Chuene Remains In Office After Bewildering Vote Of Confidence
*Expert Craig Sharp Responds To Pat Butcher's Blog In Regards To Caster Semenya Controversy - Excellent Read
*South African Official Says Everyone Was Too Afraid To Hold Chuene Accountable
Other News
NCAA Track Regional System Scrapped And New Super Regional Locales Announced 200 schools in the east, 100 schools in the west. *MBoard Thread
16 Siblings Complete Same Marathon In Under 5:30 It's rare enough having 16 siblings these days, let alone all 16 of them running the same marathon!
Remembering The Last Week With The Quotes of the Day - Day-By-Day:
Monday: Official 1: "The only thing that was discussed was what the rest of us would have done if we had been in Chuene's shoes. His lies were never discussed."
Official 2: "Many of the people in the meeting were put there by Chuene himself and he tells them, 'if I'm gone, you're gone'."
- Anonymous quotes from two officials trying to explain why lying ASA boss Leonard Chuene was given a vote of confidence to remain in office late last week.
Previous Quote For Monday:
"I did a miscalculation in my training and arrived at the Kenyan Trials in not perfect conditions. I'm sure that if I had been in Berlin, I would have fought for a medal like in Beijing."
- Kenyan Edwin Soi, who was 4th at the Kenyan trials and missed a Berlin spot. He won a tough 10k in Sicily on Saturday over world road 10k record holder Micah Kogo. With his second consecutive win, Soi joins elite company, as only the great Haile Gebrselassie and Martin Lel have accomplished the same feat.
Sunday: "I've had some great races lately, but I haven't got to win. I knew that I have a kick and I wanted to use it."
- American miler Shannon Rowbury ended her season with a win in the Big Apple at the 5th Avenue Mile. Only the fourth-fastest American woman over 1,500m in 2009 (Anna Willard, Christin Wurth-Thomas and Jenny Barringer all broke 4:00), Rowbury was the only one to win a World Championships medal.
Saturday: "(Having to wait tables at Denny's to make end's meet is) a great challenge for my career. I'm working almost full time but training harder than ever. It's a totally new lifestyle that I'm not used to living. I know a majority of good runners around the world have to go through the same process. It's just a litmus test that says 'Hey, how bad to you really want it?' That's a question that I have answered assuredly yes, and I need to make it work."
- American miler, Jon Rankin, talking in a profile prior to Saturday's 5th Avenue mile about how he has decided to try to continue in the sport through 2012 even though he got dumped by chose not to accept Nike's offer after failing to make the Olympics in 2008.

Friday: "The need for Chuene to go is a no-brainer - so it is of deep concern that ASA appears to have given him a vote of confidence. Chuene lied to the nation. He embarrassed South Africa internationally. And he breached Caster Semenya's right to dignity. What more does someone need to do to face disciplinary sanctions?"
- Democratic Alliance statement after Athletics S. Africa boss Leonard Chuene got a unanimous vote of confidence.

Thursday: "The best group in the country."
- Scott Bauhs referring to the Mammoth Lakes Group coached by Terrence Mahon. This article gives you an idea how hard some Americans are working to be the best. Mammoth Lakes is definitely home to some of America's top runners in Ryan Hall, Deena Kastor and Anna Willard.

Wednesday: "I think I set [Dathan Ritzenhein] up with a great future. I think the training we did was 100% correct. I got a lot of flack moving him to the marathon at a young age from people and older coaches who donít really have an understanding of what professional running is. Even his sponsor had threatened his contract, because they werenít happy with the marathon, but I think it shows that the decision to move him to the marathon was ultimately a correct one."
- Coach Brad Hudson in a GREAT interview where he is right on the money on a lot of topics.

Tuesday: "If Semenya had an unfair 'male-like' advantage, then Janeth Jepkosgei Busienei deserves a gold medal, Jennifer Meadows a silver, and Yuliya Krevsun a bronze. But DO NOT take away Semenya's gold. Award a second gold medal. It has been done before. It is the appropriate response."
- An excerpt from a LetsRun.com exclusive article written by former D1 runner Matthew Goodwin, PhD. Goodwin succinctly explains the ambiguities in sex testing and the likely reason for Semenya's mixed sexual characteristiscs and makes the brilliant suggestion of awarding two gold medals should Semenya be ruled "too male" to compete as a female.