Women's Race: Rowbury Caps a Great 2009 Season
Unlike last year--when Rose Kosgei blazed through the uphill first half-mile in 2:11--the women's race began conservatively this year.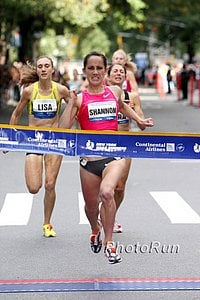 Erin Donahue took a tight pack through the quarter-mile in 1:06, and then the halfway point in 2:15. During the third quarter, Sarah Hall, Lisa Dobriskey, Christin Wurth-Thomas and Rowbury emerged in front as Donahue faded. They passed the three-quarter mark in 3:20.
With 200 meters left, Dobriskey attacked. She gained a slight edge, but Rowbury overtook her around the 1500-meter mark. And in a reverse of last year's race, Rowbury crossed the line first with Dobriskey as runner-up. But Hall and Wurth-Thomas had pulled even with Dobriskey in the closing steps, and the three finished in a jumble that took photographs to sort out. They were separated by just two hundredths of a second.
For Rowbury, who won the bronze at 1500 meters in Berlin and who has spent the past two months outside of London, it was the perfect way to end the season. "To come home in front of the home crowd and win, it was just so much fun," she said. "I've had some great races lately, but I haven't got to win. I knew that I have a kick and I wanted to use it."
Rowbury is planning a weeklong trip to Mexico for some downtime. Dobriskey is planning for her wedding, which takes place in December.
But Hall's season is not finished. She's been training in Mammoth Lakes, California and was surprised to find herself up front. "I've been grinding it out with marathoners," she said, smiling. "My vision was sort of fogging there at the end. But I was glad to place a little higher than I maybe should have." She said she'll be racing in the 10k road championships this fall.
1 Shannon Rowbury, USA, 4:23.30
2 Lisa Dobriskey, GBR, 4:23.94
3 Sara Hall, USA, 4:23.94
4 Christin Wurth-Thomas, USA, 4:23.96
5 Hannah England, GBR, 4:25.49
6 Erin Donohue, USA, 4:27.05
7 Mestawot Tadesse, ETH, 4:27.73
8 Amy Mortimer, USA, 4:29.62
9 Barbara Parker, GBR, 4:35.23
10 Sara Vaughn, USA, 4:37.18
Men's Race: Baddeley Times it Perfectly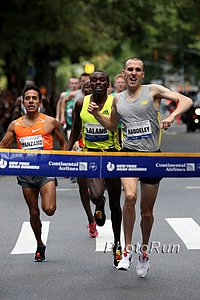 In the men's race, Bernard Lagat and Boaz Lalang led the pack through opening splits of 0:58 and 1:58. Matt Tegenkamp and Baddeley moved up on the left side of the pair in the third quarter. The foursome hit the three-quarter mark in 2:55. Then, with 200 meters left, Lagat struck. He surged briefly into the lead, but Lalang countered with a stronger move. The 20-year-old Kenyan dropped Lagat and moved ahead through the 1500 mark. Manzano gave chase, passing Lagat and inching closer to Lalang from the street's right lane. For a moment, it appeared to be a two-man race.
But it was Baddeley who timed his kick the best. The Brit, who holds a master's degree in aerospace engineering from Cambridge, had quietly positioned himself on the left shoulder of the group. With fewer than 50 meters remaining, he stormed past Manzano and then past Lalang, and by the time he crossed the finish line he was a full stride's length ahead.
"There were lots of good finishers in the field," he said afterwards. "But it's a bit too early with 200 meters to go." Even on a track, he said, one can't sprint full out the entire last half-lap of a race. He'd run the course early in the morning, he said, and decided to launch his kick from the fire lane—the left side of the street—because that's where the camber of the road is flattest. The strategy worked and surprised the others.
"I saw Bernard and Boaz make their move with 200 meters to go," Manzano said. "But then, next thing I know, Andy's flying by."
"It was with 20 yards to go," Lalang said, nodding towards Baddeley at the press table. "I didn't see him till he passed me." Lalang is in junior college at Rend Lake in Ina, Illinois.
After the race, Lagat discussed his strategy: "I was feeling great at three-quarters. I thought, 'Let me try to push from here, but Boaz pushed harder. I couldn't even pass him. Then suddenly Manzano came past me. And then Baddeley, of course...Finishing fourth was not something I wanted. I came here to win. I came close last year and I'm not going to stop till I do. This just fuels my hunger for next year."
Asked his plans for the upcoming weeks, Lagat reached for his midsection. "Gain some weight," he joked. "And we're going to go to San Fransisco for Fleet Week. My son, Miika, he wants to be an F-16 pilot."
Miika, who was swinging around a pole in the press tent and playing with his stuffed dog, declined to comment.
1 Andy Baddeley, GBR, 3:51.87
2 Boaz Lalang, KEN, 3:52.07
3 Leonel Manzano, USA, 3:52.24
4 Bernard Lagat, USA, 3:52.74
5 Haron Lagat, USA, 3:53.86
6 Collis Birmingham, GBR, 3:53.98
7 Matt Tegenkamp, USA, 3:54.20
8 Chris Solinsky, USA, 3:54.51
9 Daniel Huling, USA, 3:55.06
10 David Torrence, USA, 3:56.14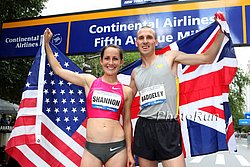 The Race
New York City avenues are roughly twenty blocks to the mile. The Fifth Avenue course spans the stretch from E. 80th Street to E. 60th Street along the eastern edge of Central Park. Things kick off a block south of the Metropolitan Museum of Art with tourists and fans snapping photographs behind barricades that line both sides of the street. The first four blocks are flat. Then the road bends upwards and climbs gradually for almost a quarter-mile to 71st Street. There, it's a flat block past the Frick Art Collection to the half-mile mark, which affords runners a tantalizing glimpse of the finish line, still 800 meters away. The course then descends into a long tunnel of stoplights, tree limbs, and hanging traffic signs that bring racers, ever gradually, to the "200 Meters to Go" sign. The remaining stretch is pancake flat. The wide road and screaming fans seems to almost guarantee an exciting finish.
The race began in 1981 with Sydney Maree gapping by two seconds a field that included Mike Boit, Eamonn Coghlan, Steve Scott, Steve Cram, Ray Flynn and John Walker. His time, 3:47.52, remains the course record.
"It was all of our first road mile," Flynn said on Saturday. "We started kicking from the half-way mark."

*Photos
*Message Board Thread on Race
*Full Results
*2008 Recap