Men's Steeplechase Recap: Cream Rises To Top As McAdams, Huling And Alcorn Earn Berlin Spots
Three "A" Qualifiers Go 1-2-3

by: LetsRun.com
June 27, 2009
*Day 3 Photos (1,500, Steeple, 400, PV)
With US steeplechase veterans Anthony Famiglietti and Dan Lincoln not in the field, the World Championships spots were wide open heading into the 2009 USATF Final.
The field largely remained together until 3 laps to go, when former Miami of Ohio athlete Dan Huling pushed the pace. 2007 USATF champ Josh McAdams went with him and with 2 to go (64.36) they had opened up a 5-meter gap on Tom Kloos, perhaps most known for being the high school coach of former Footlocker National Champion AJ Acosta. The front three all had a gap on the chasers, which included 2008 NCAA steeple champ Kyle Alcorn.
Huling and McAdams began to lengthen their lead on the field and Kloos hung in third until the second to last water jump when he was passed by Alcorn. McAdams went by Huling on the homestretch before the bell. After the bell, McAdams would extend his lead and go on to his 2nd USATF title comfortably in 8:29.91 while Huling was a decisive second in 8:32.86. Alcorn moved up to get the third and final spot for Berlin. NCAA champ Kyle Perry moved up for fourth, while Ben Bruce was fifth and Kloos sixth.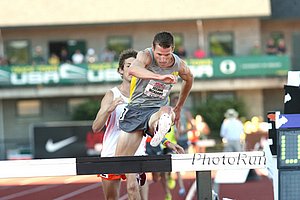 We talked to Kloos and Huling afterwards. The 31-year-old Kloos said going in his goal was a top 7 finish, which he surpassed. He said given his age, he went with the surge with 1,200 remaining as there is no point to try to wait for next year. He also said though that with 500 to go he was totally spent and was shocked more guys didn't pass him. Kloos was the only athlete to attempt to stay with McAdams and Huling.
Huling, who attempted to go with Anthony Famiglietti's crazily ambitious pace at last year's Olympic Trials and paid for it dearly as he faded to fifth, was obviously thrilled to have made his first World Championships team. Although it's not captured in the interview below, Huling did add, "Oh yeah, the steeple isn't weak," clearly a polite way of him taking issue with our preview of the prelims where we called the field "fairly weak." In his interview, Huling talks about training with Brian Olinger (who finished a disappointing 12th) under the watchful eye of Robert Gary. Speaking of disappointments, Texas' Jake Morse, who finished 4th at USAs last year, had his 2nd straight disappointment as he finished 11th. Two weeks ago, Morse was a disappointing 4th at NCAAs as well.
Besides, McAdams, Huling and Alcorn, there was one other A qualifier in the field in 2008 Olympian Billy Nelson. Nelson finished 13th.
Full Race Video Below Interviews
| | |
| --- | --- |
| Tom Kloos (2:22) | Dan Huling After Finishing 2nd |
Finals                                                         
  1 Joshua McAdams               New Balance            8:29.91
  2 Daniel Huling                Reebok                 8:32.86
  3 Kyle Alcorn                  Nike                   8:34.65
  4 Kyle Perry                   unattached             8:36.65
  5 Benjamin Bruce               Oregon TC Elite        8:36.76
  6 Thomas Kloos                 TRANSPORTS             8:38.39
  7 Ryan Warrenburg              ZAP Fitness            8:43.91
  8 Aaron Aguayo                 Nike                   8:44.01
  9 Jordan Fife                  Team Indiana/Brk       8:48.16
 10 Thomas Brooks                Oregon TC Elite        8:48.56
 11 Jacob Morse                  Texas                  8:49.20
 12 Brian Olinger                Reebok                 8:49.37
 13 William Nelson               Oregon TC Elite        8:52.49
 14 Luke Watson                  adidas                 8:57.98
Full Steeplechase Race Video