LetsRun.com's 2009 USATF Coverage: Day 2 Recap: Women's 5k - Kara Goucher Repeats
by: LetsRun.com
June 26, 2009

*Photos
Eugene, OR - Friday, June 26 - The crowd at Hayward Field was treated to a very exciting race in the women's 5,000 meters. The race started out conservatively, with almost the entire pack sticking together until around three laps to go. Amy Hastings took the lead early, passing 800 in 2:30.3, 1,000 in 3:06.72, and 1,200 in 3:45. Around the 1,400 meter mark, Emily Brown Rebecca Donaghue of New Balance Boston took over the lead, which she held until three laps to go. The pack of about 16 runners went through the halfway mark in 7:51 and the 3,000 mark in 9:27.
With three laps to go, it was time to actually race. Jen Rhines, who - along with marathoner Kara Goucher - was one of just two runners with the A standard of 15:10 in the race, decided to make her move and threw down a 73.57. After a mile of 76 and 77s, that one fairly quick lap was enough to disintegrate the field. Goucher was the only one to match the move and the two passed the 4,000 meter mark in 12:31, running a 69.4 and having about a 30-meter lead on the rest of the field.
With 800 to go, it was clear at this point who was going to get 1st and 2nd. The two questions were, "Who would win and who would finish 3rd?"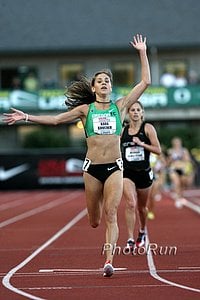 About 30 meters back of the leaders, US cross-country runner-up Julie Culley, who was 21st at Worlds in Amman, Jordan, was in 4th at 13:09.96, a few meters up on Rebecca Donaghue (13:10.22), who had a few meters on 2009 NCAA champ Angela Bizarri (13:11.54) of Illinois. Heading into the bell, Donaghue had started to fade and Bizarri started to rally. Culley still had a 1.3-second led but Bizarri was coming. In the end, Bizarri would end up passing Culley in the final 200 and hold on to get third in 15:33.02 thanks to a 68.45 final lap compared to Culley's 70.64, which gave her a 15:33.92.
Up front, unlike the night before, when Amy Yoder Begley did the improbable and got the win in a kick, the expected happened. Kara Goucher blew away Jen Rhines to get the win. With 500 to go, the same spot where Galen Rupp made his move, Goucher surged to the lead and ran hard for the finish line. Her last lap of 65.09 was easily the best of the day and Goucher finished in 15:20.94 looking very strong. Rhines ran a 70.63 last lap to get 2nd in 15:26.92.
Goucher was thrilled after the race. "It's so awesome running here and the crowd just carries you and lifts you up," she said. Goucher also added that she slept "like a rock" last night after the excitment of watching her fellow Alberto Salazar-coached athlete Amy Yoder Begley win the 10k.
As for Berlin, one thing is set. Jen Rhines is going. Since Goucher is going to run the marathon, things could get interesting, as everyone else in the field could chase the A standard of 15:10 since no one else has it besides Goucher. Of the women in the race, only Sara Slattery, who finished 11th in 15:54, and Emily Brown, who ended up 13th in 16:07, have the B standard of 15:25. We guess theoretically one of them would be going to Worlds as of now as we think, unlike in past years, you can send one with the A and one with the B.
Although it may be you can only send a B if you send two As. If that's the case, we wonder if the US will try to get creative. Since Goucher does have the A standard herself, as does Lauren Fleshman and Shalane Flanagan, who weren't in the race, we wonder if the US would enter one of them so someone with the B could go if you do need two As to get a B.
As a result, things could get interesting. If someone knows the real rules, please email us.
Finals                                                         
  1 Kara Goucher                 Nike                  15:20.94
  2 Jennifer Rhines              adidas                15:26.92
  3 Angela Bizzarri              Illinois              15:33.02
  4 Julie Culley                 N Y A C               15:33.92
  5 Rebecca Donaghue             New Balance Boston    15:36.09
  6 Racheal Marchand             unattached            15:37.08
  7 Nicole Blood                 Oregon                15:38.61
  8 Allison Grace                ZAP Fitness           15:47.31
  9 Renee Metivier Baille        Nike                  15:47.70
 10 Amy Hastings                 adidas                15:52.37
 11 Sara Slattery                Nike                  15:54.76
 12 Elizabeth Maloy              unattached            15:56.91
 13 Emily Brown                  New Balance           16:07.84
 14 Amanda LoPiccolo             Syracuse Charger      16:12.42
 15 Lauren Weaver                unattached            16:28.11
 16 Meghan Armstrong             Team USA Min/Str      16:42.76
 17 Jessica Minty                ZAP Fitness           16:52.96
 18 Sara Hall                    Asics                 16:54.94
 -- Maureen McCandless           New Balance                DNF
 -- Carrie Tollefson             adidas                     DNF
 -- Katherine Follett            Washington                 DNS
 -- Shannon Rowbury              Nike                       DNS
 -- Lauren Fleshman              Oregon TC Elite            DNS
 -- Jennifer Barringer           Colorado                   DNS
 -- Shalane Flanagan             Nike                       DNS  
---
Runner's World &
Running Times



Combined Only $22
a Year
Save $87

---

Running & Track and Field Posters
---
---